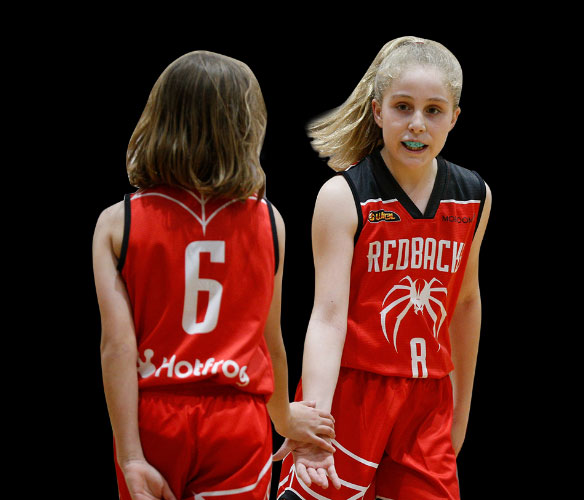 The WA Basketball League (WABL) is a state-wide representative junior competition. The season runs over 18 weeks (each team plays each other twice) and provides an elite-like game experience for players in the U12, U14, U16, U18 and U20 age groups.
The goals of the Perth Redbacks WABL competition are:
Identify talented players in our local area.
Develop those players and show them the sky is the limit.
Retain those players by providing excellence in coaching, a nurturing and supportive club environment, and clear pathways for development.
Congrats to the following (currently active) Perth Redbacks WABL players who have played 50 games or more for our club!
(The numbers below are as at the conclusion of the 2019 season - regular season WABL games and WABL finals games are the only games included in this number)
Blaise Stancil (50)
Finn Warner (50)
Sydney Midgley (51)
Bridget Atwell (51)
Hamish Elder (51)
Brayden Atwell (52)
Rory Charles (53)
Joshua Welsh (53)
Malik Powell (53)
Cameron Atwell (55)
Mikayla Deshon (59)
Ainsleigh Passi (61)
Tatum Cooper (63)
Cooper Deshon (65)
Olivia Bennison (66)
Tegan Wilkinson (66)
Charlie Morcombe (67)
Evan Berson (71)
Emma Ormond (72)
Mickayla Little (73)
Isabella Wolfenden (75)
Stephen Phipps (77)
Fletcher Clemmence (77)
Lulu Mitchell-Oehlers (78)
Lachlan Bertram (81)
Lucy Dowling (83)
Owen Pang (85)
Mitchell Nixon (86)
Ella Pronk (87)
Chase Ridley (88)
Harper Mitchell-Oehlers (90)
Mia Pronk (90)
Zvikomborero Tinayenda (91)
Riley Lenzo (96)
Ethan Port-Louis (96)
Ash Haemori (97)
Congrats to the following Perth Redbacks WABL players who have achieved playing milestones during the 2020 WABL season.