Tomorrow night, our first West Coast Classic home fixture against the Cockburn Cougars will double as the annual Len Vlahov Memorial game. Which presents a great opportunity to tell you more about him 🙂
Len Vlahov was not only a great player for the Redbacks but he also served as club president from 1975 to 1982. He joined the club in 1964 as part of Bob Symons' plan to form a new men's A-grade basketball club in metropolitan Perth. Len played on the 1965 team which finally broke the monopoly of the YMCA Perth team. He was a worthy match for YM's national team member, John Jones and Olympian Dick Hughes. In his day Len was a strong, dominating forward and occasional post player who helped make our A-grade team a force in basketball in the 1960s. Len had the distinction of making the State Senior Men's Basketball team in 1963 and 1964 from the B-Grade team called SLOGA. He also made the 1965 state team alongside his new team-mates Bob Symons and Peter Simper.
In 1983, Len ran a long-weekend interclub junior carnival at the Vic Park Recreation Centre in which all State League Associations ran their junior teams. This was the fore-runner to what was to become one of the most successful junior pre-season competitions in Western Australia; the Redback Classic.
In later years Len was not too proud to play, captain and coach teams in the junior and minor senior grades. In 1984, Len coached the State U/16 Men's team. As with almost all Life Members Len not only played for the club but served as a coach, team organiser and club President for a substantial number of years.
Since Len's death at the age of 56, the PBA has recognised Len for his service to the club with the Len Vlahov Memorial Game at the first home game of every SBL season.
Len Vlahov was awarded Life Membership of the Perth Redbacks in 1976.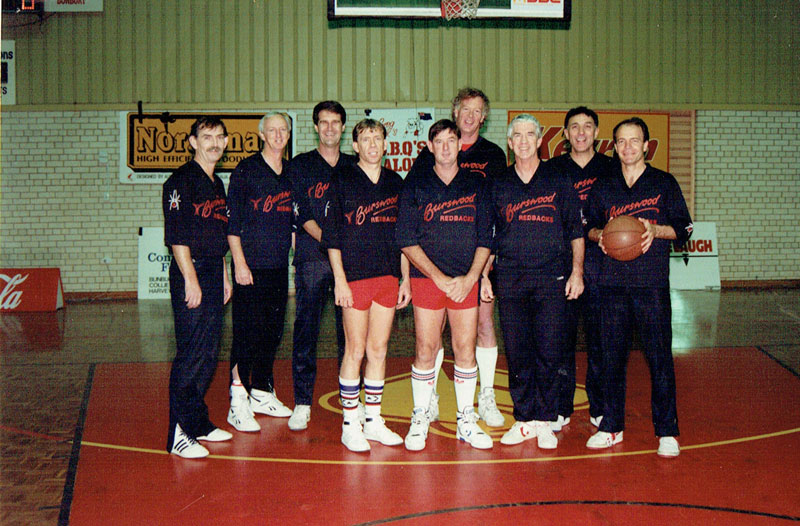 Pictured above is a veterans team Perth Redbacks took to Bunbury on the 23rd June 1990 to play the curtain-raiser to the SBL game, between the Burswood Redbacks and the South West Slammers. This team featured seven Perth Redbacks Life Members (LM). From left to right, the team members are: Ian Sharp (LM) Rob Rowbottam (LM), John Wallace, Stuart Mackay (LM), Rod Clinch (LM), Ric Longley, Peter Simper (LM) Len Vlahov (LM), Ian Nordahl (LM).