The Weekly WABL Wrap is proudly sponsored by Woods Insurance Brokers. 
What a crazy first round of WABL!
Several of our teams were without their regular coaches due to COVID so we need to say a huge thanks to those who stepped up to coach in their place – Brent Graham, Charlize Nicolau, Danny Sumich, Kira Todd and Nik Lackovic. We also had several heartstoppingly close losses with 8 games decided by margins of 5 points or less.
Here's the wrap up of how all our teams went including comments from coaches:
U12 Girls Div 2 – Emma Ormond (sponsored by Baston & Co)
Won against Cockburn Cougars 61-16
Coach comments:
Every single girl was locked in for all 32 minutes. Defensively they were a unit and were constantly giving first, second and third efforts on everything. They made nothing easy for Cockburn, causing turnover after turnover.
Harper Grace was phenomenal in this game. She played amazing help defence and offensively opened up the keyway with her jump shooting.
Leisha Charlie and Jacinta Wladyka's pressure was at another level – both of them worked together to cause turnovers every time Cockburn passed the ball in. Their aggression and willingness to put their body on the line complement each other very well.
U12 Girls Div 3 – Marcia Dowling (sponsored by Access Hire WA)
Lost to Perry Lakes Hawks 27-15
Coach comments:
It was great to see a high level of effort and intensity from the girls in the absence of their head coach. They never gave up despite being down 13-2 at half-time and we ended up winning the final quarter 7-2.
Gabbie Tetteh provided an excellent defensive presence in the keyway with rebounding and positioning. She finished the game with 3 points, 11 rebounds, 1 assist and 5 steals in her first game of WABL.
Annabella Lewis ran the ball well up the court and provided some strong offensive options attacking the basket. She filled up the stat sheet with 6 points, 7 rebounds, 1 assist and 4 steals.
U12 Girls Div 4 – Paul Philpott (sponsored by Sushi Wawa)
Lost to Cockburn Cougars 33-32
Coach comments:
All the girls elevated themselves today, gelled really beautifully as a team and held the lead for most of the game.
Freya Whitehouse pushed hard and dealt well with some physicality.
Ava Kemp had her basketball smarts on
Both Zara Flynn and Grace Danzo stepped up in a major way, assisting the rest of the team.
Thanks so much to assistant Charlize Nicolau for stepping into the head coach role today!
12 Boys Champs – Ash Brian
Lost to Perry Lakes Hawks 57-52
Coach comments:
Our team is built on defence and I can't fault our boys for putting in 100% effort from start to finish.
Matthew Lucano was a standout in his defence and ability to break the opposition's press.
Seb Doyle stepped up when it counted in the 4th quarter with a string of offensive plays.
After a few weeks away, Tommy Lackovic did not miss a beat and hit some crucial shots when we needed them.
U12 Boys Div 2 – Alex Maude (sponsored by Inspiration Paints)
Lost to Perry Lakes Hawks 54-30
Coach comments:
I was really pleased with the excellent execution of our offensive system, taking good shots and opportunities to get to the hoop, especially given most of the boys are new to WABL.
Our defence and rebounding improved throughout the game and we finished the second half strong with a near-even score.
Great rebounding efforts from Harrison Moyle and William Hemingway, led to many putbacks.
Jaxon Jan bought great defensive intensity.
Thanks so much to assistant coach Danny Sumich for stepping in to coach today!
U12 Boys Div 3 – Tyler Cusworth (sponsored by Euroz Hartleys)
Lost to Rockingham 46-44
Coach comments:
Against a team who came hard straight out of the gates, we struggled a bit under the pressure but our intent was there all game. While our execution let us down, the boys never gave up.
Vincent Ryder continues to operate as a leader out on the floor – he always listens and implements the changes where needed.
I was really impressed with Lucas Blackmore's performance – he is showing such great improvement since the start of the pre-season, his potential is limitless.
U12 Boys Div 4 – Matt Strika (sponsored by Global Cabling)
Won against Rockingham Flames Black 55-31
Coach comments:
The teamwork from the boys was outstanding. Every player on the court gave 100% and executed the game plan flawlessly.
Josh Webb has been working on his sweet jump shot over the pre-season, at times it seems like he couldn't miss finishing with a team-high score of 15.
As our on-court general, Jacob Tan controlled the point with an all-around effort finishing with 4 points, 11 rebounds and 3 assists.
U14 Girls Champs – Josh Wallace (sponsored by Welsh Real Estate)
Lost to Rockingham Flames 56-43
Coach comments:
I was really impressed with our fourth quarter in this game. We were down on the scoreboard and could have easily called it a game, but the girls didn't. They applied pressure and pushed the tempo on offence to the point where the Flames were too tired to chase them a few minutes into the quarter. We might not have won the game, but that's a championship attitude.
Em Horniman displayed great mental toughness during this game. It was a very physical game and it didn't seem to matter how many times she got knocked around, Em did not complain once and she always got back on her feet and put in the next sprint effort.
U14 Girls Div 2 – Zac Belton (sponsored by Redink Homes)
Lost to Warwick Senators 44-24
Coach comments:
I really loved seeing the way our girls fought through injuries and foul trouble and continued to run and play hard all the way to the final siren. It was a fantastic effort.
Ella Baxter's change in aggression in the second half was absolutely amazing to see.
Paige Ogden did a fantastic job – she was a Swiss army knife in this game, doing a bit of everything.
Mila Reyes showed constant aggression and her attitude was contagious.
Izzy Budby was back with the team for the first time in a while and showed great hustle on the boards.
Danica Jeremiah literally ran until she couldn't anymore – her effort in this game was incredible.
Special shoutout to Jem Barr who was in gear and cheering for the girls.
U14 Girls Div 4 Red – Lucy Dowling (sponsored by Aussie Fencing)
Lost to Slammers 46-33
Coach comments:
Even though we struggled a bit in the first half, the girls didn't drop their heads – they kept trying and lifted their energy which in turn improved our performance
Alessia Wladyka and Charlotte Foster both played nearly the whole game due to some players in foul trouble. I was really impressed with their resilience, and continuously positive attitude.
Mya Slee and Grace Butcher both had strong offensive games with Mya attacking the basket with purpose the whole game and Grace making a big dent in the margin in the fourth quarter.
U14 Girls Div 4 Black – Ofir Ben Dror
Lost to Cockburn 30-26
Coach comments:
The girls managed to fight their way back from 12 points down in the first half to tie the game up in the second half before eventually going down by four.
Paige Wigmore and Cara Hayes were our top scorers in the game, but more impressively, they showed great leadership and maturity when the team was down.
I was also very happy with how our two point guards, Salma Rahmadavi and Ava Chinnery did their roles in running the game for our team
U14 Boys Champs – Aleks Lackovic (sponsored by DLA Piper)
Lost to Perry Lakes 62-60
Coach comments:
After a disrupted final two weeks of pre-season, I was so proud of the maturity and composure these boys showed in a very tight and high-pressure game that was decided in the last seconds. They have come so far as a team in a short time, demonstrating a mix up of game tactics and organisation, holding themselves accountable, supporting and encouraging each other and epitomising how we want Redbacks players to conduct themselves in challenging situations.
Ano Sharu attacked hard throughout the game to find the advantage and play with pace. He led all scorers with 16 points while also contributing 10 rebounds and 1 steal.
Ewan Maclean was consistent in his work rate and kept our transition game flowing. With 12 seconds left on the clock, he ate up the opportunity to calmly drain a game-tying three-pointer. He ended the day with 6 points, 4 rebounds and 3 assists.
Jaden Exeter's defensive work rate was high – banging in the paint while also delivering consistent ball pressure, containment and help. He had a strong contribution across the scoresheet with 10 points, 4 rebounds, 1 assist, 1 steal and 1 block despite foul trouble limiting his minutes.
U14 Boys Div 2 – Kevin Dunstan (sponsored by United Steel)
Won against Rockingham 68-55
Coach comments:
It was great to see all players perform to the best of their abilities and support their teammates throughout the game
The whole team showed great intensity on offence and defence and everyone hit the scoreboard in our first win. Well done.
U14 Boys Div 4 – Andrew Logan (sponsored by Drafting Now)
Lost to South West Slammers 51-48
Coach comments:
As a team, we stuck to our structures and at times reaped the rewards. Everyone competed with intensity and embraced our defence first mindset.
James Galvin and Xavier Allison were excellent for us. James drove the pace of the game and Xavier was super efficient with his scoring.
U14 Boys Div 5 – Isaiah Walley-Stack (sponsored by S&M Group Bobcat and Truck Hire)
Lost to Hills Raiders 40-37
Coach comments:
After a slow start, we settled into playing as a team and started to gain some momentum.
In the end, we would rue that slow start as it meant we were playing catch up the whole way and couldn't quite get over the line despite playing some good basketball.
Our bench was vocal during the game and drove our confidence on defence.
Shout out to Jake Chew for his excellent full-court defence and his resilience.
U16 Girls Champs – Bryn Arnold
Lost to Perry Lakes 68-38
Coach comments:
This was a tough start to the season with only seven players available and the head coach in COVID isolation. Huge thanks to Matilda Pyne for filling in and Nik Lackovic for stepping in as coach.
I was proud of our undermanned team who competed hard for the full 40 minutes.
Miki Deshon dropped 16 points on her return from injury which is a great sign moving forward.
U16 Girls Div 2 – Holly Moore (sponsored by Mt Lawley Orthodontics)
Lost to Warwick Senators 73-50
Coach comments:
I was really pleased with our intensity in the first half, driving hard to the basket and the great support shown between teammates.
Tiana Alger impressed me a lot in this game – she was involved in everything. In defence and offense, she demonstrated 110% effort in the whole game. She is always in the right positions and knows when to commit.
Abbey Macham is one of the smallest players on the court yet had one of the highest stats for rebounding. She is a player who always commits in defence. Even though we were down by a lot in the last quarter she kept putting in 110%. The effort we received from Abbey in the last quarter really made me proud.
U16 Girls Div 4 – Geoff Alger (sponsored by MD Building Maintenance)
Lost to Hills Raiders 47-42
Coach comments:
We have a goal of being one of the loudest most supportive teams in the competition and the girls started out really well towards that on Sunday.
The girls showed in phases the outstanding basketball they are capable of (particularly in an 18-2 third quarter). If they can work hard on eliminating transition baskets and increase their ball movement in offense, we should see some better results on the scoreboard.
Jess Kerp had an outstanding game controlling the ball in offence and providing non-stop defensive pressure in defence countless turnovers for the opposition.
Steph Hunt showcased her scoring ability with a team-high 13 points.
Train on Izzy Armstrong made the most of her playing opportunity to rack up 8 points and provide a good all-round contribution.
Giselle Dale's confidence and willingness to attack grew as the game went on.
U16 Boys Div 2 Red – Luke Simonette (sponsored by TECC)
Lost to Senators 55-48
Coach comments:
I was really impressed with our team's attitude, sportsmanship, sense of team, and support for each other and assistant coach Kira who had to step in as head coach.
Andrew Cook is a player we relied on heavily in this game. He is an all-round player, never fails to give 100% on the court and definitely showcased his abilities on Sunday.
Isaac Moore was another superstar on Sunday. Having three of our guards out for the game, and our point guard in foul trouble early, Isaac confidently stepped up to the plate. He did everything we asked of him and more on Sunday.
U16 Boys Div 2 Black – Luke Notley (sponsored by MSP Electrical)
Lost to Hills Raiders 86-55
Coach comments:
It was always going to be tough playing against a top age Hills team with our team of bottom agers. But it's also a good thing to have a tough game first up in the season to really see where the bar is. While 36 turnovers made it hard to stay close to the opposition and while we ran out of juice at the end, the scoreline doesn't do the swings of the game justice. I thought we played some great basketball in phases, containing the ball and finding our open players in offensive transition. Looking forward to next week's game and continuing to improve.
James Bowen had a great game with his second and third efforts offensively and Ben Galvin was a workhorse in the paint.
Cleon Ryder, Jerry Davies, Michael Ryan, Levi Hewett, Lachlan Wheals and Zac Anfuso competed hard all game long.
Jack Saliacus and Jay Hazell had some big, tough opposition in the paint to compete with but kept at it.
Maks Lackovic was a massive help for the team this week capturing some of our key stats (turnovers, paint touches, O+D boards, deflections).
Won against Mandurah Magic Gold 71-50
Coach comments:
After an interrupted pre-season, I was very proud of the 'whole of team' approach we took to this game.
We have made a conscious decision to just play our style of basketball this season regardless of the opponent and the boys delivered with a fast-paced offense and an aggressive mindset in defence.
Not being outscored in any of the quarters was a highlight as it showed constant application and attention. No techs and a game played in good spirit and sportsmanship is also always a highlight.
Noah Rees-Turner was our Mr Fix it all game. Whenever we needed a rebound, a score, a quick pass or even an extra ball-handler – Noah just stepped up and filled that role for us.
Caleb Diacov Braga may have only troubled the scorers once, he did however trouble the opposition's main scorer all game. Caleb typifies the 'We' over 'Me' attitude that we are all striving for in Redbacks basketball.
Jude Garbenis is a running machine and was our top scorer with 21. It is however his willingness to run both ways and acknowledgement of teammates who release him that is worthy of recognition.
U16 Boys Div 5 – Tom Swindale
Lost to Hills Raiders 70-64
Coach comments:
I was so pleased with our team's ability to not give up and continue to fight despite coming into the fourth quarter 18 points down
Cuba Brian helped lead the charge to get us back into the game. His pace and playmaking ability helped us bring the margin down to where it was at full time.
Samuel Pierce is another player I'd like to shout out in this game. He is one of our most vocal players on the defensive end and it helps maintain and lift intensity on that end
U18 Girls Champs – Mya Dimanlig (sponsored by Titan Finance)
Lost to Warwick Senators 97-41
Coach comments:
Although we were down the whole game our girls never gave up and continued to fight until the end.
Teagan McArthur showed continuous effort both offensively and defensively, lifting the intensity of the game when we needed it
U18 Girls Div 2 – John Care
Won against Joondalup Wolves White 46-32
Coach comments:
After a difficult, disrupted preseason and considering it was the first time the girls had played together, I could not have been prouder of their efforts. They came out all guns blazing with a strong first quarter, playing as a team and backing each other with some great plays. Fouls were high and some girls found themselves in foul trouble early, but they kept their nerve and played out the game. Given we were three players down before the game even started, I couldn't be any happier with the efforts of every player in this game.
Izzy Woods top scored with 15 points. She put on an amazing show of hard work and hustle in both offence and defence – her excellent shooting and strong defence created a headache for Joondalup and secured several steals.
Annabelle Hathway showed great leadership on court with some great passes to put our team on the scoreboard while also providing 5 points of her own.
U18 Boys Champs – Brandon Riley (sponsored by Willis Temby)
Won against Warwick 67-62
Coach comments:
This was a tough game first up, but we were switched on mentally and came to play. Our defensive intensity was a standout and our team talk in crunch time on the floor was crucial.
I was very proud of every player – they all contributed strongly today.
U18 Boys Div 2 – Sam Fox (sponsored by MacDonalds Karratha)
Won against East Perth Eagles 71-55
Coach comments:
This was a great start to our season. Our rebounding effort was excellent and our defence was disruptive throughout. There is a lot of room for improvement on D—particularly matching up quickly—but I was very happy with our commitment to pressure and execution of traps/presses. On O, we executed very well, getting the ball in the paint off screening actions and looking for each other. I was really happy with the unselfishness and commitment to ball movement.
Jake Vilardi led us in rebounding which was fantastic considering the size of the opposing team.
Mandla Magwenzi was awesome off the bench, bringing hustle on D and great composure on O, especially against full-court pressure.
Declan Pyne had a very efficient scoring game, racking up 24 points while also rebounding very well and playing strong inside D.
Ethan McIntosh and Akira Rowe-Fox made some great inside passes after getting in the paint, played high-pressure D all game, and both scored in double figures.
U18 Boys Div 3 – Simon Daff (sponsored by Grange Risk Solutions)
Won against Rockingham Flames 82-67
Coach comments:
We dug ourselves into a bit of a hole in the first quarter as we were super tight and playing with a lot of nerves. To their credit, the boys never panicked, and things turned our way in the second half.
Drew Corry had an outstanding game using his speed to constantly get to the basket and finish. His attitude never changes whether we are up or down.
Charlie Thomas shook off some nerves in his first WABL game to be the dominant rebounder on the floor. His ability to space and play off the ball and get into good rebounding spots was a highlight.
U18 Boys Div 4 – Mitch Nixon (sponsored by Maude Family Lawyers)
Won against Suns 82-62
Coach comments:
This was a great team win and in the third quarter in particular, the whole team executed the full-court press well and worked exceptionally hard on defence
Harry Maude had a great 22-point game which started with great D getting many steals. He along with Ethan Logan (playing his 50th WABL game for Redbacks) really lifted the energy of the team. This was noticed not only by the players but parents as well.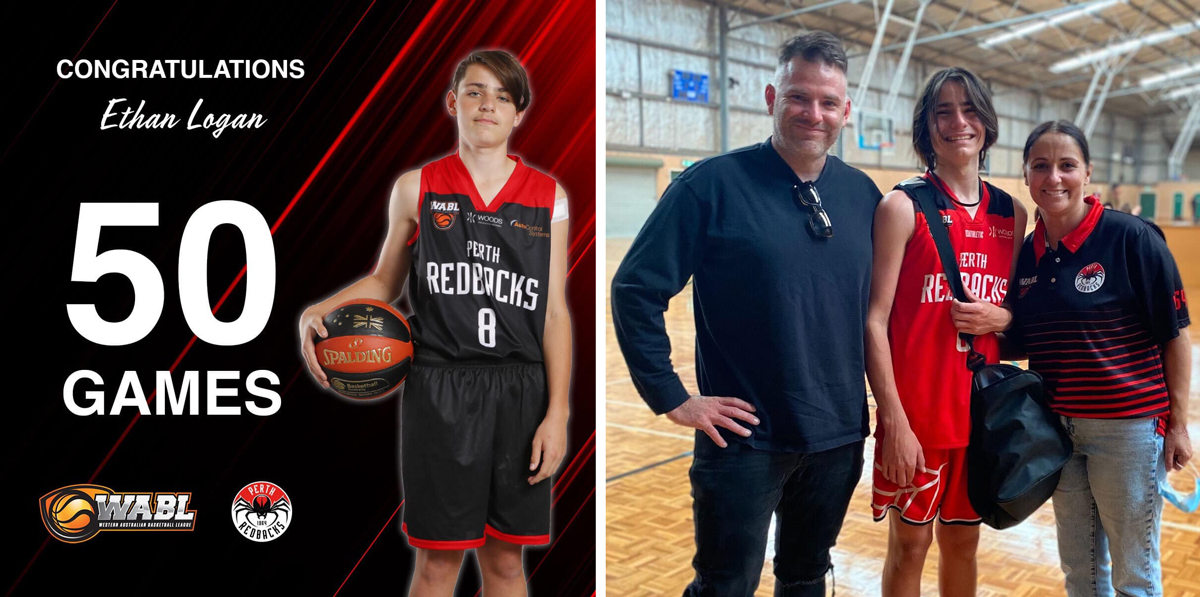 U20 Boys Champs – Caleb Kingston
Lost to Hills Raiders 86-82
Coach comments:
After being down double-digits early in the first half, the team fought back well
Ethan Port-Louis was an absolute weapon on offence, raining down threes and being our energy guy.
Kaden Morcombe also played great coming off the bench with 18 points and great rebounding.