The Weekly WABL Wrap is proudly sponsored by Woods Insurance Brokers. 
Here's the Round 2 wrap up of how all our teams went including comments from coaches:
U12 Girls Div 2 – Emma Ormond (sponsored by Baston & Co)
Won against Mandurah Magic Red 56-43
Coach comments:
I was so pleased to see how unselfish the girls were today. Along with that, they were constantly putting their bodies on the line to get the ball. At no point during the game did they let Mandurah do anything easy.

Sasha Kuan was really strong under the basket, contesting shots and grabbing rebounds on both ends.

Jacinta Wladyka was a workhorse today – I watched her dive on loose balls, rip the ball from the opposition and chase to get back tips time after time.

Darcey Hill's eagerness to go out and get the ball is like no other. Playing against girls two years older can be hard but her mental toughness has been essential to her success this year
U12 Girls Div 3 – Marcia Dowling (sponsored by Access Hire WA)
Lost to Mandurah Black 24-29
Coach comments:
This was a game that was close throughout and where we had to make a lot of adjustments on the fly. The team collectively worked hard to make these changes but I was particularly impressed with Cyra Olowoyo's attentiveness which led to successful implementation.

While Gabbie Tetteh (16 rebounds) and Gracie Dillon (12 rebounds) led the way for us on the boards, our entire team's effort here was outstanding. We outrebounded Mandurah 64 to 48 and more than half our points were second-chance points. 

Annabella Lewis came very close to a triple-double with 11 points, 10 steals and 9 rebounds – displaying a strong contribution on both the offensive and defensive end.
U12 Girls Div 4 – Paul Philpott (sponsored by Sushi Wawa)
Lost to Hills Raiders 32-40
Coach comments:
Our girls played a strong first three quarters to go into the final quarter with scores tied. We continued to challenge the Hills Raiders down to the last minutes. Our defence was superb at the half-court and stopped many transitions by the Hills Raiders. It was wonderful to see all the girls starting to gel and work together as a solid team.

Zara Flynn with her magic hands constantly made the Hills Raiders' job harder

Ava Kemp closed out hard on shots

Manisha

Jeyamohan

and Ella Fair demonstrated great ball movement towards the ring keeping us in the game the whole time. 

Of special note were the efforts of both Grace Danzo and Stevie Brehaut who brought energy and hustle. 

As a team, well done girls. Both Charlize and myself were so proud of your efforts. We are edging closer to that first win.
12 Boys Champs – Ash Brian
Won against Rockingham Flames 82-45
Coach comments:
Our aim was to play pressure defence for every minute of the game, and each of the boys did a great job at staying focused and maintaining pressure.

Zeke Brian set the tone on defense from the start. He was relentless on pressuring their guards which turned into points for him and his teammates.

Ethan Kingsbury also stepped up in the second line of defence, picking off some opposition passes, plus pulling down some crucial rebounds.

Nate Cass played a fantastic athletic 4 man role today as he did all the 1% efforts we ask of our team including putting back any missed baskets on the break.
U12 Boys Div 2 – Alex Maude (sponsored by Inspiration Paints)
Lost to Cockburn 34-53
Coach comments:
I was really impressed with our team's ball movement on offence, help defence, shot selection and great rebounding effort in this game

William Hemingway and Harrison Moyle in particular crashed the boards really well, securing the ball and starting transition.

Max Woods left it all on the floor defensively. I don't think there was a single occasion where the opposition drove past him. A defensive highlight was at the end of the third when the opposition's main shooter was trying to get a shot off – Max shut him down and forced him to pass.
U12 Boys Div 3 – Tyler Cusworth (sponsored by Euroz Hartleys)
Lost to Cockburn 40-52
Coach comments:
As always our boys showed great intent. We played through some aggressive defensive sets and kept our heads cool in times when things didn't go our way. Although we didn't get the result we were looking for I have no doubt that with a few more games under the belt these boys will make a run up that ladder.

The whole team impressed me today:  Vince, Zach, Luka, Kai, Lucas, Franek, Jackson, Will, Ollie and Scott – it's been the absolute best being able to be your mentor/coach/friend. I cannot wait to watch from afar how awesome you kids become.

You are in Ben's very capable hands now. Make sure to carry our values onwards and upwards.
U12 Boys Div 4 – Matt Strika (sponsored by Global Cabling)
Won against Lakeside Lightning 45-37
Coach comments:
Spurred on by our new personalised black uniforms the boys brought a new level of intensity and effort to the court this week. Every player gave 100% from start to finish and by following the game plan were able to weather a number of challenges from the opposition to come out with the win. 

Tex Tierney was dominant again with his second double-double (16 points, 18 rebounds) for the season 

Oliver Tuohy and Ben Handke also contributed on the boards with 8 rebounds each. 

Special shout out to both Jayden Austin and Elijah Mancini whose effort and hustle do not always show up on the stat sheet but are a vital component of the team's success.
U14 Girls Champs – Josh Wallace (sponsored by Welsh Real Estate)
Won against Mandurah Magic 79-41
Coach comments:
At training this week we addressed "wanting the ball" more than the opposition, and the girls delivered by being at their disruptive best – diving on loose balls, hunting rebounds, chasing down the opposition in transition, not shying away from contact and physicality, and playing high-pressure D for the full 4 quarters.

Our ball and player movement, particularly in the first and fourth quarters was first class. Incredibly unselfish team play led to a lot of easy scoring opportunities. This was facilitated by the girls being highly aggressive putting pressure on the rim through cutting and driving, and not settling for jump shots.

I don't want to highlight any individual efforts this week as every girl produced multiple efforts worthy of a mention. This was a great team game from start to finish and the girls should be proud of how they performed as a group.
U14 Girls Div 2 – Zac Belton (sponsored by Redink Homes)
Loss to Cockburn Cougars 63-55 (2OT)
Coach comments:
I was so amazed at the way the girls kept their aggression and composure during a double-overtime game that ended with us having only 3 players on the court – it was incredible.

Jem Barr has been injured for all of pre-season and ended up having to play significant minutes during her first game back; she did not give up at all and should be incredibly proud.

Ella Baxter had a fantastic game being aggressive and making the right decisions. She stepped up when we really needed it.

Izzy Budby did an amazing job on the boards collecting 5 separate 'AND1s' and really coming into her own as a player.

Huge congrats to Anna Zittrisch for playing her 50th WABL game for Perth Redbacks. It sure was one to remember!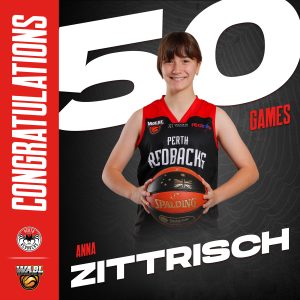 U14 Girls Div 4 Red – Lucy Dowling (sponsored by Aussie Fencing)
Won against Slammers 39-37 (OT)
Coach comments:
Today every single girl showed up and played their part. Last week we struggled with bringing energy the whole game but today the girls were amazing. All of them were chasing every loose ball, all the rebounds and not giving up. This was rewarded in OT when we scored a buzzer-beater to win!

First off, amazing game to Summer Chalder who got us over the line with a buzzer-beater in the last second of OT.

This was another good game by Grace Butcher, she contributed strongly to both our rebound count and the score.

It was great to have Chelsea Ferris back playing with the team after some setbacks, her energy and effort radiated around the group.

Overall I'm just so impressed and proud of the composure and effort of these girls, they all contributed to the win.
U14 Girls Div 4 Black – Ofir Ben Dror
Lost to Willetton 38-19
Coach comments:
The girls defended the keyway really well in this game

Lottie Ballantine had great impact offensively from the moment she stepped on the court, and this carried all the way through the game.
U14 Boys Champs – Aleks Lackovic (sponsored by DLA Piper)
Lost to Rockingham Flames 58-59 (OT)
Coach comments:
From the word go, this was a high intensity, high-pressure game that was more like a final than a Round 2 matchup with small margins and constant lead changes throughout the game.

Our entire team was dialled in defensively from the start – constantly creating ball pressure, containment and being in help position.

Our effort on the boards was outstanding, we outrebounded the biggest and most physically mature team in the competition 61-47.

Ano Sharu and Jaden Exeter were PAINT BEASTS, combining for 31 of those 61 rebounds. They also combined for 23 points, 8 assists, 4 deflections, 7 steals and 3 blocks. Great output.

Zak Magdy's constant defensive hunt saw him hustle several jump balls and create transition opportunities. These are things that don't show up on stat sheets but energise the team.

Tyler Murphy, in his 50th WABL game for Redbacks hit 4 of his 9 points deep in overtime to twice give us back a 1 point lead.

Cooper Hewer, Ewan Maclean, Jaxon Kowal, Jackson Doyle, Anthony Flores and Flynn Hamilton all gave 100% for the entire time they were on the court, executing our full-court press, ensuring there were no easy possessions, finding great shots and demonstrating incredible resilience in the face of extreme pressure. 

Coach Ron and I were incredibly proud of this entire group on Sunday.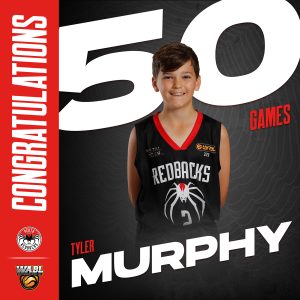 U14 Boys Div 2 – Kevin Dunstan (sponsored by United Steel)
Lost to Mandurah Magic 44-93
Coach comments:
In the first half, the energy in our scrambling defence helped us stay within striking distance of a Mandurah team who were big and fast, meaning we were down by just 11 points at the half. We easily broke through their press time and time again. Our players were always positively supporting each other on and off the court.

Our defensive intensity and team spirit was exemplified by Nic Dropulich, who took a charge from a much bigger Mandurah player, plus had 2 steals in the first half.
U14 Boys Div 4 – Andrew Logan (sponsored by Drafting Now)
Lost to Lakeside 65-55
Coach comments:
The game got away from us in the 3rd quarter with the lead blowing out to 19 early in the 4th. The boys didn't drop their heads and we reduced the lead to 6 before eventually losing by 10. The other pleasing aspect was we had an equal rebound count against a team that had a significant height advantage.

Congrats to Tace Rankin who played his 50th WABL game for Perth Redbacks in this game! Great effort at a young age.

Louis Daniel competed hard all game – he got in and got his hands dirty always giving his all. His ability to listen and then execute the small details is impressive and earns him minutes.

James Galvin had a super-efficient game grabbing 25 points on 10/13 shooting and 3/4 from deep. An outstanding performance.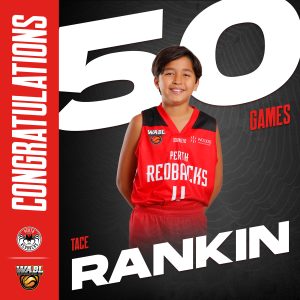 U14 Boys Div 5 – Isaiah Walley-Stack (sponsored by S&M Group Bobcat and Truck Hire)
Lost to Cockburn 46-55
Coach comments:
For the second week in a row, we took a while to get going but showed heart and passion to stay in the game and keep the margin down. In the end, we fell short by 9 but I was very proud of the boys' effort.

Particular shout out to Caeden Olowoyo who was able to conquer his emotions and use them as fuel to play defence on a bigger opponent and also be a floor general for us on offence.
U16 Girls Champs – Bryn Arnold
Won against Rockingham 58-52
Coach comments:
I was super impressed with the heart and effort the team gave, especially in the 2nd half. We got down 15+ points but never gave in and fought our way back with an outstanding 25-6 last quarter to secure our first win of the season. The win was led by our bench – they brought energy and effort that became infectious across the whole team.

Georgia Marsland's effort on defence was excellent and as a guard the rebounds and extra possessions she created were outstanding.

Matilda Thompson's energy and intensity on the defensive end were excellent and helped in lifting her teammates.

Blaise Stancil did a great job on both sides of the ball – her decision-making was first class.

Congrats to Jenna Jackson – this game was her 50th WABL game for Perth Redbacks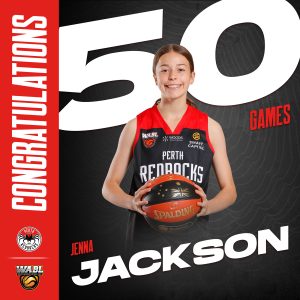 U16 Girls Div 2 – Holly Moore (sponsored by Mt Lawley Orthodontics)
Lost to Perry Lakes 62-57
Coach comments:
Teamwork makes the dream work. Our focus was on point for three quarters of the game and our defence was strong

Abbey Macham's consistency in the game was unreal. Her defence is always strong and she understands the game at a high level.

Liliana Flynn's defensive effort was also strong with multiple steals and strong rebounds for a small player.

Tiana Alger once again had a strong game with excellent rebounding at both ends of the court.
U16 Girls Div 4 – Geoff Alger (sponsored by MD Building Maintenance)
Won against Mandurah Magic 63-49
Coach comments:
Our girls were once again loud and supportive from the bench and again our offensive rebounding was great creating many second and third opportunities. I was also pleased with the intensity of our pressure defence which created many backcourt turnovers.

Shot selection and finishing were improved with the challenge being to improve this once again to really maximise the reward for effort.

Keira Tran provided constant excellent pressure defence while also avoiding giving away fouls and being near faultless with ball in hand. She showed you don't have to be a high scorer to have a huge impact on the game.

Matilda Wyatt took a little more time this week with her finishing to get more reward on the scoreboard for her determined work inside.

Indiana Ballantine had a great game with excellent spacing and determined rebounding.
U16 Boys Div 2 Red – Luke Simonette (sponsored by TECC)
Lost to Perry Lakes 49-77
Coach comments:
Our team produced a great 4th quarter of effort despite the run of the game going the other way

Despite what the scoreboard said, ours was the most consistent and aggressive team effort and the boys enjoyed each other's support and team spirit

Naoki Walker had a great game, always providing great effort that delivered good rewards

Sasha Zugic played huge minutes with consistent effort and attitude

Romain Suraweera – the emotional heart of the team – lifted when heads started to drop
U16 Boys Div 2 Black – Luke Notley (sponsored by MSP Electrical)
Lost to Senators 94-70
Coach comments:
It was great to see us keep fighting towards the end irrespective of the scoreline. This will build resilience throughout the season. 

While our turnovers hurt us and our inability to contain our man defensively allowed Senators too many easy buckets (especially in transition), the full court defensive effort was much better this week and we put good pressure on Senators when inbounding the ball. 

Each quarter, we talked about trying to win the quarter. Our 2nd and 4th quarters went close and overall, our intensity this week was a big improvement from last week so that was great to see.

Ben Galvin's effort and work rate are amazing, he just keeps on going and doesn't give up or stop. 

James Bowen also persevered strongly even after getting some bruises from hitting the floor. 

Zac Anfuso kept his teammates upbeat on the bench making sure we all kept a good attitude during the game.

Jerry Davies' effort was great this week both on the defensive end as well as handling the ball pressure and trying to start our offensive set.
Lost to Willetton Blue 80-78
Coach comments:
It was a heartbreaker of our own making. After being down by as much as 14 in the 3rd quarter the boys made a massive run in the fourth and took the lead with minutes left. Unfortunately, a holding foul was called and our opponents to their credit slotted the free throws and took the win. It wasn't those final seconds that lost us the game though, it was our defensive intensity in the first half.

We take a lot out of this game – we need to play 4 quarters, channel our aggression and learn to play as a team. Our best basketball is very good.

Cooper Thompson came off our bench and was switched on every time. Cooper made two exquisite assists to get our run going and showed great defensive intensity every second he was on.

Ibrahim Abdi battled the opposition centre all game and demonstrated a great work rate at both ends. Our team is learning how to utilise his talents and the best is still to come.

Ethan Bushby's defence was superb in the last quarter and his effort is the stuff of nightmares for opposition point guards. Finding the line for intensity is Ethan's big challenge.
U16 Boys Div 5 – Tom Swindale
Lost to Perry Lakes Hawks 110-53
Coach comments:
In a game where we were hugely undersized and undermanned with several players out with COVID and injury, I was so impressed with the way the boys never gave us. They continued to push hard throughout the game despite being utterly exhausted.

Ben Maine worked hard to consistently get to the basket.

Cuba Brian again displayed what it means to never give up – something the opposing coach even mentioned at the end of the game.

Thanks so much to U14 player Deacon Hollow for backing up for a second game on the day when we found ourselves down to 7 players shortly before game start.
U18 Girls Champs – Mya Dimanlig (sponsored by Titan Finance)
Lost to Perry Lakes 55-86
Coach comments:
Thanks so much to Michelle Fletcher for taking the reins in this game with me out ill. 

Michelle was impressed by the whole team's 'never-give-up' attitude in the second half of the game. And she noted it was nice to see the players respond to her requests to play in the manner she knew they could all play.
U18 Girls Div 2 – John Care
Lost to East Perth 67-36
Coach comments:
This was a tough game of basketball with some great moments of teamwork that helped the team deliver but not enough to make it a more competitive game.

Hannah Saliacus had a great game with 14 points and many rebounds.

Annabelle Hathway showed grit, hustle and leadership that doesn't appear on the scoresheet but had a big impact.

Tatum Cooper continued to cause East Perth trouble. Her basketball IQ created opportunities for her to score buckets and also provide opportunities for her teammates to add to the score sheet as well.
U18 Boys Champs – Brandon Riley (sponsored by Willis Temby)
Lost to Perry Lakes 83 v 96
Coach comments:
Thanks so much to Michael Riley and Austin Clarke for filling in to coach this game as I was ill. 

This was a tough matchup but we responded well to the challenge. A strong third quarter saw us enter the fourth with the lead. Unfortunately, we were outplayed in the 4th but it was a gutsy effort by the boys.

The guys who came off the bench, particularly Harper Mitchell-Oehlers, did a great job bringing energy.

Congrats to Ethan Saliacus who played his 50th WABL game for Perth Redbacks in this game.
U18 Boys Div 2 – Sam Fox (sponsored by MacDonalds Karratha)
Won against Cockburn Cougars 70-66
Coach comments:
Cockburn's full-court, high-pressure D was very strong and mirrored our own style. It was a great test for us and we did really well to stick to our game, respond to their runs and then build a lead. We out-pressured their pressure, scoring 31 points off turnovers to their 16. We led the whole second half and withstood a final push in the fourth. This was a great game of resilience, commitment and team effort.

Mackenzie Tanner was super aggressive on drives and later in the game knocked down a pair of threes. His D and boards were excellent along with 25 points.

Miguel Chaitika's defensive pressure was fantastic and he was great getting out in transition.

Danny Ryan had an awesome game. He was constantly cleaning the glass and was very strong in the paint on offence.

When playing point, Ethan Gonalves dealt with full-court pressure with poise. In the third, he broke down the D to get some key assists that built our lead.
U18 Boys Div 3 – Simon Daff (sponsored by Grange Risk Solutions)
Won against Hills Raiders 91 to 74
Coach comments:
We had an amazing second quarter outscoring Hills 29 to 10. Was easily the best quarter we've had this season. Our defence and ball pressure was a highlight as they generated multiple fast-break opportunities.

Our team rebounding has been solid all year and we are moving the ball well.

Andrew Chilufya had an outstanding game. His on-ball and off-ball defence led to opportunities in the open court and on the fast break. He is really maturing and rounding out his game with a now consistent three-point shot.

Cooper Deshon had a great game at point guard controlling the tempo and being our playmaker. He made things happen when the other team made a run.

I also have to note the outstanding defensive efforts of Riley Ford and Jaxon Sym – Riley in the keyway controlling their big and staying physical while Jaxon had a great second half guarding full court.
U18 Boys Div 4 – Mitch Nixon (sponsored by Maude Family Lawyers)
Bye
U20 Boys Champs – Caleb Kingston
Lost to Perry Lakes 64-71
Coach comments:
The defensive effort and intensity in this game was the best I have seen from a team. They elevated significantly from last week and I couldn't be prouder of the effort. 

We were down double-digits multiple times in the game and they just kept fighting.

Shout out to our bench whose energy was amazing all game long, even from those who weren't playing. 

Owen Pang displayed great on-ball defence and speed.

Leon Chitiyo hit a lovely buzzer-beating 3 to tie the game up at three-quarter time.

Ethan Port-Louis knocked down 7 three-pointers, but most importantly, brought great energy to the game.