The Weekly WABL Wrap is proudly sponsored by Woods Insurance Brokers. 
Here's the Round 3 wrap up of how all our teams went including comments from coaches:
U12 Girls Div 2 – Emma Ormond (sponsored by Baston & Co)
Won against Willetton Tigers 47-28
Coach comments:
Willetton pushed us from an effort standpoint the most we've been pushed thus far but our girls held their own and gave it right back to them. When we had the momentum, they were using it to the best of their ability and when we didn't, the girls were fighting hard and causing turnovers and grabbing rebounds.

Georgie Clarke's decision making and aggression at getting to the basket gave both her and her teammates many quality looks.

Nora Herring-Oestermeyer's effort really set the tone for the team in the first quarter. When she fouled off, she had a massive smile on her face and cheered on her team for the last quarter.

Ava Armstrong's hustle couldn't be contained on Sunday. She was chasing down fast breaks and grabbing loose balls whenever she had the chance.
U12 Girls Div 3 – Marcia Dowling (sponsored by Access Hire WA)
Won against Mandurah Gold 26-4
Coach comments:
With 7 players (reduced to 6 in the second half), the team had to work together and be super flexible. There was an amazing improvement in on-court communication in this game.

Anabella Lewis took solid shots consistently in the second quarter. 

Neve Hayles-Stenhouse and Pepi Graham showed their most resilient attitude and skilful footwork.

Gracie Dillon gave the team the drive and help to fight under the basket.

Gabbie Tetteh put her body on the line many times and led our team in rebounds. 

Alyssa Rullo showed the most exciting change in her defence which resulted in more than six stops at half court. 

Mia Exeter gave absolutely everything. Her presence in transition showed great improvement and her continued effort underneath the basket was fantastic.
U12 Girls Div 4 – Paul Philpott (sponsored by Sushi Wawa)
Lost to Willetton 44-25
Coach comments:
It was a tough game today but our wonderful girls continued to fight until the last second.

As a team, we still have some on-court organising to do but that will come.

Ella Fair was a superwoman with her hard defence today for the entirety of the game. 

Olivia Birsa used her height to exert dominance under the rings. 

Lauren Jones led the charge down the court, making some spectacular baskets. 

Stevie Brehaut caused the Tigers a lot of grief with her defensive efforts.
12 Boys Champs – Ash Brian
Won against Cockburn 57-47
Coach comments:
What a battle! With only 7 players suiting up we knew our biggest challenge was going to be to run out the game with the same defensive intensity as the start and for no one to foul out.

Tommy Lackovic served up a wide variety on offense which made him hard to stop and equated to a 26 point explosion.

Toby Deshon had, without a doubt, his best game of the season with a number of eye-opening passes to teammates that resulted in scores plus a highly-efficient field goal percentage for his own points.

Erik Davies was a beast in the paint blocking some early shots which meant the opposition continually second-guessed their decision to drive. He was exhausted from his extended minutes and asked for a sub on a number of occasions, but to get the win we could only afford to give him a few minutes on the bench.
U12 Boys Div 2 – Alex Maude (sponsored by Inspiration Paints)
Lost to Mandurah Magic 37-40
Coach comments:
I was very pleased with our defensive rotations, good shot selections, passing decisions and transition offence and defence in this game.

William Hemingway threw his body around with every rebound contest. Late in the game, he gained some crucial offensive rebounds and put back scores, as well as hitting two clutch free throws to tie the game with a minute to go.

Max Woods led our team's playmaking – making some great passes, slowing the ball down and creating some great off-ball movement which allowed him and his teammates to score

Matthew Karalis was given the task to stop Mandurah's main scorer, and he did a great job of it. Using his speed and agility he was able to limit the opposition's scorer in the second half
U12 Boys Div 3 – Ben Hamilton (sponsored by Euroz Hartleys)
Lost to Willetton Tigers 64-36
Coach comments (Mark Ryder):
The boys performed admirably on Sunday keeping up with a very good Willetton Tigers team for three quarters. The game got away from them in the last quarter but I can see only good things ahead as they continue on into the season. I reminded the team on Sunday that the majority of them have only played 3 WABL games, yet they are already able to compete together at a high level. By continuing to display their willingness to play team basketball, they will reap the rewards in the future.
On the court, I saw tenacious defence and unselfish offensive basketball. I was especially pleased for Oliver Colangelo at both ends of the court, William Ryan for his attacking drives at the bucket and Kai Atfield had another great game.
Ben Hamilton now finally gets to take over coaching the boys after COVID delayed him by a week. I look forward to witnessing their growth under his guidance. Best of luck Ben. Go Redbacks!
U12 Boys Div 4 – Matt Strika (sponsored by Global Cabling)
Lost to Perry Lakes Hawks 47-50
Coach comments:
Despite being outsized in the middle I was pleased to see the boys continue to fight for the ball and execute the game plan. Every single player had an impact on the scoreboard which demonstrates the team's willingness to share the ball to find the best option.

Big shout out to our back court this week with some gutsy efforts fighting for the ball from Noah Mucjanko, Jayden Austin, Jonah Marshall and Elijah Mancini. 

It was also another solid effort from Jacob Tan, dishing out 3 assists and taking 5 steals.
U14 Girls Champs – Josh Wallace (sponsored by Welsh Real Estate)
Lost to Willetton 42-28
Coach comments:
This was a tight game throughout the entire first half with only 3 points separating us from Willetton at half-time. Unfortunately, we couldn't stop Willetton executing strongly in the third and struggled to score ourselves. This saw the margin blow out but I was really proud of the girls' fight to reset for the final quarter and play at the level they're capable of.
Big congrats to Millie Stancil who played her 50th WABL game for Perth Redbacks today.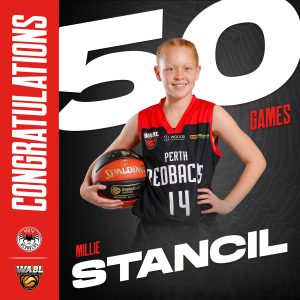 U14 Girls Div 2 – Zac Belton (sponsored by Redink Homes)
Lost to Hills Raiders 57-32
Coach comments:
I was very happy with our aggression in this game. Hills are a very physical team and we definitely matched them in this department.

Paige Ogden did a fantastic job on both ends of the floor – containing her match-up and attacking the basket.

Isabella Budby was aggressive from the start and did a fantastic job cutting and getting to the basket.

Ella Baxter also did a fantastic job defensively, it's awesome seeing her confidence grow every week!
U14 Girls Div 4 Red – Lucy Dowling (sponsored by Aussie Fencing)
Won against Cockburn Cougars 62-42
Coach comments:
Everyone really showed up today and started off with great energy that got us a lead early. As a team we now need to work on keeping that intensity up the whole game to avoid dropping off near the end in harder games. One of our goals for this game was to win rebounds and to win effort and we definitely did that. I'm super proud of them.

Chelsea Ferris had a good game, keeping up intensity on defence really well and knowing when to push the ball on offence or wait and reset it.

Remy Sumich had a great defensive game containing the ball up the court really well.

Charlotte Foster (Charlie) had an awesome game coming out of her comfort zone and showing great confidence.

Summer Chalder also had another amazing game racking up fast break after fast break coming from great defensive steals
U14 Girls Div 4 Black – Ofir Ben Dror
Won against Lakeside 45-33
Coach comments:
Our defence was by far the most pleasing aspect of this game. When the other team has to adjust and try and find alternate ways to play against your defence, you know things are solid!

The player who was the biggest problem for the opposition was Salma Rahmadavi. She wasn't the highest scorer but was pushing the ball quickly and always found the right pass at the right time.

Ella Djurasovic is gaining more confidence and a greater understanding of the game and will soon become an important weapon for us
U14 Boys Champs – Aleks Lackovic (sponsored by DLA Piper)
Lost to Willetton 57-69
Coach comments:
Only three games into the season, I continue to be impressed by this team's competitive nature, mental toughness, maturity and focus to support one another under extreme pressure in high-level games.

The final scoreline doesn't reflect the arm-wrestle nature of the game – it was closely fought all the way through but unfortunately, Willo was able to gap us at the end. I'm looking forward to the game where the consistently high number of high-quality shots we're putting up finally drop. 

I particularly liked the determination of Zac Magdy, Anthony Flores and Cooper Hewer today. Zac is the equal leader in our team for assists this season, Anthony hit shots at important times in this game and Coops singlehandedly boosted our team's FT% for the season hitting 8/10 in this game.

Congrats also to Jaden Exeter who played his 50thWABL game for Redbacks today.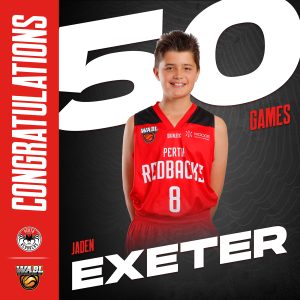 U14 Boys Div 2 – Kevin Dunstan (sponsored by United Steel)
Won against Willetton 77-52
Coach comments:
I am enjoying seeing the growth of our pressure defensive game with all players focused on following the game plan.

We also had a focus on getting players open under the basket and this was rewarded with easy baskets from Tom Jakimowiez and Jalen Dunstan.

Also loved the great effort by Nicholas Dropulich who scored 11 points.

Congratulations to Lionel Chitiyo on celebrating his 50th WABL game for the Redbacks.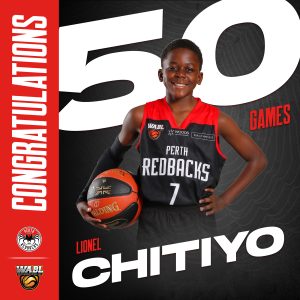 U14 Boys Div 4 – Andrew Logan (sponsored by Drafting Now)
Lost to East Perth 60-43
Coach comments:
I was really impressed by our ability to hang in this game against quality opposition with top age players. We won the rebound count against bigger bodies for the second week in a row. We got effort out of everyone and I'm confident we are not far away from getting a W.

Aiden Little found some form and impacted the game across all the stat lines while keeping his turnovers to only 1.

Toby Summers worked hard all game and made the most of his opportunities at the free-throw line.
U14 Boys Div 5 – Isaiah Walley-Stack (sponsored by S&M Group Bobcat and Truck Hire)
Won against Mandurah 59-40
Coach comments:
This was a great game where everything we've been working on as a team just came together.

I loved the hustle, composure and great sportsmanship on display.

I wanted to give a shoutout to one of our train ons, Liam Colangelo – he got the chance to play and displayed so much heart with second and third efforts, hustling for loose balls and had a stack of rebounds which led to second-chance points for our team.
U16 Girls Champs – Bryn Arnold
Won against Mandurah 63-62
Coach comments:
I love this team's never-give-up attitude. They continue to work hard for each other, even when things aren't going our way, as we continue to learn and develop together.

The team controlled the glass all game – never more important than the critical O-board and put back to win the game from Matilda Thomson.

Every player hit the score sheet again (this has happened in every game this season) so that was pleasing.

Grace Dimer showed what she is capable of, including a big three pointer down the stretch.

Theory Snooks-Holding continues to develop. She played a great game, scoring 13 points and pulling in just as many rebounds.

Stella Gregory returned from injury and provided great energy off the bench on both sides of the ball.
U16 Girls Div 2 – Holly Moore (sponsored by Mt Lawley Orthodontics)
Lost to Willetton Tigers Blue 87-58
Coach comments:
I was really impressed with our shooting in this game.

Claire Danzo was strong under the basket, rebounding and putting it back up!

Lili Flynn is a strong defensive threat, never giving up. I was super proud of her efforts.

Abbey Macham was told last week that she needs to shoot more and in this game she did! Abbey got the team going with her driving to the bucket and help defence!
U16 Girls Div 4 – Geoff Alger (sponsored by MD Building Maintenance)
Lost to Joondalup Wolves 55-52
Coach comments:
I loved the way we executed our full-court defensive pressure in this game.

All the girls played wonderfully. I was very impressed with how they never gave up and nearly came away with an unlikely win. The girls should be super proud of the effort they put in.

Having players out with COVID-19, train on Isabelle Armstrong came into the side and was awesome.

Talia Bentley worked hard with offensive and defensive rebounds. Especially at times when we were undersized on the court.

Jessica Kerp worked tirelessly all game with her full-court defence. She also helped spread the floor, waiting for the offensive opportunities to arise and was composed in her passing.

Grace Almond battled hard all game.

Stephanie Hunt was awesome on offence.
U16 Boys Div 2 Red – Luke Simonette (sponsored by TECC)
Lost to Perth Redbacks Black 82-83
Coach comments:
I really loved seeing a full four-quarter effort in the game offensively, especially in transition, where we have struggled in the past. 

We also demonstrated good full-court defence, channelling and forcing players away from the middle, and the enthusiasm from the bench was faultless.

Shoutout to Ethan Harders – just a quiet 30 points, Issac Moore for his super on-ball defence and Lazar Jovanovic who busted his butt all game and made improved decisions

U16 Boys Div 2 Black – Luke Notley (sponsored by MSP Electrical)
Won against Redbacks Red 83-82
Coach comments:
This week we were focused for the full four quarters of basketball, played at a higher level of intensity and played better half-court man-to-man defence. It was never going to be an easy game against a top age team but the boys did really well to stay with them all game long. We are still getting too many silly reaching hands fouls and will continue to work on our help defence, but I'm very happy with the continued improvement each week.

Ben Galvin was a beast down the stretch for us and Jerry Davies did an awesome job this week of keeping a level head and taking more control of the game. 

Levi Hewett worked hard on both ends of the floor and Maks Lackovic played through some heavy knocks. 

Everyone hit the scoresheet this week which is great to see and the team really rallied together and dug in when it was needed. A hard-fought game by everyone and it was great to come away with a win.
Won against Willetton White 68-84
Coach comments:
After a very tight first half, the boys in black (thank you North Perth Community Bank for your sponsorship!) outscored their opponents by 14.

Defensive intensity was the key. If we can force turnovers through guard pressure on the ball – we have a running game that is very difficult to stop.

Winning 3 of 4 quarters was also pleasing.

Oliver Graham is a leader on this team and his 12 points were all scored when the game was in the balance. He is simply a consistent and calming influence on our squad.

Vince Marcvinz Matondo was switched up to play the guard position and his ball pressure constantly resulted in turnovers and points to teammates.

Ben Elder was challenged by the coaches to bring defensive intensity. The most pleasing play of the day was Ben being knocked over on a screen but still jumping to his feet to challenge a three-point shot.
U16 Boys Div 5 – Tom Swindale
Lost to Eastern Suns 74-87
Coach comments:
I was really pleased with our execution as a team in this game – it was the first time we had all 10 players available!

I'd particularly like to highlight Mitch Kensett-Smith and Jack Ryder. The two of them combined for 36 points, carried the offensive load for the game and kept us in it until the very end. 

I'd also like to highlight Noah Hugo, who came into the game fresh out of COVID iso and gave 100% effort while on the court
U18 Girls Champs – Mya Dimanlig (sponsored by Titan Finance)
Lost to Rockingham 60-72
Coach comments:
While we weren't able to walk away with the win, the girls played their best game so far this season.

Defence was a turning point in the game for us – the girls increased their intensity and were really disruptive, forcing the Flames to turn the ball over or take tough shots.

Megan Taylor and Grace Dalton both did a great job in guarding Rockingham's main scorers, creating the pressure needed to force Rockingham to look outside those main scoring options.

Charlotte Horniman and Caitlin Lea worked hard on both ends of the court – attacking hard offensively to draw some fouls and matching Rockingham's physicality on the defensive end.
U18 Girls Div 2 – John Care
Lost to Cockburn Cougars 73-36
Coach comments:
We played a good first half of basketball but our opposition came to play and unfortunately it just wasn't our day.

Ainsleigh Passi worked hard, played tough defence, collected many rebounds and contributed 9 points.

Scarlett Hayes continues to bring defence intensity to each game and makes it hard for the opposition.

Tatum Cooper's basketball IQ is a pleasure to have on our team- it creates many opportunities for her team mates and also herself with 6 points.
U18 Boys Champs – Brandon Riley (sponsored by Willis Temby)
Won against Rockingham Flames 88-85
Coach comments:
Thanks so much to Austin Clarke for coaching for the second week in a row due to me being ill.

As a unit, we significantly improved in our box-outs and rebounding from last week. It may not have been the prettiest game but we were able to get the job done.

Malik Powell shot the ball well from three, but it was his late-game defence that got a steal to seal the win for us. 

Aiden Cannington showed composure all game, knocking down several important free throws that we really needed to win the game.

Kobe Craig's defensive energy off the bench was impressive and it was great to see his increased offensive confidence.
U18 Boys Div 2 – Sam Fox (sponsored by MacDonalds Karratha)
Game postponed
U18 Boys Div 3 – Simon Daff (sponsored by Grange Risk Solutions)
Won against Senators 78-71
Coach comments (Jesse-Taylah Hile):
We were incredibly short staffed in this game due to COVID (down two coaches and four players). I was so proud of the fight shown by the seven available players – every single one of them dug deep! When on the court, everyone played their role. The team effort was outstanding.

Andrew Chilufya and Cooper Deshon's combined scoring efforts were next level – they had 50 points between them.

Will Goode, who hasn't been able to play due to injury, was a big voice on the bench – he kept everyone's spirits high even when we were down.

Basil Allegre had a huge presence in the keyway with easily 8+ blocks which eventually led to Senators not driving when he was on the floor.
U18 Boys Div 4 – Mitch Nixon (sponsored by Maude Family Lawyers)
Won against Perry Lakes Hawks 72-71
Coach comments:
This was always going to be a tough game for the boys, made tougher without any of their usual coaches available. But all the boys really stepped up. With some great full-court defensive pressure, they managed a few steals to get some points on the board. And they actually ran the offense (maybe it helps if I'm not there?!), creating great looks when doing so.

A game highlight is the final few moments of the game when Perry Lakes hit a three with 15 seconds to go to be up by two. The boys didn't panic and moved the ball really well with great poise leading to a wide-open three on the buzzer. The reaction from both on the court and the bench looked like they had just won a grand final, but after a tough battle all game they really deserved the win.

Big shoutout to supercoach Andrew Logan who stepped in with only a few hours' notice after COVID took out both me and my backup coach. A close finish to the game with a three-to-win on the buzzer is not an easy game to step into so thank you Andrew.

After a long break out with injury for Harry Wheatland and a week off with COVID for Harry Maude, both Harrys contributed greatly with Harry Maude posting a 17 points/16 rebounds double-double.

Lachlan Steele had an outstanding defensive performance topping the stats in deflections, steals, and blocks. He then topped the game off with a spectacular three to seal the game on the buzzer.

Harry M and Ethan Logan brought the energy the team needed to get over the line.

Taj Hollands led the VPS with a score of 1.78 closely followed by Lachlan Steele with 1.75 – this number shows that both had an impact on offense

and

defence

Everyone in the team scored again this week and all contributed when they hit the floor

Very well done to all the boys!
U20 Boys Champs – Caleb Kingston
Lost to Cockburn 78-65