The Weekly WABL Wrap is proudly sponsored by Woods Insurance Brokers. 
Here's the Round 4 wrap up of how all our teams went including comments from coaches:
U12 Girls Div 2 – Emma Ormond (sponsored by Baston & Co)
Postponed
U12 Girls Div 3 – Marcia Dowling (sponsored by Access Hire WA)
Lost to Joondalup 31-30
Coach comments:
The girls kept listening and implementing changes as we had three players down sick and a very physical game to work through. They worked to the best of their abilities and were in front for most of the game. They kept their heads up in the 4th quarter as the game got even more physical and in the face of some interesting crowd behaviour. I was so impressed.

Pepi Graham continues to step up every week. She is very coachable, listens attentively and implements everything she's asked to do. 

Gracie Dillon has brought back the tough, driven player we need to lead our team.

It was quite something to see Cyra Olowoyo face down Court 3, empty except for her, the basket and the ball, silent teams and parents as the game finished at 31-30. With our team down 1, she had two free throws. Cyra showed excellent composure under such pressure so early in her WABL journey and gave her shots everything she could.
U12 Girls Div 4 – Paul Philpott (sponsored by Sushi Wawa)
Lost to Joondalup Wolves 55-14
Coach comments:
Wow, what a tough game! Both Charlize and I were impressed with how all players kept on fighting against the Wolves for the entirety of the game, making them earn every single basket.

Hope Campbell was back following illness and was magic in driving that ball down the court initiating many offensive transitions. 

Macy Samulski proved to be troublesome for the Wolves with her swift ball handling and presence in the keyway. 

Olivia Birsa, as usual, played tall and frustrated the Wolves by denying many easy scores. 

Stevie Brehaut was all over the court showing the Wolves some true Redbacks sting. 

Despite being able to only field 7 players, all of our girls played hard to the very end and lost only on the scoresheet – they were winners in every other way. Well done girls, you had that fire in the belly and are developing well.
12 Boys Champs – Ash Brian
Postponed
U12 Boys Div 2 – Alex Maude (sponsored by Inspiration Paints)
Lost to Willetton Tigers 38-63
Coach comments:
I was really happy with our help defence, shot selection and transition offence and defence 

Clayton Sumich was massive on the defensive end, taking multiple hits to the chest, stopping drives and contesting shots which resulted in turnovers and stops

Ethan Cooper lead the offensive end with his driving, and made some great passes off to open teammates which drilled mid-range shots. Ethan was also great on the defensive end, getting physical with the opposition's centre

Jaxon Jan did a phenomenal job at bringing the ball up and sunk some great mid-range shots, as well as having some great active hands and feet on defence
U12 Boys Div 3 – Ben Hamilton (sponsored by Euroz Hartleys)
Lost to Hills Raiders 33-56
Coach comments:
After a very slow start and giving up a 19 point lead early in the second quarter, we fought back to within 4 points with some tenacious defence and team offence.

Franciszek Cytowski played a crucial role with several others in foul trouble and made an enormous impact on both ends of the court.

Luka Petrovic scored at pivotal times to keep us in the game and added great intensity on defence.

The passing and protecting the ball in the back-court was very pleasing under immense pressure most of the game and is a sign of where this team will be with a bit more experience.

Unfortunately, though, we couldn't maintain the pressure in the 4th quarter as their dominant rebounding and field goal percentage took the game away from us.
U12 Boys Div 4 – Matt Strika (sponsored by Global Cabling)
Won against Cockburn Cougars 44-36
Coach comments:
Our team's goal for this week was to up the defensive pressure which the boys delivered on by only giving up 4 points in the first quarter. The rest of the game was hard fought with a good level of intensity, effort and teamwork by all. This resulted in another solid win.

There was some exceptional and inspiring defensive pressure by both Jacob Tan and Ben Handke this week resulting in 8 deflections and 8 steals respectively.

Cruz Harris stepped up in his first game as a train on to put in a solid effort at both ends of the court.

Jonah Marshall had his best game of the season with 10 points and 6 rebounds.
U14 Girls Champs – Josh Wallace (sponsored by Welsh Real Estate)
Won against Perry Lakes White 62-45
Coach comments:
The girls have been working really hard to stay focused for all four quarters and they showed a lot of improvement in this area during the game.

The pace that the girls played with offensively was also much improved, which has been another area of focus for the group.

Maddie Makavilitogia did a fantastic job of absorbing the physicality of some of the Hawks players and not letting it rattle her. As a result, she had a strong defensive game in the post and was great on the boards too.

Millie Stancil, unfortunately, had a rough preseason due to injuries, but she was back to her best in this game. Being disruptive defensively and applying a lot of pressure on ball carriers.

Lailah's Tasker hustle and repeat effort plays were not only great for the team but fun to watch. Diving on loose balls, back tips, running players down in transition. All this effort amounted to causing turnovers, creating extra scoring shots for her team, and stopping opposition baskets.

Leeshar Tuialii was relentless at attacking the basket in this game, which put the defence under a lot of pressure. This created multiple quality scoring opportunities for herself and others.

Em Horniman did a great job of recognising when there was space to drive and when it was time to pass the ball to a teammate. This really helped with the flow on the offensive end and helped to keep pace on the game for us.

Mafa Tuialii played lockdown D from start to finish. She is always so focused on the defensive end, and because of her size and athletic ability, she excels at both perimeter and post defence and is a nightmare for the opposition when guarding them.

Ella Welsh's composure and control with ball in hand was on full display in this game. She hardly ever turns the ball over and is never rattled by pressure. This allows our team extra opportunities to score due to her low turnover count.

Ayla Harris did a fantastic job in this game of lifting the energy on the group when she was on court. Her pressure in the backcourt was amazing, which caused turnovers and generated quick scores for the group.
U14 Girls Div 2 – Zac Belton (sponsored by Redink Homes)
Postponed
U14 Girls Div 4 Red – Lucy Dowling (sponsored by Aussie Fencing)
Won against Willetton Tigers 24-46
Coach comments:
Today's game was just so good to watch. Every single girl played their part, gave 100%, did what I asked of them and worked together like they'd been a team for years. We had pressure defence, great offensive patience, smart decision making and the team's energy was out of this world. It's not often I don't have much to say (as anyone who knows me can vouch for).

However today I genuinely didn't know how to explain to these amazing girls how proud I was of them. This is good team basketball. This is good Redbacks basketball. This is why I love coaching.

Every single team member impacted the game today so I know I've already written a lot but I have to mention them all. What was so amazing was that there wasn't one specific person the other team had to shut down… they had to stop everyone.

Ada-Mae Mourish-Burke was on fire today offensively, shot after shot she nailed, free throws were on point, she hustled after every loose ball. She was amazing!!

Charlotte Dillon, best game I've seen her play, decision making and composure was brilliant and she really hustled for the boards.

Charli Foster is improving every single game by leaps and bounds, her confidence, her IQ, her ball control, everything. So great to watch today.

Summer Chalder – this girl is a bundle of energy, no matter what I ask of her she gives it 100% and always performs well. Today was no exception. Natural talent mixed with her give-it-all attitude makes her a vital team member.

Remy Sumich is my go to player, her IQ and leadership is beyond her years and I always know I can count on her when I need a job done. Not only did she play an amazing defensive game, she stayed out of foul trouble.

Grace Butcher pulled in rebounds today like nothing else. Her energy on and off the court radiates around the team and she made some great decisions especially when presented with mismatches

Mya Slee was just back from Covid however played like she hadn't missed a second, straight back into pulling in rebound after rebound and impacting offensively with highlight-reel worthy passes.

Oliva Weddikkara really stepped up today and showed some amazing skill, great help rotations and rebounding.

Alessia Wladyka's shooting today was on point and I loved the way she stayed so composed bringing the ball up under pressure. Excellent game!
U14 Girls Div 4 Black – Ofir Ben Dror
Loss to  Warwick Senators 28-36
Coach comments:
The girls are starting to realise the advantage we have inside the key and passing the ball inside more.

Paige Wigmore has started to convert a lot more of her shots and is becoming a bit of a headache to the opposition. 

This was another tough outing for Salma Rahmadavi being the only full-time PG with Ava still out with COVID but she did well.
U14 Boys Champs – Aleks Lackovic (sponsored by DLA Piper)
Lost to Cockburn 91-83
Coach comments:
Down three players and taking on the top team, the boys yet again displayed maturity, focus, discipline, hustle and competitor attitude. They worked together to deliver massive pressure and showcased what gut running was. It took some truly absurd three-point shooting (15/31 at 48%) from Cockburn for us to not get the chocolates here.

Ano Sharu was relentless with his work rate and attack delivering a career-high (15/18) 34pts and 13 rebounds.

He received massive support from Zak Magdy whose work rate was also exceptional and was rewarded with (9/14) 22pts, 5 rebounds and 3 assists.

Special mention to our all-hustle team: Cooper Hewer and Jaxon Kowal with 4 deflections and 3 steals each and Tyler Murphy with 7 rebounds and 2 deflections.
U14 Boys Div 2 – Kevin Dunstan (sponsored by United Steel)
Won against Perry Lakes White 98-62
Coach comments:
Great to see the whole team come together, playing unselfishly and supporting each other on and off the court

Our pressure defence was on full display for the whole game with no drop in intensity even with different players being subbed on and off

Congratulations to Cooper Poustie for dropping 21 points and 8 assists in his 50th game in Redbacks colours

Great effort from Koby Kalebic who scored a double-double with 11 points and 10 assists, Jalen Dunstan for scoring 30 and Tom Lindegger who came close to a double-double with 9 points and 9 rebounds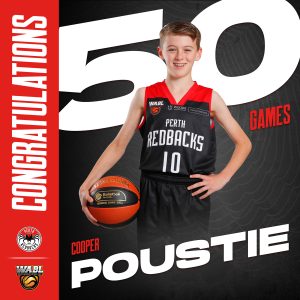 U14 Boys Div 4 – Andrew Logan (sponsored by Drafting Now)
Lost to East Perth 56-51
Coach comments:
Another close game that went down to the wire. I was very pleased with our consistent effort across four quarters. We kept our turnovers low, tied the rebound count against a big opponent, made great decisions and played selfless basketball. It's great to be mixing it with the best teams in the comp containing top age kids.

Tace Rankin had his best game of the season finding some range with his shot and working hard on the defensive end.

Aiden Little gave us valuable points and played the role of a big with a few boys out due to illness.

Connor Webb (TO) played his first game and gave us presence in the paint with numerous blocks, difficult put backs and some offensive boards.
U14 Boys Div 5 – Isaiah Walley-Stack (sponsored by S&M Group Bobcat and Truck Hire)
Lost to Willetton Tigers 45-22
Coach comments:
I was pleased with our ability to stay motivated on defence despite the deficit on the scoreboard

I was also pleased with Caeden Olowoyo's attitude – his coachability increases every week and that's great to see
U16 Girls Champs – Bryn Arnold
Lost to Willetton 51-63
Coach comments:
We continue to learn and get better each week. There were some great passages of play on both sides of the ball. When the team is playing with high intensity and good communication we look excellent. We need to continue this for longer periods of play against the better teams.

Georgia Marsland had an excellent game and made great decisions throughout. This led to a season-high 14 points for her.

Miki Deshon fought hard throughout the game and finished with 13 points.
U16 Girls Div 2 – Holly Moore (sponsored by Mt Lawley Orthodontics)
Lost to Joondalup 72-36
Coach comments:
I really enjoyed the fight the girls showed in the second half to get over some frustrations and to go out there and show me how good they really are.

Harriet Woods played a great game finishing with 13 points, driving strong to the basket and hitting a nice three.

Big congrats to Abbey Macham who played her 50th WABL game for Redbacks in this game

I also would like to congratulate Isabella Wolfenden on an awesome game and even better communication with the girls in her role as captain.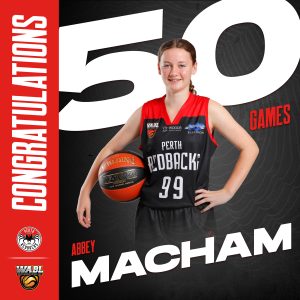 U16 Girls Div 4 – Geoff Alger (sponsored by MD Building Maintenance)
Lost to East Perth 62-50
Coach comments:
Our girls fought very hard for rebounds and inside defensively against some much taller opposition and as always brought intensity and effort to the contest. The way the girls responded to a costly lapse in concentration in the second half was pleasing to see even if it ultimately wasn't enough to change the result.

The efforts of our cohort of players returning from COVID should also be acknowledged. In a fast-paced game with both teams pressing the whole floor, their efforts were really appreciated.

We really need to acknowledge Cheyne and Matt for their efforts coaching the girls last week while I was off on COVID protocols. They did a great job.

Giselle Dale played her best game for us so far. She attacked the boards with energy and determination and did a great job of aggressively pushing the floor. She made good decisions and played strong to retain the ball and create opportunities during our best period of play.

Steph Hunt's composure offensively and clean shooting was very handy. Her good body work and determination to win rebounds as a guard in a forest of tall timber were great to see.

Scoring is always fun, so it was nice to see Keira Tran and Jess Kerp get some scoreboard recognition for all the hard work they put in for the team.

Finally, our milestone girls:

Hannah Honzcarenko played her first game for the club and played with confidence and determination. She provided great energy off the bench and even got on the scoreboard to open her account with Redbacks.

Tilly Wyatt celebrated her 50th Redbacks game and almost put 50 games worth of effort into one. She battled all game undersized on the inside and constantly disrupted the Eagles' passing through the middle of the court.
U16 Boys Div 2 Red – Luke Simonette (sponsored by TECC)
Lost to Joondalup Wolves 71-49
Coach comments:
Great defensive effort. The opposition score blew out a lot in the end due to gambling in order to be a chance to win the game but our offence is flowing better and our transition scoring is improving.

Caleb Hoenig stayed locked in and engaged.

Issac Moore gave a 40-minute, chin up effort and broke their press with ease.

David Moore came back from a couple of weeks off and didn't miss a beat!

Huge congrats to Ethan Harders who played his 50th WABL game for the Perth Redbacks in this game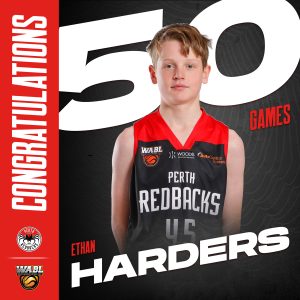 U16 Boys Div 2 Black – Luke Notley (sponsored by MSP Electrical)
Won against Hawks 86-67
Coach comments:
I cannot fault anyone's effort this week, we were on it! Our goal this week was to reduce our foul count and defend better without using our hands and take a chest blow (something we worked on at training). Our aim each quarter was to keep the opposition to 15-17 points with an overall score in the low 60's – 22, 16, 16 and 13 for a total of 67, bingo!

Four games in, I think the boys are really starting to click and understand what is required to play at the current level. I'm super proud of how they've improved as a playing group in such a short space of time. Each week, we iterate, make small corrections and adjustments, always improving aspects of our game.

Ben Galvin and Jay Hazell's rebounding was amazing this week, they went after it!

Cleon Ryder, Lachlan Wheals, Levi Hewett and Michael Ryan did a great job this week improving their defensive containment. Well done!

Big congrats to Jeremiah Davies – he played his 50th WABL game in Redbacks colours this week.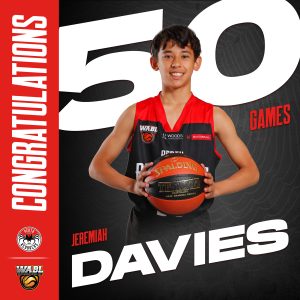 Won against Joondalup Wolves Green 80-76
Coach comments:
We were down to 8 players and thanks to a warm-up injury – started the game with 7 players.

Balancing fitness and fouls proved quite the challenge and after holding a lead for most of the game, Joondalup, to their credit, made a run at us. I was so proud of how hard our 7 players worked to guts out the win – our efforts on the boards in the last quarter were especially wonderful.

Hamish Gibson just worked so hard on communicating to his team on defence and offence – quite the on-court leader.

Ibrahim Abdi with 18 points battled hard inside all day and managed to be a force on both ends of the court. Ibrahim's development this season has been wonderful to observe.

Oliver Graham offers so much stability to our lineup and quietly goes about his role of being a defensive stopper and scoring baskets when the team most needs them.
U16 Boys Div 5 – Tom Swindale
Loss to Rockingham Flames 74-65
Coach comments (Mark Ryder):
Once again the boys' endeavour could not be questioned as they battled admirably against a well-drilled Flames outfit. Our ball movement on offense was exceptionally good. Our movement off the ball to create open shooters worked well and it was only our shooting that let us down.

Special mention has to be made of Josh Welsh who joined our team for his first game in what was also his 50th game for Redbacks at WABL level. His rebounding, defensive pressure and 24 points were a joy to watch.

He was ably assisted by our two guards in Cuba Brian and Mateo Rea who never gave up on both ends of the court.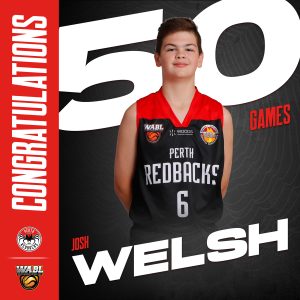 U18 Girls Champs – Mya Dimanlig (sponsored by Titan Finance)
Lost to Joondalup Wolves 61-38
Coach comments:
While we had a few players out with Covid and a slow start to the game, the girls kept pushing through and never gave up.

Emma Jones and Chloe Hind showed aggressiveness defensively to get a few stops and good fast break opportunities.

Kirsty Slinger did a great job on the boards ending the game with 12 rebounds.
U18 Girls Div 2 – John Care
Lost to Warwick Senators 73-35
Coach comments:
Was pleasing to see the girls play hard and improve from previous weeks in effort and passages of play.

With our BIG (Hannah Saliacus) out due to COVID we had to change strategy and saw some awesome individual efforts to contain Warwick.

Scarlett Hayes stepped up to defensively shut down their tall and keep her scoreless in Q2 and Q3. It was an impressive demonstration of defence.

Georgia Edwards had a slight change of role for her in parts of today's game which gave the team many opportunities to attack the basket and score.
U18 Boys Champs – Brandon Riley (sponsored by Willis Temby)
Won against Wolves 95-68
Coach comments:
We started with great energy to get up early. Our defence was solid the whole game.

Really happy with the work of Zviko Tinayenda and Kade McMillan off the bench. They have really embraced the roles they have. This has really helped us keep pressure on teams at both ends. Jesse Wilcox and Aiden Cannington did well with the ball after we lost Jonah early.

Congrats to Aiden Cannington who played his 50th game for Perth Redbacks in this game.
U18 Boys Div 2 – Sam Fox (sponsored by MacDonalds Karratha)
Game postponed
U18 Boys Div 3 – Simon Daff (sponsored by Grange Risk Solutions)
Lost to Wanneroo Wolves 93 to 86
Coach comments:
All season we have had 2 very good quarters and 2 not so good. Our best is very good, we just need to maintain that level for longer in games.

William Goode had an outstanding game – his first for the season after coming back from an ankle injury. His energy and talk were a highlight as well as his ability to knock down some big shots in the second quarter that got us a handy lead.

Cooper Deshon continues to be an on-court leader. His playmaking ability to speed the game up but also know when to slow down was a key for us. He continues to gain form after a slow start to the year due to Covid. This was Cooper's 100th WABL game for Perth Redbacks – congrats Cooper.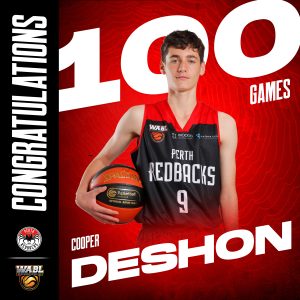 U18 Boys Div 4 – Mitch Nixon (sponsored by Maude Family Lawyers)
Won against Cockburn Cougars 111-57
Coach comments:
Every single player contributed greatly to the game. The energy was electric which really pushed the boys to succeed, beating the undefeated Cockburn Cougars to take over top spot on the ladder.

Again, Harry Maude brought the energy to really lift the team and keep them on the task at hand. His voice carried through the stadium and into the surrounding suburbs. 

Cameron Ford (in his 50th game for Redbacks) had a stunner of a game top-scoring from his drives. 

Alistair Hartmann was hot from the 3pt line and had some stunning drives. A heat check on the three shouldn't have counted but a missed out-of-bounds call from a ref recently out of retirement (hi Dad) ruined the 3pt average. 

Big man inside, Harry Wheatland, put some great points on the board off rebounds. 

A great defensive effort by Ethan Logan, Lachlan Steele, and Max Millard helped keep their points low. 

Taj Hollands, Harry Cuerden (also playing his 50th game for Redbacks), and Kalisto Ubu all contributed to the points on the board and some mid-court steals.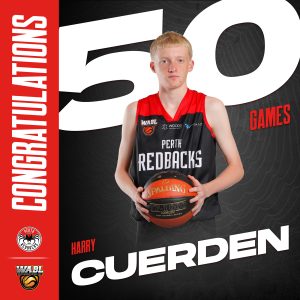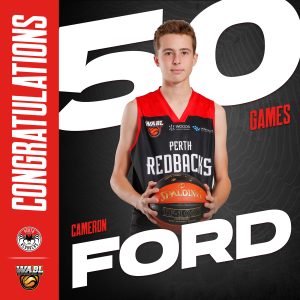 U20 Boys Champs – Caleb Kingston
Lost to Joondalup 85-74