The Weekly WABL Wrap is proudly sponsored by Woods Insurance Brokers. 
Here's the Round 12 wrap-up of how all our teams went including comments from coaches:
U12 Girls Champs – Bri Bailey (sponsored by Access Hire WA)
Won against Mandurah 63-44
Coach comments
We started this game off really well, there were a few key players on the opposition we needed to shut down to keep the flow of the game and keep a comfortable margin. We got lost a little bit now and then but always came back and found our groove, the girls stuck together to get the win.

Neve Hayles-Stenhouse and Siena Mouttet were great defensively, plenty of blocks and pulling in some hard rebounds!
U12 Girls Div 4 Red – Rori Roberts (sponsored by Commercial Plumbing)
Won against Redbacks Black 35-21
Coach comments
It only took us three quarters to wake up after the early 7:30am start. But when we did, we were back to playing the type of basketball we like to play, run run and run. With only 7 girls available, all the girls played their hearts out.

Isabella Nevill was ready to play, scoring 22 points and defending their top scorer all game, and she just kept going.

This was Darcy Brian's first game back from injury, and she was playing amazing defence – kept her hands out and moved her feet really well
U12 Girls Div 4 Black – Paul Philpott (sponsored by National Geotech Drilling)
Lost to Perth Redbacks Red 21- 35
Coach comments
Wow, what a game against the top-of-the-table team! Ben and I were so impressed by our legendary girls with how they came out fighting and maintained high energy right to the very end. Each one of our girls performed at their highest level, giving the Redbacks Red something to think and worry about. Following each player receiving a pre-game individual briefing with clear instructions on what they were required to do, they did not disappoint. Ben, myself and our team's parents could not have asked more from our girls, leaving us and the Redbacks Black bench in awe of how far each of them has come!

Today Jade Macpherson found her mojo and was clearly our most outstanding player – she was ever present in both defence and offence, hitting the scoreboard and demonstrating all that she has learnt and developed. That is a well-deserved accolade Jade.

Jade, with the help of Maeve Whitehouse and Isabella Nagamany, marked the Redbacks Red's most dangerous player, limiting her impact on the game.

Zoe

Bartucciotto

was also a speedster with excellent court coverage creating many turnovers from the opposition – what a rocket!

Both Josie Smith and Matilda Thompson added to our transitions today, further assisted by Rose Bacci and Madeleine Marshall, seeing us always being within reach.

Zoe de Morton refused to let go of that ball again today, using her newly developed pivoting skills to remain upright and win that big fight.

Finally, Isabel Nesa has clearly worked on her short game and registered this on the scoreboard a couple of times.
12 Boys Champs – Brandon Riley (sponsored by Stockbrands)
Lost to Joondalup 51-74
Coach comments
Tough loss. We were in this game the whole way, but foul trouble limited us and then the scoreline got away from us in the fourth quarter.
We had a nice even spread of scorers. Nathan Jetajboe and Zach Snell broke double-digits with 10 and 11 respectively. Kruz Viesca and Vinne Ryder weren't far behind with 7 and 8.
U12 Boys Div 2 – Andrija Petrovic (sponsored by Skyward Roofing Services)
Lost to Willetton Tigers 38-75
Coach comments
Hard game for us right from the first quarter as we struggled to find our scoring mojo or limit Willetton in that aspect.
We re-grouped well in the second half and were even able to win the third quarter so well done to the boys for that.
Edrick Tan led us in scoring with 11, followed by Will Ryan (fresh off the plane the night before) on 9, Luka Petrovic with 8 and Ben Handke with 7.
Won against Willetton Tigers 52-44
Coach comments
We started this game strong, but some good shooting by the Tigers saw us fall behind by 10 points at halftime.

We upped our intensity in defence which created quick turnovers and saw us get on top comfortably in the last term.

The relentless pressure defence in the second half, especially of Noah Mucjanko, Elijah Mancini and Victor Muyna, got us the win essentially. Playing against a fast team is not easy to stop, but they definitely did it.
U12 Boys Div 4 – Craig Dropulich (sponsored by Sushi Wawa)
Lost to Lakeside Lightning White 40-61
Coach comments
We had a good game after the week off and no training for two weeks – things were much closer than the scores indicated. The boys brought great pressure for the whole game. It basically came down to missed shots by us under the basket compared to Lakeside finishing at twice the rate of us. Shooting can be worked on, but our effort was well above the level needed, well done boys.

Defensively, everyone played better than we have all season, and the teamwork was great to watch.

Ned Tierney and Talin McCullough were both fantastic at their defensive role this week and caused ten turnovers between them without fouling at all. They are the key to our defensive trap and are starting to excel at it.

Xavier Coombe has some great shots drop, defended well and handled the ball with ease this week.

Emmett Harman had a great game, too, improving all facets of his game this week. Defending well, shooting the right shoots and rebounding with confidence. Really good work after getting off the plane from the U.S. only 2 hours earlier.
U14 Girls Champs – Aric Forman (sponsored by Welsh Real Estate)
Won against Warwick 54-51
Coach comments
We got off to a hot start, moving the ball well and establishing an inside presence to lead at the half. In the third quarter, the ball just wouldn't drop, and the Senators hit a patch of hot shooting, leaving us trailing going into the last. The final term was a titanic battle in which we made all the right moves and came out with a three-point victory.

Grace Butcher was strong inside the key, tallying 15 points and countless rebounds.

Remy Sumich did a fabulous defensive job all game moving her feet and putting her body on the line.

Abbie Leslie hit a critical 3-pointer to kick-start the final period.

Ella Welsh took a heavy head clash in the last period but recovered to come through with some big points when it mattered.
U14 Girls Div 3 – Vance Karimi (sponsored by Fish Boss)
Won against Mandurah Magic Gold 47-43
Coach comments
This week was another tough week, with Mandurah starting strong to get the early lead. But our girls kept focus and remained resilient to the end. There were some in-game frustrations, but our girls never once reacted, challenged or lost game focus. Instead, they finished strong, united and with smiles.

Cara Hayes pushed through being tight and sore from days of training last week with great backdoor and basket cuts to finish strong under the basket.

Claudia Zell had a great game, even though she's so hard on herself for missing shots. Claud owned the boards in offence, but more importantly, she was unstoppable with defensive rebounds.

Soni Karimi played a tough game, strong in defence and pushed fast in transition offence. She did well to get in front and put her body on the line to draw a charge and slide for a couple of meters.

Nadia Slee was great in defence, always stayed low, contained her players, bumped cutters, boxed out after shots and dived on loose balls to chase possession.

Huge congrats to Leisha Charlie and Soniya Karimi who both celebrated their 50th WABL game in Redbacks colours in this game!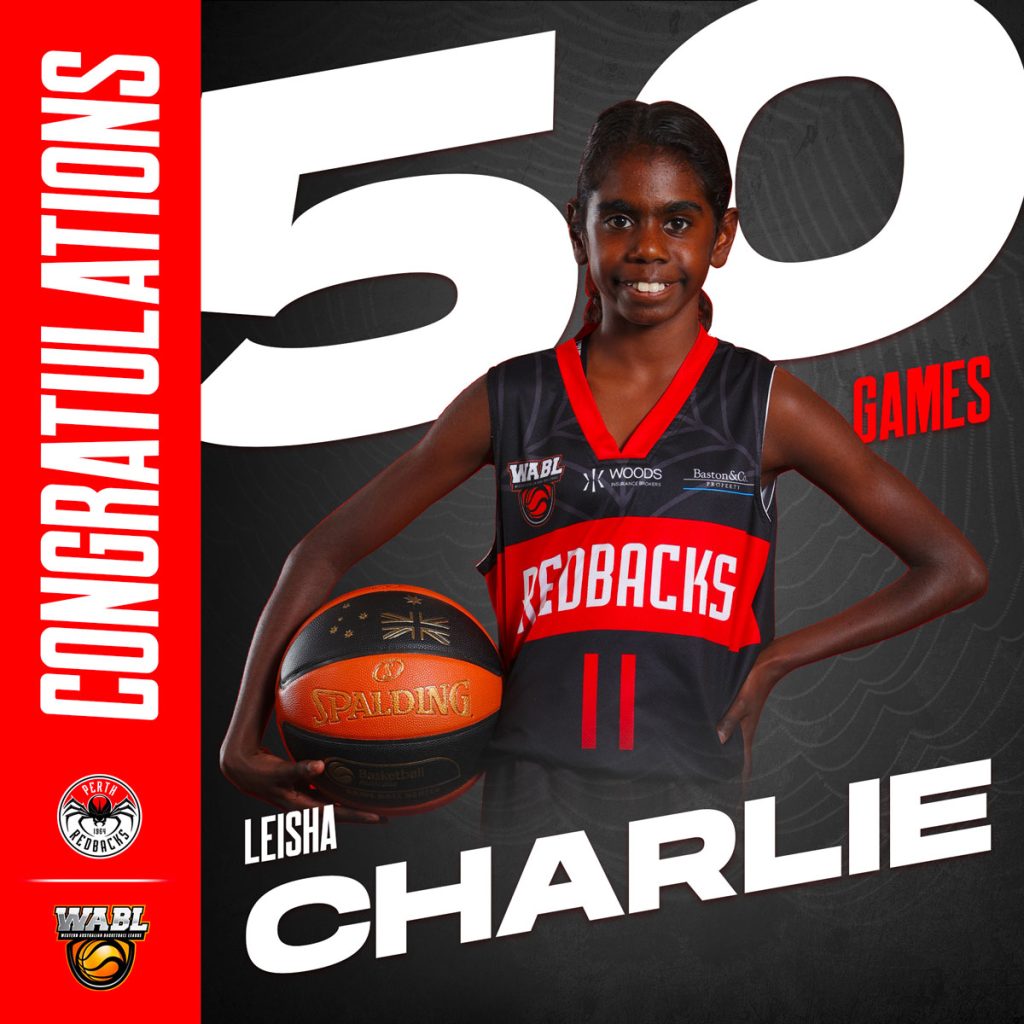 U14 Girls Div 5 Red – Marcia Dowling
Lost to Cockburn 33-29
Coach comments
We worked really hard in the first half to maintain a lead or equal the score

We lost focus in the third but came back strong in the fourth with some fouls resulting in winning free throws from our opponent

Both Cyra Olowoyo and Hope Campbell had their best games this season. Both girls responded quickly to instructions, made excellent decisions on court, and were strong in D and O
U14 Girls Div 5 Black – Reid Ballantine
Won against Eastern Suns 66-63
Coach comments
This was a really free-flowing game for us, with some momentum swings as we tested new defensive and offensive concepts in the first half. Our primary game focus was to help teammates with screens, and I loved seeing the girls continue to work through it during the game, despite a few mistimings and tangles. Overall, the intent and endeavour were really good.

Our other main focus in this game was sportsmanship, and the girls had some great moments taking small opportunities to support the other team in good spirit.

With the intimate tiered seating at Kalamunda, the crowd support was wonderful today and a real joy to experience as a coach.

Our focus for next week = R E B O U N D S ! ! !

It was a joy to have Maia Leckey back in the team after illness, and putting on a show with super fresh handles and some nice finesse at the rim 🙂

When Madison McKibbin fires up, she scores at will and dropped another tidy 19 points.
U14 Boys Champs – Andrew Logan (sponsored by MD Building Maintenance)
Won against Joondalup Wolves 67-41
Coach comments
The boys were a little rusty out of the gate today after the holiday break. Our energy was low, and shots weren't dropping. We knew if we kept with Joondalup for the first half, eventually, it would turn our way. We outscored them 43-12 in the second half—a great reward for staying with our structures and not getting frustrated when it wasn't going our way.

Zane Carbone, Jamie Cahill and Tate Mukjanko took over in the 3rd quarter. They all made crucial buckets, out-rebounded their opponents and made key defensive plays.

Zane displayed a WABL mindset, moving the ball to the weak side without hesitating, setting up open looks for our shooters. Tate knocked down a couple of clutch 3's to keep us in touch. Jamie wanted the ball more than anyone on D, which led to transition buckets for him. This was his highest-scoring game to date, finishing with 14!

Luke Websdale, James Galvin and Xavier Allison were consistent across 4 quarters, they kept the scoreboard moving and filled up the stat sheet with assists, steals, rebounds and deflections. It was great to have James back after missing him for the last two games.
U14 Boys Div 3 – Brad Holyoak (sponsored by Drafting Now)
Won against Lakeside 69-48
Coach comments
This was an interesting game, with us coming out hard to get a handy lead at the first break. Lakeside threw everything at us in the second and tied it up at the half. In the third quarter, we got back to playing our style of game and started to pull away. In the fourth, we switched up our defence and really put the screws to Lakeside to pretty much stop their scoring and transition. This game really showed what we are capable of when all parts are jiving together.

Jake Chew got us rolling early with some great shooting and defensive effort.

Tace Rankin played like a man on a mission today and knocked down shots when we really needed them.

Lucas Le was a beast on the boards and attacked the rim like a charging rhino, creating havoc for their defence and knocking down some telling free throws
U14 Boys Div 4 – Ben Hamilton (sponsored by Cogito Psychology)
Won against Cockburn Cougars 74-35
Coach comments
After a disappointing loss in the last round, we bounced back with a convincing win. Our defensive application and intensity were much improved, with coverage of the split line the most noticeable difference.

We were able to maintain their pressure and discipline for four quarters, and this was particularly pleasing given we've struggled with consistency this season.

It was a solid performance from everyone, a real team victory.

Harrison Moyle was outstanding. He occupied the lanes and was a dominant rebounder which made scoring very difficult for the Cougars. Offensively he worked hard to get into good scoring positions and present as a preferred option against an undersized opposition. His game-high 18 points was a good reward for his effort.

Zeke Brian was intense on defence, containing his match-up and showing greater attention as a help defender. His transition offence got us going after a pretty slow start and allowed us to capitalise on our solid defence.
U14 Boys Div 5 – Matt Strika (sponsored by Sushi Wawa)
Lost to East Perth Eagles Red 33-80
Coach comments
Another tough game against a physically bigger and stronger team. The boys gave it everything they had but unfortunately could never really get into the game. Pleasingly, the one stat the team came up on top was free throw percentage hitting 10 of 14, which is a big improvement from the start of the season.

Against the game's flow, Tex Tierney battled hard under the bucket finishing with 13 points and 7 rebounds.

Elliott Birch and Ethan Cooper kept up the defensive pressure with 4 steals each.

Clayton Sumich kept attacking the basket against strong pressure and was rewarded with a tidy 7 points.
Won against Rockingham Flames 73- 54
Coach comments
We started the game executing great actions but missing a lot of great looks and ended the first half down 8. I was really happy with our composure, commitment to our style and the adjustments we made. It paid off in the second half, where we started to convert and built a 20-point lead.

Huge thanks to Amber Land for being on the bench and offering some key insights.

Lailah Tasker brought great hustle at both ends and made some key, momentum-building buckets.

Harriet Woods and Lemafa Tuilaii hit some big shots and gave everything on D and boards.

Miki Deshon made a heap of fantastic dishes and was the spearhead of our full-court D.

Leeshar Tuialii and Madison Makavilitogia did exceptionally well getting to the line and handling big minutes.

Matilda Pyne and Theory Snooks-Holding were fantastic at executing our systems and facilitating for teammates.
U16 Girls Div 3 Red – Cheyne Kerp (sponsored by Wyatt Martin)
Won against East Perth Eagles 47-38
Coach comments
We wanted to come out with intent and purpose after the previous game. We led the first quarter by playing solid man v man D, restricting the opposition to only 4pts.

Our movement and spacing with the ball in our front court keep improving, especially when playing teams who continuously play zone D.

Our shot selection is improving, which is pleasing to see, along with rebounds, getting an extra 20+ rebounds compared to the opposition.

At times, we unfortunately allowed the Eagles to put perceived pressure on us, resulting in multiple turnovers in succession. This allowed the Eagles back into the game. But, to the girls' credit, they reassessed, got composed, fought it out and came away with a solid win.

Zoe Ball was instrumental throughout the game yesterday in her shot selection and defence. Her shot selection is improving, and her reward was nailing 3 x 3 pointers along with top scoring for the team. On D, Zoe's speed is a delight for any coach, and she used it to her strength, lessening the impact of her offensive player.

Tash Mantle was solid throughout the whole game. Her relentless pressure on D impacted the game, obtaining multiple steals. She also led the team in defensive rebounds – so close to another triple double.
U16 Girls Div 4 – Geoff Alger (sponsored by Design Orthodontics)
Lost to Hills Raiders 37-76
Coach comments
Another game where we had good long periods of playing some really solid basketball and then short periods where our opponents were able to punish us.

I was pleased with our defensive focus and intensity which meant Raiders had to rely on many second-chance points and points off turnovers. 

Offensively, Alix and I were both really pleased with the girls' ability to make the adjustments in offense that we asked for. Improved decision-making and composure with the ball helped generate some much better shots.

Sienna Duong, Danica Jeremiah and Ella Baxter all had excellent games generating scores and hustling hard in defence.

Mya Slee broke really well in offensive transition to regularly create opportunities for the team.
U16 Girls Div 4 – Lucy Dowling (sponsored by LKS Constructions)
Lost to Kalamunda Suns 44-67
Coach comments (Jack Dowling)
We did an excellent job playing our own game and working through difficult situations. We came together as a team and supported each other despite being down in points.

Salma Rahmadavi displayed great control and composure in a physical game.

Niamh Murphy showed excellent effort in crashing boards and played great help defence inside.

Arabella Kahl did some nice blocks, and her general help presence in the keyway helped our push in the third quarter
Lost to Cockburn Cougars 93-103
Coach comments
Down a few players, this was always going to be a tough battle, but I am very pleased with how the players stepped up this week. We did let the game split away in the second quarter, but we fought back hard in the fourth, outscoring Cockburn and only going down by 10. Compared to our previous week's performance, this was awesome to see us be able to dig in and really come back at the opposition in the back half of the game. Well done boys.

Jay Hazell (22pts) had a cracker of a game, and his 1-2 punch and passing with Jack Saliacus (18pts) was so great to see.

Jack was great for us again today on the boards.

Cuba Brian from the 16-2s played a great cameo today with 10 points and great energy and hustle. Well done Cuba.
U16 Boys Div 2 – Louis Timms (sponsored by Inktank)
Won against Rockingham Flames 81-77
Coach comments
After a slow start offensively, we were able to make a good adjustment to Rockingham's zone defence. This game really helped us develop our ability to pass and be patient. By doing so, it allowed us to get ahead in the third and start of the fourth quarter. Rockingham didn't go away, though and took us right to the end with their ability to push the ball in transition. It showed up some weaknesses that we will need to work on if we want to be able to close out games.

Deegan Castle (15pts) had probably his best game offensively, with Jack Ryder (14pts) and Michael Ryan (returning from overseas – 19ts) being solid contributors on the scoreboard.

Vinz Matondo was excellent for us all around and is starting to gel with the team offensively. He provided us with some timely baskets and defensive plays.
U16 Boys Div 4 – Mitch Jesson (sponsored by DLA Piper)
Won against Rockingham Orange 94-68
Coach comments
When we first played Rockingham back in May, it was a tight struggle that we won by 8 points. This week's game saw a comprehensive victory by 26 points, which is testimony to how hard we've worked to become a more cohesive unit at both ends of the floor.

This was another game where all players scored (including five players in double figures – three of whom came off the bench for us). The offensive passing and unselfish play were next-level – a standard we hope to maintain through to the end of the season.

Anthony Flores has a newfound confidence in his shot, and it's great to see his teammates find him in great scoring situations. Ant hit a game-high 20 points (including three triples), went 100% from the line, and also contributed 2 steals, 2 boards and an assist—a stat line to be proud of.

Cooper Hewer and Jaden Exeter are two players who are used to scoring with great efficiency, but in this game, their shots weren't falling at the usual clip. Eric and I were pleased that they dealt with that frustration by simply continuing to work hard for the team.

Coops finished the game as our leader on assists with 5, second on steals with 4, and added 5 boards. None of the assists were simple; they were all highly aggressive passes that pinpointed players in wonderful positions. Coops really epitomised "we over me" basketball on the weekend.

Even though his FG% wasn't where he wanted it to be, Jaden still managed to record 11 points (going 5/5 from the line helped) to go with 9 boards, 4 assists, 4 deflections, 3 blocks and 6 steals. That's a great stat line contribution to our team's win.
U16 Boys Div 5 – Dan Cartwright (sponsored by Knight Health)
Lost to Perry Lakes Hawks 61-97
Coach comments (Antony Kalebic)
We started well and matched Perry Lakes for effort and intensity early. Despite being the smaller team, we took care of rebounds on the defensive end by playing a tight 2-3 zone, keeping the Perry Lakes boys off the offensive boards. This allowed us to get our transition game going and score some easy baskets. 

The second quarter was more of the same however, a four-minute stretch where we couldn't put the ball in the basket proved costly. 

We started the third quarter by pressing the opposition guards to create some steals, but some crucial breakdowns led to easy baskets and the game slipped away.

There were some good signs early and some lessons learnt at the end. The boys should take some confidence from the first half, knowing they matched it with a good team for a half.

Jensen Harders and Sam DeGuzman attacked the basket aggressively from both wings

Jalen Dunstan and Tom Lindegger did a lot of the hard work on the boards

Deacon Hollow ran the floor tirelessly

Nick Dropulich and Xavier Luca-Morrison brought great energy and enthusiasm

Tyler Murphy (battling a hip injury) and Koby Kalebic were solid ball-handlers who distributed the ball well.
U18 Girls Div 2 – Emma Ormond (sponsored by Claremont Asphalt)
Lost to Willetton Tigers 46-71
Coach comments
This was a game of two halves, unfortunately. We took a 2-point lead into half-time but, from that point on, struggled to put the ball in the hoop while also struggling to stop Willetton from scoring. That said, Willetton is a top-two team in our division so it was good to show we can compete at that level when locked in.
It was also pleasing to have an even spread of scorers across the team. Hannag Saliacus led us with 9, followed by Blaise Stancil with 8, Charlotte Broadbent and Lucy Waller with 7 and Jenna Jackson with 6.
U18 Girls Div 2 – Zac Belton (sponsored by Aussie Fencing)
Lost to Perry Lakes Hawks Blue 90-60
Coach comments
This was not our strongest outing – we were three steps behind our opposition for most of the game, unable to keep up with their pace. We did get some momentum when attacking the basket and getting our opposition into foul trouble but couldn't convert on the free throws to stay in the game.

Shoutout to Tatum Cooper for her first foul out in a game EVER!

Emily Swann came through and knocked down three triples which gave us some momentum. 

Chloe Chan was awesome on the boards, collecting about 4 offensive boards in a row! 

Matilda Thomson continued to give us strong guard play, given that she's been off sick!
U18 Boys Div 2 – Jesse-Taylah Powell (sponsored by Grange Risk Solutions)
Won against Perry Lakes 96-77
Coach comments
This was an all-around great team performance. Offensively we were humming all game! Defensively we were less consistent but made adjustments throughout to run away with the game in the 4th quarter.

When our defence was locked in, offence was easy, so a big shout out to everyone defensively.

Cooper Deshon and Andrew Chilufya reaped the rewards of that defence with high-scoring games individually.

Max Millard did the gritty work, kept up the aggression on offence and made great reads when driving to the hoop.
U18 Boys Div 3 – Nick D'Elia
Won against Perry Lakes 86-73
Coach comments
We came into the game with high expectations, as we've been on a roll for the last few games. While we played well when the game started, so did our opposition! We got up early, but it was only a small lead. In the second half, we played a half-court press that was very effective and totally disrupted their offence. From there, we took over the game, and even though our offence was slightly rushed, we created many scoring opportunities for ourselves. Perry Lakes kept coming, though. While it was frustrating that they got the margin down to 10 in the last quarter, we kept our heads and came away with another strong win.

Benji Berardis and Lachie Steele were aggressive on offence. Harry Cuerden showed great hands to read the passing lanes.
U18 Boys Div 4 Red – Bob Andrzejewski (sponsored by TECC)
Won against South West Slammers 97-61
Coach comments (Adrian Warner)
Travelling to Bunbury can be hard, and after a scratchy Q1, I was pleased with how the boys focused and extended their lead in each of the following two quarters. Going into Q4, we were in a dominant position, and it was understandable that the boys relaxed a bit. Our mid-court defensive pressure forced many turnovers, and in the half-court, we started to see the open passes and got a lot of nice shot opportunities as a result. We tried a few different on-court combinations, and the boys adjusted well.

Jude Garbenis was very efficient in accumulating a game-high 21pts and showed great effort on the offensive boards.

Antonio Cuccovia was not far behind with 20 pts, while Lucas Detata found the open spots and his shooting rhythm to nail some nice outside shots.

Caleb Hoenig was outstanding in terms of his effort and intensity, which he maintained the entire game and set the standard for the team.

Lazar Jovanovic created a lot of pressure for the opposition by committing his body to the intercept in our press. Our high-low action inside was very effective at times, with Alex Tinlin, Lazar Jovanovic and Sasha Zugic combining well and working hard on the boards.

Hunter Grieve stepped in as a train-on and acquitted himself well for some solid minutes.

Ethan Harders played disciplined, aggressive on-ball D and, together with Riley Panizza, controlled the point with quick side-side ball movement creating good shot options for others.

Our other train-on, Luke Dropulich, played a vocal and active leadership role on the bench, assisting with managing subs.
U18 Boys Div 4 – Alessandro Gentelli
Lost to Willetton Tigers 85-92
Coach comments
Disappointing loss against a team with a similar record to us. We took a lead into half-time but they had the better of things from there.
Josh Welsh continues to lead the way for us offensively – he had 29 points. We also had good contributions on the scoresheet from Ethan Bushby (15pts), Mikka Kelly and David Moore (both with 12pts)
U20 Boys Champs – Luke Simonette (sponsored by Willis Temby)
Won against Warwick Senators 80-78
Coach comments
We struggled to execute at the start but stayed in the game and kept the margin around the 15 point mark heading into the second half after which point we slowly but surely chipped away at the lead to give ourselves a chance for the comeback win.

Everyone executed down the stretch and we got our first lead within the last couple of minutes of the fourth quarter.

Josh Peterson, Oliver Pedley and Malik Powell were standouts.

Big congrats to Ethan Port-Louis – he played his 150th WABL game for Redbacks in this game, making him the most-capped WABL player in our ranks currently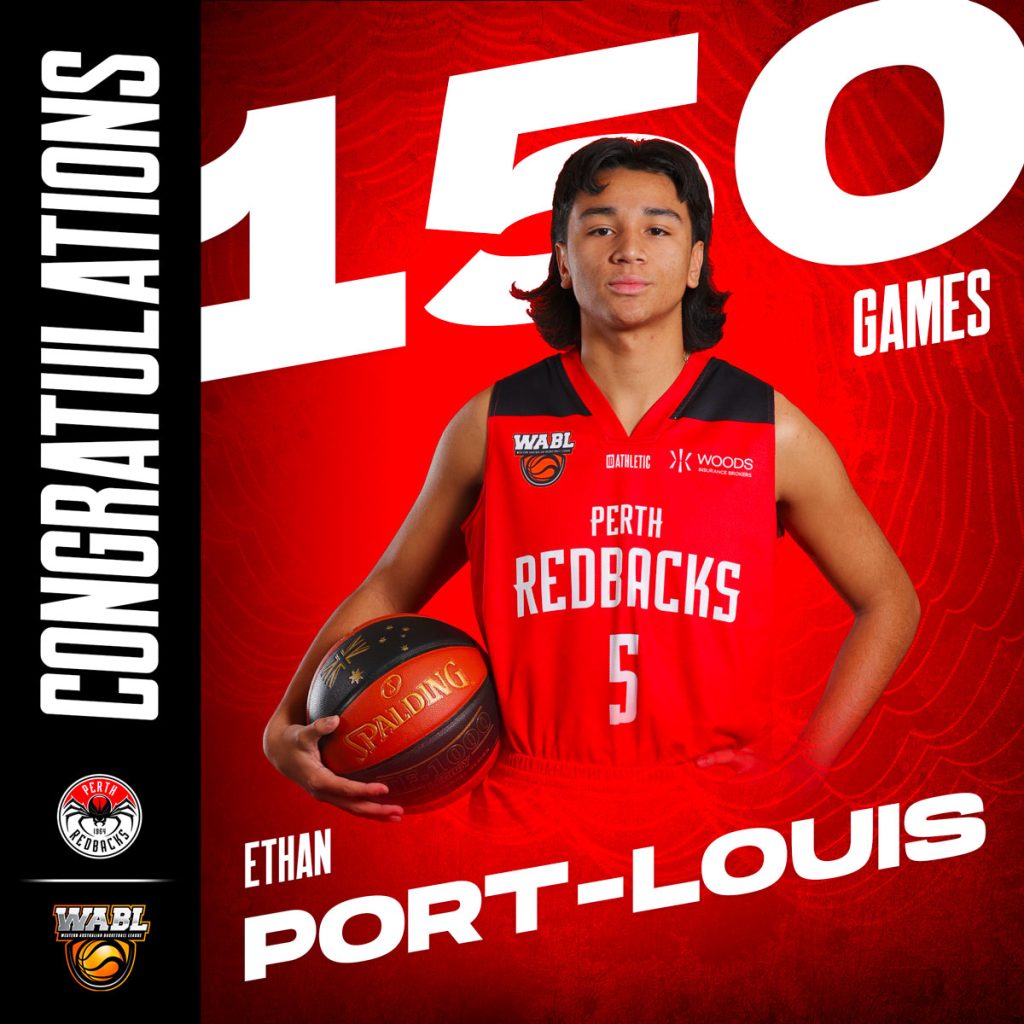 U20 Boys Div 2 – Graham Jones (sponsored by McDonalds Busselton)
Lost to Perry Lakes 80-97
Coach comments
Despite the disappointment of our recent loss, there are positive takeaways to acknowledge. While we played below our standards, we tried to stay competitive throughout the game, even winning the final quarter. Multiple players reached double figures, highlighting the depth and potential of our team. We can't allow this single poor performance to define our season.

The match started with a close-fought, high-scoring first quarter, but signs showed we were out of rhythm. Unfortunately, we made uncharacteristic mistakes, ultimately leading to our downfall in the remaining two quarters.

Despite our challenges, there were patches where we showed resilience and fought to regain control. Winning the final quarter demonstrated our determination and ability to regroup in challenging circumstances.

While the overall result may be disappointing, several players stepped up and delivered solid performances. The fact that multiple players reached double figures highlights our scoring options and depth. Witnessing significant offensive contributions from various players is encouraging, making us a formidable force when matched with strong defensive efforts.

We must address the areas where we fell short and learn from our mistakes. This poor performance is a valuable learning experience and motivates us to improve as we move forward.

Tsepo Mhlope initially started slowly but quickly found his rhythm, making a solid impact on both ends of the floor. He displayed versatility by scoring in double figures and providing a defensive presence that pushed the team to communicate more effectively. Tsepo's all-around performance exemplified his value to the team and impact on the game.

Ethan Saliacus's hard work and relentless effort were evident throughout the match. He contributed offensively, reaching double figures and displaying his scoring prowess. Defensively, Ethan was a disruptive force, making himself a nuisance with his blocked shots and putting pressure on the opposing team.

For the first time this season, Akira Rowe-Fox showed us the aggression we've been waiting for. Double figures from multiple positions on the floor showed Akira's versatility as a scorer and his effort in defence; hopefully, we haven't seen the best of him yet.