The Weekly WABL Wrap is proudly sponsored by Woods Insurance Brokers. 
Here's the Round 11 wrap-up of how all our teams went including comments from coaches:
U12 Girls Champs – Bri Bailey (sponsored by Access Hire WA)
Lost to Joondalup 42-55
Coach comments
We went into this game down two bigs against a very big and strong team. This saw our guards having to step up into a bigger role than usual and every player having to take on the challenge of contesting against bigger girls.

We had great spurts of offence and defence, being aggressive and attacking the basket hard and pulling in big rebounds. We put up lots of good shots, but it was a game where the ball just didn't want to roll IN. The girls never stopped fighting though – every time Joondalup got a lead on us, we'd pull it back. But in the end, the game just got away from us.

Elsey Lohman-White came on with great aggression to the basket to score on her first touch of the ball, and continued to stick to her player defensively!

Allegra Care really picked up and set some good screens, taking big hits to get her teammates open.
U12 Girls Div 4 Red – Rori Roberts (sponsored by Commercial Plumbing)
Won against Lakeside Lightning 59-22
Coach comments
I am so proud of those girls who played today. We played the first half with only 5 players, and those 5 came to play and played their hearts out from start to finish.

Olive Scott played pretty much the first 3 quarters without a break, and she just kept going and going, moved her feet on D and helped bring the ball up.

Isabella Nevill was outstanding today, bringing the ball up against pressure and attacking the ring hard.
U12 Girls Div 4 Black – Paul Philpott (sponsored by National Geotech Drilling)
Won against East Perth Eagles 26-22
Coach comments
Good work girls … job done! Today you were all outstanding as a collective team, with each of you making your mark on the court. You never gave up at any point, and quarter by quarter, you denied the Eagles whilst painting the boards red.

A big shout out to Coach Ben, who managed subs today. Ben has a good eye for varying player combinations which clearly added to our successful result.

Isabel Nesa really arrived on the court today, adding to her advantage with her short game on the boards and owning the keyway at both ends. 

Rose Bacci helped maintain our lead with lots of fire, finding that open space and producing a big 10 points for the game. 

Maeve Whitehouse worked on her eyes up and crossovers to provide the offensive push forward.
12 Boys Champs – Brandon Riley (sponsored by Stockbrands)
Lost to Eagles 58-63
Coach comments
We had a great first half, but came out flat in the third. Our effort was solid late, but we ran out of time

Nathan Jetajobe and Vinnie Ryder were consistent offensively. 

Franek Cytowski was great again.
U12 Boys Div 2 – Andrija Petrovic (sponsored by Skyward Roofing Services)
Lost to Lakeside Lightning 44-49
Coach comments
It was a very tight game against Lakeside, with the lead changing hands all throughout the game. Lakeside had a 1-point lead at halftime, with our boys taking a 1-point lead by the end of the 3rd. We fell into a bit of foul trouble during the 4th and, unfortunately, sent Lakeside to the line for some cheap points. We still battled through and unfortunately couldn't close the little break our opponent had created.

Our leading scorers were Jacob Fode, Luka Petrovic and Leo Wolfenden. 

Rebounds were led by Ben Handke, Ted Jarlett and Leo Burton.
Won against Hills Raiders 64-45
Coach comments
This game was a reminder of how our team is capable of playing. It was a great, fast team game that had four of the starting five (Ari was out injured) sitting and cheering from the bench as the other five were playing for a good portion of the last quarter. Every player that came off the bench brought energy and confidence to the game. Onwards and upwards boys!

Elijah Mancini had another impressive game with 20 points (regardless of a longer time than usual on the bench) and a good clean defence.

Victor Muyna started slowly, but had an amazing last three quarters – stealing balls and finishing fast on the other end.

Denim Hamilton played a good game as he got himself open a number of times and finished the job at the basket.
U12 Boys Div 4 – Craig Dropulich (sponsored by Sushi Wawa)
Lost to Lakeside Lightning Purple 37-94
Coach comments
A good effort Sunday against the best team in our division. We started the game well, limiting Lakeside's starters to a very slow start and scoring off the trap well.

I think they underestimated us to begin with and got panicked by our pressure defence.

It was a game of almosts, but ultimately came down to their ability to hit 80% of their layups after only just getting through our defence. For us, it was our inability to finish that hurt us most.

We had some other periods of success, and it was most pleasing to see the boys never give up.

It is also pleasing to see so many of the boys playing their role on the court and understanding how to play in this team as mostly 9-year-olds.

Seth Cass was very good at controlling our offense and benefitted from teammates making space for him to drive. He also listened to instructions well and made passes to teammates in great positions.

Xavier Coombe found his confidence and played a great game. Against much bigger opponents, he dribbled through them with ease and showed how good his ball-control skills are.
U14 Girls Champs – Aric Forman (sponsored by Welsh Real Estate)
Won against Willetton White 86-49
Coach comments
Down to 8 players through injury, our girls once again proved their depth with players stepping up all over the court.

In her 100th game for the club, Ella Welsh had a day out, scoring 62 points! 

It was also a fantastic game from Ruby Goode, who set so many wonderful screens to free Ella up.

Great to see Abbie Leslie getting in the keyway with the giants and grabbing rebounds.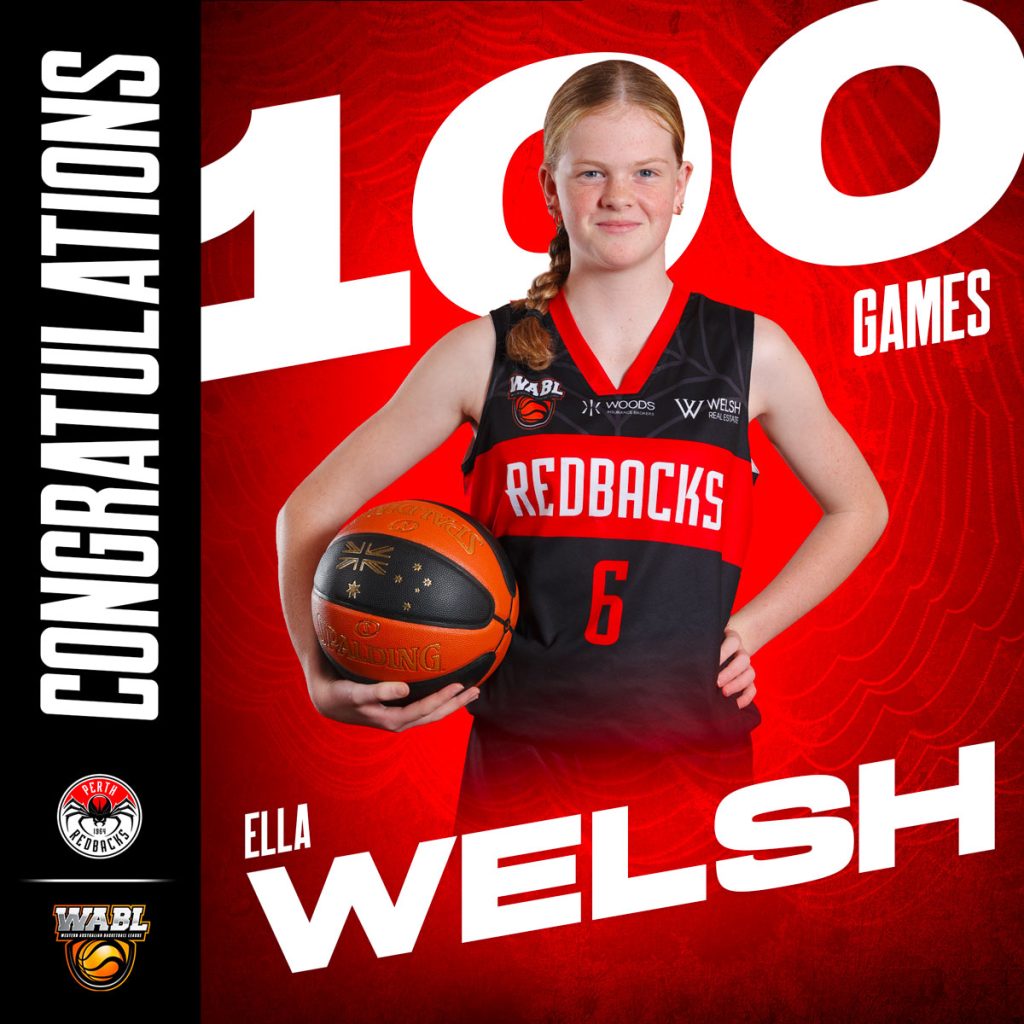 U14 Girls Div 3 – Vance Karimi (sponsored by Fish Boss)
Won against Lakeside Lightning Purple 44-40
Coach comments
The girls played a fantastic game to come back from behind and win. We trailed for three quarters, and even though we started the fourth down by 8, we never gave up. With that belief and drive, these girls can do anything. Each and every one of them drew inspiration from one another, whether on the bench or on the court. It was great having the full squad for the first time in many weeks. We did amazing with our shell defence, denying Lightning opportunities from inside the paint. All the girls put in a huge effort for the win.

Cara Hayes played another great game, strong in defence, blocking shots and walling up. She plays with a big smile and makes big plays to involve her teammates.

Leisha Charlie was on fire with her basket cuts. She has the pace to chase back in defence, stop the ball and the ability to transition immediately into offence and attack fast.

Zoe Elliott, Soni Karimi and Claudia Zell were inspiring with their double team press at different stages. Whilst they executed their objective to double the ball everywhere in transition defence, the others played help and recovered.
U14 Girls Div 5 Red – Marcia Dowling
Lost to Eastern Suns 34-28
Coach comments
Many of our team members made good decisions throughout this game, especially in the second and fourth quarters. Some great passing and excellent running meant we held the Suns to a close game.

Cyra Olowoyo played confidently today and was a consistent offensive secret and, even under pressure, made quick decisions. 

Anabella Lewis ran her player into the ground with every ball being 110% effort 

Hope Campbell showed her skills, adding to our goal of 6 steals per quarter
U14 Girls Div 5 Black – Reid Ballantine
Won against Mandurah Magic 71-24
Coach comments
In this game, the team did a great job of focusing on adding more ball screens into our offence which created great open lanes and opportunities to penetrate into the key safely. The girls really enjoyed working through their technique throughout the game and looking for opportunities to screen with good timing.

Despite being in control of the game from the start, there were a few moments when things didn't go our way, and our composure was rattled. In these moments, we needed to breathe, maintain our composure and discipline, support our teammates, and keep our energy positive.

Lauren Jones had a brilliant game, winning the ball with dedicated defence and confidently driving into the keyway with great footwork and finishing.

Olivia Birsa was shooting like an all-star today, dropping mid-range shots at will.

Saachi Ti'en was energised on defence today, focused, alert and active and had another batch of nicely timed blocks 🙂

Ella Fair was consistently fast in transition and had them beat time and time again, finishing at the rim, and confidently taking the outside shot on her way to 19 points.

Madison McKibbin shared the ball well all game, and at three-quarter-time, she was given a 'licence to kill'. She ran on court with a smile and exploded on offence and closed the game out with 21 points!
U14 Boys Champs – Andrew Logan (sponsored by MD Building Maintenance)
Lost to Cockburn Cougars 64-67
Coach comments
This was a battle from start to finish. We got in front at various points in the game but couldn't hold on down the stretch. The boys battled hard against size and pace, but it wasn't our day. Another close loss is not what we wanted, but again we see we are right there with the best in the state.

Tate Mucjanko did a job on the opposition's best player. He slowed his scoring in the second half and drew a couple of offensive fouls, swinging the momentum our way in the 4th.

Isaac Fode again showed his class as an offensive weapon. He continues to make the opposition pay when they leave him open. A laser from deep.

Jamie Cahill battled hard all day and is now regularly hitting the scoreboard to compliment his strength as a defender, and his never quit attitude.
U14 Boys Div 3 – Brad Holyoak (sponsored by Drafting Now)
Won against Cockburn Cougars White 84-36
Coach comments
Today's game was a fantastic team effort where everyone played their role, and we showed how much growth we as a group have achieved so far. We started well and got out to a double-digit lead. This continued in the second quarter, and then we really put our foot down in the third and fourth.

We had so many great contributors today. Charlie Norrish played his second game for the season today and came out swinging – awesome effort.

Kimzy Matondo was very poised and damaging with his attack on the rim. 

Tace Rankin put in another solid effort and is showing great growth with his shot selection
U14 Boys Div 4 – Ben Hamilton (sponsored by Cogito Psychology)
Lost to Perry Lakes 53-64
Coach comments
The game was very high scoring in the first half. We were unable to contain their dribble penetration without fouling, preferring to reach and block instead of using our feet and protecting the split line. This resulted in us conceding 16 points from free throws, with three players fouling out by the end of the game.

It was a very uncharacteristic game for us, and we found ourselves down by 10 heading into the final term.

A great turn-around in our defensive attitude and commitment to the basics gave us a huge boost in the fourth quarter to nearly win us the game, but unfortunately, we left our revival too late and let this one slip away.

Matthew Lucano continues to lead by example and was perhaps our most consistent, defending well and using his elite ball handling and vision to keep us in the game.

Nate Cass used his athleticism and his versatile finishing to apply offensive pressure. Greater defensive concentration and judgement will make him a standout player in this grade.

While not his best or most consistent game, our fourth-quarter revival was largely attributed to Erik Davies who attacked the boards and was a crucial presence on the split-line protecting the paint.
U14 Boys Div 5 – Matt Strika (sponsored by Sushi Wawa)
Lost to Lakeside Lightning 47-92
Coach comments
This week was one of those games against a team that just wanted the win and was executing their game plan to perfection. Unfortunately, we could never get into the game, but true to form, everybody gave their best all the way to the final buzzer. We will take the learnings from the loss and move on to the next challenge after the break.

Tex Tierney, Ethan Cooper and Elliot Birch kept attacking the ring to make some tough buckets against the flow of the game, ending up with 17, 8 and 7 points, respectively. 

Kade Peak and Clayton Sumich battled hard on the boards with 5 rebounds each.
Won against Southwest Slammers 56-46
Coach comments
This was a must-win for us to maintain our top-3 spot, and with only 7 on our roster this week, the pressure was on. We did a fantastic job sticking to our style of play, pressuring on D and forcing a heap of turnovers. When Slammers resorted to a zone from the second quarter onward, it slowed us for a while, but we eventually broke it by attacking the seams, getting the ball inside and hitting some threes off movement. I was super happy with our composure, especially with a lot of tough 50/50 calls getting us into foul trouble early.

Harriet Woods played her 100th game for Redbacks and was awesome throughout—bringing intense D, running our system in trans-O and attacking off the dribble to great effect. Congratulations on this massive milestone, Harriet!

Leeshar Tuialii played huge minutes and has been an absolute rock for our team—always bringing the effort, executing our principles at both ends and scoring efficiently of great decisions.

Mafa Tuialii and Matilda Pyne were both great, alternating at the 1 spot, getting out in transition and shooting very well from deep—both players hitting 2 key 3's against the Slammers' pesky zone.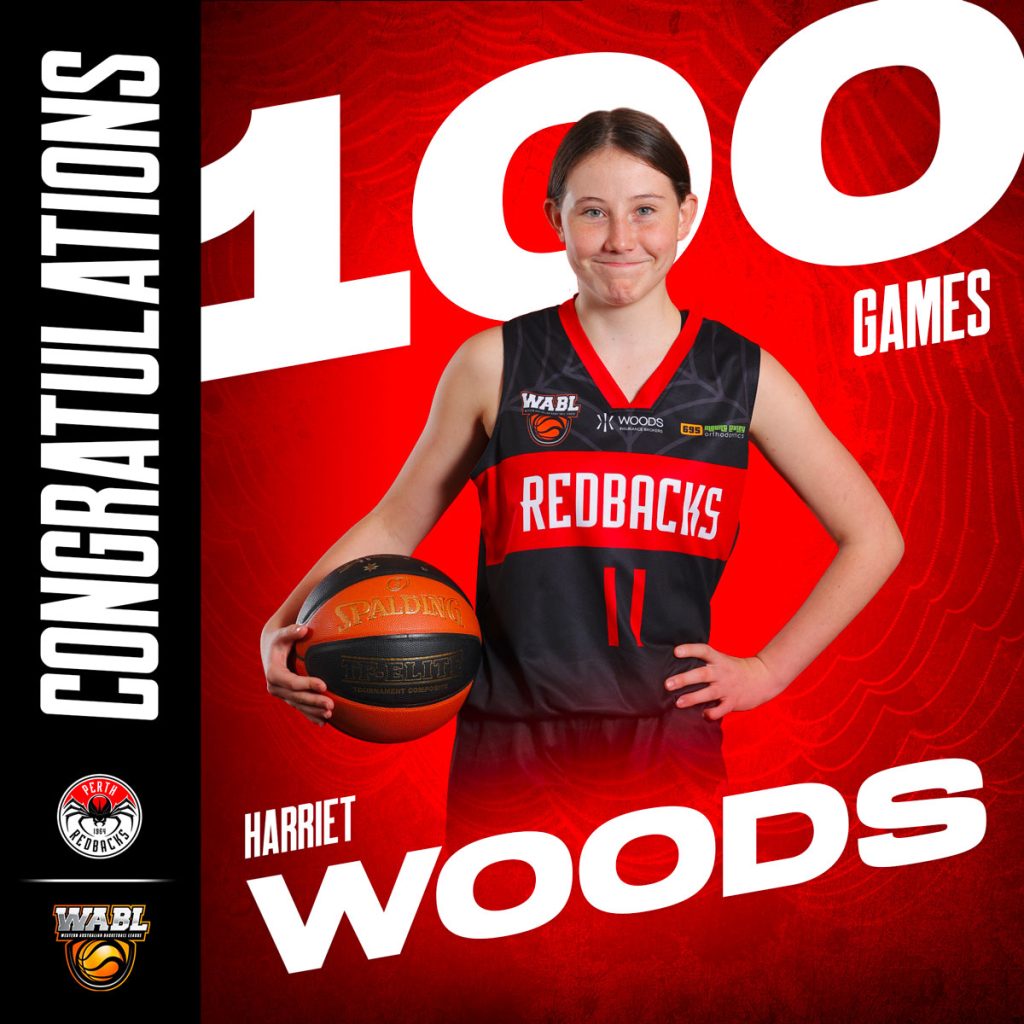 U16 Girls Div 3 Red – Cheyne Kerp (sponsored by Wyatt Martin)
Lost to Hill Raiders 31-64
Coach comments
Unfortunately, our hot streak couldn't last forever, ending with our first loss of the season.

Hills' energy and effort over the four quarters couldn't be matched.

Discipline played a big role in the loss. We didn't play the tight, violent "D" that we pride ourselves on, that reduces the other teams scoring opportunities. Hills did to us what we normally do to other teams.

We had to work extra hard to get the score on the board as we were not switched on as a team on our O. A big takeaway from the game was our spacing, cutting and ball movement.

Steph Hunt tried hard, she got into some really good spots on O, knocking down 16 points.

Jess Kerp and Tash Mantle battled hard on D, and it was pleasing to see them take some shots even though they didn't drop.

Matilda Wyatt's persistence on the O rebounds was pleasing; unfortunately, she just didn't get the reward for that effort.

Great to see Millie Stancil's willingness to try and create aggressively on the O end.
U16 Girls Div 4 – Geoff Alger (sponsored by Design Orthodontics)
Lost to Slammers 45-54
Coach comments
We went into halftime down, but knowing we were still in the game after a solid first-half defensive effort had only been let down by a lack of composure and patience in offense.

I was really pleased to see our response in the second half. Improved composure, patience and decision-making with the ball unlocked more of our scoring potential and kept us in the game right to the end. I was also really pleased with the defensive adjustments our players made in the last quarter and their continued effort to fight all the way to the end that really made a game of it.

Ella Baxter was dangerous all game offensively and very active defensively.

Sienna Duong had another good game controlling the ball with confidence and composure.

Amina Handule was more composed again with the ball in hand, which helped her to enjoy putting more points against her name.

Mel Cotte was solid all game, defensively and offensively, over long minutes.
U16 Girls Div 4 – Lucy Dowling (sponsored by LKS Constructions)
Won against Joondalup Wolves 61-58
Coach comments
We played an excellent first half this week and got a nice early lead. We worked hard on the boards and pressured the ball well.

Isabelle Swann didn't stop all game, you have not seen hustle until you've seen her play.

Arabella Kahl worked hard to take on feedback and try new things. I loved to see her attack the basket and anticipate the contact.
Lost to Wolves 117-53
Coach comments
It was always going to be tough coming up against a top 3 team with only 7 players and missing two starters. I thought we fought really well and battled a lot better for most of the game compared to some of our previous performances. By the fourth quarter, we were all pretty stuffed and only played with 6 in the end, as Kano went down with a back injury from a physical encounter. Overall, it was a very physical game, but the boys competed well. It was a much better effort this week, and the hard work at training this week paid off.

Jack Saliacus and Jay Hazell battled well in the paint, and it was pleasing to see some great 'big to big' moments during the game. 

James Bowen battled all game long with some physical attention but still managed to top score for us.
U16 Boys Div 2 – Louis Timms (sponsored by Inktank)
Won against Hills Raiders 79-76
Coach comments
The boys got off to a good start and were able to find ways to score against the Raiders' zone defence with ball movement, fake passing and proficiency from the 3-point line. The Raiders didn't go away, though and took it right down to the wire with some impressive offensive rebounding and hustle plays which saw them take the lead with only a few minutes left. I was very impressed with our poise late in the game, which ultimately secured the win.

Mitch Kensett-Smith (13 points), coming back from injury, and Tyler Hirt (17 points) were both impressive offensively and provided some clutch baskets late in the game that really helped us get over the line.
Zac Anfuso was once again a dependent force with his defensive effort and 16 points to go along with it.
I was extremely impressed with Sam Pierce (11 points) as well as Cooper Thompson, who played his best game all year.
U16 Boys Div 4 – Mitch Jesson (sponsored by DLA Piper)
Won against Hills Raiders 111-58
Coach comments
I told the boys this game would be a test of how we respond to a loss, and I couldn't have been happier with the effort and execution in this win.

All but one team member scored (and they were severely restricted due to illness), and we won all of our key indicators (rebounds +13, assists +18 and under 12 turnovers). After struggling from beyond the arc in our last game, we shot a very respectable 45% (9/20) and 70% from the free throw line (13/19).

Overall, two boys had their highest scores so far this season and the game was played in good spirits.

Jaxon Kowal put in a double/double stat line of 26 points (@56%), 10 assists, 100% from 3 (2/2), 67% from Free Throw (4/6), 6 boards and 2 steals. The impressive part is I actually think Jaxon played better than his stat line demonstrates. A pleasure to coach.

Tait Dalton has been threatening to have a breakout game all season. On Sunday, he was the dominant center on the court with 18 points (@54%), 6 boards, 1 assist, 1 block and 3 steals. The steals are the most pleasing – when we apply pressure up the floor, Tait has become very aware of pick-off opportunities. Impressive stat line for a first-year WABL player.

Flynn Hamilton on Sunday clearly encapsulated our team values. In the 3rd quarter, there was a loose ball, and Flynn just launched himself at it and hit the floor hard. The result was we won a ball and drew a heavy foul that we really had no right to get as Flynn started further away than his Hills opponent. Flynn boxed out relentlessly (8 boards) and was a vital link in many transition baskets. Such a valuable part of our team.
U16 Boys Div 5 – Dan Cartwright (sponsored by Knight Health)
Lost to Hills Raiders 81-100
Coach comments
We headed up to the Hills knowing that a win would see us draw level on the same amount of wins and losses as our opponents.

In a high-scoring first quarter, we were able to largely match our opponents. Unfortunately, the 2nd quarter got away from us, and Hills Raiders built a 15-point lead that we were never able to overcome.  In the second half, we were just shaded by 4 points and we're really proud that the boys kept competing down to the final whistle.

In a game where every team member scored and contributed, the efforts of Tyler Murphy (top scorer with 20 points), Deacon Hollow (15 points) and Tommy Lindegger who worked hard with 16 points stood out.
U18 Girls Div 2 – Emma Ormond (sponsored by Claremont Asphalt)
Won against Joondalup Wolves 69-66 (OT)
Coach comments
This game was tight from beginning to end. The physicality that the Wolves brought to the game was reciprocated by our girls, which made it a tough battle. We showed our physical and mental toughness, playing through a lot of contact on both ends of the court. We ended up coming back from 10 points down at one point to send us into overtime. I was super happy with the unity the girls played with, both on offence and defence.

Blaise Stancil shot the lights out of the stadium tonight. She had the whole opposition screaming "shooter" when she caught the ball, which allowed her to attack space and create opportunities for her teammates when necessary. Blaise's aggression on defence set her up for a steal which led to a layup to send us into overtime.

Hannah Saliacus's pressure on defence, particularly in overtime, was incredible. Her willingness to do the hard work bought the team's energy up throughout the game.

Jenna Jackson put her body on the line whenever she was given the opportunity to get the ball back on defence. I gave her the goal to lift the intensity during the 5th period as the girls were getting tired, and she did so on both ends of the court, which kept the momentum with us.
U18 Girls Div 2 – Zac Belton (sponsored by Aussie Fencing)
Won against Joondalup Wolves White 72-62
Coach comments
A slow start for us allowed Joondalup to remain in the game. With Joondalup taking momentum into the fourth quarter, we really had to lock down to get the win, and that's what we did. Credit to the girls for executing our game plan in the final quarter, especially our three train-ons who all played and all contributed to this team win.

Anais Adnams did a fantastic job finishing around the basket, getting into scoring spots and making her impact on this game.

Matilda Thomson was relentless in attacking the basket, she really came alive to ensure we took home the win.

Maddie Wade did a fantastic job getting into scoring spots and knocking down shots.
U18 Boys Div 2 – Jesse-Taylah Powell (sponsored by Grange Risk Solutions)
Lost to Cockburn Cougars 74-69
Coach comments
With only 6 players and 2 fills ins, the boys put up a valiant effort!

After a slow start, we maintained the lead until the last few minutes of the fourth quarter, when fatigue really set in.

Our defensive intent and ability to work for each other were something to hold our heads high about.

Riley Ford and Jaxon Sym had a massive impact on defence – their willingness to put their bodies on the line did not go unnoticed.

Cooper Deshon had a field day, top scoring with 32 points!

Huge thanks to Jude Garbenis and Antonio Cuccovia for stepping in at short notice.
U18 Boys Div 3 – Nick D'Elia
Won against Perry Lakes 85-80
Coach comments
This week we had a very exciting game. We started the game with our usual bench unit because they have been playing excellently as a unit at training. This worked well as we stuck with Perry Lakes for most of the first and second quarters. It also meant I could bring some firepower off the bench; however, it was one of those days our shots just were not dropping. Hawks had a very strong guard who seemed to be able to get them tough buckets when they needed it, and we just couldn't rebound. In the third quarter, they looked like they were going to pull away; however, we responded in the fourth.

A couple of big dunks from Connor Johnson and great defence from Harry Cuerden and Benji Berardis inspired the team.

This saw us take the lead and hold onto it down the stretch. I'm pleased we showed poise and came out with another close win, even with our rebounding struggles.
U18 Boys Div 4 Red – Bob Andrzejewski (sponsored by TECC)
Won against Mandurah Magic Black 79-74
Coach comments
We played the unbeaten top team this week, so unsurprisingly, the game was tough, physical and full of emotions. Neither team could establish dominance all game, but in the last minutes of the game, Riley Panizza perfectly executed our play a few times, drawing fouls leading to free throws and giving us the buffer to finish with the win. Well done Riley.

Congrats also to Antonio Cuccovia who played his 50th WABL game for Perth Redbacks in this game.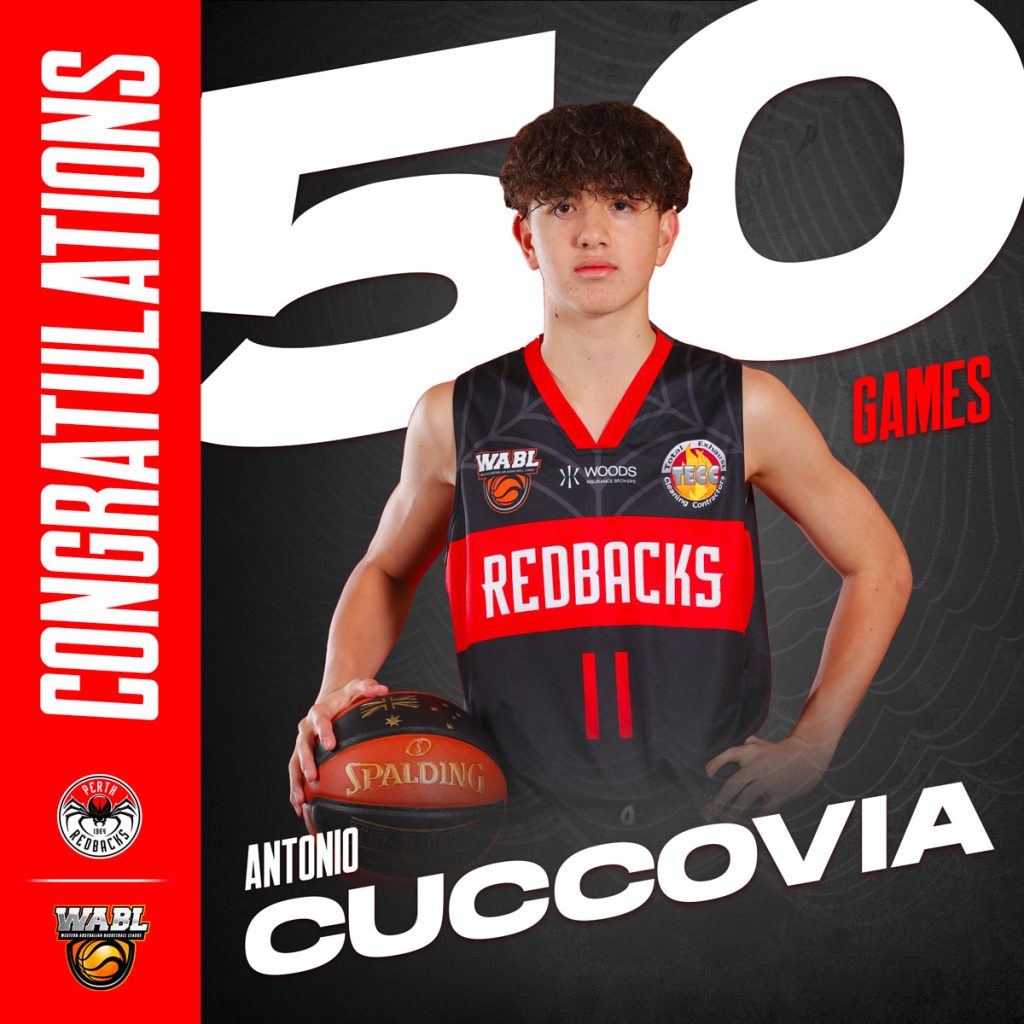 U18 Boys Div 4 – Alessandro Gentelli
Won against Slammers 110-75
Coach comments
The first half of this game was quite gritty and close. We made adjustments at half-time to blow things open in the third, and we went on with it from there.

Shout outs to:

Noah Rees-Turner for his intensity. 

Josh Welsh for leading the way on the scoreboard with 23. 

Saul Kavalsky and Romain Suraweera for growth and playing big minutes
U20 Boys Champs – Luke Simonette (sponsored by Willis Temby)
Won against Suns 100-91
Coach comments
This was a chippy end-to-end game where each team traded baskets for the first three quarters. In the fourth, we strung together 8 straight stops to take a 12-point lead which secured us the win

Ethan Port-Louis took the right shots and was rewarded for it

Josh Moody played the entire fourth on 4 fouls and was a key part of stops down the stretch
U20 Boys Div 2 – Graham Jones (sponsored by McDonalds Busselton)
Won against Eastern Suns 73-69
Coach comments
Throughout the game, we showcased moments of brilliance that showcased our talent and abilities. We moved the ball effectively and executed better plays. These glimpses gave us confidence throughout the game and set the stage for an exciting ending.

Introducing a slightly different style added a new dimension to our defensive game. We embraced the adjustment, showcasing improved defensive awareness and intensity. This shift enabled us to create numerous turnovers, disrupt the opposition's rhythm, and ultimately stifle their offensive output.

During the fourth period, we were truly tested. We demonstrated resilience, although at times lacking composure in a tense and closely contested battle. Some commanding performances emerged, with individuals stepping up to make crucial plays that got us across the line.

I'm proud of our collective effort and ability to adapt to the challenges we were set in this game. Our commitment to executing our game plan, and embracing the tactical adjustments was great to witness.

Danny Ryan, despite facing early foul trouble, showed resilience and effort. Returning from another injury setback, he showed determination by making impactful contributions on both offence and defence. Danny's ability to bounce back and maintain a high level of performance was crucial in our victory.

Melvin Nwankwo's commanding offensive performance was vital in getting our team rolling. He consistently scored points early in the game, setting the tone for our offence. Melvin's offensive firepower and ability to create scoring opportunities provided us with a significant boost.

Miguel Chaitika once again demonstrated his consistency and growth as a player. He contributed offensively, coming close to reaching double figures and making crucial baskets when they mattered most. Defensively, Miguel has continued developing, contributing to our team's success.