The Weekly WABL Wrap is proudly sponsored by Woods Insurance Brokers. 
Here's the Round 10 wrap-up of how all our teams went including comments from coaches:
U12 Girls Champs – Bri Bailey (sponsored by Access Hire WA)
Won against Lakeside 66-28
Coach comments
Our best team performance for the season. The girls started with great intensity and teamwork to get us a good lead within the first 6 minutes. The bench came in with the same intensity to keep the score rolling over. We lost to this team by 3 in the first game of the season. It's great to look back and reflect on how much we've improved since then.

Neve Hayles-Stenhouse was outstanding, especially defensively, boxing out and keeping them off the boards, staying in front of her player, setting great screens to get the guards an open lane to the basket and chasing all rebounds. 

Every player got on the scoreboard today – their efforts as a team were great to see!
U12 Girls Div 4 Red – Rori Roberts (sponsored by Commercial Plumbing)
Won against Mandurah 55-16
Coach comments
After having a big first quarter, finishing 20-1, I started to give the girls challenges, the second half challenge was only to use their non-dominant hand. I thought the girls really took that challenge on and proved to themself they could do it.

Bella Nevill and Eva Blyth were unstoppable on offence, able to use both left and right hands to finish. 

Stevie Brehaut played amazing defence. I asked her to go get every rebound, and she did.
U12 Girls Div 4 Black – Paul Philpott (sponsored by National Geotech Drilling)
Loss to Eastern Suns Orange 6-27
Coach comments
Once again, we had a great start with our girls on fire. Whilst our offensive game lacked vigour our defence was on the mark and kept the Suns' score rate lower than they would have hoped.

Isabella Nagamany is proving to be a consistent force within the team. Today she marked the Suns' tallest player and score threat and kept her scoreless for an entire 3 quarters. 

Jade Macpherson continues to place herself well on court, which resulted in many assists to our taller players. 

Josie Smith took the chance and dribbled today, helping her easily escape the Suns' defence … see what great things happen, Josie, when you take the chance and believe in yourself?!

Zoe

Bartucciotto

was awesome with her fierce defence today.
12 Boys Champs – Brandon Riley (sponsored by Stockbrands)
Won against Rockingham 63-60
Coach comments
Before I get into this week, I'd really like to talk about last week because I forgot. We went down to Warwick at Warwick. We started well but lost our way in the 2nd half. Franek Cytowski and Ollie Colangelo were amazing in this game despite the L.

This week we missed a lot early and found ourselves down on the scoreboard. Then we were amazing.

Kai Atfield hit two big 3s 

Kruz Viesca was huge. 

However… biggest shot of the year so far goes to Zach Snell. He carried us with Kai offensively when we really needed to score, then hit the ballsiest 3 I've seen for a while. Kruz then closed the game out for us at the line.
U12 Boys Div 2 – Andrija Petrovic (sponsored by Skyward Roofing Services)
Lost to Joondalup 21 – 67
Coach comments
Tough day at the office – we came up against a very well-drilled team. The boys tried their hardest to get into the game and stayed positive in the belief that they could reduce the margin.

Jeremy Zhu and Luka Petrovic worked hard on the high press to force Joondalup into mistakes to turn the ball over. 

Jayden Austin was our top scorer for the game.
Lost to Rockingham Flames 70-36
Coach comments
This performance took me by surprise as I felt that the boys were ready to start winning again.

They fought hard the whole game, so our effort was not the problem, but our execution was lacking – we turned the ball over many times and could not stop the Rockingham players from driving to the basket.

Although we had a poor performance as a team, I thought Zac Nguyen was holding his own on the defensive side, stopping his player from driving in by playing at the ball and also doing some good help defence.

Another brownie point goes to Harrison Kingsbury who spent a lengthy period on the bench but when he got the opportunity to, he gave it everything and was one of the most influential players on the court.
U12 Boys Div 4 – Craig Dropulich (sponsored by Sushi Wawa)
Lost to Warwick Green 50-71
Coach comments
Not a good start being down 18 nil after 3 minutes of play! But credit to the boys – they were up for the fight against a top team.

We worked really hard and got the margin down to 8 points at one stage. From then on, we hung around but couldn't close the gap.

In the game, the improvement was massive, and our belief was fantastic. Our pressure was great, causing turnovers and scoring opportunities. The pressure on Warwick's shots was causing more misses, and we rebounded well. I was happy with the team effort and take lots of positives out of the game moving forward.

Seth Cass was outstanding with his ball control and shot selection. He drew 8 or 9 fouls from driving in and is working hard on trying to find open teammates in great spots for the open shot.

Noah Ouwendyk, Talin McCullough and Griffin Sharp were all switched on defensively and played great man-to-man and double-team defence. Really good to see these three excel at the defensive side of their game.

Elijah Devitt hit 3 of 5 three-pointers and was dangerous on the drive. His bravery to stand in front of bigger opponents on the drive was also outstanding.
U14 Girls Champs – Aric Forman (sponsored by Welsh Real Estate)
Won against Mandurah 50-40
Coach comments
A vastly improved Mandurah played a scrappy game and threw us out of rhythm for most of the game. We needed to be more structured and stick to our plans.

It was nice to see Abbie Leslie, Summer Chalder, and Scarlett Hill attack the basket with confidence. 

Grace Butcher was a tower of power on the boards. 

Ella Welsh and Paige Ogden made a couple of great connections, with Paige knocking down the 3s.
U14 Girls Div 3 – Vance Karimi (sponsored by Fish Boss)
Won against Perry Lakes White 49-40
Coach comments
The girls played a great game this week. It may have been a little scrappy by both sides at times, but it just showed our girls wanted the ball more.

We started well, defended strong and attacked the basket at opportune moments. The third quarter was a struggle, with momentum with the Hawks. We made a few unnecessary passes and unforced errors to find ourselves down by 10.

However, we're always blown away by the resiliency of our girls. They came out fierce in the fourth quarter with some amazing full-court pressure. They found inspiration in their teammates and came back to win by 9.

Lottie Ballantine inspired the girls at the start of the fourth quarter with her commitment to deny her player, double wherever she could, and wall up strong to cause turnovers whilst finding her zen to make great decisions with the ball.

Andia Egdhami played a great game, giving everything in defence, with some great full-court double-team pressure on the ball and did everything she could to force opponent turnovers.

Cara Hayes plays with pace, poise and a huge smile every week, and this week was no different. She's strong on the boards, very clever with her passes, finishes through tough defence and has worked out how to communicate with her teammates to make special on-court things happen.

Leisha Charlie was all over the court, supporting her teammates with some great double pressure. We can see the other girls take inspiration and are motivated to push harder when they play with Leisha. And we'll continue to say it every week, but when Cara and Leisha show off that hand-off give'n'go, it is special to watch.
U14 Girls Div 5 Red – Marcia Dowling
Lost to Redbacks Black 31-37
Coach comments
A derby is always exciting. Our team showed consistent spacing and decision-making for about three-quarters of the game, particularly in the fourth quarter. Most of the girls dealt well with contact and tough gameplay, and the final quarter showed what grit this team has

Ava Litas is improving every game and was instrumental in transition, in both D and O. 

Gracie Dillon and Cyra Olowoyo implemented our help defence plan with style and aggression, both getting steals and then shots. 

It was wonderful to welcome back a rehabilitated Hope Campbell and have a full 10-girl team.
U14 Girls Div 5 Black – Reid Ballantine
Won against Redbacks Red 37-31
Coach comments
As expected, this was a challenging Redbacks Derby, with players on both teams showing some intense competitiveness really working hard to win their matchups. 

We got away fast but faded in the second half. Marcia's Redbacks Red were fired up and really fought back and won Q3 and Q4 with defensive blocks and rebounds.

Fenne Bowie played brilliant denial defence in the first half. She was a magnet to her defensive matchup and really gave us the advantage. 

Madison McKibbon saved the day with hard-fought points inside and outside, including 2 lovely threes. I have seen Madi spend plenty of extra time after both domestic and WABL games, quietly getting extra shots up on the free court, and saw this payoff today 🙂

Chelsea Karsum played her usual energetic game with a nice improvement in composure. Well done, Chelsea!
U14 Boys Champs – Andrew Logan (sponsored by MD Building Maintenance)
Lost to Rockingham 53-67
Coach comments
Another great game by our boys as they kept it close all game against the only undefeated side in the competition. The final score doesn't reflect how well the boys played. The game only got away from us in the last three minutes. If we face them in finals – look out!

Zane Carbone had a huge game as he locked up probably the best player in the competition. On the offensive end, he ran the structures well and gave us another scoring threat.

Tyson Cass was great in his minutes with his control and poise. To top it all off he had a huge buzzer-beater 3 to get us within 3 points at three-quarter time.
U14 Boys Div 3 – Brad Holyoak (sponsored by Drafting Now)
Won against Willetton Blue 50-32
Coach comments
This was our redemption game. Willetton Blue was our only loss in the season so far. The boys came out hard and played a fantastic team game, worked hard all over the court and gave 110%.

Lucas Le played rock-solid defence and was slashing with real intent to the basket. 

Tace Rankin was fantastic defensively and show great growth by giving up a good shot to find a great shot.
U14 Boys Div 4 – Ben Hamilton (sponsored by Cogito Psychology)
Won against South West Slammers 76-33
Coach comments
We were determined to maintain our intensity for a full four quarters in this game after relaxing in the second half during our first encounter. We really applied ourselves defensively for the first three quarters, keeping the Slammers to 3 points in the third term.

We defended the paint much better on this outing, keeping their second-leading scorer (who is also the league's 11th-leading scorer) to 1 point.

Unfortunately, we couldn't maintain the advantage in the final term, but overall it was a really impressive team performance by the boys.

Toby Deshon was instrumental on defence and impossible for them to guard on offence – controlling our transition with ease and finishing with a game-high 16 points, including two beautiful threes.

Tomas Lackovic backed up his training performance with a huge game where he showed his improving defensive capacity and an uncanny ability to drive to the basket to score or dish.

Oliver Tuohy played his second game of the season and added energy and versatility at key stages throughout the game while maintaining the composure of a player with twice his experience. Well done Ollie.
U14 Boys Div 5 – Matt Strika (sponsored by Sushi Wawa)
Lost to East Perth Eagles Blue 42-82
Coach comments
Up against the bigger, stronger and undefeated ladder-leading team, this game was always going to be a tough ask. After an intimidating first quarter, we were definitely on the back foot. But I was pleased to see the boys rally around each other and up the intensity in the last three quarters to produce some stretches of competitive basketball. In the face of adversity, the Redbacks 'never give up' attitude was on display which is a credit to all the players in the team.

Ethan Kingsbury and Tex Tierney battled hard all day against the tall opposition to still manage to pull down 8 and 11 rebounds, respectively. 

Clayton Sumich and Cruz Harris maintained effort and intensity for the whole game with some great contributions at both ends. 

Nick Knight was solid across the board with 5 points, 5 rebounds, 2 assists and 3 steals.
Lost to Warwick Senators Green 65-66
Coach comments
This was a weekend of contrasts. We accepted a scratch match against WA Country on Saturday and exchanged the lead all game before dropping by 6. This game showed we can compete with anyone when we step up our intensity. Unfortunately, the choice to build confidence against a state team meant we were gassed on Sunday and dropped a large first-quarter lead, letting Warwick get underdog energy. We responded in bursts, but we were a step behind in our decision-making and defensive rotations. Despite the loss, we were right there in our end-of-game scenarios and competed to the last second.

Matilda Pyne was dynamite this game, playing awesome D and leading our scoring 17 points, including 2 x 3's.

Madison Makavilitogia brought grit and attack to our offense, taking it hard in the paint. She has been a constant source of talk on D this season.

Miki Deshon played heavy minutes, nailed some big shots and got teammates great looks in our end-of-game sideline actions.
U16 Girls Div 3 Red – Cheyne Kerp (sponsored by Wyatt Martin)
Won against Redbacks Black 65-28
Coach comments
Derby day. 

We wanted to set the tone early, which the girls did, getting out to an 11-0 run to start the game. 

Our full-court press seemed to unsettle our opposition even though we knew it wasn't executed how we would like.

We pride ourselves on playing a well-unified team defence, which in this game created many scoring opportunities from steals and turnovers. Unfortunately, our finishing let us down for all the work we did defensively.

After speaking about our offence at 3 quarter time, our aim was to improve our shot selection, which we did, scoring 25 for the quarter.

Being consistent over 4 quarters in shot selection will set us up for the remainder of the season.

Congrats to Redbacks Black – they fought hard for the rebounds, beating us on the defensive boards.

Big shout out to Tash Mantle getting a triple-double – amazing effort well done. It was also pleasing to see Tash getting reward on the offensive end for her effort on the floor. 

Zoe Ball also played well – she is seeing the floor on the offensive end (reads), creating opportunities for teammates to score.
U16 Girls Div 4 – Geoff Alger (sponsored by Design Orthodontics)
Lost to Redbacks Red 28-65
Coach comments
Our clubmates from the Red team are top of the table and unbeaten for a reason, so our focus this week was to try to play our better basketball for longer and see where that took us. I was pleased that the girls managed to do this – we played really long periods of competitive basketball to still be only 15 down late in the third quarter after going 12-0 down early in the game. Winning the third quarter by the narrowest of margins was a good result for some committed effort.

While ultimately, we went down by a hefty margin on the back of turnovers, a mounting injury list and the quality of the opposition, I was really proud of the effort of the team.

All the playing group deserve a mention this week for the effort and awesome attitude, but a special mention to Sienna Duong who really applied herself offensively, defensively and in chasing down boards and looked really dangerous with her head up in transition.

I'd like to acknowledge the efforts of Anna Zittrich, who has tried really hard to play through a painful finger injury and always does everything she can for the team on the court.
U16 Girls Div 4 – Lucy Dowling (sponsored by LKS Constructions)
Lost to Perry Lakes Hawks 39-69
Coach comments
We started off with a strong first half, contesting shots, pressuring the ball, looking at good options and most importantly, boxing out, however, as we came into the second, we lost some focus and got killed on rebounds.

Chelsea Ferris had a great game, demonstrating her usual skill but also through in some new moves! Chelsea ended up playing in the post and did a fantastic job against bigger opposition. 

Charlotte Dillon worked hard all game and never let the opposition have anything easy. Charlotte is getting much better at reading her opponent at both ends of the court.

Isabelle Swann showed brilliant hustle all game, as usual, her effort and want for the ball is second to none.
Lost to Perry Lakes Hawks 110-66
Coach comments
We started the first half ok, rallied a few times and managed to claw our way back into the game by the halftime break. Defensively we let Hawks score way too many points in the first half, which meant it was going to be a tough second. Our third quarter again was not great – we missed a lot of good looks and turned the ball over. Sadly, we completely gave up in the 4th and let Hawks blow us away.

Zaydn Thomas proved again he is a workhorse, he doesn't give up and just goes and goes. 

Jay Hazell tipped in some really great points for us to keep us in the game, which is great to see offensively. 

Jack Saliacus again did a great job defensively, keeping the Hawks' bigs at bay.
U16 Boys Div 2 – Louis Timms (sponsored by Inktank)
Lost to Willetton 86-58
Coach comments
It's always good to see where you sit against the competition benchmark. Willetton are the undefeated ladder-leaders and we came away from this game with plenty to work on.
Tyler Hirt and Jack Ryder led the way for us on the scoresheet with 12 and 13 points.
Congrats to Zac Anfuso who played his 100th WABL game for Redbacks in this game.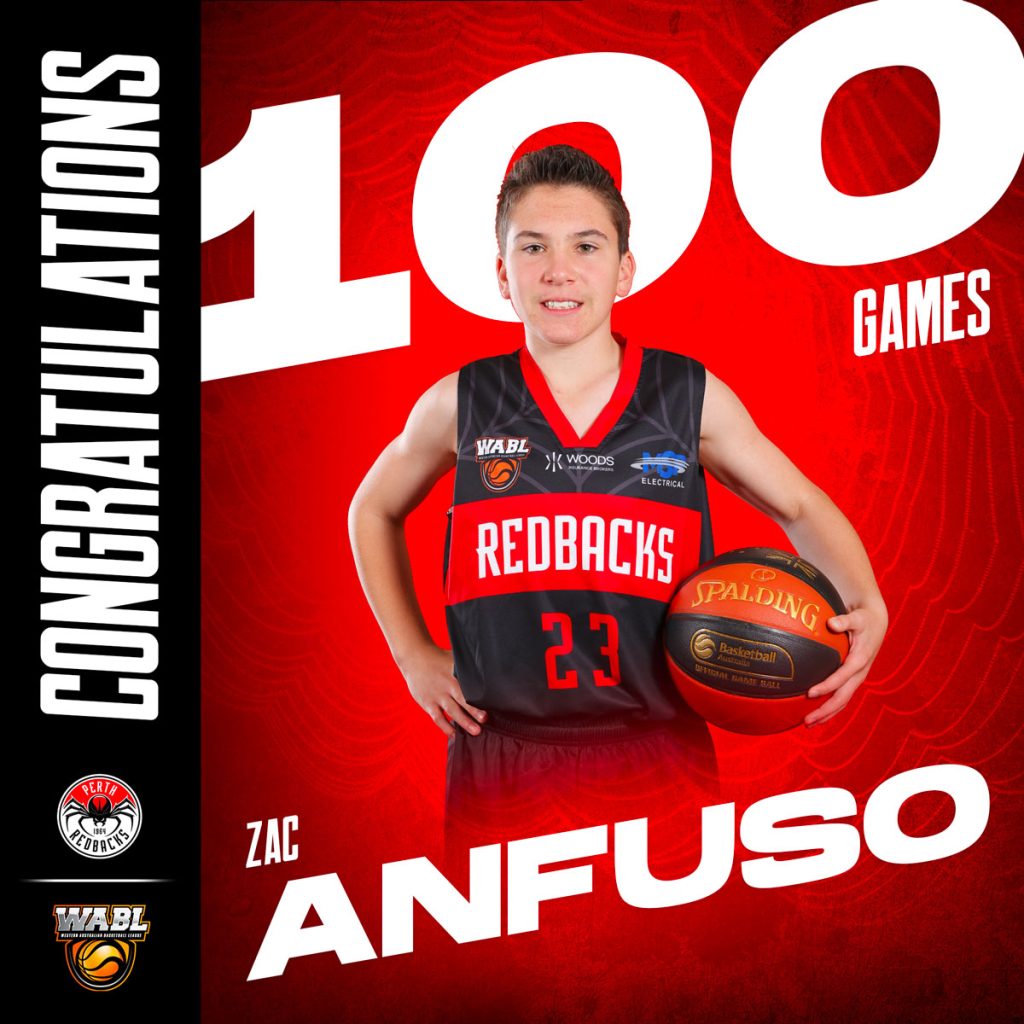 U16 Boys Div 4 – Mitch Jesson (sponsored by DLA Piper)
Lost to Warwick 77-54
Coach comments
Warwick was the only team to have defeated us in the first half of the season, so we went into this game hoping to even the ledger. We've certainly improved since Round 1, however, our opponents have also improved, and we fell 77-54.

Many times a margin in a game isn't a fair indication of how a game played out, however, in our instance, it was. Warwick won every quarter and bested us over most key indicators: rebounds by 4, turnovers by 7 and assists by 6.

On the bright side – every one of our players scored, and we never stopped trying, with our level of effort increasing the longer the game went on. Beaten by a better side on the day, it is now up to us (players and coaches) to do our level best to improve to the best of our ability.

Cooper Poustie works every second he is on the court. In a game where the opposition guards were on top for long periods, Coops just kept the pressure on defensively and was a reliable ball handler through the opposition press.

Our opponents sat in a zone for the whole game, which was unexpected. Anthony Flores was our assist leader and constantly made good decisions using his high basketball IQ. He almost had the pass of the year on a fast break, the pass was too good, and his teammate just couldn't quite finish.

Connor Webb had an impact on the game far greater than shown on the score sheet. When the game was not going our way, Connor put his body on the line time and time again – setting screens and keeping shots alive through pure hustle.
U16 Boys Div 5 – Dan Cartwright (sponsored by Knight Health)
Lost to Lakeside 95-49
Coach comments
Lakeside are on top of the ladder so this was always going to be a tough affair. We level-pegged with them in the first quarter, but the dam broke after that
Sam Guzman and Tyler Murphy were our leading contributors on the scoresheet with 11 and 10 points
U18 Girls Div 2 – Emma Ormond (sponsored by Claremont Asphalt)
Won against Cockburn Cougars 70-45
Coach comments
In this week's game, elements of our offence started to come together, and it really showed on the scoreboard. The pressure the girls put on the basket in both transition and half-court offence is something we've been working on for the past couple of weeks and I'm proud to see how willing the girls have been to buy into our new game style. This is by far the strongest and most cohesive I've seen the girls play together thus far.

I was really happy with Lucy's Waller's full-court pressure. Lucy did a great job at pressing ball carriers which led to countless steals and/or slowing Cockburn's transition attempts. 

Kate Anderson's aggression at attacking the basket, both through cutting and drives, was great to see. 

Charlotte Broadbent took countless knocks around the ring and still stood tall and did what she needed to do. Her body work really allowed her to secure lots of rebounds on both ends of the court.
U18 Girls Div 2 – Zac Belton (sponsored by Aussie Fencing)
Won against Kalamunda 78-54
Coach comments
Our point of emphasis today was consistency and finding ways to work through adversity. We continuously looked to push the ball in transition and looked inside to create spacing. As a result, we came away with an 18-point improvement compared to our first match-up.

Anais Adnams looked to seal and got into great scoring spots and made every opportunity count. Her boxing out was critical to our success today.

Tatum Cooper was clever with her off-ball cutting and aggressive with attacking the basket. Her defence was amazing to watch she came away with multiple steals and caused a few TO to create extra possessions for us. 

Isabella Wolfenden was effective with her attacks drawing contact and making the opposition pay from the FT line, she did a great job in transition defence.
U18 Boys Div 2 – Jesse-Taylah Powell (sponsored by Grange Risk Solutions)
Won against Rockingham 86-79
Coach comments
Today was an all-round team performance. Everyone was working and moving for each other defensively, which was reflected by plenty of fast break opportunities. This game featured a lot of unselfish team basketball with a willingness to make the extra pass to create great shots.

Shout out to Jaxon Sym and Guy Liggins, who had lockdown performances in this game!
U18 Boys Div 3 – Nick D'Elia
Won against East Perth 75-74
Coach comments
This week we unfortunately only had 9 players again as flu season took its toll. However, the boys came out with good enthusiasm and energy, and took control of the game from the first quarter, including a showtime dunk from Connor Johnson.
Great defence from Lachie Steele set the tone of the game.
Excellent shooting from the Eagles kept things close.
As you can see from the final margin, the game went right down to the wire. Both teams had many chances to take over, but it came down to a last-second buzzer-beater from Benji Berardis to get the win.
U18 Boys Div 4 Red – Bob Andrzejewski (sponsored by TECC)
Won against Redbacks Black 103-74
Coach comments
This was a hard-fought game, both teams wanted to win. In the end, we had a few extra tools to get on top. As tends to be the case with intraclub games, this was a very competitive/not-pretty encounter. 3 players in each team fouled out, 3 players had 4 fouls, and apart from 2 players, everyone had a foul or 2.

This week I must acknowledge the huge contribution from Alex Tinlin and Max Wishart who, in the second half, stepped up and delivered points and rebounds to give us a comfortable win at the end.
U18 Boys Div 4 – Alessandro Gentelli
Lost to Redbacks Red 103-74
Coach comments
This game was well played by us for spurts, but the whole game was based on energy and momentum. Redbacks Red had it for longer and capitalised. Was well played.

David Moore came back from injury and didn't miss a beat

Romain Suraweera made a large impact with limited time

Josh Welsh was consistent throughout.

Congrats to Noah Rees-Turner who played his 100th WABL game in Redbacks colours in this contest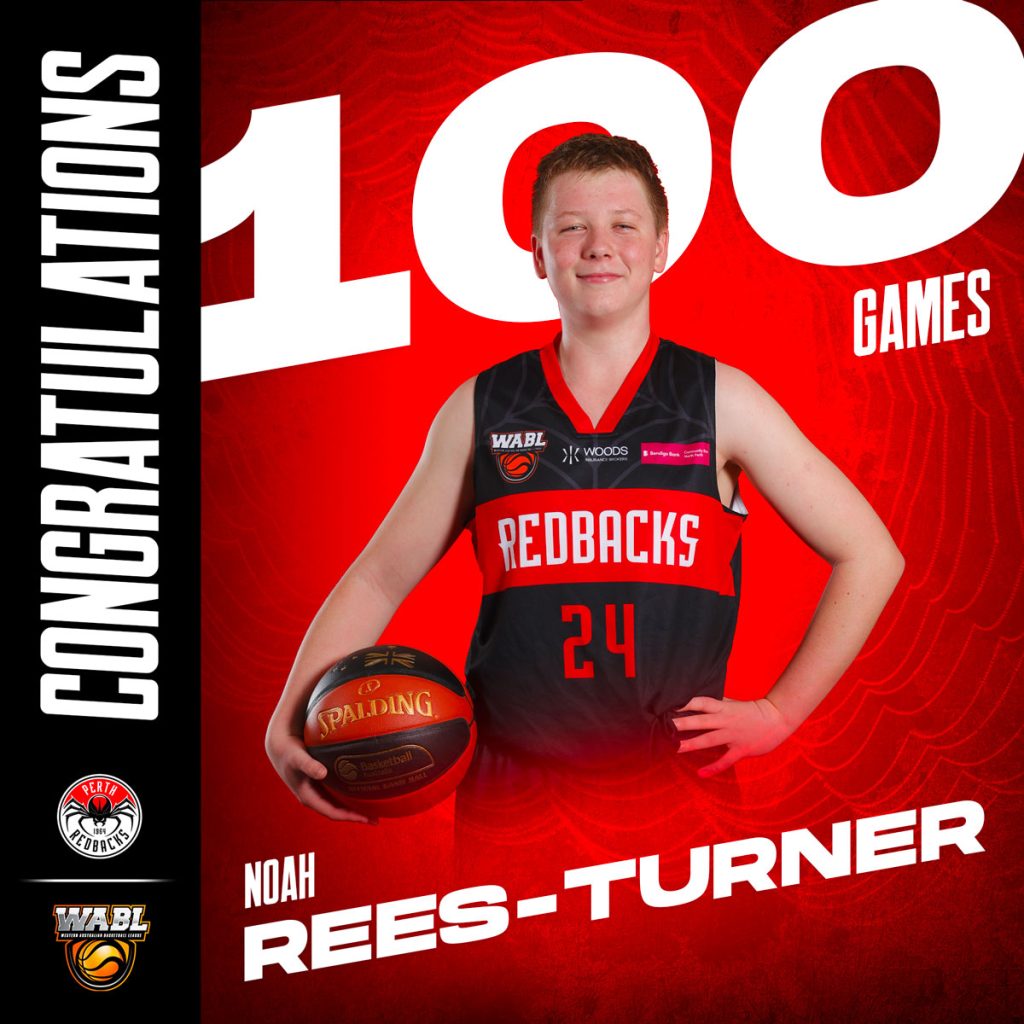 U20 Boys Champs – Luke Simonette (sponsored by Willis Temby)
Won against Mandurah Magic 92-88
Coach comments
Brilliant persistence was shown in this game. We were a couple of key players down and various things did not go our way early, so we found ourselves down 12 at halftime.

The group stuck with it getting a big run after the half and then holding off a late charge to win the game. Our offensive ball movement was sublime.

Oliver Pedley had a persistent game, set great screens, and rebounded well. Will soon have a breakout game

Ethan Port-Louis shot the lights out down the stretch

Joshua Peterson had a great game on both ends, shared the ball well and made great decisions
U20 Boys Div 2 – Graham Jones (sponsored by McDonalds Busselton)
Won against Warwick Senators 72-78
Coach comments
Our team showcased resilience and determination in our recent hard-fought game, ultimately emerging victorious. Throughout the match, we displayed moments of brilliance that showcased our true potential. It was a mature performance that left us satisfied with the outcome.

Despite facing a 12-point deficit, we refused to be beaten. Instead, we rallied together, demonstrating composure and a fighting spirit. This comeback was a testament to the team's character and belief in our abilities.

Throughout the game, we displayed glimpses of our true capabilities. We executed plays with precision and unleashed our defensive prowess, causing problems for the opposition. These moments highlighted the talent and skill that we possess across the team.

The maturity displayed by our players was commendable. We remained composed under pressure, making intelligent decisions and executing our game plan down the stretch effectively. Our ability to stay focused and disciplined throughout the match guaranteed a satisfying victory.

Every player contributed to this victory, showing their commitment and determination. Their collective effort and teamwork were instrumental in turning the game in our favour.

Tsepo Mhlope exhibited a dominant offensive display, making a significant impact when he entered the game. His presence ignited our team and helped us regain control. Tsepo's scoring determination and ability to create scoring opportunities were crucial in getting us back on track.

Dec Pyne showcased consistent improvement on the defensive end, game after game. His dedication and hard work paid off, as he delivered his best defensive performance of the season. Additionally, Dec had a stellar scoring outing, showcasing his versatility and overall growth as a player.

Operating as our point guard, Akira demonstrated exceptional leadership and skill on the court. His solid performance at the point guard position provided stability and organisation to our offence. Akira Rowe-Fox's increased aggression in scoring added an extra dimension to his game and put pressure on the opposing defence.