The Weekly WABL Wrap is proudly sponsored by Woods Insurance Brokers. 
Here's the Round 9 wrap-up of how all our teams went including comments from coaches:
U12 Girls Champs – Bri Bailey (sponsored by Access Hire WA)
Won against Perry Lakes Hawks 65-43
Coach comments
We really had to grind it out at the start of this game to build a lead towards the end of the second quarter. From there, we did a great job in the second half to be patient with the ball, set up our plays and get through the actions which led to a score nearly every time.

Allegra Care came out and really showed how aggressive she is on defence, not letting her player get the ball or helping out another player and double-teaming. 

Alyssa Rullo also had a great defensive game sticking in front of very fast guards and containing them or making them pick up the ball.

While we can always rely on Jacinta Wladkya (27 pts) to put the ball in the basket, she was ably supported by Freya Whitehouse (16 pts) in this game. Freya was super patient on offence, waiting for her teammates to shift the defence before driving and finishing beautifully at the basket.
U12 Girls Div 4 Red – Rori Roberts (sponsored by Commercial Plumbing)
Won against Eastern Suns Orange 45-36
Coach comments
In what was our most challenging game of the season, the girls came together at the end of the game to go on a little run to give us a comfortable lead with 3 minutes to go.

Isabella Nevill's ball handling was amazing – enabling us able to break the press with ease. Her ability to get open even with 2 defenders on her at times was fantastic.

Olive Scott's on-ball defence was impressive, able to move her feet to keep her playing in front.
U12 Girls Div 4 Black – Paul Philpott (sponsored by National Geotech Drilling)
Lost to Eastern Suns White 15-33
Coach comments
We were again out of the gate in the first quarter with much zest and a coordinated team approach. Much improvements this week with our foul count considerably lower. However, we struggled going forward with the challenge of getting that ball in from the sideline today.

Josie Smith was clearly present around both rings today making it so much easier for everyone. 

Jade Macpherson was also fast and available, often providing great assists. 

Matilda Thompson created great space on the court to lift team transitions.
12 Boys Champs – Brandon Riley (sponsored by Stockbrands)
Lost to Warwick 54-67
Coach comments
We started strongly in this game, taking a 12-point lead into the second half. Unfortunately, we struggled to score in the second half and Warwick were able to wrestle back the lead by the end of the third quarter and extend their margin in the fourth.
Zach Snell, Vinnie Ryder and Nathan Jetajobe worked hard to keep the scoreboard ticking over with 15pts, 12pts and 9pts respectively, ably supported by Joaquin Cortes (6pts) and Kai Atfield (5pts)
U12 Boys Div 2 – Andrija Petrovic (sponsored by Skyward Roofing Services)
Lost to Warwick Senators 61-31
Coach comments
We started off really competitively and did well in the first and fourth quarters. Unfortunately, stringing four quarters together is proving difficult against quality opposition.

Ben Handke had a big game defensively and was also our top scorer with 9 points.
Lost to Eastern Suns 59-45
Coach comments
This game saw us come up against an extremely organised team with very strong bigs and with a good percentage shooting from the field and from the line.

As has been our habit lately, we started slow but picked up the pace in the second half.

Our offence is getting much better with some more of the players discovering the 'cut and dish' and our '5 out' movement is getting slicker.

Noah Mucjanko, who is one of our strongest and fastest players, discovered that every time he cuts through the middle, he attracts defenders and can find open players to dish the ball to.

Denim Hamilton's confidence is growing and as a result, he is getting a lot more proactive which is seeing an uptick in his court time. Well done Denim.
U12 Boys Div 4 – Craig Dropulich (sponsored by Sushi Wawa)
Lost to Joondalup Wolves 24-74
Coach comments
Not a good start when 4 players are unavailable to play on the day! But this gave a lot of players more opportunity to play and show how they have improved so far this season.

The game started well – we had a good first quarter but got called for to many fouls. We trailed 16 to 10 at the end of the first but had 2 boys in foul trouble that affected our pressure for the rest of the game.

We battled hard to for the rest of the game but couldn't find all our normal scoring avenues. We were trying a new offence but just not finishing our easy shots.

Just a tough day for our team and not a true indication of where we are at as players and a team.

Aiden Middleton had another good game and is learning his role on the run. He listened really well to the changes in the game and intercepted the ball 5 times.

Pio Kavin Sampiano found his shot early and pushed himself hard to get back and defend. He also brought the ball up through the middle of the court much better and opened up our offence from this.

Xavier Coombe had great defence and handled the ball more with more drives to the basket.

Elijah Devitt drove well and looked more for the better option when doing this, this is good for his development. It helped put more teammates into open shots on the offence.
U14 Girls Champs – Aric Forman (sponsored by Welsh Real Estate)
Won against Joondalup 47-45 (OT)
Coach comment
In an incredibly hard-fought battle between 2 great teams, we played probably our best team defence of the year. The game was tied after regulation and went into overtime. Grace Butcher showed great composure hitting 4/4 key free throws at the tail of the game, and the scores were level with about 10 seconds on the clock. We calmly beat the pressure and advanced the ball to Ella Welsh who finished in the keyway with 1.8 seconds left. Joondalup didn't have a timeout left and being unable to advance the ball there wasn't enough time for them to get off a shot.

Paige Ogden was simply outstanding in this game, with smothering defence and powerful rebounding, she set an extremely high standard for others to follow. 

Scarlett Hill and Alessia Wladyka played great defence and showed real calmness under pressure. 

Ella Welsh scored heavily again despite continuing to draw an incredible amount of pressure from opposing teams.
U14 Girls Div 3 – Vance Karimi (sponsored by Fish Boss)
Won against Eastern Suns White 52-47
Coach comments
Our girls had their first away win and even though they led all game, they clearly felt the pressure all the way and did well to compose themselves when they needed. 

There were moments of wonderful basketball with short, sharp, on-time passes to a finish with barely a dribble. With a good lead at halftime, we challenged the girls to play a 4-1 offence, knowing it could cause some confusion. It definitely stretched them mentally, but they did well for their first time. 

We also had some improvement opportunities. One of them being the outlet to wings rather than pass into the pack in mid-court on the offensive transition.

Cara Hayes had another strong game. She finds her teammates with the DHO and finishes strong around the basket.

Lottie Ballantine and Cara were outstanding in defence, using great footwork, locking their arms up high and walling up.

Leisha Charlie found great spacing, cutting and finishing strong with intensity. Leisha and Zoe Elliot were fantastic together in putting pressure on defensive transitions in the mid-court.

Sasha Kuan was strong on the ball and attacked the basket with great control through gaps in defence.
U14 Girls Div 5 Red – Marcia Dowling
Won against East Perth Eagles 33-26
Coach comments
The girls maintained a united front for the entire first half with excellent decisions made in the quickest of moments. The third quarter saw emotions affect good decision-making allowing the Eagles to reduce our lead to just 4 points. After a boisterous timeout from their coach, the girls rallied, extended their lead again and finished strongly

Gracie Dillon did not give the Eagles one moment of peace in defence and was decisive under the basket.

Excellent rebounding from Sally Dowling and Ella Djurasovic saw many turnovers for the Eagles as did Anabella Lewis' quick legs in transition. 

Hayley Hill and Ava Litas were strong in offensive transition

Nora Ostermeyer excelled again in defence but also in assists

Ava Armstrong and Cyra Olowoyo made good decisions under the basket often meeting fierce defence
U14 Girls Div 5 Black – Reid Ballantine
Won against Warwick Senators 36-33
Coach comments
This was a nail-biter for sure! 

While we dominated possession in the first half, we were rushing our offence, firing too many rushed shots, and we fell behind. We adjusted the game plan and came home via hard-fought points in the paint. Our second half was much more steady and composed, we took them on in the keyway and worked hard for everything.

Ellie Pike was in top gear today, literally stealing everything, she kept us in the game in the first half by pouncing at every opportunity. Brilliant!! 

Saachi Ti'en also saved the day, when they did get opportunities close to the hoop, Saachi blocked them away time and time again. Nice flex!! 

I was really pleased with Eloise Oshea playing solid man-on-man defence, really denying her player the ball, and running hard at critical moments.
U14 Boys Champs – Andrew Logan (sponsored by MD Building Maintenance)
Lost to Warwick Senators 63-66
Coach comments
Another great game by this Redbacks champs team against one of the top sides in the competition. We were neck and neck all game, with the lead changing several times. Our structures were a little loose at times and cost us the W on this occasion. Looking forward to facing Warwick on our home deck later in the season, where I'm confident we will get them.

Luke Websdale battled against two giants all game! He punished them with his ability to drag them out and then dance them down into the paint, putting them in foul trouble and owning the offensive keyway. 

Caeden Olowoyo continues to impress me with his willingness to compete – he gave us great minutes in this game. His basketball IQ is extremely high, and it was great to see him get on the floor and work hard. 

Xavier Allison continues to be a bucket. He had another efficient scoring performance and showed improvement on his D
U14 Boys Div 3 – Brad Holyoak (sponsored by Drafting Now)
Won against Hills Raiders 57-35
Coach comments
This game was a great team effort – everybody played their part. We have really lifted our defensive effort in the last three weeks. We have set ourselves a goal for how many points we want to let our opponents score, and the boys have kept them under it. Well done keep up the good work.

Toby Summers again a tireless worker, went all day and played his usual selfless game. Kimzy Matondo is showing awesome poise and his shot selection is showing great progress. 

Parker Dunstan bounced back into form which is great to see
U14 Boys Div 4 – Ben Hamilton (sponsored by Cogito Psychology)
Lost to Eastern Suns Blue 52-54
Coach comments
This week we played the only other undefeated team in our division. It was a great contest for our boys, with multiple lead changes and some very tough individual match-ups. 

While we didn't get the win, the game was a great showcase of all the things we're doing well while also highlighting the areas we still need to develop. 

I was really pleased with the boys' effort, their composure, and their overall commitment to our system of play.

There were a lot of big moments across the whole team making it hard to pick out individuals. 

Zeke Brian continues his impressive month and had an enormous impact on defence against a quality back-court. His judgement and movement consistently got him to the right defensive position, creating stops and initiating our offensive transition. 

Will Hemingway also had an impact on defence with a tough assignment against a versatile and dangerous scorer. His attention to his assignment was crucial to us and his ability to counter-attack and move the ball effectively created a huge advantage. 

Nate Cass bounced back after last week's game to lead our scoring, rebounding and steals count. His energy on the court and his ability to attack the ring, as well as picking out the open man, was the difference during certain stages of the match.

Well done to all boys on a great game.
U14 Boys Div 5 – Matt Strika (sponsored by Sushi Wawa)
Lost to Rockingham 69-73
Coach comments
This game was close from start to finish — credit to both teams for maintaining energy and intensity throughout the entire match. Unfortunately, in the end, our boys couldn't quite wrestle back the lead in the last quarter going down by 4. I was pleased with how well the boys are running the offensive sets and the pressure being applied in transition defence. With a few small tweaks, I'm confident we can get the win next time we come up against the Flames.

Every player on the team managed to post a score this week which shows the teams' willingness to share the ball around. 

Tex Tierney battled hard all game posting an impressive double-double with 18 points and 11 rebounds. 

Elliott Birch hustled hard at both ends finishing with 7 assists and 4 steals.
Lost to Cockburn Cougars 55-75
Coach comments
This was a tough game. We got into immediate trouble by not executing our press break principles and letting Cougars take all the momentum. We convincingly won the second and fourth quarters, but we'd dug too deep a hole in the first. This game was an accountability check for our team, and I'm looking forward to seeing us respond.

Madi Makavilitogia was fantastic at both ends, sealing hard and being aggressive in the post and leading on D. 

Harriet Woods and Lailah Tasker showed great fight throughout, not letting the deficit diminish their attack.
U16 Girls Div 3 Red – Cheyne Kerp (sponsored by Wyatt Martin)
Won against Mandurah Magic Black 72-52
Coach comments
After the previous week's close game, the girls came out really wanting to stamp their authority, and they did, going on a 10 – nil run to start the game, playing really good offence and awesome defence.

It was really pleasing to see some good transition, picking apart Mandurah's defence. 

Leading by 14 at the half, the girls did not want to stop there, coming away with a solid 20-point win. 

Shot selection is improving, along with spacing on offence.

Shoutouts this week go to both Matilda Wyatt and Zoe Ball.

Matilda was a beast, playing her best game of the season so far. Her hard work paid off getting a double-double in points and rebounds. She also top-scored for the team. 

Zoe also played really well, 1 shy of a double-double, she finished really strong at the basket and nailed a 3-pointer.
U16 Girls Div 4 – Geoff Alger (sponsored by Design Orthodontics)
Lost to Willetton 35-50
Coach comments
I was pleased with our ability to play good basketball for longer with less of the lapses in effort and focus that have cost us previously.

Our first-half defence was hard to break down, and only a lack of finishing in the second quarter kept us out of the lead.

In the second half, Willetton punished our lapses in defence to eventually run away with the win in what was a close game until the final minutes.

Mel Cotte and Alex Temby were effective in both defence and offense all game. Both players contributed steals and deflections while giving away only 1 foul between them. Both were safe with the ball while Mel provided assists and challenged defenders on the drive, and Alex trailed only Amina and Ella for shooting efficiency. 

Indi Ballantine was strong on the defensive boards and in half-court defense.

Amina Handule once again provided some of her trade mark highlight blocks and solid rebounding and got good reward from improving her balance when finishing.
U16 Girls Div 4 – Lucy Dowling (sponsored by LKS Constructions)
Lost to Cockburn Cougars 52-65
Coach comments
The team showed great defensive effort with lots of hustle. The girls did well to get in front of the ball and slow it down. 

Rebounding on both ends was highly commendable against a larger, physical team.

Belle Thompson did a great job pushing the pace on offence and forcing opponents out of position.

Paige Wigmore and Arabella Kahl's inside work was amazing, rebounding kept us in the game at times.
Lost to Warwick Senators Blue 108-61
Coach comments
We started the game well, matching second-placed Warwick in the first quarter where it was all tied up, but they pulled away slightly in the second. Our third quarter was where the game was blown out – that's when we were outscored 31-5. We dropped our heads and turned the ball over too many times which led to transition buckets for the Senators. We rallied in the fourth only allowing them to outscore us by 6 in that quarter.

With Hamish Gibson and Levi Hewett both out, other players had to step up.

Zayde Parriman – despite being pretty cooked from playing in the U16 State Team's City vs Country clash the night before, really elevated on both ends of the floor as much as he could.

Ben Galvin really stepped up for us offensively and got some great defensive stops and blocks for us during the game.
U16 Boys Div 2 – Louis Timms (sponsored by Inktank)
Won against Eastern Suns Black 84-73
Coach comments
We got off to a slow start offensively, but by halftime, we had erased the deficit and held a half-time lead. We had a good spread of scoring, and our defence improved a lot in the second half to hold off the Suns, who have a couple of very talented scorers.
Jack Ryder and Cuba Brian were standouts for us.
Deegan Castle came up with some big rebounds in the second half.
U16 Boys Div 4 – Mitch Jesson (sponsored by DLA Piper)
Won against Eastern Suns Orange 101-99
Coach comments
In this game, we were facing a Suns side that sat atop of the ladder, undefeated with a % of 140. It was fair to say we knew this was going to be a challenge.

To summarise the game – it was a very even and entertaining affair. Scored were tied at the end of the first quarter, Suns got the better of us in the 2nd, and the third was a see-sawing affair before we fought our way to a good lead in the fourth. We went a little negative late in the game as Suns threw everything they had at us, but still managed a hard-fought 2-point win. Easily our best win of the season.

Again very proud that all boys scored (5 players in double figures), we won the rebound count by +6 and managed to get back some form at the free throw line.

Tommy Jakimowiez finds some games suit him more than others. This was one that we would call a 'Tommyball' game. Strength around the basket at both ends provided 15 points (@78%), 6 boards and 2 assists. 

Ewan Maclean comes off the bench averaging 14.3 points per contest. On Sunday, once again, Ewan just delivered in all categories – 15 points (@45%), 80% from the free throw line, 2 boards, 5 assists and a block. Ewan is a modest, hard-working player, and it is an absolute joy to coach him every week.

My third call out is simply to the whole team. Their energy and encouragement were just great, and everyone did what was asked of them with no complaints. If we can keep building on our 'We over Me' basketball momentum, it's going to be a memorable season.
U16 Boys Div 5 – Dan Cartwright (sponsored by Knight Health)
Won against Mandurah White 82-71
Coach comments
A solid effort from the boys to get the win. The first half was a tight contest and Mandurah took a 2-point lead into halftime. The third was similarly tight but we won the quarter to enter the final quarter with a 1-point lead before dominating the final quarter to run home with the victory.
We had good contributions across the team on the scoresheet, led again by Koby Kalebic with 18pts, Sam De Guzman with 14pts, Xavier Luca-Morison with 12 and Tyler Murphy with 11.
U18 Girls Div 2 – Emma Ormond (sponsored by Claremont Asphalt)
Won against Warwick Senators 52-24
Coach comments
We started a bit slowly in this game and our lack of energy caused some missed opportunities in the first quarter. Although our first quarter wasn't our strongest, we fought tooth and nail to apply pressure to Warwick, which led to 26 steals throughout the game. I was also very happy with our ability to change up our playing style in the past week, which really showed in transition during the game.

I was really happy with Elliana Forman's aggression to get to the basket and not settle for outside shots. This, as well as her relentlessness on defence, created many scoring opportunities. 

Grace Dalton's confidence and decision-making on offence really showed as she created really good looks for both herself and her teammates. 

Hannah Saliacus played some good help defence which allowed her teammates to play aggressively as they knew they could rely on her to contest shots if beaten.
U18 Girls Div 2 – Zac Belton (sponsored by Aussie Fencing)
Lost to Joondalup Wolves Green 60-46
Coach comments
A slow start (20-6) first quarter sealed our fate in this game as the rest of the game saw both teams going blow for blow. This final result is a 24-point improvement compared to our previous match up, so, as a group we are extremely happy with our progress.

Matilda Thomson racked up a few steals and contributed 11 points, awesome defence and ball movement. 

Ella Ferris was super aggressive this game taking every scoring opportunity really showing her versatility and contributing 8 points. 

Ava Lindegger did an amazing job with her defence and her rebounding, also contributing 8 points in the game.
U18 Boys Div 2 – Jesse-Taylah Powell (sponsored by Grange Risk Solutions)
Won against Warwick 78-75
Coach comments
This was an up-and-down game where moments of brilliance interspersed with lapses in discipline made for another heart-stopping, down-to-the-wire game. 

I felt the entire team played their roles nicely this week for the vast majority of the game, and as a team, we continue to grow and improve week by week. 

Basile Allegre and Riley Ford's efforts defensively did not go unnoticed. 

The way the entire team executed in the last 30 seconds to get Cooper Deshon the game-winning shot was fantastic.

Huge congrats to Hamish Elder who got to celebrate his 100th WABL game for Redbacks with a thriller.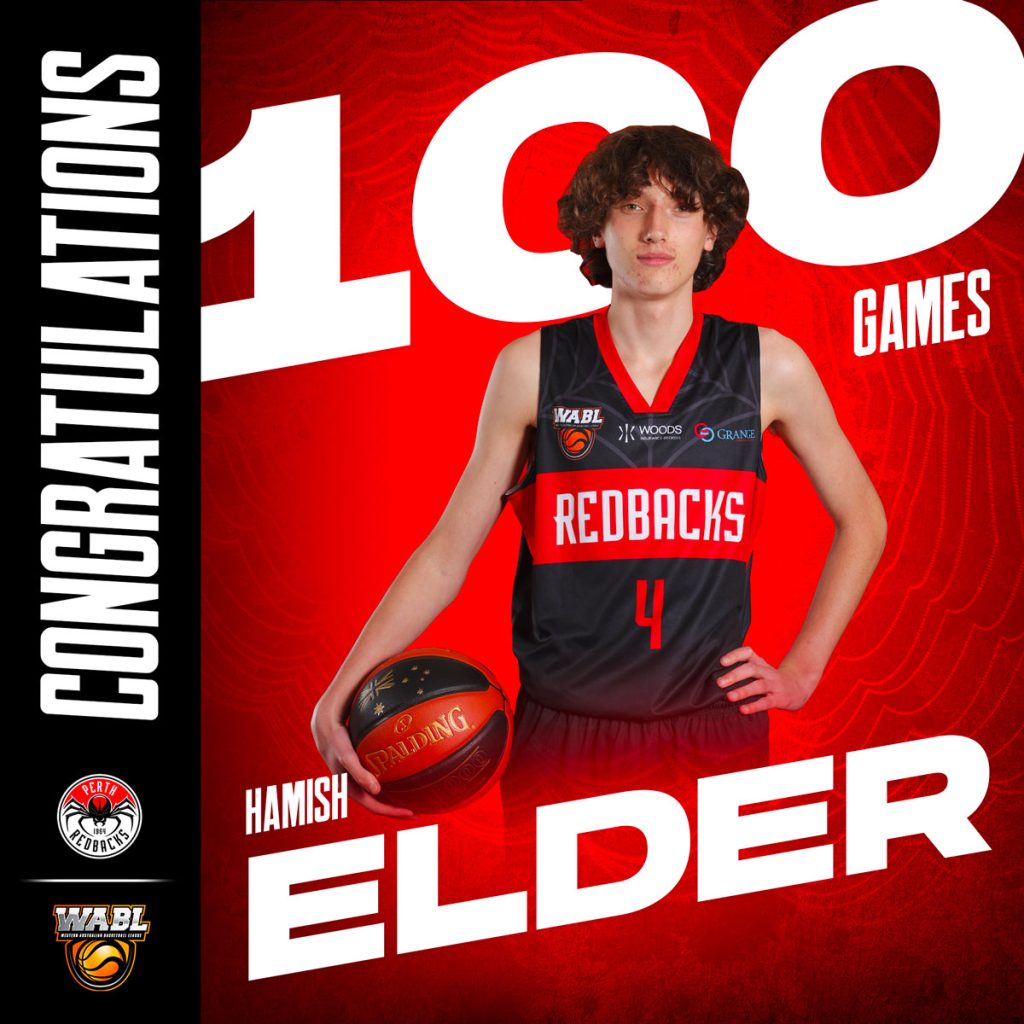 U18 Boys Div 3 – Nick D'Elia
Won against Lakeside Lightning 71-67
Coach comments
This week we unfortunately couldn't train, however we had a full team with no niggling injuries or sickness. Perhaps the break did us well as we came in focused and aggressive on both ends of the court. It was a hard fought game but we were in control and in the lead for most of the game. In the fourth quarter we had a good lead of around 10 points, but predictably, Lakeside played tough defence and forced us to commit a few errors. However we held on, got a few timely buckets and stops on defence, held the ball on offence, and came out with a nail biting win.

It was a great start on offence from Will Goode and Benji Berardis, and excellent defence and a cool head from Lachie Steele in crunch time
U18 Boys Div 4 Red – Bob Andrzejewski (sponsored by TECC)
Won against Willetton Tigers 83-62
Coach comments
This was a solid game for us, all boys performed equally well, all contributing on both ends of the court. All scored evenly and within their abilities.

I must praise Jude Garbenis, Caleb Hoenig and Alex Tinlin for their energy, determination and speed in this game.
U18 Boys Div 4 – Alessandro Gentelli
Won against Lakeside 100-69
Coach comments
We set the tone for the game by coming out strong in the first quarter. Our defence let to a lot of interceptions, which allowed us to get out in transition. We held a comfortable lead throughout the entire game and ended up winning by 31 points.

Josh Welsh was unstoppable offensively, scoring 31 points with consistent scoring throughout the entire game. 

Ethan Bushby and Isaac Moore kept the scoreboard ticking over, each scoring 16 points. 

Noah Rees-Turner showed great energy throughout the game.
U20 Boys Champs – Luke Simonette (sponsored by Willis Temby)
Won against Rockingham 109-76
Coach comments
Satisfying game against a team sitting 2 wins above us on the ladder. We took control early with a dominant 61-35 first half. We then kept our foot on the pedal, winning quarters 3 and 4, too to take the 33-point win.
Every player scored in this game, with six players in double-digits.
Leading the way on the scoresheet were Malik Powell with 23pts, Charlie Morcombe with 18, Aiden Cannington and Josh Moody with 14 and Ethan Port-Louis with 13.
U20 Boys Div 2 – Graham Jones (sponsored by McDonalds Busselton)
Won against Mandurah Magic 76-67
Coach comments
In an inspiring turnaround, we emerged with a victory against the Mandurah Magic after a disappointing loss last week. The players displayed their determination and showcased their true potential, leaving no doubt about their capabilities.

From the opening whistle, it was evident we had made significant strides on the offensive end. We exhibited improved movement, cutting, and passing, demonstrating better cohesion and understanding. Our precise execution created scoring opportunities and kept the Mandurah Magic defence on high alert.

Although the defensive end initially posed challenges through a lack of communication, our perseverance and unwavering spirit prevailed. Our true defensive prowess shone through in the crucial last quarter. We seized control of the game with relentless pressure, leaving the Mandurah Magic disheartened and struggling to find the rhythm they had relied upon all game.

This satisfying win is a turning point, boosting our confidence and motivation. We've proven we can compete and this game showcased our continued growth as a unit.

Tsepo Mhlope showcased an impressive defensive performance, setting the bar high for his teammates. He consistently challenged them to elevate their defensive efforts while containing the opposing team's best player. Tsepo's contributions extended beyond defence, as he made valuable contributions on the offensive end of the floor.

Miguel Chaitika and Akira Rowe-Fox formed a formidable tandem, wreaking havoc on the opposing team's offence. Their combined efforts stifled their opponents, slowing their offensive flow and creating turnovers. Their defensive prowess and synchronised play were instrumental in disrupting the opponent's game plan.

Mackenzie Tanner, known for his reliability and determination, anchored our defence with his solid skills. His presence on the court gave the team a sense of stability and confidence. Additionally, Macka demonstrated his versatility by making significant contributions on the offensive end, proving to be a valuable asset on both sides of the floor.

Ethan Saliacus showcased remarkable adaptability by seamlessly transitioning between various positions. Despite the challenges, he maintained his focus and performed exceptionally well on both ends of the floor. His ability to contribute consistently while playing different roles highlighted his versatility and overall impact on the team's performance.