The Weekly WABL Wrap is proudly sponsored by Woods Insurance Brokers. 
Here's the Round 8 wrap-up of how all our teams went including comments from coaches:
U12 Girls Champs – Bri Bailey (sponsored by Access Hire WA)
Won against Kalamunda 74-39
Coach comments
The girls came out hard and with a lot of defensive pressure to put us up and force an early time-out. Every player who rotated onto the court kept the same energy as those they were replacing, and everyone played their roles perfectly for us to come out with a win.

Mia Exeter had another great game – contested well on the boards, got fast breaks, got to the foul line and blocked shots! She finished with 12 points, 3 steals, 3 blocks, 2 rebounds and an assist.

Darcy Hill showed great patience on offence and good hustle on defence. She filled up the stat sheet with 5 points, 7 rebounds, 3 assists and 8 steals!

Big shout out also to the whole team for their amazing energy on the bench – no matter who was on the bench, they were cheering loud and giving encouragement to their teammates on the court
U12 Girls Div 4 Red – Rori Roberts (sponsored by Commercial Plumbing)
BYE
U12 Girls Div 4 Black – Paul Philpott (sponsored by National Geotech Drilling)
Lost to Senators Blue 15-28
Coach comments
Another well-fought day at the office for the Reddies! With many fouls on the board, this was a testament to each of the girls giving your all. I was so happy with our girls today. I asked each person to do something for me as a player and they each delivered by changing their individual and team play, making it that little bit harder for the Senators. Thank you to each one of you.

Isabel Nesa turned up in a BIG way today, helping direct the game in many ways which was evident on the scoreboard. 

Maddy Marshall who was sitting on 4 fouls for the entire second half, demonstrated how one can play strong defence without using their hands and arms – magic to watch. 

Jade Macpherson, despite being fouled off in the 4th was instrumental in transitions and positioning around the offensive key. Jade's height and long reach saw many intercepts.
12 Boys Champs – Brandon Riley (sponsored by Stockbrands)
Won against Perry Lakes 62-51
Coach comments
The game started pretty evenly but the guys that came in, particularly Jo really took it up a notch. Was a good game by all and it's good to have some form going into a big game this week.

Joaquin Cortes' overall effort and intensity is huge for us every week, but he really came in and played well when it mattered this week. 

Nathan Jetajobe also had about 8 blocks 

Zach Snell couldn't be stopped in the third
U12 Boys Div 2 – Andrija Petrovic (sponsored by Skyward Roofing Services)
Won against Cockburn 44-34
Coach comments
The boys played with great determination and it paid off to get the win.

Collectively, our team defence was great and set up the win
Lost to East Perth 64-57
Coach comments
We started the game short two players who were unwell, but did really well to lead by as many as 11 points at one stage.

Then we lost Ari Salvemini, who started the game very strong, to a foot injury. The pressure kept mounting when a few of the boys got into foul trouble.

Although the boys were fighting their hardest, the hard luck eventually beat us when Elijah Mancini (who was our best player on the day) got fouled out and the Eagles finished on top.

Ari started the game fantastically – getting open inside the key and scoring our first few baskets. We sorely missed him when he got injured and had to sit out the remainder of the game.

Elijah was outstanding with his fast runs cutting through and scoring. His leadership on court is starting to show by slowing down the game when needed and calling plays.

Another point guard that had an exceptional game was Victor Muyna who was going hard from the get go to the final whistle and single-handedly brought us back to the game after having two quick steals and baskets in the final term.
U12 Boys Div 4 – Craig Dropulich (sponsored by Sushi Wawa)
Lost to Rockingham 59-91
Coach comments
We had a really good start to this game – I think our pre-game warm-up is helping us start very well now. We scored points from the get go and had all the boys intensity at their highest level for the season. Had a great first half and looked primed to play a good second half. Unfortunately our much bigger opponents seemed to work us out and played more aggressively to finish off the game. Lots of positives from this one though. Saw a lot more good plays form more players now. The upside is our defence will get a lot better as our confidence grows.

Lots of good players to mention this week. 

Aiden Middleton scored 8 point and 5 rebounds to be a good big man for us this week.

Ned Tierney and Eli Devitt put their bodies on the line a number of times and fought hard through traffic on several drives to the basket.

Noah Ouwendyk and Talin McCullough aplied great pressure on our traps and forced 9 turnovers between them.

Ashton Peake and Pio Kavin Sampiano controlled the ball well and had some great mid range shots.
U14 Girls Champs – Aric Forman (sponsored by Welsh Real Estate)
Won against Rockingham 57-51
Coach comments
The first half was a tight tussle between two strong teams. A few tactical changes at half time lead to a dominant third quarter with more patient offensive play and tighter half-court defence. Rockingham came hard in the fourth, but we weathered the storm and showed signs of growing maturity as a team.

Foul trouble towards the end of the game highlighted our team's depth. Alessia Wladyka 's ball handling under pressure, Remy Sumich's tight defence and Ruby Goode's rebounding all made a difference. 

Ella Welsh continues to be the focus of intense opposition defence and yet finds ways to be our offensive focus. 

Great to see Ada-Mae Bourke return to scoring form.
U14 Girls Div 3 – Vance Karimi (sponsored by Fish Boss)
Lost to Perry Lakes 40-50
Coach comments
What a cracker of a game. We started nervously in the first quarter, possibly a little intimidated by the Hawks' height advantage. But our girls bravely pushed themselves all game, fought for every loose ball, took risks to deflect a pass or dribble, ran back on transition defence and gave it right back in their transition offence. Parents cheered so loud and the girls felt energised in the fourth and were resilient right to the end. We're so proud of them.

Leisha Charlie found great space to cut through the Hawks defence, receive and finish with pace. Leisha and Cara have shown us how the simple give-and-go is so effective.

Cara Hayes knew she had to work overtime in help defence to stop their tall players and gave it right back in offence with smart look-away passes and strong finishes.

Andia Eghdami was strong in defence, put pressure on nearby dribblers, fought on the rebounds against taller girls and looked before making a dribble/pass decision.
U14 Girls Div 5 Red – Marcia Dowling
Won against Cockburn 43-22
Coach comments
With a long and intense pre-game talk and some very specific team goals, the girls began, maintained and finished the game in style!! Great and improving passing decisions and executions all around, solid shot choices and menacing man-on-man defence, resulted in an excellent team game

Nora Ostermeyer's defensive efforts were once again invaluable to keeping our opponents to a low score. Both she and Sally Dowling boxed-out more frequently under our offensive basket with Ava Armstrong, Cyra Olowoyo and Ella Djurasovic jostling consistently under defensive basket
U14 Girls Div 5 Black – Reid Ballantine
Won against Eastern Suns 69-39
Coach comments
It is really great to see this team step on the court with great confidence and take the game on from the very start. When we last faced the Suns in Round 3, we took a 10-point win. This time, we stretched that winning margin to 30 with a great improvement in offence. I was really pleased to see us winning the offensive rebounds and often more instinctively kicking it out of traffic to reset the offence and find a better opening.

Olivia Birsa and Saachi Ti'en played some longer stints in the first half and maintained a really composed defence, denying everything inside the paint and setting the game up nicely.

Ella Fair had a great game on the ball, pushing the tempo in offence and driving hard to the hoop and finishing. After a timeout, we had a set play to deliver, and Ella stepped up in the big moment. She overcame her nerves, was perfectly set, popped open to her deep spot, had hands set, catch and fire from deep for 3. Well Done Ella!! Clutch!!
U14 Boys Champs – Andrew Logan (sponsored by MD Building Maintenance)
Won against Perry Lakes 69-59
Coach comments
We started strong for the second week in a row, getting the opposition on the back foot early. We built a 15 point lead and then held onto it until the last 2 minutes. We had to hold our nerve late – an indication we are improving as the season rolls. We kept our heads cool and executed our structures. Another step forward for this great group of young men. I was super proud of this win. A lot of growth amongst individuals and as a team.

James Galvin had a day out! The last few weeks he's been a facilitator, but today he got going early as a scorer and finished with 20 points making 6 three balls along the way!! 

Jamie Cahill kept the top scorer in the league to 8 points for the day while scoring 9 of his own! His rebounding also contributed to us getting the job done. 

Zane Carbone made the most of his opportunities including making a massive "and-1" play down the stretch at a crucial time. Zane continues to learn and develop. Well done Zane
U14 Boys Div 3 – Brad Holyoak (sponsored by Drafting Now)
Won against Rockingham 55-40
Coach comments
This was a hard-fought game with us jumping out to a ten-point lead early. Our attack on the ball was great as was our third term where we held the flames to 1 point with a defence we were running for the first time. We tried a couple of new things that all seemed to work well.

We had a great contribution from many players but Toby Summers, Jake Chew and Toby Schultz were fantastic. 

Aaron Kerp stepped up big, playing his best game of the season playing on the post against a monster from the Flames
U14 Boys Div 4 – Ben Hamilton (sponsored by Cogito Psychology)
Won against Hills Raiders 61-38
Coach comments
We started strong in this game, scoring 16-2 in the first quarter off some high-intensity full-court pressure and great team offence. The middle two periods were a bit lacklustre, but we doubled down in the final term to earn a comfortable win. 

Rebounding, man-on-man defence, and ball movement continue to improve and were really important for us in this game given our unusually low field goal percentage.

Erik Davies performed well, leading all scorers through his presence inside and a deadly mid-range that can't be left unguarded. He's also adapting well to his role in the press break. 

Will Hemingway set the tone defensively with his intensity and ability to keep his opponent on his left hand. He continues to attack the basket, finishing with high precision from either hand – causing a lot of trouble for opposition's defence. 

Zeke Brian continues to improve, with his trademark defensive pressure complemented by increasing offensive control. His impact on the game at critical stages swung momentum in our favour. 

Well done boys.
U14 Boys Div 5 – Matt Strika (sponsored by Sushi Wawa)
Won against Hills Raiders 48-47
Coach comments
A slow start with a lack of intensity and some inaccurate shooting left us down by 6 at the end of the first half. After halftime, we came out with a renewed level of energy to fight back into the game with an awesome 19-9 third quarter. The last quarter was tight, but the boys showed some real poise and control to run out the game with a one-point victory.

Luka Delic again dominated the paint with yet another double-double – 21 points and 12 rebounds. 

Nick Knight and Kade Peake showed that size doesn't matter when crashing the boards racking up an impressive 7 rebounds each. 

Max Woods responded to the call for some defensive hustle with 3 timely steals to go with his 4 points. 

Ethan Cooper contributed across the stats sheet, including 3 monster blocks.
Won against Willetton 71-50
Give a brief summary of how your game unfolded.
After a long stint of managing injury and sickness, we finally got back to a positionally balanced squad and playing our style of basketball. We got out to a great lead built upon intense D and flowing offence, never meaningfully letting Willetton back in the game. We also drained 7 threes and a number of mid-range jumpers out of great movement and shot selection. It was a great team performance that locked into our identity.

Matilda Pyne was dynamite all game. She made a heap of aggressive moves and strong finishes (particularly with her left hand) and, on D, consistently jammed or fought over screens leading to steals.

Miki Deshon showed great leadership, offering thoughts on how to bust their 1-2-2 trap better, being the spearhead of our trap and making great plays for others and herself on O.

Grace Dimer, Leeshar Tuialli and Mafa Tuialli all shot the ball aggressively from deep and mid-range making some great shots. Each player brought toughness and hunger on the defensive end too.
U16 Girls Div 3 Red – Cheyne Kerp (sponsored by Wyatt Martin)
Won against Willetton 46-38
Coach comments
We did not start off the way we would have liked in this game. Sloppy unnecessary fouls made it harder for us than it should've been and some inconsistency throughout the game kept Willetton within reach.

Having conceded the lead at the end of the first quarter we showed some glimpses of who we pride ourselves on being in the 2nd.

Our spacing on offence improved (dropping 16 points) and our D only allowed Willetton to score 4 points.

We improved on our lead for the 3rd qtr leading by 14 going into the 4th.

The girls were tested in the last quarter. Willetton took it up a notch making us work hard on O transition giving away the 14-point lead to come away with an 8-point win.

This was a game we did not play to our full potential as a TEAM, and I know we can play HEAPS better.

Emily Horniman, for the second week in a row, led us in scoring, knocking down some pivotal shots and getting to really good spots on D.

Zoe Ball tried her hardest, consistently running the floor getting us lots of transition. She also played well on D, nullifying the opposition's offensive threat in the paint, and not afraid to match it physically when needed.

Tash Mantle used her height to her advantage getting lots of deflections and pushed the pace of the game when in transition.
U16 Girls Div 4 – Geoff Alger (sponsored by Design Orthodontics)
Lost to Lightning Purple 26-71
Coach comments
Our focus is on getting a little better at what we do each week and this week was a step forward. We once again had difficulty finishing early and were a little down on defensive pressure in the first quarter but came back to play an excellent second quarter. A lift in defensive pressure caused numerous opposition turnovers and we enjoyed some of our best finishing so far this year. This was really pleasing as the Lightning are one of the better defensive teams in our league.

Ella Baxter was composed with the ball, consistent in defence and efficient from outside with good, balanced shots. 

Ayla Harris was creative with the ball and as always applied herself with intensity at the defensive end and on the boards.

Mel Cotte may not have got on the scoreboard, but she was a key contributor in every aspect of the game. Her ability to play with energy and focus all game and over long minutes is really appreciated.
U16 Girls Div 4 – Lucy Dowling (sponsored by LKS Constructions)
Won against Hills Raiders 68-39
Coach comments
We played a brilliant first half with great defensive pressure and really good looks on offence. The girls worked well as a team and just need to stay locked in once we hold the lead

Chelsea Ferris made some great decisions and found space well, giving her some nice points. 

Niamh Murphy had another brilliant post game both offensively and defensively
Won against East Perth 94-78
Coach comments
This was a tight battle for most of the game, and we did really well to break East Perth's trapping action against us. We found the open player a lot and made East Perth pay at the 3-point line, nailing 14 from beyond the arc! It was a great team effort to keep chipping away at our lead all game long. The only blemish was relaxing too much letting East Perth back into the game when we were 30 points up at one stage in the last quarter. These are the games where we need to learn to really put the hammer down and put teams away.

With two players out with sickness, it was up to everyone to step up. 

Ben Galvin had a great game for us, dominating in the paint and nailing a couple of great 3-point shots. 

Levi Hewett put on a shooting clinic at one point with some sweet shots. 

Hamish Gibson and James Bowen proved if you leave them open, they will make the opposition pay. 

Jack Saliacus put in some heaving minutes for us this game and pounded away in the paint at both ends. 

Big thanks to Jaden Exeter for stepping in for us at the last minute and playing some key minutes to give our bigs some much-needed rest.
U16 Boys Div 2 – Louis Timms (sponsored by Inktank)
Lost to Rockingham 65-67
Coach comments
Rockingham was a tough opponent and had some good players who were able to drive to the basket and finish well against us early in the game. We were able to make an adjustment to that with earlier help and pressure defence on the ball which proved to slow them down. We struggled to rebound in the first half against a few of the Rockingham boys who really attacked the offensive glass. Our efforts to rebound in the second half were far better with Jack Ryder, Michael Ryan and Deegan Castle stepping up in that department. In the end, Rockingham's transition offense overran our 3-quarter time lead, and they won the game. All in all, it was a good game of basketball and the boys competed and played to win which I was very pleased with.

Lachie Wheals had a great game with 13 points, hitting 3 three-pointers. 

Zac Anfuso was once again a solid performer with 11 points and provided a great level of intensity on the court. 

Deegan Castle was slow to start but was vastly better in the second half and finished the game with about 8 or 9 rebounds 6 points and 4 or 5 blocked shots.

Big congrats to Cooper Thompson who played his 50th WABL game for Perth Redbacks this week.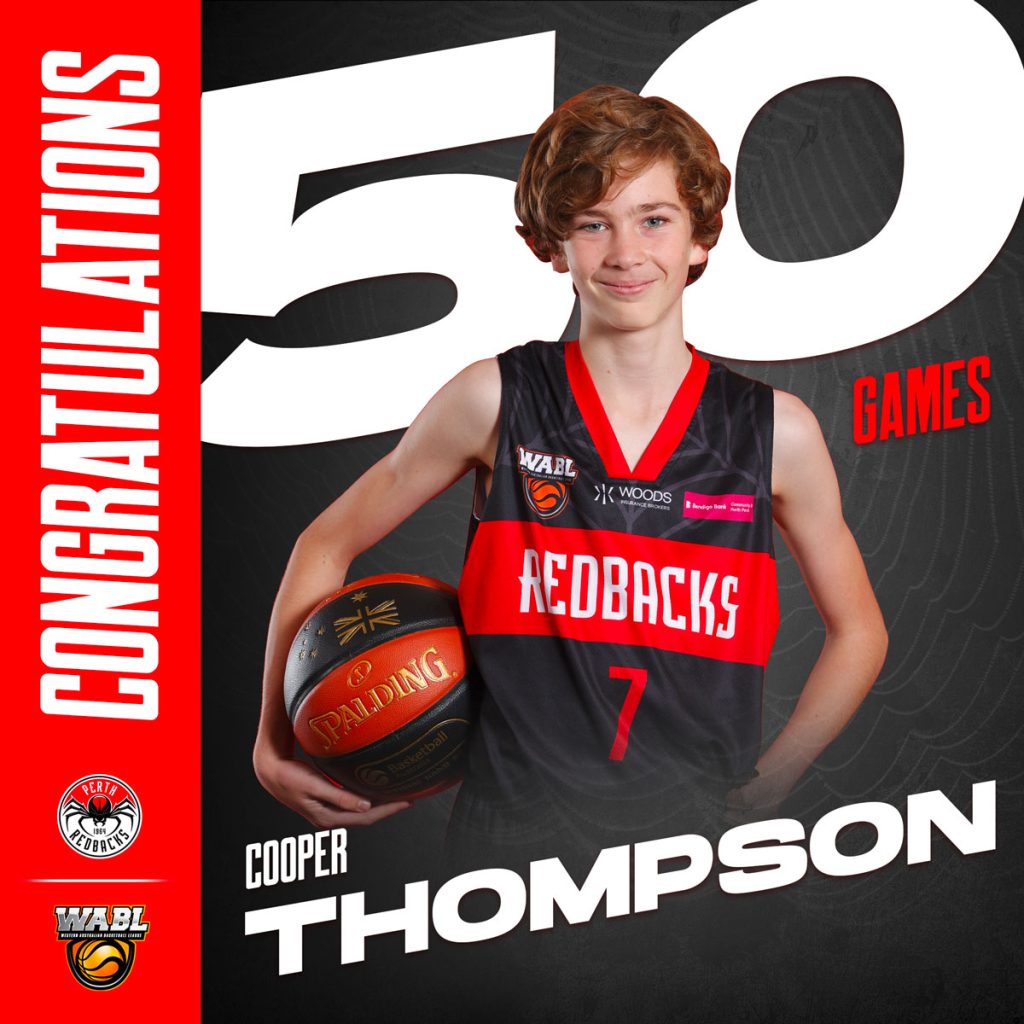 U16 Boys Div 4 – Mitch Jesson (sponsored by DLA Piper)
Won against Rockingham White 92-63
Coach comments
We had set ourselves the goal of being a consistent and positive basketball team this week. Rockingham is a team not to be taken lightly – sitting mid-table and defending their home deck.

The most pleasing thing in this game was the bench energy. The encouragement and positive advice coming from the bench were absolutely top-notch.

We won every quarter on the scoreboard, every player scored, and aside from not drawing a charge – all our other indicators were ticked off.

Jaden Exeter was at the forefront of setting an excellent example of working hard on the court and having pure energy off the court. 17 points (@78%), 8 boards, an assist and a steal are testimony to Ex being one of our best on the day.

Tait Dalton's stat line was 7 points, 6 boards, 1 steal and a block which is a solid return. However, Tait's value to us is so much more. The opposing centre fouled out in the 3rd quarter, and Tait's man is never the release pass when we press. Such a competitor, and we are very lucky to have him in our team.

Flynn Hamilton injured his ankle, and it has been a little bit of a journey back to his best form. On Sunday, we saw Flynn back to his best, running hard, scoring and, most importantly, smiling. What I'm most proud of is that we challenged Flynn and Connor to stop Rockingham's best scorer. He was on 13 points at halftime and finished the game only on 17 points. This may not show on the individual stat sheet, but it sure does show on the final score.
U16 Boys Div 5 – Dan Cartwright
Lost to Willetton Tigers 85-74
Coach comments
A tight tussle where a 21-14 second quarter and one player we couldn't stop scoring was the difference.
Koby Kalebic was on fire from three today – hitting 5 on his way to 28 points, ably supported by Tyler Murphy with 17 and Jenson Harders with 10
U18 Girls Div 2 – Adrian Warner (sponsored by Claremont Asphalt)
Lost to Willetton Tigers 65-75
Coach comments
We were up for a good portion of this game, but we, unfortunately, got in some foul trouble, allowing Willetton to get to the line quite frequently in the second half. As a team, I asked the girls to play outside of their comfort zone, playing good pressure defence and running a new offence. I think this, along with the foul trouble, caused some inconsistencies throughout the game. I was, however, very happy with the effort and determination the girls showed to the very last second. I think this group showed a lot of promising things this weekend.

Charlotte Broadbent was a force to be reckoned with both on defensive and offensive boards. Her body work around the ring allowed her to grab rebounds if they were anywhere within the vicinity of her. 

I was very impressed with Teagan McArthur's full-court pressure and being a crucial part of our communication on defence. 

Blaise Stancil's decision-making and footwork allowed not only her teammates but herself good scoring opportunities.
U18 Girls Div 2 – Zac Belton (sponsored by Aussie Fencing)
BYE
U18 Boys Div 2 – Jesse Taylah-Powell (sponsored by Grange Risk Solutions)
Won against Willetton Tigers 72-71
Coach comments
A strong three-quarters gave us an early lead. We showed strong communication and a real team effort on defence and incredible ball movement in offense

Hamish Elder, Logan Mullaly and Max Millard made some high-IQ decisions offensively.

Basile Allegre and Riley Ford played solid defence against some bigger bodies.
U18 Boys Div 3 – Nick D'Elia
Won against Senators 85-77
Coach comments
We had a full squad this week finally, no injuries or flu.

We went into the game with good intensity on defence and poise on offence. Our good defence led to easy buckets on offence, and we were in control the whole game. We just couldn't blow it out, however, and to the Senators' credit, they kept within striking distance which kept the game interesting. But we held out to get a much-needed win

There was some great shooting in this game from Benji Berardis and Connor Johnson. 

I also loved all the dirty work and effort put in by Lachie Steele and Ethan Logan
U18 Boys Div 4 Red – Bob Andrzejewski (sponsored by TECC)
Won against Eastern Suns Blue 82-75
Coach comments
We started the game strong, leading at one stage by almost 20 points. The Suns decided not to give up – their guards in the second half played with determination and drive to win. And they succeeded – turning the deficit into a lead. I adjusted our structure in defence after Lazar suggested the option, and it worked. The boys, especially Jude, decided that it was our game in our territory and in the last minutes, turned the deficit into a win by 7 points. Great job!

Players who decided that it was our game to win, and worked hard at it, were Jude Garbenis (lightning fast), Sasha Zugic, Ethan Harders, Max Wishart, Caleb Hoenig (who shut down their main scorer in the last quarter) and Lazar Jovanovic who came up with a great solution.
U18 Boys Div 4 – Alessandro Gentelli
Lost to Kalamunda 73-81
Coach comments
I was pretty happy with this effort given we were two men down this week.

I was highly impressed with Noah Rees-Turner and how he played in this game. He conducted himself very well on the court from an attitude perspective, and that's growth that's great to see.

Josh Welsh was great on the wing this week, pushing the ball hard in transition.

Romain Suraweera also showed consistent and relentless fight.
U20 Boys Champs – Luke Simonette (sponsored by Willis Temby)
Lost to South West Slammers 73-75
Coach comments
Despite shooting around 20% from the field, this was one of the more complete performances we've produced. Played at a good pace, our players sacrificed themselves for others and made some great extra passes

Sandy Money was left looking like the walking wounded after putting in a great effort against the opposition's 6"11 big man. Did not let him have anything easy all day 

Oli Pedley can fill 3-4 roles within the team and showed his versatility playing as a 5-man early and then slotting into a perimeter role later
U20 Boys Div 2 – Graham Jones (sponsored by McDonalds Busselton)
Lost to Joondalup 74-76
Coach comments
We suffered a narrow defeat in a closely contested battle, highlighting the game's competitive nature. Despite the outcome, there were noticeable improvements in certain aspects of our defence, particularly in rebounding and boxing out. When we were all engaged, it enhanced our defensive effort and showcased our team's growth and determination.

In the end, it was our execution down the stretch that proved our Achilles' heel. We struggled to make the right decisions and execute effectively during crucial moments, limiting our options on offence. This serves as a valuable lesson for us to remain composed and focused in high-pressure situations, ensuring better execution in future games.

As we analyse this game, we acknowledge the areas where improvement is needed. Our focus will be refining our execution and decision-making, especially during critical moments. We will continue to work on our composure and maintain a strong defensive presence.

While the defeat is disappointing, it will motivate us to work harder and strive for improvement.

Tsepo Mhlope demonstrated exceptional aggression in his post-play, asserting himself in the paint and creating scoring opportunities for the team. His strong presence and determination significantly impacted both ends of the floor, setting the tone for our team's performance.

Dec Pyne showcased his best defensive performance of the season, proving he can be a formidable force on that end of the court. His tenacity, quickness, and decision-making disrupted the opponents' offensive flow. Dec's defensive prowess was necessary for our team's success.

Ethan Saliacus provided a reliable and consistent offensive game, contributing valuable points and facilitating ball movement. His ability to make intelligent decisions, find open teammates, and execute scoring opportunities showcased his offensive versatility and overall impact on the team's performance.