The Weekly WABL Wrap is proudly sponsored by Woods Insurance Brokers. 
Here's the Round 7 wrap-up of how all our teams went including comments from coaches:
U12 Girls Champs – Bri Bailey (sponsored by Access Hire WA)
Won against Cockburn Blue 55-42
Coach comments
We were very up and down over the course of the game but pulled together towards the end to finish off strong and get the win!

Mia Exeter had amazing defence all game (including 4 blocks!) and also showed out on the offensive end by either scoring or getting big offensive boards that led to her being fouled and ending up at the free-throw line! 

Freya Whitehouse had great defence on the ball at all times. 

Elsey Lohman-white came on the court with aggression from the jump and made some great defensive plays!
U12 Girls Div 4 Red – Rori Roberts (sponsored by Commercial Plumbing)
Won against East Perth 64-21
Coach comments
After a pretty even start, the girls finally warmed up and were able to push the ball and run to create easy scores.

Our defence was amazing – we are finding our players a lot faster, and when we drop back to half-court defence they are talking to each other about who has who.

Eva Blyth has found some great shooting form having another amazing scoring game of 17 points. 

Zara Flynn had an amazing defensive game, moving her feet and keeping her hands up.

Isabella Nevill is always consistent on both the offensive and defensive ends. Today she had 16 points and multiple steals.
U12 Girls Div 4 Black – Paul Philpott (sponsored by National Geotech Drilling)
Lost to Warwick Senators Green 31-26
Coach comments
Our Redback girls leapt from the gate early, holding a confident lead for three quarters of the game. The fourth saw the Senators scrambling back to tie the score at the final siren, pushing us into three minutes of overtime. Our Reddies continued the fight holding a 2-point lead until the Senators took charge with a couple of quick baskets and a successful free throw. With three players fouled out in the last, our girls remained giants today, playing their best game so far this season. Ben and I were not unhappy about the loss today as it was overshone by a great team effort, commitment and feisty energy.

Young Zoe Bartucciotto, with her speed and offensive attack, was on fire today, taking on players well above her stature and showing them she was a force to be reckoned with. 

Madeleine Marshall pushed up the score throughout the entire game with a massive 14 points. 

Isabella Nagamany was on the mark with both her strong offense and defence. 

Ariana Eghdami showed great strength in chasing and defending unmarked opposition today.
12 Boys Champs – Brandon Riley (sponsored by Stockbrands)
Won against Cockburn 56-35
Coach comments
We started the game well and really had control from the outset. It was our best defensive team effort of the season.

Zach Snell and Vinnie Ryder are becoming more efficient and continue to carry the offence in Kai Atfield's absence. 

Our bigs, Lucas Blackmore and Nathan Jetajobe were solid and continue to improve. 

This really was a team effort this week. All of the boys were great and contributed.
U12 Boys Div 2 – Andrija Petrovic (sponsored by Skyward Roofing Services)
Lost to South West Slammers Blue 74-42
Coach comments
We were able to stay with Slammers through the first quarter but unfortunately could not match them in the second and third.

Ben Handke was once again strong in rebounds, and Will Ryan was our top scorer with 13 points.
Lost to Cockburn Cougars 58-44
Coach comments
The first half was an extension of the previous two games, with a lot of turnovers and a below-par defence.

As we got deeper into the game, things started to click – there were a lot more good passes that led to baskets, and our defence got better.

Now we need to take that with us to the next game and beyond.

The players that started on the bench in this game were the ones that were on the court when things started to go our way.

Clinton Vo made some great quick passes and scored.

Denim Hamilton did the same with some fast passes out of defence and scored as well.
U12 Boys Div 4 – Craig Dropulich (sponsored by Sushi Wawa)
Lost to Perry Lakes 60-73
Coach comments
Really good game this week – a lot more boys doing positive things on the court. Every boy played above their normal level of play, and we jumped out to a great start. We may have found a better pregame routine for the team that gets us going at the start of games.

It was really tight all game until midway into the last when the opposition strung together 4 or 5 layups from our inability to slow their transition game. We're still building our game style and tactics but adjusting to different plays from the opposition seems to be our main problem. Scoring sixty points is a great effort – now limiting the scoring against us will be a big focus going forward. Well done, bring the pressure next game, and things will go our way more often boys.

Xavier Coombe had his best game for us this week. His ball handling, passing and driving to the basket were there for all to see. He is growing in confidence every week and scored off the drive really well. He is the second youngest player on the team and is starting to see his potential at this level. Two more years of under-12 WABL for him, and he will be tearing it up.
U14 Girls Champs – Aric Forman (sponsored by Welsh Real Estate)
Lost to Perry Lakes 58-43
Coach comments
In a tough, physical battle, we got off to a poor start, unable to finish our layups or capitalise on free throws, which left us down big at half time. We regrouped and reorganised and had a stalemate second half. I'm proud of the way we battled all the way until the end of the game and learnt some great lessons. This division is extremely competitive, and you have to be on your game each week.

Grace Butcher was tireless in her battle for the rebound at both ends.

It's pleasing to see confidence building in Alessia Wladyka in her ability to bring the ball up under extreme pressure.

Ella Welsh fought through a tough tag to be a constant scoring threat.
U14 Girls Div 3 – Vance Karimi (sponsored by Fish Boss)
Won against Eastern Suns U14 Girls Orange 57-30
Coach comments
We started a little cautious in this game but quickly found our momentum in the second quarter and, from there, were unstoppable this week. 

Whilst the last couple of weeks we were in foul trouble early, this week, the girls were great at keeping hands out, staying low in defence, putting pressure on the ball, chasing back to protect the basket, walling up and having their mates' backs in help. Our whole team defence won us the game. 

We also found good spacing in offensive transitions and had a lot of fun as they executed our give-and-go.

Soniya Karimi, Claudia Zell, Andia Egdhami and Nadia Slee were great in defence. They doubled the ball opportunistically and recovered quickly. All the girls are starting to realise how much they can disturb and pressure the nearby ball even if they are not directly on the ball.

Cara Hayes, Lottie Ballantine and Sasha Kuan were strong on defensive rebounds. It was great to see Cara have so much fun with Leisha Charlie on their give-and-go.

Leisha and Zoe Elliott were explosive at both ends, with some great pass and cuts through space. Zoe maintains an intense level of focus throughout the whole game and adjusts with instructions.
U14 Girls Div 5 Red – Marcia Dowling
Lost to Kalamunda 49-39
Coach comments
We started reasonably well; however, our teamwork was inconsistent and allowed the Suns many easy goals

Hope Campbell, currently injured, was an amazing voice from the bench, and her court IQ provided invaluable info to the girls

I was pleased to see both Ava Armstrong and Ava Litas really push their offensive drive and attempts
U14 Girls Div 5 Black – Reid Ballantine
Won against Mandurah 79-16
Give a brief summary of how your game unfolded.
We had a game-specific goal to play super tight defence back in the half-court for the first half of the game and have less than 3 shots in the paint per quarter. The girls completely owned the keyway and denied all entry with just two shots in the paint for Q1, and just 1 for Q2, restricting Magic to just 4 points for the half. In Q3, we transitioned to a sustained full-court press and unleashed a 36-3 run. Great pressure on the ball!! In offence, the girls continue to create quickly with good spacing and selfless passing.

Our guards really shone in this game: Ella Fair, Eloise O'Shea, Maia Leckey and Lauren Jones were all super focused on defence and very tidy shooting on offence. Swish City!

Fenne Bowie had super transition speed and spacing, which really helped to spread the Magic defence and created open passing and driving lanes. 

Ellie Pike has been consistently incredible. Committed defence and superb timing on intercepts, securing steals time after time, each and every week.
U14 Boys Champs – Andrew Logan (sponsored by MD Building Maintenance)
Won against East Perth 73-65
Coach comments
The first quarter was a real highlight of the season. We created early scoreboard pressure against a very good side. We moved the ball and attacked the opposition in the paint which led to open looks inside and out. As the game unfolded, we stuck to our structures and every time we were challenged, we responded. This was a massive win in the context of the season, keeping us on track for a finals spot.

Jamie Cahill's attention to detail at every training and every teachable moment has helped him advance his game quickly from the start of the season. He was given an assignment on one of the best opposition players and held him to his lowest-scoring game of the season. We would not have won this game without Jamie's efforts in the paint, his rebounding was outstanding. 

Luke Websdale has turned up the heat the last couple of weeks, really taking ownership of games. He pulverised East Perth in offence and defence. He was super efficient with his scoring and threw some unbelievable dimes. With other players in foul trouble, Luke was asked to carry an extra load which he did and still managed to be effective down the stretch. 

Xavier Allison has embraced his role coming off the bench and continues to punish sides with his bucket-getting abilities. Dropping 22 points and looking unstoppable, Xav's decision-making about when to try to score is putting him in a league of his own in efficiency. 

James Galvin finished with 8 points, but his leadership on the court was very important for us. He controlled the pace of the game and set his teammates up for easy buckets. His last quarter, where he had 6 points, iced the game when East Perth were making a late run. 

A special mention to Tate Mucjanko. He had a ripping game, but it was his pre-game message to his teammates that impressed me the most. He pulled them aside and shifted their mindset heading into this game. Playing WABL is a privilege, having to be willing to be told what to do, having to be accountable for your actions, having to be disciplined, and having to deal with disappointment. These are what's left when the basketball is gone. Getting to see growth in a young man made me very proud to be his coach. The team walked onto the court with their heads held high and went and rolled one of the best teams in the comp.
U14 Boys Div 3 – Brad Holyoak (sponsored by Drafting Now)
Won against Kalamunda 65-35
Coach comments
This was a game of two halves. We started very slowly, as if the 8 am start affected us. We were up by a point at halftime but then were a different team in the second half as we pulled away with a 30-point victory.

Parker Dunstan came alive in the second half smashing the boards. 

Toby Schultz gave some great hustle plays, never giving up, chasing the loose ball
U14 Boys Div 4 – Ben Hamilton (sponsored by Cogito Psychology)
Won against Rockingham 61-58
Coach comments
This week we played the undefeated Rockingham 14-2 team and earned a hard-fought 3-point win. After trailing by as much as 13, we hit the lead midway through the fourth quarter and then controlled the tempo until the end of the game. 

We played consistently for four quarters, maintaining our composure, controlling the rebounds and showcasing again our team-oriented and patient offence.

Toby Deshon was confident and trustworthy, providing much stability in the closing stages of the game. His efforts on defence didn't show up statistically but were instrumental in disrupting Rockingham's momentum. 

Tom Lackovic was brilliant on offence, troubling their defence on nearly every possession and hitting two big threes to lead our come-back. 

Matt Lucano controlled our tempo at the end, pulling off a series of crucial plays in the final stages and dishing out 7 assists to lead that important category.
U14 Boys Div 5 – Matt Strika (sponsored by Sushi Wawa)
Won against Mandurah Magic Black 68-41
Coach comments
The first half of the game was a relatively tight battle with some great work from both teams resulting in a tied score line at the major break. The second half was a different story with the boys making an adjustment to their full-court press to plug the gaps and up the intensity to shut the Magic down and win the half 41-14. It was a masterclass in teamwork, effort and positive energy which was rewarded with a well-deserved victory.

Ethan Kingsbury had an amazing impact on the game despite some extra physical attention from the opposition finishing with 5 points, 7 rebounds and 3 steals. 

Cruz Harris continues to make the most of his time on the court contributing at both ends with 7 rebounds and 2 assists. 

Luka Delic dominated the paint with a game and season-high 23 points. 

Tex Tierney racked up an impressive double-double with 10 points and 19 rebounds.
Lost to Warwick Blue 83-57
Coach comments
Missing our two bigs, we knew this was going to be a tough matchup against the current team to beat. Second-chance rebounds and quick runs by Warwick lead to a significant deficit in the first quarter. However, we had runs of our own, stringing together long patches of stops and getting our offence going. We made great adjustments in the third quarter and, in the fourth, scored 17 to their 18. There are great learning to take from this game and, most of all, we know we can get stops and score against this team. I'm very proud of our effort and competitive attitude throughout the game. We're looking forward to the next time we see this team…

Lailah Tasker was a beast on rebounds and D against much bigger players. She brought competitive toughness and did great to get us out in transition.

Harriet Woods had another strong game, playing great D, executing our team principles against pressure, and knocking down some big shots. 

Leeshar Tuialii played huge minutes stepping into a 5 role, anchoring our offence and playing exceptional D throughout.
U16 Girls Div 3 Red – Cheyne Kerp (sponsored by Wyatt Martin)
Won against Lakeside Lightning White 78-31
Coach comments
This game was a solid effort all round. The girls' high energy and effort all throughout the game was very pleasing to see and was rewarded with a comfortable win. The highlight of the game was our defence, especially in the last quarter where we gave up only 4 points. The girls should be very proud of themselves.

Grace Almond and Tash Mantle dominated on both offence and defence. Once again they both achieved a double-double. 

Millie Stancil's ability to navigate through defenders and create opportunities for her teammates was both pleasing and rewarding to witness.

Emily Horniman had her highest score of the season so far, scoring a high 17.

We enjoyed celebrating Jessica Kerp's 50th game for the club with a win. Jessica's defence was again instrumental, well done.

A BIG THANK YOU to Annabelle Thomson for filling in, she played awesome defence and was also composed in offence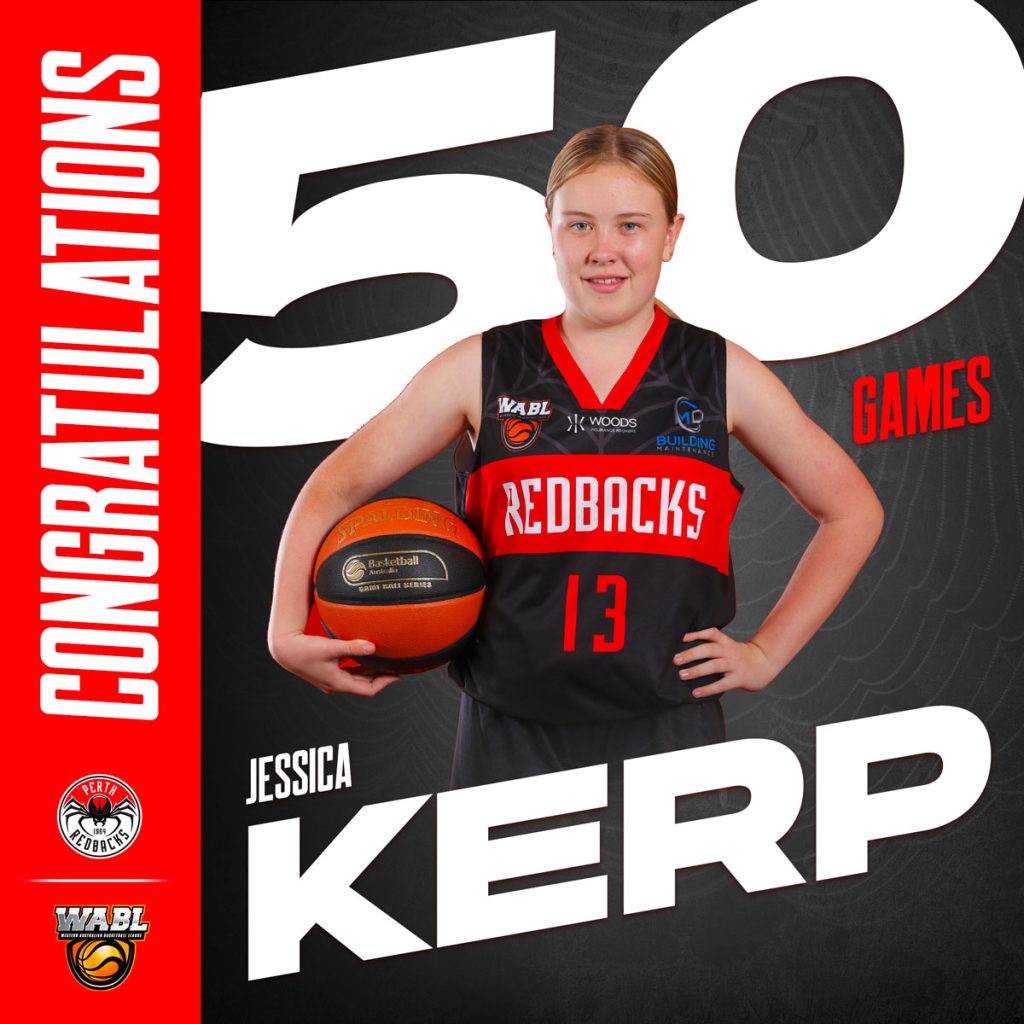 U16 Girls Div 4 – Geoff Alger (sponsored by Design Orthodontics)
Lost to Wolves 86-29
Coach comments
This week we were comprehensively beaten on the boards by a strong Wolves outfit which gave them many extra possessions. Having to play so much defence along with a failure to adjust to some strict officiating saw many of our players in foul trouble. There were some really good moments throughout the match, particularly in the third quarter, before the weight of numbers allowed the Wolves to run up the score in the fourth.

Anna Zittrich was one player who played good solid defence, fought hard for rebounds and looked after the ball really well. She was unlucky not to draw multiple charge calls, but her willingness to get in front of opponents was appreciated by everyone.

Sienna Duong also fought hard for rebounds in a difficult game where we were undersized and needed all hands to provide effort.

Mya Slee and Ayla Harris also provided good defensive effort throughout the game.
U16 Girls Div 4 – Lucy Dowling (sponsored by LKS Constructions)
Lost to East Perth 53-65
Coach comments
Unfortunately, some inconsistency in our game let the other team get quick points in the last quarter. 

We ran hard and controlled the game well at times, and this is where we saw great basketball.

Well done to our guards for controlling our offensive and leading the team. 

Our bigs had another physical game, we did well to out-run and out-rebound the opposition for most of the game. 

Charlotte Dillon had a great game with spurts of big energy, 

Paige Wigmore went out of her comfort zone and played her best yet. 

Sienna Care worked hard and didn't stop all game.
Won against South West Slammers 82-72
Coach comments
Much better intensity helped us rally against a tough Slammers team. We had a really impactful first quarter which set the tone for the game. We had some really cheap hands fouls early but managed to adjust during the rest of the game. It was a hard-fought win and we had to play four quarters of basketball which was great to see this week. The only blemish was we allowed Slammers to score three baskets quickly at the end which meant final the scoreline made the game seem closer than it was.

Hamish Gibson was great on defense and lit up the 3-point line nailing 5 of them and shooting over 50%! 

Jack Saliacus again was a beast in the paint.

Jay Hazell is starting to find his inner mongrel putting in some solid paint work and scooping up some great put-back points.
U16 Boys Div 2 – Louis Timms (sponsored by Inktank)
Won against Mandurah Magic 76-59
Coach comments
After a relatively slow start, the team clicked into gear offensively. There were a number of scorers in the game which proved how unselfishly the boys played.
Mandurah moved players and the ball pretty well, which gave us some issues in patches of the game, but we were able to rebound well on their missed shots which led to fast break opportunities.
Mitch Kensett-Smith was a standout offensively, hitting 3 threes in the first half.
Maks Lakovic was excellent off the bench, as was Jack Ryder.
And Deegan Castle played probably his best game with 11 points and at least 10 rebounds.
It was really a team effort, though, with 4 players scoring 11, and 3 scoring 8, and a much more consistent defensive presence compared to previous weeks.
U16 Boys Div 4 – Mitch Jesson (sponsored by DLA Piper)
Won against Eastern Suns Blue 47-95
Coach comments
In a game where we aimed for a 4 quarter effort, the coaching staff walked away satisfied that we'd given it a good shake – winning all 4 quarters.

We hit nearly all our game-day targets, and most pleasingly played more 'we' basketball than 'me' basketball – headlined by a season-high 27 assists.

Everyone contributed with highlights being Jaxon's charge and Connor's 8 offensive boards. Now if we can just maintain the body language and positive attitude – we'll continue to be a threat to whomever we play.

Jaxon Kowal is a very effective point guard as demonstrated by his game-high 7 assists, 4 steals, 18 points (@40% – 2 x3's) and 3 boards. Most pleasingly JK drew a charge, however was probably unlucky not to have 3.

Cooper Hewer is our swingman and is asked to cover both guard and forward positions. Cooper had his usual across-the-board stat line of 15 points (including 2 x 3's), 6 boards, 4 steals and 5 assists (very pleasing). Some of Cooper's assists were delightful 3/4 court passes – with one hitting Ant who didn't even break stride to lay it up.

Cooper Poustie has been excellent all year in applying extreme pressure on our opponent's leading scorers. Coops was the major beneficiary of the 'we' basketball effort as he hit a season-high 12 points at an astonishing 75% which is a percentage rarely seen from the guard spot. His contribution was rounded out with 4 boards and 2 assists.
U16 Boys Div 5 – Dan Cartwright
Lost to Mandurah 67-62
Coach comments
A winnable game for us but we couldn't quite get the job done with Mandurah winning 3 out of 4 of the quarters by a small margin.
Tyler Murphy and Jenson Harders led the way for us on the scoresheet with 15 points each, with Deacon Hollow recording 12.
U18 Girls Div 2 – Adrian Warner (sponsored by Claremont Asphalt)
Lost to East Perth 59-72
Coach comments
This was a game of two very different halves. We made a commitment to get off to a better start this week and held the top team to 26 points to lead by 12 at halftime. We played much tighter on-ball D to take away the Eagles' transition, and that intensity flowed into our offence where we ran harder to get to spots and got value out of our own transition game. They came back hard in the 3rd quarter and while some foul trouble didn't help, we also fell back into some poor habits and our point scoring dried up.

This was a great team effort in the first half with everyone trying to apply the team principles we have been working on.
U18 Girls Div 2 – Zac Belton (sponsored by Aussie Fencing)
Lost to Perry Lakes White 74-48
Coach comments
This was a hard-fought game where every possession counted. The two teams were neck and neck entering the 4th quarter 41-45, but foul trouble saw momentum swing to the Hawks who capitalised on this to score 29 points in the 4th.

Matilda Thomson had countless steals in this game. Her improved ability to see the floor and put heat on the basket was a big reason for our momentum. 

Emily Swann has established herself as a quality catch-and-shoot scorer. Her poise and leadership were significant contributing factors to our performance.
U18 Boys Div 2 – Jesse Taylah-Powell (sponsored by Grange Risk Solutions)
Lost to Warwick 80-88
Coach comments
This week was a solid all-round performance 

Whilst we didn't come away with the win, we got back to our strengths, pushing the ball up the floor with pace, moving the ball and working for each other.

Everyone got points on the board, led by Cooper Deshon whose strong defensive effort got rewarded on offence. 

Basile Allegre's defensive efforts were huge against some physical bodies inside the paint.
U18 Boys Div 3 – Nick D'Elia
Lost to East Perth 74-94
Coach comments
Once again, we were struggling for numbers due to injury and the dreaded flu. We came into the game focused and ready, however, our shots were not dropping from outside and unforced errors on offence made it difficult to get ahead. 

There were a few positive signs from Harry Wheatland on both offence and defence – this was encouraging as he has been dealing with injuries all season. 

Excellent defence from Lachie Steele as always

Dirty work from Will Goode getting deflections and rebounds, and staying positive when the chips were down
U18 Boys Div 4 Red – Bob Andrzejewski (sponsored by TECC)
Won against Eastern Suns White 95-70
Coach comments
This week we faced a bit stronger opponent and the game become very erratic. There were moments of really good play and moments of very average. Overall signs are that we are improving every week and becoming a team to respect when played against. We played with 9 players as 3 were injured or not physically capable.

Again, this week no player/players stood out, all contributed equally well or badly depending on the moment in the game. Overall, more positive signs of improvement and progress.
U18 Boys Div 4 – Alessandro Gentelli
Lost to Mandurah 103-63
Coach comments
Tough game where we were outmatched from the start and weren't ever able to get going.
All players got on the scoresheet though, led by Mikka Kelly with 16 and David Moore and Josh Welsh with 10 each
U20 Boys Champs – Luke Simonette (sponsored by Willis Temby)
Won against Hills Raiders 99-84
Coach comments
Good win. Controlled the game through good transition O and D. Offensive execution was great and gave us easy scores

Josh Peterson was outstanding on both sides of the ball

Malik Powell had an efficient 31

Congrats to Oliver Pedley who played his 50th WABL game for Redbacks today!
U20 Boys Div 2 – Graham Jones (sponsored by McDonalds Busselton)
Lost to Perry Lakes 79-88
Coach comments
With injuries and absentees, the boys displayed intensity and aggression in a highly contested matchup against the league leaders, narrowly falling short in a thrilling showdown. Despite a previous loss, they displayed solid determination and belief throughout the game, again delivering solid performances across the board.

Facing the formidable league leaders head-on, the boys embraced the challenge. Their relentless intensity and aggression on both ends of the court were palpable from start to finish. There were just a few lapses in concentration that proved our downfall. 

Although no victory, the boys' performances were praiseworthy. Each player demonstrated skill, resilience, and a strong team spirit, contributing to the team's overall effort. Their growth and development proved their ability to compete at this level competitively.

We'll draw inspiration from our previous game and this game and consolidate our strengths as we look ahead.

Akira Rowe-Fox exhibited exceptional composure and skill, easily dismantling the opposing team's pressing attempts. After a rocky team start, he managed to navigate the pressure and make decisive plays which were crucial in maintaining our offensive flow. Akira's calmness under duress was an invaluable asset to the team's success.

Dec Pyne found his shooting boots, delivering an impressive performance on the offensive end. His accurate shooting and ability to find scoring opportunities helped in our team's offensive output, coupled with an improved showing on D.

Ethan Saliacus showcased his versatility and commitment on both ends of the floor. Despite being asked to play out of position at times, he embraced the challenge and contributed selflessly to the team's success. Ethan's effort, combined with his impact on both offence and defence, demonstrated his dedication to the team's goals.