The Weekly WABL Wrap is proudly sponsored by Woods Insurance Brokers. 
Here's the Round 9 wrap up of how all our teams went including comments from coaches:
U12 Girls Div 2 – Emma Ormond (sponsored by Baston & Co)
Won against East Perth Eagles 31-54
Coach comments:
We went into the game prepared to face a tough side, with us both being top of the ladder. The girls handled the pressure and their nerves amazingly. They went out and played our game and worked harder than I think they have before. At no point during the game did they let the other team do anything easy.
Sally Dowling was a massive presence defensively. Her eagerness to hunt for rebounds was a massive asset today. Offensively Sal really pushed herself out of her comfort zone, bringing the ball up the court and attacking the basket, it was a really proud moment.
Harper Grace went to a next level during the game. She matched up on their top scorer and she didn't even get up a shot against Harper as it was either blocked or stripped before she got there. Harps also cut and spaced the court well which led to a lot of scores.
U12 Girls Div 3 – Marcia Dowling (sponsored by Access Hire WA)
Lost to Mandurah Magic 23-51
Coach comments:
At the start of the game, we struggled to get the ball to our front court but the girls listened to the instructions given and executed them well to improve our ball movement.
Our intensity was great and there was lots of talk on the bench. Everyone hustled for the ball and put so much effort into the game.
U12 Girls Div 4 – Paul Philpott (sponsored by Sushi Wawa)
Lost to Hills Raiders 38-30
Coach comments:
Team spirit, collaboration and effort were the key words this weekend. Our girls continue to blend with each other, adding to our improving performance each week. We equalled Hills Raiders' score in the 2nd quarter and narrowed the gap in the 3rd and 4th quarters.

Olivia Birsa was our biggest scorer and learning quickly to dominate at both ends. Ella Fair was magic today leading the team with Freya Whitehouse giving clear forward momentum throughout the game.
12 Boys Champs – Denzel Jackson
Won against East Perth Eagles 72-49
Coach comments:
The boys had a rough start in the first half with a lot of shots not dropping while allowing too many easy buckets from the opposition. Once we switched up our defensive principles, the team's momentum started to build along with our lead.
Each individual played great, unselfish basketball and came off the bench with the energy we needed.
Seb Doyle played an aggressive offensive game while also allowing his defensive pressure to awake in the second half, giving the team the lift that they needed.
Nate Cass took another big step forward in his game, showing amazing efforts in each rebound and steal that he chased down, and on the other end, scoring his season-high of 18 points.
U12 Boys Div 2 – Alex Maude (sponsored by Inspiration Paints)
Won against Warwick Senators Blue 66-51
Coach comments:
Our full-court press was the best all season. The boys executed the press perfectly and resulted in countless steals which then resulted in scores
Our transition was great as well, running the lanes and creating space
The defence was great, shutting down drives and covering when needing help
This was overall a great team win
Will Hemingway, Ethan Cooper and Harrison Moyle were all huge in scoring and rebounding
Our guards Max Woods, Kade Peake, Nick Knight and Matt Karalis all did their part in the full-court press – their speed and awareness kept the opposition from going past our keyway
Jaxon Jan and Clayton Sumich also provided some huge stops on the defensive end. Jaxon was quick on his feet to stop drives on the perimeter whilst Clayton took some big hits when stopping the penetrating drives
U12 Boys Div 3 – Ben Hamilton (sponsored by Euroz Hartleys)
Lost to East Perth 35-53
Coach comments:
The team showed incredible tenacity and effort in a hard-fought loss against the second-placed Eagles. We knew we were in for a tough game but still battled to gain the lead mid-way through the third quarter before being over-run in the last quarter.

Vincent Ryder was at his best, leading all scorers and playing his best defensive game of the year.

Oliver Colangelo picked up two big blocks on his way to another outstanding defensive game, along with Luka Petrovic whose active hands and great footwork caused six deflections and three steals.

It is great to see the continuing development of the team's defence, but unfortunately, we were not able to maintain it for the full game.
U12 Boys Div 4 – Matt Strika (sponsored by Global Cabling)
Won against Lakeside Lightning 46-36
Coach comments:
After a couple of close losses, it was very pleasing to see the boys bounce back and back themselves for a solid win. The trademark of this team is constant pressure and intensity which was on display in spades this week. The continued effort and teamwork shown by all the boys are a pleasure to watch.

Tex Tierney continues to shine in the middle with a season-high 21 points and 24 rebounds, racking up his fifth double-double for the season.

It was pleasing to see Josh Webb chasing down the ball on defence with 5 rebounds and Jonah Marshall giving it his all with 4 rebounds, 3 steals and 1 block.

Big shout out to Noah Mucjanko with a very impressive 8 steals and 5 rebounds.
U14 Girls Champs – Josh Wallace (sponsored by Welsh Real Estate)
Lost to East Perth Eagles 54-49
Coach comments:
The girls did a good job of:

Boxing out and securing defensive rebounds.

Moving the ball with their passing, which allowed them to get lots of quality looks in transition.

Applying pressure and causing turnovers in the 4th quarter when we switched up how we were playing defensively.

Maddie Makavilitogia was fantastic on the boards in this game. She was boxing out well and did a great job of bringing the ball down with two hands and being strong with the ball. She also put a lot of pressure on the D by sealing low and going to work quickly, which got her to the foul line a lot.

Ella Welsh's control with ball in hand was exceptional. She hardly turned the ball over throughout the game and this led to us getting more shooting opportunities as a team.

Mafa Tuialii (in her 50th WABL game for Redbacks) and Ayla Harris were fantastic for us. They were both under the weather but still gave us great minutes on both the offensive and defensive end.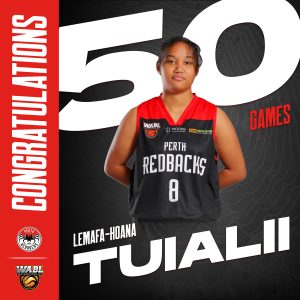 U14 Girls Div 2 – Zac Belton (sponsored by Redink Homes)
Win against Lakeside Lightning 39-37
Coach comments:
With the number of close games we've had as a group this year, I was most impressed with how the girls were able to close out the game late in the 4th.

Anna Zittrisch came out into the game extremely effective and was a key player in the 4th quarter.

Mila Reyes came up big in the 4th quarter resulting in the quickest 4 points I've ever seen.

Ella Baxter was really aggressive at the start and did not let the physicality get to her.

Scar Hill did a fantastic job getting to her receiver spots and displaying a high-level IQ.
U14 Girls Div 4 Red – Lucy Dowling (sponsored by Aussie Fencing)
Lost against Slammers Red 36-34
Coach comments:
The last time we played this team, we won by 2 in overtime by a buzzer-beater. So going into it we knew it would be a tough game, and that it was. The girls had to pull out everything and showed great composure in times of pressure, they played very well unfortunately the score just went the other way this time.

Grace Butcher had another strong game, she's a solid rebounder and scorer.

Olivia Weddikkara showed strong leadership and helped the others around her throughout the game.

Remy Sumich showed once again how strong she is mentally, with some unfortunate fouls not going her way but her resilience was great.
U14 Girls Div 4 Black – Ofir Ben Dror
Lost to Willetton Tigers 41-34
Coach comments:
The girls are defending better as a team and really starting to work well for each other.

Lottie Ballantine's individual defence was very good, especially in the second half with a few very good steals and shutting down the passage on the right wing.

Good job Lottie.
U14 Boys Champs – Aleks Lackovic (sponsored by DLA Piper)
Lost to East Perth 77-61
Coach comments:
The team continues to showcase resilience and the desire to learn every week regardless of scoreboard.
The group now understand space, player and ball movement and the art of making intelligent decisions, hence rewarded with 14 more field goal attempts than the opposition.
Good effort this week from:

Ano Sharu 18pts, 11 rebounds, 3 assists, 1 deflection and 6 steals
Ewan Maclean 14pts, 3 assists, 1 deflection, 3 steals
Jaxon Kowal 10pts, 5 rebounds, 1 deflection, 3 steals
Jackson Doyle's gut runs in switching of screens and playing help defence.

Congrats to Zak Magdy who played his 50th game for Perth Redbacks in this game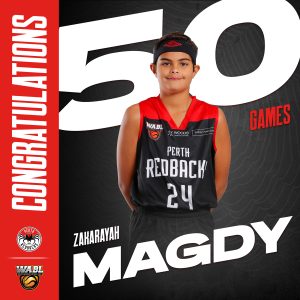 U14 Boys Div 2 – Kevin Dunstan (sponsored by United Steel)
Won against Cockburn 74-49
Coach comments:
Another week where all players put in an outstanding effort throughout the entire game with every player hitting the scoreboard

Our team goal of hitting more free throws is still a work in progress however I saw improvement this week

It was a massive defensive effort from the entire team in the third quarter keeping the opposition to just 2 points
U14 Boys Div 4 – Andrew Logan (sponsored by Drafting Now)
Lost to Bunbury Slammers 28-84
Coach comments:
Tough game for us! I was pleased the boys still competed and endeavoured to keep to our structures even though we were considerably outmatched physically. The boys moved the ball well coming out of the backcourt and everyone got looks at the basket but unfortunately, they weren't dropping. 

Toby Summers and Xavier Allison were our top scorers and scored at an efficient clip.

Joaquin Imperial battled hard against MUCH bigger bodies and managed 5 boards.

I was proud of all the boys. Just not our day.
U14 Boys Div 5 – Isaiah Walley-Stack (sponsored by S&M Group Bobcat and Truck Hire)
Lost to Cockburn 55-46
Coach comments:
The boys started slowly but finished strong to bring the deficit under 10 points. There was very strong defensive hustle applied in the second half. Very proud of the team for not giving up and fighting to the end.
Luke Websdale was strong in the paint both offensively and defensively.
I liked Jake Souren's assisting efforts and teamwork.
Jake C

hew's scoring efforts and toughness were great.

Cooper Roskell showed great intensity and a never give up attitude.

Mitch Thompson contributed well of the bench and made some tough layups in the paint.
U16 Girls Champs – Bryn Arnold
Lost against East Perth 53-59
Coach comments:
After a slow start, the team showed great character to keep fighting and take the lead late in the third quarter. Unfortunately, the bounce of the ball didn't go our way in the last quarter. This will be a good lesson moving forward.

Matilda Thomson brought her trade make intensity and energy on the defensive end.

Miki Deshon had a good game on the offensive end and finished with 19 points.

Ebony Cox was solid on both ends of the floor and is hitting some good form.
U16 Girls Div 2 – Holly Moore (sponsored by Mt Lawley Orthodontics)
Lost against Eastern Suns 80-42
Coach comments:
The score definitely didn't show how well the girls played, they all worked really hard all game. The defence was awesome, when we looked to help and recover. On offence we showed that when we move the ball we get open shots.
Abbey Macham and Zoe Ball both put in great defensive efforts. Tiana Alger's defensive effort was also good, she also worked really hard with her rebounding.
Special call out to Lilli Flynn, who played tough all game until she walked her head on the court. Glad you're ok Lilli.
U16 Girls Div 4 – Geoff Alger (sponsored by MD Building Maintenance)
Won against Mandurah Magic Redbacks 81-64 
Coach comments:
I was pleased that we continued our improvement in safely advancing the ball and this week added better patience and decision-making which helped to really improve our offensive efficiency. Even though we conceded more points than we would like, the adjustments the girls made defensively in the second half dramatically reduced our foul count which was an important factor in securing the result.

Talia Bentley played an excellent all round game. It was good to see her finishing touch back. Her ability to retain focus and continue to impact the game after early fouls was a great example of developing leadership and maturity.

Alex Temby had her best game of the season. She provided excellent disciplined defence and good confident execution in offence all game to be an inspiration to her teammates.

Jess Kerp's defence in the second half was great to see. Her commitment to staying in front of some determined Magic drives was a very important part of the win.

I'd also like to acknowledge the maturity and commitment to the team shown by Giselle Dale this week. Her willingness to give up a playing opportunity to enable a fitter teammate to play rather than rushing back from illness underdone shows the commitment to team and togetherness as one that is the Redbacks' way.
U16 Boys Div 2 Red – Luke Simonette (sponsored by TECC)
Lost to Eastern Suns 73-57
U16 Boys Div 2 Black – Luke Notley (sponsored by MSP Electrical)
Won against Cockburn 87-55
Coach comments:
Having played our Willetton rescheduled game on Friday night and losing by 30 points it was really important on Sunday to be able to learn from that game and turn it around. As always, our aim is to keep the opposition under 15 points a quarter and to keep them under 60 for the game. Impressively, the boys were able to really dig in this game defensively in the first half keeping Cockburn to 27 whilst pouring on 46 ourselves. We lost our way a little in the 3rd quarter allowing Cockburn to come back into the game but really pushed ourselves defensively early in the 4th to really control the game. A good game to really show what some good defensive effort can do. Being halfway through the season I'm pretty happy with the progress we are making as a team and to sit 5 and 4 in equal third is a good place to be.

Jerry Davies, Zac Anfusi, Levi Hewett and Jack Saliacus made some great defensive efforts.

I really love the way Levi is able to maintain his levels now and his effort can't be faulted. 

Jack is putting together some great games recently and again played well in this game, especially with Michael and Jay not playing this game. 

Zac's defensive pressure and effort gets better each game which is fantastic to see.

James Bowen is stringing together some good game performances too.
Won against Lakeside 84-80
Coach comments:
Lakeside shared an identical record with us, so we thought this would be a hard-fought game and were not disappointed. The foul count mounted for both teams which meant the bench really came into play and in the end, we edged our opponents by 4.

Most pleasing was our ability to compose ourselves in the dying minutes. 3 points down with 3 minutes to play, we pressured the ball but most importantly rebounded and kept our belief that we will run harder both ways in the last 2 minutes than any team in the league.

Great crowd support too always helps lift the team.

Zayde Parriman aside from his 15 points made a key play that probably went unnoticed by many. Lakeside had 2 free throws with 1 minute left. With our centre and power forward fouled out, I put Zayde (a guard) in the nearest rebounding position. His perfect box out and get the ball attitude – secured us the ball and made Lakeside have to chase us.

Caleb Diacov Braga has become our stopper of choice. Caleb gets thrown at bigs and smalls and is developing a really disciplined mindset which in combination with his athleticism is a real weapon.

Hamish Gibson continues to just provide that intangibles we love – a leader and on-the-floor coach. Hamish took a wonderful charge and it's no surprise that when the last Lakeside foul was called in the dying seconds, it was #13 shouldering this responsibility (and slotting the free throws).
U16 Boys Div 5 – Tom Swindale
Lost to Perry Lakes 96-63
Coach comments:
I'm most pleased with our ability to readjust on defence to stop scorers. Perry Lakes is a tough team and we held them under 100 which we were happy about

I'd like to highlight Cuba Brian. It was his final game with the team for the season so he made sure to give it his all on offence and defence.
U18 Girls Champs – Mya Dimanlig (sponsored by Titan Finance)
Lost to Eastern Suns 57-117
Coach comments:
This was a tough game, but the girls never gave up and they kept fighting.

Polly King had a great game and showed continuous effort both offensively and defensively.

Mackenzie Thomas had a great defensive game by applying pressure to their ball handlers to cause turnovers.

Congrats to Grace Dalton who played her 50th WABL game for Redbacks in this game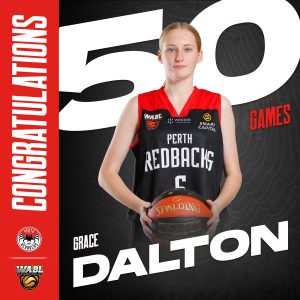 U18 Girls Div 2 – John Care
Lost against East Perth 57 – 86
Coach comments:
The girls' teamwork and energy were fantastic today on and off the bench. Despite the scoreboard result, the girls gave East Perth a tough run with some great passages of play at both ends of the court.

Hannah Saliacus used her height to her advantage scoring 15 points and taking a number of rebounds.

Isabella Woods created problems on both ends of the court and scoring 11 points.

Ainsleigh Passi continues to bring her strong, physical game to the court with a stack of rebounds and offensive opportunities. Continues to fight till the end.
U18 Boys Champs – Brandon Riley (sponsored by Willis Temby)
Win against Suns 97 vs 82
Coach comments:
We started well but it was not our best game. We did enough to get the win.

Malik Powell and Charlie Morcombe were consistent on both ends.

Kobe Craig had a great game offensively and on the glass.
U18 Boys Div 2 – Sam Fox (sponsored by MacDonalds Karratha)
This was a good win against a team that played great denial defence and adjusted well to our full-court pressure. Though there are some habits that we need to correct against this kind of opposition, we performed really well in the end-of-game scenarios and ran our out-of-bounds plays very effectively.

Miguel Chaitika and Mackenzie Tanner led the team at both ends; scoring in the 20s and playing incredible D.

Big shout out to the whole squad for committing to rebounding throughout and, in the final moments, advancing Declan Pyne the ball full-court. Clutch free-throw shooting Dec!
U18 Boys Div 3 – Simon Daff (sponsored by Grange Risk Solutions)
Won against Cougars 68-50
Coach comments:
We have been down on our luck over the past few weeks and bouncing back to get a win can be largely attributed to our defence and commitment to improving as individuals. This week the entire team showed strides to improve their individual games through their efforts defensively which naturally helped us on the offensive end.

Jaxon Sym came out firing this week! His shot selection, decision-making on offence, and leadership this week really stood out in this game.

Andrew Chilufya was a big presence defensively, getting upwards of 5 steals. His quick hands often lead to fast break situations and his ever-developing basketball IQ led to some incredible assists.
U18 Boys Div 4 – Mitch Nixon (sponsored by Maude Family Lawyers)
Won against East Perth Eagles 94-70
Coach comments:
Our team really came together when we needed to, to come out on top. In some tough battles, we kept our heads and managed to apply some great defensive pressure getting some steals. We kept the ball moving to get some good looks inside.
Everyone scored at least 5 points which was a great achievement by all.
Our big men had a great impact on the court with some great moves in the paint and from some great boards.
Our guards really kept the pressure with our press helping to get some points on the board.
U20 Boys Champs – Adrian Warner
Lost to Eastern Suns 82-97
Coach comments:
We had a much better start in this game compared to last week, with greater focus and team discipline and everyone contributing on court and getting on the scoreboard. We were a lot more positive and encouraging with each other which was great to see in a game that was tight until the last couple of minutes. Credit to the guys for making a hard run at another top 4 team to get within 4 points towards the end of the third.
Defensively, we were tighter for longer so we are on the right path there. Our mid-court trapping pressure improved a lot this week and we forced several turnovers when we were making a run at the Suns.
Offensively, we moved the ball better at times and attacked the paint a lot more but we still need to get better at running the lanes, filling the corners and creating the motion, in order to get a better return for our effort.
It was great to have Anthony Nixon on the bench assisting this week.
It was also great to welcome back Harper Gadsby who showed he can take it all the way to the paint from a long way out.
Owen Pang continues to bring great energy and attacking zeal and, despite getting into foul trouble, led our scoring with 19pts.
Ethan Port-Louis played with a lot more control and team-oriented generalship in the point position, with more aggression and better shot selection.
Kaden Morcombe worked hard in the paint.