The Weekly WABL Wrap is proudly sponsored by Woods Insurance Brokers. 
Here's the Round 17 wrap-up of how all our teams went including comments from coaches:
U12 Girls Div 2 – Emma Ormond (sponsored by Baston & Co)
Lost to Perry Lakes 32-38
Coach comments:
The only aspect of our game that wasn't outstanding was the fact our shots just weren't going in. The effort applied, especially in the last minutes was amazing. The girls did exactly what Vance and I asked of them and so much more. I've never been so proud to loose a game of basketball.

Harper Grace had the really tough task of playing on someone a substantial amount taller than her. It was a very physical match up but time and time again she kept getting up and kept fighting.
U12 Girls Div 3 – Marcia Dowling (sponsored by Access Hire WA)
Won against Mandurah Gold 43-26
Coach comments:
It's really exciting to see the way the girls are executing things we've done in practice and that I've asked for in games. In this game, their quick ball movement in transition thanks to strong running and excellent passing was a highlight. We are also playing better 'hands out' defence and working hard to find and stick with our player.

As is the case every week with our team, every player  is making a strong contribution.

Gracie Dillon shot beautifully to score an efficient 8 points while also pulling in 5 rebounds and having an active defensive presence with 3 deflections, 4 steals and a block

Allegra Care had 4 points and shows size doesn't matter when it comes to rebounding as she pulled in 3

Mia Exeter had a strong all around game with 4 points, 6 rebounds, 3 assists, 2 deflections, 2 steals and 3 blocks

Annabella Lewis showed she is well and truly BACK after missing 7 games with a broken hand. She scored 18 points off 9/19 shooting while also accumulating 10 rebounds, an assist, a deflection and 7 steals!

Gabbie Tetteh was monstrous on the boards as always with 11 offensive and 9 defensive rebounds. She also scored 5 pts, had a deflection and 4 steals

Neve Hayles-Stenhouse may not have scored but she pulled in 7 rebounds had 2 deflections and a block

Cyra Olowoyo scored both her points from free throws and was very active in defence with 3 deflections, a steal and 2 defensive boards

Pepi Graham ran back hard in defence and scored 2 points, had 7 rebounds, an assist and 3 blocks
U12 Girls Div 4 – Paul Philpott (sponsored by Sushi Wawa)
Lost to Willetton by forfeit 20-0
12 Boys Champs – Denzel Jackson
Won against Lakeside Lightning 62-50
Coach comments:
The boys were excellent with their defensive pressure. We took away their ball handlers' ability to bring the ball up the court and were able to steal the ball back to finish at the basket which allowed us to gain the points we needed to stay in the lead.

The boys definitely took a step forward after the past few rough games we've had in the previous weeks.

Tomas Lackovic and Sebastian Doyle both led the team well offensively with a shared score of almost half the team's points.
U12 Boys Div 2 – Alex Maude (sponsored by Inspiration Paints)
Lost to Warwick Senators 34-58
Coach comments:
The boys gave it their all in this game and didn't drop their heads. They showed good aggression at the basket and strong help defence.
Max Woods and Nicholas Knight prevented many scores by hustling back on transition defence. Playing straight up was all it took to contest the layup, forcing misses
William Hemingway was impressive on the rebounds and drives to the basket, staying aggressive the whole game.
U12 Boys Div 3 – Ben Hamilton (sponsored by Euroz Hartleys)
Lost to Perry Lakes 35-56
Coach comments:
After a very disappointing second quarter where we were outscored by 19 points, the boys composed themselves and showed great resilience to end the game 21 points down.

The game was fiercely competitive for three quarters and was a great show of the potential of this group when up against another bottom-age team.

Will Ryan was outstanding with exceptional ball handling, play-making and rebounding on his way to a double-double.

Luka Petrovic was aggressive on offence; attacking the ring and trailing the fast break to pick up much-needed second-chance points. It was a real showcase of the skills being practised at training.

Scott Samuel showed an ability to get to the ring and put their defenders under enormous pressure with well-timed drives and strong offensive rebounds.
U12 Boys Div 4 – Matt Strika (sponsored by Global Cabling)
Lost to Perry Lakes 55-58
Coach comments:
Coming off a significant loss last time we met, we had a point to prove in this game. I was very impressed with the way we came out and executed the game plan to stay in touch with the very good Hawks team. The press breaker worked a treat and our passing was next level. We are ready to match it with them again if we meet them in finals!

Hard not to mention all the players this week but a few standouts were: 

Joaquin Cortes with 8 points, 6 rebounds and 2 assists

Jonah Marshall contributing 5 points and 3 rebounds even with some early foul trouble

Oliver Tuohy with an outstanding 6 points and 10 rebounds.
U14 Girls Champs – Josh Wallace (sponsored by Welsh Real Estate)
Won against Perry Lakes Blue 44-40
Coach comments:
This team really gives it their all. They continue to listen and implement the new things they are learning at training

Lemafa Tuialii works hard on both ends of the floor. She never stops or gives up, rather she rises up when her team needs her the most.

Taylor Marsland creates for her teammates with space awareness that benefits all on the court

Maddie

Makavilitogia

whose potential is just being tapped into, continues to work hard and is finishing well under the basket
U14 Girls Div 2 – Zac Belton (sponsored by Redink Homes)
Won against Eastern Suns 30-24
Coach comments:
The girls displayed a fantastic understanding of appropriate times to cut in order to draw taller defenders away from the basket.

Jem Barr was fantastic in attacking the basket and being aggressive.

Mila Reyes did an awesome job on defence, being all over the ball causing deflections and jump balls.

Paige Ogden showed fantastic footwork around the basket.
U14 Girls Div 4 Red – Lucy Dowling (sponsored by Aussie Fencing)
Won against Cockburn Cougars 61-43
Coach comments:
Our defence was top tier this game and I'm so excited to see where it goes from here. The past couple weeks I've been thinking 'this was our best game' and then the next one comes and we play even better. Amazing work girls!
U14 Girls Div 4 Black – Ofir Ben Dror
Won against Lakeside Lightning 38-21
Coach comments:
No one had an amazing individual game but our defensive 'web' is working as well as I've ever seen at this age group and even in much older boys and girls.

The girls play for each other and cover each other's defence so systematically, it has become by far our strongest weapon.

I feel that in the last few weeks, and definitely at this game, Lottie Ballantine has become one of our best individual defenders. She understands the slightly different way of guarding each type of offence and executes it very well. Good job Lottie.
U14 Boys Champs – Ron Flores (sponsored by DLA Piper)
Won against Lakeside 71-60
Coach comments:
It was good to see us turn up the defensive intensity when required in this game and take control of things in the final quarter.

All players managed to hit the court and contribute in a positive way.

Copper Hewer, Ano Sharu and Jaxon Kowal kept the scoreboard ticking over by putting the ball in the basket and delivering great outlet passes

Jackson Doyle and Ewan Maclean kept the opposition's top player in check defensively
U14 Boys Div 2 – Kevin Dunstan (sponsored by United Steel)
Lost to Perry Lakes Blue 48-75
Coach comments:
After a very slow start we managed to stay with the opposition after quarter time and even won the last quarter – well done boys

Our offensive and defensive game came and went throughout the game and we just couldn't sustain the appropriate levels of energy and intensity required to win the game
U14 Boys Div 4 – Andrew Logan (sponsored by Drafting Now)
Won against Joondalup Wolves 66-45
Coach comments:
Joondalup have gone down a similar path to us this year with a best of bottom age side. Was great work to come away with two convincing wins against them this season. This week's win was extra special as we beat them on their home deck and secured a playoff spot. The road wins have been hard to come by this year and to get it done against a quality opponent was a sign of growth in our team.

One other pleasing aspect was winning the rebound count by over 10 with a smaller lineup than Joondalup.

James Galvin compiled 5 steals and 21 points in style. He added extra mayo on a couple of plays demonstrating his natural talent. Great work James.

Xavier Allison had another highly efficient game. He had 20 points including 3/4 from deep, 6 rebounds and 4 steals. Xav's growth has been outstanding this year adding a high clip 3 point shot and moving up into the 3 spot for portions of game. His ability to defend at multiple positions was on full display yesterday. Well done Xav!

Louis Daniel seldom gets big minutes but every week he brings energy, discipline and a smile. This week he was aggressive with his attack at the ring, and finished with 5 points on the back of shooting a high percentage from the free throw line. Louis regularly demonstrates what it takes to be a team first WABL player. Well done on making the most of your opportunities Louis.
U14 Boys Div 5 – Isaiah Walley-Stack (sponsored by S&M Group Bobcat and Truck Hire)
Won against Mandurah Magic 74-47
Coach comments:
The boys had the game under control from the onset with their full court press leading to many steals/turnovers and intercepts. This allowed them to try some plays they've been learning at training which was good to see.

Every player had a big impact this week.

Mitch Thompson led the early scoring, ending up with 7 points and notching up over 5 steals. 

Jake Chew had a big day on the score sheet with 14 points. Other big offensive efforts were Jake Souren with 21 points and Luke Websdale with 11 points. 

Jett Murphy had more than 6 assists, displaying his playmaking talents well. 

Oliver Gruber fought hard in contest for the ball finishing with 5 points. 

Rhys Tan made some nice open look long range 2 shots finishing with 7 points. 

Liam Colangelo finished with 8 points.
U16 Girls Champs – Bryn Arnold
Won against Lakeside 77-49
Coach comments:
Missing a key piece in Blaise Stancil with an ankle injury, everyone did a great job of stepping up the effort and intensity, especially on the defensive end, to play one of their best team games of the season.

Kate Anderson stepped into the starting five and delivered her best game of the season, dropping a season-high 16 points and competing hard on the defensive end.

The defensive intensity was led by Grace Dimer, Matilda Thomson and Stella Gregory diving in loose balls, getting deflections and steals.

Ebony Cox, Theory Snooks-Holdings and Charlotte Broadbent ran the lanes well in transition and were rewarded with some great decision-making by our ball handlers Jenna Jackson and Miki Deshon. 

It was great to watch and capped off a great team game.
U16 Girls Div 2 – Holly Moore (sponsored by Mt Lawley Orthodontics)
Lost to East Perth 41-57
U16 Girls Div 4 – Geoff Alger (sponsored by MD Building Maintenance)
Lost to Wolves Redbacks 38-80
Coach comments:
Undermanned and playing the undefeated Wolves this week proved a tough challenge for our group. I was pleased to see our players run as hard as they could all the way to the end. While we struggled to match the Wolves' speed in transition our girls never stopped trying and the support from the sidelines continued to be loud until the end.

On the offensive end we were again clean in advancing the ball with the next step to improve our patience and ball movement in the half court.

All players who took to the court were brave, committed and resilient this week and our injured trio were a constant source of support.
U16 Boys Div 2 Red – Luke Simonette (sponsored by TECC)
Lost to Willetton Tigers 68-89
Coach comments:
Playing a good quality side, we stuck with them in the first half thanks to a solid defensive effort.

This fell away in the second half but we still continued to show good effort metrics such as D trans and hustle plays.

All 9 players were on the same page and it really showed, especially against a team which completely demoralised us last time we played them

Ethan Harders and Sasha Zugic found themselves some early foul trouble but showed excellent defensive technique to not make it an issue, especially later in the contest.

Andrew Cook showed why he is the ultimate utility man, played defence on positions 1-5 with ease and slot into every offensive spot
U16 Boys Div 2 Black – Luke Notley (sponsored by MSP Electrical)
Lost to Flames 53-97
Coach comments:
Our first half was actually not too bad even though we did let Flames get way too many easy transition baskets and keyway points. Unfortunately, hitting half time 17 points down took the wind out of our sails and we weren't able to find the fight to keep the final score in check. It's coming to the end of a very long season which has tested the team on many different levels. We will keep pushing at training this week to improve on aspects of our game.

Cleon Ryder's effort this week was awesome, he's been improving his communication during the season and I've enjoyed seeing him grow in this regard. We've also been working on his defensive footwork and that has improved too. I look forward to seeing what he can do with continued gains in that area.
Won against Perry Lakes 83-85
Coach comments:
Perry Lakes is the league-leading team and is enjoying a wonderful season with only a single loss to date.

Heading into the last quarter 14 points down – this game seemed to be following the same script as our first against them. We then flipped the script in the last quarter: sharing the ball on offense, stopping our opponent's transition game and showing determination in rebounding can get you back into a lot of games. 

A fine 28-12 last quarter got us home by 2 points.

Zayde Parriman brings energy and competitiveness to both ends of the floor. Offensively and defensively Zayde plays with a confidence that lifts those around him.

Vince Marcvinz Matondo played his best game of the season and just kept finding cutters with exquisite passing. It was fitting when the scores were tied with seconds left, it was a Vinz isolation play that got us the lead.

Noah Rees-Turner just refused to lose this game in the last quarter. Strong post play and physical defensive rebounding supported his game-high 26 points.
U16 Boys Div 5 – Tom Swindale
Lost to Eastern Suns 79-84
Coach comments:
I'm most pleased with our team's ability to move the ball. Everyone played very unselfish basketball. 

I'm also pleased with how hard we pushed through the entire game. It was a very physical game and the boys kept calm and remained focused

I'd like to highlight Josh Welsh. Josh was getting triple teamed for the majority of the game and made that an advantage for us by getting his teammates involved. 

I'd also like to highlight Max Radica. Max hustled for every rebound while on court, showing off his footy athleticism when there was a loose ball in the air
U18 Girls Champs – Mya Dimanlig (sponsored by Titan Finance)
Lost to East Perth 49-80
Coach comments:
We had a really good first half. We were moving the ball, running lanes in transition well and being aggressive with defence and attacking the basket. Unfortunately that dropped off in the second half and we let them go on a run, but we managed to pick it back up in the last quarter.

Grace Dalton attacked the basket with aggression and was not afraid to make contact which is great to see and shows her development as a player since the start of the season. She also came into the game with intensity in crashing boards and great defensive efforts.

Caitlin Lea brought some energy to the game with some good drives to the basket and steals.

Joia Kowlewski came into the game ready to work and showed great improvements in her decision making with passes and movement into receiver spots.
U18 Girls Div 2 – John Care
Lost to Cockburn Cougars 61-69
Coach comments:
I think today's game is best described as "PROGRESS". Having previously lost to Cockburn by 38 and 18, going down by 8 today is a clear indication we've continuously improved and made positive progress this season.

The girls played well and applied strong pressure defence to be up by 10 points in the second quarter. The effort and game play were fantastic to see.

All girls brought 100% effort and energy and I could not be prouder of them today

Huge congrats to Ainsleigh Passi who played her 100th WABL game for Perth Redbacks in this game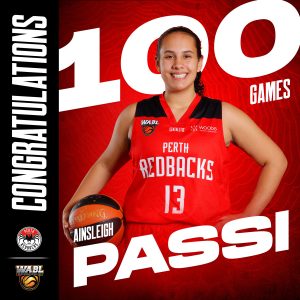 U18 Boys Champs – Brandon Riley (sponsored by Willis Temby)
Won against East Perth 114-76
Coach comments:
Was great to see us really lock in as a team on defence. We were also unselfish on offence and this got us some open shots. There were times where we could have let East Perth back in the game, but we didn't.

This win was a great team effort.

Ethan Saliacus, Finn Warner and Charlie Morcombe would have had 18 blocks between them.

Malik Powell rebounded at a high level at both ends.

Jonah Muparutsa and Aiden Cannington ran the offence well. 

It was great to have Harper Mitchell-Oehlers and Zviko Tinayenda back from school boys. 

Kade McMillan scored well and Thanos Snooks-Holding stepped in for Kobe and hit a 3.
U18 Boys Div 2 – Sam Fox (sponsored by MacDonalds Karratha)
Won against Warwick Senators 50-46
Coach comments:
Our defensive effort was outstanding. Start to finish, we pressured the ball, were committed to help D, fought over screens and contested the boards. We held the top team to 46 points and turned the game into an incredible battle. Warwick matched our full-court pressure and, in the 3rd and 4th, we became more aggressive and got great buckets out of our press break. This was a huge team win against a very strong opponent and, we did it with only 7 active players.

Mackenzie Tanner returned from injury and brought incredible energy and intelligence at both ends, with 17 points and 6 boards.

Declan Pyne was also on a tear at both ends, stepping up against bigs, grabbing boards and shooting a team-high 65.4% eFG%.

Miguel Chaitika led the team in rebounds (8) and made some big, tough buckets when we needed them.

Mandla Magwenzi again brought great D, shot from deep and put us out of reach with 2 clutch free-throws in the last 20 seconds.
U18 Boys Div 3 – Simon Daff (sponsored by Grange Risk Solutions)
Won against Hawks 100-77
Coach comments:
I love the momentum we are building heading into finals. The trust within this group is very high and its showing on both ends off the floor. 

On offense, we are disciplined and moving the ball well. Defensively we are keeping teams out of the middle and our help and rotations are quick and sharp.

Our offensive rebounds in this game, especially from our guards, got us our lead in the 2nd quarter.

Andrew Chilufya continues to dominate and has had a great 4-week stretch. He finished this game with 32 points, our opponent having no answer for his ability to get to the rim. What really impresses me though is his effort this year to take more pride at the defensive end – he is very much becoming a 2-way player.

Benji Berardis had a fantastic second half. His ability to listen and follow instructions out of the time outs were a highlight. His defense on the ball was outstanding and stopped any momentum the Hawks had. Was nice to see him talk more in this game also.
U18 Boys Div 4 – Mitch Nixon (sponsored by Maude Family Lawyers)
Won against Rockingham Flames 85-69
U20 Boys Champs – Adrian Warner
Lost to Wolves 76-85
Coach comments:
We played 4 solid quarters this week, and it was a close fought game throughout. I was pleased with the effort from everyone. Wolves beat us convincingly on the boards – getting a lot of second-chance shots – and hit a high percentage of open threes. In the end, those things were the difference.

Next week sees the end of WABL for several players – We'll continue to work hard at training this week to ensure we send those players off with a win.