The Weekly WABL Wrap is proudly sponsored by Woods Insurance Brokers. 
Here's the Round 6 wrap up of how all our teams went including comments from coaches:
U12 Girls Div 2 – Emma Ormond (sponsored by Baston & Co)
Won against Southwest Slammers 54-23
Coach comments:
The girls have put a lot of work into their defensive structure over the past couple of weeks and in this game, it really showed. Their help rotations were rarely missed and their communication on defence was great to hear. This group of girls amazes me every time they step on the court with their work rate and ability to move the ball and they just gave me another reason to be proud of them today.

Sally Dowling was really strong grabbing rebounds and protecting the basket. Sal has gotten really good at moving into space offensively which really opens up the court for her and her teammates.

Leisha Charlie was phenomenal at reading passing lanes today. She would have had 10+ steals from that and chasing down fast breaks.

Darcey Hill was a workhorse on defence. She was standing in front of girls double her size and applying lots of pressure to Slammers when they were bringing the ball up the court.
U12 Girls Div 3 – Marcia Dowling (sponsored by Access Hire WA)
Lost to Kalamunda 48-20
Coach comments:
Playing against the ladder-leading, undefeated team in our division, we came out a bit flat and heavy in the first half and quickly found ourselves down a significant margin. 

I'm so proud of the way the girls reset themselves for the second half to find their flow and make a stronger contest of it. (Kalamunda outscored us by 21 in the first half, but only by 7 in the second.)

We've had a month of disrupted training and only 7 players for each of those games due to COVID and injury. While we have lost our lovely Haven Budby for the season, we are greatly looking forward to having our remaining 9 players fit and available in the coming weeks!
U12 Girls Div 4 – Paul Philpott (sponsored by Sushi Wawa)
Lost to Lakeside Lightning 45-22
Coach comments:
The girls are gelling really well as a collective team, which is helping them continue to perform right to the final siren.

Whilst all of our girls played strong, a big shout out needs to be given to Manisha Jeyamohan. Both Charlize and I were so impressed with her presence on the court and how she repeatedly attacked the ring. 

Ava Kemp also stepped up to provide some good support in both the offensive and defensive areas.
12 Boys Champs – Ash Brian
Won against Willetton Blue 60-45 (Friday) and Joondalup 67-49 (Sunday)
Coach comments:
A solid two wins against quality opposition. First up we knocked off the unbeaten Willetton team that toppled us in the semi-final at State Champs and then went on to win it all. While maintaining 32 minutes of intensive defensive pressure, this was also a line in the sand moment for our team where we finally played our offense with consistency. Then, on Sunday, after a slow start, we executed the same plan for a win against Joondalup.

Nate Cass was a massive standout across the two games. He managed to position himself in the right place at the right time in both games and compiled 30 points in total for efforts.

Ethan Kingsbury executed a couple of crucial drives in game two at the perfect time which were a catalyst to getting us going after the slow start.

Our youngest player in the team, Toby Deshon, came out of his shell for this doubleheader. He's been relied upon in crunch time to be one of our primary ball handlers and has not disappointed. And as always he's one of our most consistent in knocking down the open shot.

Matthew Lucano set the tone on defence and across the two games collected six straight 1-on-1 pick-pocket steals that turned into fast breaks.
U12 Boys Div 2 – Alex Maude (sponsored by Inspiration Paints)
Won against Southwest Slammers 60-55
Coach comments:
I was really pleased with our:

Transition ball movement and running

Spacing on offence

Applying help on defence to stop scores

Ability to execute a full court trap that was drawn up in the last quarter, resulting in many scores

Rebounding efforts

Ethan Cooper stood out offensively, being aggressive and drawing fouls. This aggression lead to him leading all scorers with 23. His defensive efforts on Slammers' big was crucial

Clayton Sumich defensively was great. Under sized when playing against their centre, Clayton backed himself and prevented many scores.

Max Wood's passing didn't go unnoticed, making some amazing passes through traffic, and having confidence when bringing the ball up.

Kade Peake showed no hesitation when bringing the ball up the floor, beating defenders with ease and getting lay ups out of it, as well as making some great pass offs which resulted in scores
U12 Boys Div 3 – Ben Hamilton (sponsored by Euroz Hartleys)
Lost to Warwick Senators 59-39
Coach comments:
We showed great fight and determination against an undefeated Senators team, staying within reach during the first half through great team defence.

Scott Samuel played his first game of the season and impressed with some strong defence against much bigger opponents and an attacking mentality of offence.

William Ryan was sensational and led by example, out hustling his opponents to lead our team in both steals and rebounds.

We fought to the end and stayed competitive throughout much of the game but ultimately their size and experience were too much for us on this occasion. While we didn't get the win, our ability to match it with a quality opposition was a strong testament to the team's character and potential.
U12 Boys Div 4 – Matt Strika (sponsored by Global Cabling)
Lost against Rockingham Flames 41-60
Coach comments:
After a slow start the boys have to be commended for never giving up and fighting to the end. Against a much bigger team, it is a testament to their Redbacks spirit that the boys won the second half by 3 points. We now have the mark of the best team in the division and look forward to playing them again.

Joaquin Cortes dominated the defensive effort with 2 deflections, 5 steals and 1 block (by Anthony Davis!). Tex Tierney led the scoring effort with 16 points. Noah Mucjanko and Oliver Tuohy were hard to split for best on court. Ben Handke demonstrated a consistent effort at both ends of the court with 7 points and 5 rebounds.
U14 Girls Champs – Josh Wallace (sponsored by Welsh Real Estate)
Lost to Warwick Senators 59-62
Coach comments:
The girls put together a strong four-quarter effort. It has been our main focus as a group these first 6 rounds of the season and in the last 2 weeks, the girls have taken massive steps forward. This game put an exclamation point on how much they have improved in this area. The Senators themselves are a very strong team, holding a 5-1 record, and to go the distance against this team is a testament to how talented and special these girls are and the potential they have as a team for this season.

Offensively this was by far the best the girls have worked together on that end of the court, and their final score is evidence of that. Everyone on the team scored in this game and the shot quality and decision making overall were great to see.

Mafa Tuialii showed great leadership. It was not only demonstrated by her consistently high level of effort and her willingness to guard the opposition's strongest player, she was also communicating and directing on the defensive end.

Taylor Marsland had a very strong defensive game, particularly in the second half, with her full-court ball pressure. She also did a great job of holding her width on offense to help space the court for the girls and remain a shooting threat.

Emily Horniman was incredibly disruptive in this game on the defensive end. She was poking the ball away from the ball carrier, getting hands in passing lanes, which created some chaos and led to some fast break opportunities for the team.

Ayla Harris was fantastic off the bench. Not only did she provide some scoring punch with her 3pt shooting, she rebounded really well on both ends of the court and was disruptive defensively in the full court.
U14 Girls Div 2 – Zac Belton (sponsored by Redink Homes)
Lost to Joondalup Wolves 33-30
Coach comments:
I really liked our ability to apply pressure and make good decisions on offence in this game. It was a strong step forward for how we approach our games going forward.

Ella Baxter did everything I asked of her.

Danica Jeremiah did a fantastic job getting into her receiver spots and making some fantastic decisions.

Izzy Budby did a fantastic job being aggressive and getting into the post for some fantastic looks.

Paige Ogden did a fantastic job of pulling down rebounds and protecting the ball!
U14 Girls Div 4 Red – Lucy Dowling (sponsored by Aussie Fencing)
Lost to Warwick Senators 50-35
Coach comments:
Unfortunately during this game the girls faced a challenge they hadn't before – negative talk towards them from the opposition. This upset the girls a lot but I loved how they came together and played for each other. We had some great aspects of play and the girls gave it their all with two players down.

Alessia Wladyka had an awesome game contributing well to the score by doing so much off the ball as well, great help rotations and on ball pressure as well as offensive movement.

Grace Butcher had a very physical game. I was so proud of the way she held herself together and pushed through strong emotions to end up playing a strong game.
U14 Girls Div 4 Black – Ofir Ben Dror
Won against South West Slammers 31-30
Coach comments:
Our defence in this game was one of the best I've seen from any team I coached. The opposition could not find a way into the key. The girls were patient and didn't try to go for the steals with the bigs covering for them inside the key. It was absolute text book defence that gave the top of the ladder their first loss of the season.

Other than the really good team effort, I would like to mention Ella Djurasovic for the progress I see every game she's playing. Her individual defensive effort in this game was second to none. Ella made two blocks and was first to some loose balls that led to good fast passes – all of that in limited minutes off the bench as it was a close game and we needed the starters on court more often than normal. Great job Ella!

Huge congrats to Sienna Care' for playing her 50th WABL game for Perth Redbacks today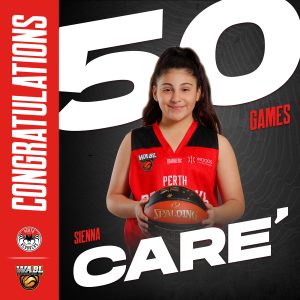 U14 Boys Champs – Aleks Lackovic (sponsored by DLA Piper)
Won against Slammers 67-57
Coach comments:
We continue to develop each week in all our primary defensive fundamentals – talk, ball pressure, containment and help. With a team focus on hustle stats, specifically deflections, rebounding and gut runs, we as a team are creating massive pressure on our opposition every week.

Jaxon Kowal controlled the game tempo and took on the facilitator responsibility which ensured we could run counters and find the advantage. He also finished beautifully in transition, scoring 12 points.

Jaden Exeter's work rate in the paint was excellent – he boxed out on every shot, had an amazing four offensive boards and constantly crashed the glass against two taller opponents.

Cooper Hewer is growing on the defensive end which resulted in 6 steals to go with his 3 assists and 22 points.

Ano Sharu's amazing work rate and attack at the ring ensured he closed the game with 13 rebounds in addition to 19 points and 3 assists.

Special mention to the team-first attitude of Zak Magdy, Ewan Maclean, Tyler Murphy and Anthony Flores.
U14 Boys Div 2 – Kevin Dunstan (sponsored by United Steel)
Lost to Kalamunds Suns 94-71
Coach comments:
All the players played tirelessly throughout the entire game but in the end, too many turnovers and missed free throws proved costly

Our pressure defence was not at our usual standard this week resulting in the biggest score against us this season.

Cooper Poustie dished out 16 assists to go with 11 points

Koby Kalebic shot 100% from the free-throw line (6 from 6) in his 12 points to go with 8 boards

Lionel Chitiyo had another solid game with 12 points and 6 steals
U14 Boys Div 4 – Andrew Logan (sponsored by Drafting Now)
Won against Mandurah 68-33
Coach comments:
We played an excellent team game, had a relatively even spread of scoring, our turnovers were down, we moved the ball well and our intensity on D was first-rate. This was a great game by all the boys.

Tate Mucjanko had his best game of the season racking up 10 points, 7 steals, 4/4 at the stripe and only 1 turnover.

Parker Dunstan gave great effort, getting up and down the floor and was very active on defence. He was switched on for all his minutes on the court.
U14 Boys Div 5 – Isaiah Walley-Stack (sponsored by S&M Group Bobcat and Truck Hire)
Lost to Kalamunda 85-30
U16 Girls Champs – Bryn Arnold
Lost to Joondalup 52-85
Coach comments:
We started with the effort and intensity we had been looking for. Unfortunately, we were not able to sustain it for long enough periods throughout the game.

We are in the middle of a tough stretch of games against good opposition and the resilience the team is showing is excellent, they continue to work hard and get better every session.

Charlotte Broadbent played her best game of the season with great attitude and effort against hostile opposition.

Grace Dimer battled an ankle injury but made some great defensive plays.
U16 Girls Div 2 – Holly Moore (sponsored by Mt Lawley Orthodontics)
Lost to East Perth 60-43
U16 Girls Div 4 – Geoff Alger (sponsored by MD Building Maintenance)
Lost to Perry Lakes 70-47
Coach comments:
The spirit and competitive effort of our team never waned in what was a challenging match against a well-drilled opposition. The effort on the boards was there all game and for moments when the girls settled and executed, they showed they can trouble any team.

Matilda Wyatt, Grace Almond and Talia Bentley battled really hard on the inside. 

Maddie Wade and Alex Temby continue to do exactly what is asked of them. Alex's determination to play through soreness was typical of the group's competitive nature.

We'd also like to acknowledge Keira Tran's 50th game for Redbacks. Keira has developed a strong foundation over those 50 games and brings great value to the team on and off the court. 
U16 Boys Div 2 Red – Luke Simonette (sponsored by TECC)
Lost to Willetton 79-47
Coach comments:
Despite being undermanned and outsized, the boys stayed in this game mentally throughout. Offensive execution is getting better, despite unlucky finishing. In a physical game, the boys held their own.

Andrew Cook shot the ball confidently and defended well

Caleb Hoenig had to play multiple positions and did so diligently

Romain Suraweera played through foul trouble amazingly
U16 Boys Div 2 Black – Luke Notley (sponsored by MSP Electrical)
Won against Flames 77-112
Coach comments:
Huge thanks to Luke Simonette for taking on the coaching reins this week and to Jen Saliacus for filling in as manager with myself and Fiona out of action. 

This was a full '11-man' effort, with no one player taking a huge offensive load. Elite ball movement and basketball IQ led to a lot of easy points. Our defensive effort early in the game was very good and forced many poor shots

Ben Galvin and Cleon Ryder combined for 49 points despite being on fewer minutes than they would normally play

James Bowen adapted well to playing in different spots than he would usually

Jack Saliacus was in "beast mode" in the paint
Won against Eastern Suns 107-71
Coach comments:
Our injury-hit squad entered this game knowing that a win would put us in the top 3, whereas a loss would put us back into the pack.

At halftime we were up by 5 but were struggling to get stops to feed our running game. The third quarter was a completely different story – numerous stops, defensive intensity and boards led to transition basketball and we outscored our opponents 38-15.

The most pleasing aspect was our ball movement on offense when playing half-court – so many good shots were turned down for great shots.

Zayde Parriman has had a tough start to the season through sickness and injury. Even though he was heavily strapped, he controlled the game at the point, set up our bigs, took a charge and put up 15 points with 3 beautiful floaters in the key.

Hamish Gibson didn't play due to injury, he did however almost become a second assistant coach. Talking to players as they came off the court, encouraging his teammates and offering plenty of suggestions for his coaches.

Noah Rees-Turner dropped 5 three-pointers on his way to a game-high 26 points. It is however his attitude that we'd like to recognise – Noah is working hard on the court and being a team player off the court.
U16 Boys Div 5 – Tom Swindale
Lost to Mandurah 77-72
Coach comments:
I'm pleased that even though we had a slow warmup/start to the game, we locked in and realised how winnable it was. We focused defensively on how to stop their scorers and played very good team basketball
I'd like to highlight Noah Hugh – he came on in the second half and led our defence and pace with the amount of energy he brought.
I would also like to highlight Josh Welsh. He smashed it with a 48-point game and was a massive presence in the paint
U18 Girls Champs – Mya Dimanlig (sponsored by Titan Finance)
Lost to East Perth Eagles 73-38
Coach comments:
Thanks so much to Ella Dimanlig and Zac Belton for coaching in my absence due to concussion.

I'm proud of the girls' ability to ignore the scoreboard and win the last quarter 13-12 due to disruptive defence and better ball movement.

On an individual level, the coaches were really pleased with Charlotte Horniman's fantastic efforts cutting, and with Polly King coming out more aggressively in the second half
U18 Girls Div 2 – John Care
Lost to Perry Lakes Hawks White 54-47
Coach comments:
Overall this game was a big step forward – it was our best performance for the season. The girls came together with some pressure defence, fight and intensity with scoring opportunities to create a headache for Perry Lakes. Unfortunately, whilst we continued to fight hard, we could not quite get up in the fourth quarter to come home with the win.

Meg Capewell was unstoppable from the three-point line but also played strong defence.

Aaliya Shelhot pounced on loose balls and maximised her jump shots to add points to the board.

Lucy Waller created headaches at both ends of the court and also created great opportunities for her teammates.

Tatum Cooper showed aggression and fight to create many opportunities at both ends of the court.

Isabella Woods had a strong game today with energy and aggression and racking up some good points.

Annabelle Hathway continues to lead, and cover the floor well at both ends of the court.

Hannah Saliacus worked hard to crash the boards and rack up rebounds.

Ainsleigh Passi came back from COVID and didn't miss a beat, scoring buckets and was a defensive powerhouse.

Leilani Avia provided many opportunities from her defensive pressure, collecting steals and providing the team with scoring opportunities.
U18 Boys Champs – Brandon Riley (sponsored by Willis Temby)
Won against East Perth 94-78
Coach comments:
We started really well. The boys' ability to execute the game plan and exploit our opposition's weaknesses defensively was the best it's been this season. And we were locked in on D.

Ethan Saliacus's defence and rebounding were at a high level in this game. I think he had 5 blocks. 

Love having Kade McMillan who's just able to play whatever role we need from week to week.

Kobe Craig's energy off the bench has seen his role grow over the first 6 weeks. 

Finn Warner had a great game. 

Malik Powell and Charlie Morcombe continue to be consistent. 

We had tangible contributions from all players in this game.
U18 Boys Div 2 – Sam Fox (sponsored by MacDonalds Karratha)
Lost to Willetton Tigers 88-89 (OT)
Coach comments:
This was a tough loss, but a good learning experience for our team. We came out and dominated the first half, going up by 18. In the third, Willetton came out with nothing-to-lose pressure and we went away from our game plan, being sloppy, dropping the bulk of our lead and letting the momentum shift to them. However, we showed maturity, composed ourselves and made some big plays in end-of-game scenarios. I'm proud of the team's ability to stay together on the court and on the bench. We will take this learning forward and be sure to keep our focus for four quarters going forward.

This is a game where multiple players stepped up in high-pressure moments and other guys supported them from the bench. Respect across the board.

Special shouts out to Jake Vilardi and Mackenzie Tanner for taking the final shots that were both so painfully close to dropping and giving us the win.
U18 Boys Div 3 – Simon Daff (sponsored by Grange Risk Solutions)
Lost to Eastern Suns 53 to 52
Coach comments:
This wasn't a great game for us in terms of execution, but in terms of heart and effort the boys never gave up. I'm proud to see that even when things aren't going our way, we're getting better at not dropping our heads. We came back from 9 down late in the game to just miss the last shot with 4 seconds left.

Benji Berardis, in his 50th WABL game for Perth Redbacks, had a great game. His pressure defence generated steals which led to some easy fast break points. His playmaking in a scrappy game was a highlight.

Taj Racey did a great defensive job in the second half. We switched him on to their best scorer and Taj's pressure and denial slowed down his scoring.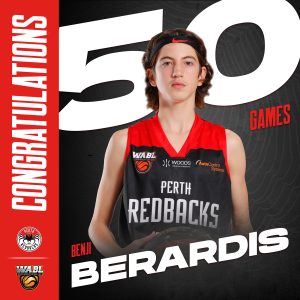 U18 Boys Div 4 – Mitch Nixon (sponsored by Maude Family Lawyers)
Won against Warwick 78-85 (OT)
Coach comments:
We started this game with 9 players due to injuries and then lost one of our key scorers – Harry Maude – early. 

Against a tall team that was also undefeated this season, our boys really came together and kept their heads in the face of some interesting challenges throughout the game. There were plenty of opportunities to react rather than respond, but our boys chose to let their basketball do the talking. Our ball movement was outstanding breaking their tough zone on multiple occasions

Alistair Hartmann rocked up again with some killer 3s to score a well-deserved 18 points.

Cam Ford added a few crucial points to the board from the three-point line and off some great drives.

There were some great defensive efforts from Ethan Logan, Lachlan Steel, Taj Hollands and our one remaining Harry (Cuerden) to put them under constant pressure while trying to score. 

There were some great blocks from Kalisto Ubu that create fear of driving on him. 

Josh Richards contributed both on offense and defence, being a distributor and opening scoring opportunities for others.
U20 Boys Champs – Caleb Kingston
Lost to Lakeside 99-89