The Weekly WABL Wrap is proudly sponsored by Woods Insurance Brokers. 
Here's the Round 7 wrap up of how all our teams went including comments from coaches:
U12 Girls Div 2 – Emma Ormond (sponsored by Baston & Co)
Won against Warwick Senators 51-4
Coach comments:
The girls were relentless on rebounds for all 32 minutes of the game. Even some of our smaller guards were out-rebounding girls that were twice the size of them purely because they wanted it more.

This is the best game we've played from a decision-making standpoint. The girls shared the ball well and got a lot of good looks out of it.

Harper Grace had one of her best games of the season today. She was making all of the right decisions offensively, which led to countless scores for her teammates.

Soniya Karimi did an amazing job of working to get open off the ball. Defensively she was really aggressive which led to a lot of easy steals.

Ava Armstrong has been working really hard on a lot of things and it really showed yesterday. Defensively she was solid and matched up on her player really well.
U12 Girls Div 3 – Marcia Dowling (sponsored by Access Hire WA)
Lost to Rockingham Flames 20-26
Coach comments:
There were many moments where the girls' "help" plays were excellent. In the first quarter, one of our goals was to force a minimum of 5 turnovers and the girls achieved this well.

Pepi Graham played her best game yet – her confidence under the basket is proving invaluable and she's finishing her shots well. 

Gracie Dillon gave 100% every second she was on the court and along with Allegra Care, Cyra Olowoyo and Gabbie Tetteh, managed many many jump balls
U12 Girls Div 4 – Paul Philpott (sponsored by Sushi Wawa)
BYE
12 Boys Champs – Ash Brian
Lost to Warwick 41-58
Coach comments:
This just wasn't our day. Decision making under pressure was our Achilles heel, but this will be a good learning game for us to get better.

Matthew Lucano was outstanding. He has always been our glue guy and this was a perfect example where he was solid in all aspects of the game with a contribution in every stat line.

Erik Davies was dominant in the paint with 8 points off offensive boards.

It was great to have Luka Delic back from injury who also contributed with some crucial rebounds and points when the team needed it.
U12 Boys Div 2 – Alex Maude (sponsored by Inspiration Paints)
Lost to Eastern Suns 18-61
Coach comments:
I was really happy with our help defence, running in transition and rebounding efforts in this game.

Harrison Moyle and William Hemingway led the rebounding effort, prevented many second-chance points from the opposition and provided second chances for us

Ethan Cooper's aggression to the basket got him scores and free throw attempts

Max Wood's passing got the team out of sticky situations when pressed and provided some great assists
U12 Boys Div 3 – Ben Hamilton (sponsored by Euroz Hartleys)
Lost to Lakeside Lightning 44-27
Coach comments:
Lakeside's full-court pressure defence took us by surprise and we were a bit slow to adjust, but when we did we were competitive and resourceful with a few players down.

The team showed real fight and composure to win the second half after being outplayed in the first.

William Ryan played an outstanding all-round game, leading both teams in scoring while continuing to surprise the opposition on the boards and with his speed in defence.

Special mention to Kai Atfield, Vincent Ryder and Lucas Blackmore who were not 100% fit but still put in a huge effort on the court and as support for their team.
U12 Boys Div 4 – Matt Strika (sponsored by Global Cabling)
Lost to Eastern Suns 51-56
Coach comments:
No one likes losing the close games but to their credit, the boys fought to the very end and never gave up. I cannot fault the intensity and effort and am particularly pleased with how the team supported and encouraged each other during the game.

Jacob Tan had his best game of the season contributing at both ends of the court with 12 points, 11 rebounds and 6 steals. 

Tex Tierney added another double-double to his tally with 18 points and 13 rebounds.

Leo Wolfenden provided some spark off the bench with his first appearance as train on. 

Jayden Austin and Elijah Mancini both put in a great effort on the defensive end amassing 7 steals and 6 rebounds between them.
U14 Girls Champs – Josh Wallace (sponsored by Welsh Real Estate)
Lost to Cougars 55-54
Coach comments:
After a chat at quarter time, the girls did a great job of improving their boxing out during this game, which led to better results on the rebounds.

Once again, the girls did a great job to keep themselves in the game and not lose their nerve with the game close throughout the 4th quarter.

Ella Welsh did a great job of attacking and getting two feet in the keyway. This led to scoring opportunities for herself and others, while she also got to the line a few times.

Maddie Makavilitogia gave us a strong post presence on both offence and defence. Her rim protection and help defence were so valuable, while her aggression down low on offence led to scores and free throw attempts.

Lailah Tasker gave us a great burst of energy to close out this game. She was disruptive defensively, getting stops and providing us with extra scoring opportunities. She made a great defensive play with about 8 seconds left that gave us another chance at getting the win.
U14 Girls Div 2 – Zac Belton (sponsored by Redink Homes)
Lost to South West Slammers 86-24
Coach comments:
We started to have a bit more communication on court which was nice to see.

Jem Barr played her first game back since surgery – it was fantastic to see her on the court again.

Mel Cottie really came out more aggressive in the second half.
U14 Girls Div 4 Red – Lucy Dowling (sponsored by Aussie Fencing)
Won against Redbacks Black 55-35
Coach comments:
It was our first game of the season with all 10 players so it was really awesome getting to watch our whole team work together. This week our goal was to score off the cutter which the girls did really well, and even when they didn't, they found options because of the space created, so I was really happy with that. Defensively our pressure is amazing and I loved the girls' hustle for the ball

Chelsea Ferris was on fire with her shooting today which was well deserved as she's been practising a lot. Her containment defence in the half-court was also really good.

Ada-Mae Burke and Grace Butcher racked up an astonishing 33 points between them, most of which transitioned from their defensive pressure and big rebounds.

Charlie Foster had another amazing defensive game, she does all the little things right and never gives the offence an easy option.
U14 Girls Div 4 Black – Ofir Ben Dror
Won against Redbacks Red 55-35
Coach comments:
We had a pretty average start to the game but managed to shrug it off and win the second half.

Salma Rahmadavi was double-teamed from the first minute of the game but that didn't stop her from picking up the ball and attacking again and again.
U14 Boys Champs – Aleks Lackovic (sponsored by DLA Piper)
Lost to Warwick 47-70
Coach comments:
In a game that was closer than the final scoreline indicates, we continued to show a competitor attitude for 4 quarters. I particularly liked our ability to attack the ring and earn ourselves 27 FT attempts.

Ano Sharu contributed an important double double with 11pts and 13 rebounds plus 3 assists and 2 steals

'Box Out Beast' Jaden Exeter led our hustle stats in the paint

Shout out to our charge kings Anthony Flores and Jaxon Kowal, putting their bodies on the line for 1 each.
U14 Boys Div 2 – Kevin Dunstan (sponsored by United Steel)
Lost to Senators 76 to 51
Coach comments:
This was a great game played in the spirit of how games should be played – intense but fair

For the second week in a row, our turnover count was costly and easy shots weren't dropping

Overall it was a great four-quarter effort from the entire team
U14 Boys Div 4 – Andrew Logan (sponsored by Drafting Now)
Won against Perry Lakes 50-48
Coach comments:
Although this wasn't our best game of the season and shots weren't dropping early we stayed in the hunt and came home strong with an 18-3 last quarter to win by 2.

Once our defensive intensity lifted in the last quarter the opposition was no match for us. Hopefully a good reminder for the boys of the level of effort required for every minute of the game to compete at WABL level.

Another pleasing aspect was the attitude of the boys who were on the bench for the last quarter as the rotations were at a minimum. We let the boys doing the damage run the game out and those on the bench contributed energy and voice.

Xavier Allison put his money where his mouth was and came up big for us with 17 points, 4 rebounds and 3 steals with an efficient FG %

Parker Dunstan had zero turnovers along with 4 points and 5 rebounds.

Tace Rankin and Toby Summers were given focus points for the game and it was very pleasing to see them listen and then execute on the floor. Well done boys!
U14 Boys Div 5 – Isaiah Walley-Stack (sponsored by S&M Group Bobcat and Truck Hire)
Lost to Rockingham 71-57
U16 Girls Champs – Bryn Arnold
Lost to Warwick 63-64
Coach comments:
Our attitude and effort on the defensive end were outstanding all game. Undermanned from the start and losing Theory Snooks-Holding late in the first qtr, we really stuck together to play our best game of the season. Super proud of the game the whole team played today, well done ladies.

Kate Anderson stepped up for her best game of the season. I look forward to more games like this.

Matilda Thomson, Grace Dimer and Jenna Jackson all did a great job on the defensive end.

Charlotte Broadbent battled all day on the glass against a tall team and did an outstanding job.

Stella Gregory, Miki Deshon and Blaise Stancil led the team on the offensive end with some great decision making and shooting.
U16 Girls Div 2 – Holly Moore (sponsored by Mt Lawley Orthodontics)
Won against Lakeside 70-48
Coach comments:
Loved the way we worked as a team and were determined to win this game.

Anais Adams absolutely killed it under the bucket and ended up with 9 of our 16 points in the first quarter.

Harriet Woods controlled the game and drove hard to the bucket and top-scored with 20 points.

Isabella Wolfenden had an unreal game, as captain she controlled the game and lead her team to a huge first win!
Lost to Willetton Tigers White 93-58
Coach comments:
It was good to see us working as a team and getting through the game despite having players out from injury. A massive second half from all of the girls showed that once we start believing in ourselves, our game will go to another level. Proud of all of them. Loved seeing them win the last quarter by 5 points against such a strong team.

Harriet Woods absolutely killed it again – she really takes on advice and puts it to work on game day.
U16 Girls Div 4 – Geoff Alger (sponsored by MD Building Maintenance)
Lost to Lakeside Lightning Redbacks 62-57
Coach comments:
While unnecessary turnovers continue to hurt us, it was good to see the girls trying to slow down and make better decisions with the ball.

There were some great effort moments with players willing to hit the floor to secure the ball.

Giselle Dale showed great application and effort to impact defensively and on the boards.

Jess Kerp had good finishing efficiency and forced a lot of turnovers.

Talia Bentley attacked the game with her usual determination and caused headaches all game for Lightning.

Steph Hunt showed her good finishing composure and touch to convert in the paint.

Grace Almond tried all game and was quite a handful in the paint.
U16 Boys Div 2 Red – Luke Simonette (sponsored by TECC)
Lost to East Perth 97-101
Coach comments:
This was our best offensive effort this season. We got the opposition in foul trouble with solid attacks on the basketball and good ball movement allowed us to create deficits.

Ethan Harders kept us ticking with a great all-round performance

Lazar Jovanovic is improving out of sight and continuing to go from strength to strength

Sasha Zugic would have been close to setting a world record for screen assists in a single game
U16 Boys Div 2 Black – Luke Notley (sponsored by MSP Electrical)
POSTPONED
Won against Joondalup White 71-72
Coach comments:
As a squad, we are a little banged up and headed north knowing we would need solid contributions from every player.

After an arm wrestle in the first half, we allowed Joondalup's two best scorers to get off the leash and they took a 9 point lead into the last.

However, our boys have a sense of belief in each other that is wonderful to behold. Our defence lifted, we controlled the boards and we ran hard, playing our brand of transition basketball.

The support of other Redbacks' players and families was heartening too and really helped us get up for the 1 point win.

I'm tempted to write 'team effort' as every player contributed and every free throw, rebound and just general hustle got us over the line but Vince Matondo personifies 'we over me' basketball. Even though he was in foul trouble, Vince unselfishly stopped two easy transition layups for Joondalup. The stat sheet will show Vince fouling out in our one-point win, but it will not show that he in all likelihood won us the game.

Ibrahim Abdi battles the opposition bigs every game and still gives a no-fuss double/double week in and week out. An absolute pleasure to coach.

Cooper Thompson is on the verge of being nicknamed 'The Chef'. In a team of slashers and post up players, he feeds everyone with his skilful passes and unselfish play.
U16 Boys Div 5 – Tom Swindale
Won against Mandurah Magic 86-51
Coach comments:
I'm most pleased with how we maintained good defence from the second quarter all the way until the end of the game. Once the boys switched on, they played amazing and it's reflected in the score

I'd like to highlight Mateo Rea. In his 50th WABL game for Redbacks, Mateo shot the three-ball amazingly well, hitting 6 or 7 threes. 

I'd also like to highlight Noah Hugo. Noah stepped into a leadership role for the game and made sure all the boys were locked in and ready to get a win.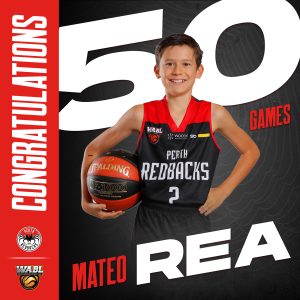 U18 Girls Champs – Mya Dimanlig (sponsored by Titan Finance)
Lost to Cockburn Cougars 23-108
Coach comments:
We started off with a great first quarter. Our overall effort and energy were great and if we had continued to play at this level for the full game I think we would have given the Cougars a run for their money. Unfortunately, under the Cougars' immense pressure the entire game our effort and energy wavered.

I am pleased with Mackenzie Thomas and Caitlin Lea's aggressiveness on both ends of the court as well as Charlotte Horniman and Kirsty Slinger's effort on the boards.
U18 Girls Div 2 – John Care
Lost to Joondalup Wolves 76-24
Coach comments:
Today was a tough game both physically and mentally and Joondalup's toughness made every play difficult and competitive. The continuous effort the girls displayed in transition back in defence and fighting for the ball was commendable. A strong effort of courage and grit till the end supporting each other on and off the court.
U18 Boys Champs – Brandon Riley (sponsored by Willis Temby)
Won against Cockburn 89 vs 86
Coach comments:
We are starting well. This week was a grind so I thought we just did a good job sticking to the game plan. We are adjusting well.

Kade McMillan had a great game. 

Malik Powell and Charlie Morcombe are consistent every week

Ethan Saliacus did a great job defensively on the big guy.
U18 Boys Div 2 – Sam Fox (sponsored by MacDonalds Karratha)
Won against Joondalup Wolves 73-68 and Mandurah Magic 87-55
Coach comments:
We took a leap defensively this weekend and came away with two great wins. The commitment to our packline D and our full-court pressure was constant. Our O made strong progress too and I loved seeing us stay on the attack against a strong Wolves team when they made a run in the fourth quarter. We responded and locked down a great win.

Danny Ryan came back from illness to have his best two games of the season. He played great D and attacked/shot with great confidence, leading to a number key buckets in both games.

Declan Pyne started the weekend with a double-double and continued to play with awesome focus in game 2. Love that backdown game late in the fourth!

Shouts out to the whole team this weekend. 4 games in 2 weeks with a depleted squad has been intense and you managed to play together and get great results.
U18 Boys Div 3 – Simon Daff (sponsored by Grange Risk Solutions)
Lost to Lakeside Lightning 79 to 66
Coach comments:
Our effort and energy for the most part can never be questioned – the boys play hard every week. The score doesn't show it but our tempo on offence was a lot better today and once the new structures become repetitive we will be back to scoring like we were at the start of the season.

Taj Racey had his best game of the year by far. An opportunity presented itself due to player foul trouble and he had great impact in the second half, playing with discipline on defence, moving his feet applying pressure and staying in front without reaching. Offensively he was patient and waited for gaps to open up which improved his decision making.

Jaxon Sym had a great comeback game after dealing with covid and getting the rust out. He played with discipline, boxed out and rebounded well for his size.
U18 Boys Div 4 – Mitch Nixon (sponsored by Maude Family Lawyers)
Won against Joondalup Wolves 79 – 68
Coach comments (Anthony Nixon):
With coaches Mitch and Owen away, it was a pleasure to fill in for a week to keep the undefeated record going.

Harry Maude (out with concussion) was a great assistant.

The team welcomed back big Harry Wheatland after a week of injury.

This team is a pleasure to coach with great ball movement and ball pressure that puts the opposition in difficult situations.

Early in the game, when the shots weren't landing, the team just kept working and played through it to slowly take control of the game.

Every player scored and gave a great contribution at both ends.

Harry W learned how early fouls cause coaches headaches, and then came out in the 3rd and 4th quarter and dominated under the basket.

Kalisto Ubu was aggressive under the basket with significant contributions when the game was on the line. 

Josh Richards played some great minutes for a solid contribution.

Max Millard and Harry Cuerden were aggressive at the basket.

Lachlan Steele, Cam Ford, Ali Hartmann and Taj Hollands responded to my request for awesome ball pressure and that was the ultimate difference between us and Joondalup.
U20 Boys Champs
Won against Rockingham 20-0 (forfeit)