The Weekly WABL Wrap is proudly sponsored by Woods Insurance Brokers. 
Here's the Round 4 wrap-up of how all our teams went including comments from coaches:
U12 Girls Champs – Bri Bailey (sponsored by Access Hire WA)
Won against South West Slammers 40-29
Coach comments
This game went point for point over the first half, but we pulled away in the second half due to our defensive pressure and desire to get all the rebounds. The girls did a great job at working as a team and getting the ball kicked up the court and making the extra pass to more open players.

Jacinta Wladyka and Darcy Hill were a great defensive duo on the guards up the court. 

Siena Mouttet really operated out of her comfort zone by dribbling the ball end to end when she needed to, ending in great results for her! 

Neve Hayles-Stenhouse and Alyssa Rullo got aggressive towards the end and fought hard for every rebound they got their hands to
U12 Girls Div 4 Red – Rori Roberts (sponsored by Commercial Plumbing)
Won against Eastern Suns White 41-34
Coach comments
The first time we were really challenged this season and we found ourselves down by 10 late in the third quarter. After a timeout, we went on a 9-1 run to bring us back within 2. And carried on from there to win the game.

Bella Nevill top scored with 16 points, getting to the ring on almost every play. 

Olive Bird came alive in the second half, getting multiple steals in a row to get us back in the game.
U12 Girls Div 4 Black – Paul Philpott (sponsored by National Geotech Drilling)
Won against Mandurah Magic 34-9
Coach comments
The Redlings took on Mandurah Magic at home and got off to a flying start with a massive first quarter. This set the tone for the remainder of the game, with the team keeping the scoreboard ticking over with great regularity.

The most impressive element of the game was our 'closing out' which shone with tenacity and commitment. The girls' offensive passing was also excellent, showing that they can 'pass up the good shot for the great shot'.

An impressive and exciting win!

Maddie Marshall, Maeve Whitehouse, Rosie Bacci, Zoe Bartuccio and Isabel Nesa shined with their transitions.

Isabella Nagamany, Ariana Eghdami, Zoe De Morton and Jade Macpherson showed their toughness, winning the ball whenever it was in dispute. 

Josie Smith was strong underneath the basket.
12 Boys Champs – Brandon Riley (sponsored by Stockbrands)
Lost to Willetton 50-57
Coach comments
A very close game most of the way. The margin was 1 or 2 points for the first three quarters, and the boys fought hard, but Willetton pulled away in the last term. We had a bit of trouble keeping them off the boards, which limited our opportunities and gave up second-chance points.
Vinnie Ryder had a strong performance attacking the basket.
Lucas Blackmore played great defence down low.
U12 Boys Div 2 – Andrija Petrovic (sponsored by Skyward Roofing Services)
Won against Mandurah 46-44
Coach comments
We trailed for most of this game, being outscored in the first three quarters. But a 15-2 run in the fourth put us back in the game and set things up for an epic win. The last quarter and especially the final 2 minutes of the game should just how much the team wanted their first win for the season – the winning 2 points were scored with 3 seconds to go.

Ben Handke once again had an outstanding defensive game, winning any rebound he was close to and also adding 9 points offensively. 

Will Ryan put up a very much-needed three-pointer that tied up the game with less than 2 minutes to play. 

Luka Petrovic scored the game-winning 2 points along with a final block in the last 10 seconds to not allow Mandurah any chance of scoring at the other end. 

Jayden Austin had another solid defensive game and has recently been challenged to contribute on the offensive end. He did well and added 6 points.
Won against Perry Lakes 46-45
Coach comments
Going into this game, Perry Lakes was undefeated and they also had the best percentage, having beaten teams by big margins. We were coming in off a tough, tight loss last week, and without our starting centre Ari who was ill.

Every player had to lift, and they did – giving it absolutely everything every time they hit the floor, even if it was for short periods of time.

The margin each way was in single digits the whole time and we came back strong in the last quarter to take the lead and keep it.

Noah Mucjanko added top scoring (16pts) to his usual relentless defence, by pushing the ball and finishing on the left.

Felix Prokscha carried the weight that was left by the absence of Ari and did a fantastic job reducing the number of baskets by the Hawks' many giants.
U12 Boys Div 4 – Craig Dropulich (sponsored by Sushi Wawa)
Won against Eastern Suns Orange 52-45
Coach comments
Our first win was exciting and intense. We put it down to the boys playing more the way we want them to play every game. There were periods in every quarter when we played with good pressure and were rewarded with lots of turnovers. I think it was a very good lesson for our team that we can exert pressure on our opposition for long periods of time and have greater success. This also leads to quelling our opponent's confidence and forcing more mistakes in shooting and passing.

We did not fear our taller opposition this week and are learning that we can play well against anyone. Great work boys Wayne and Craig were so proud of you all on Mother's day.

Noah Ouwendyk played his best game so far. His defence led to numerous turnovers recovered by his teammates. He rebounded hard and drove with the ball well to finish with some good baskets.

Emmett Harman was great as well – his understanding of our set plays and team system has come along well and he is becoming a proficient member of the team. 

Both boys have roles to play in our team and both excelled this week. That contributes to sustained pressure on our opponents by working as a team. Well done Noah and Emmett and let's keep building on it every week.
U14 Girls Champs – Aric Forman (sponsored by Welsh Real Estate)
Won against South West Slammers 76-54
Coach comments
Our Mother's Day clash was highlighted by early foul trouble for us and hot shooting from the Slammers girls who fought hard to stay with us. Despite these challenges, our smothering defence caused endless turnovers which allowed us to stay comfortably in front all game.

I'm proud of the efforts of Grace Butcher who showed great resilience to overcome 3 rapid-fire first-half fouls to bring energy and desire to the second half. Just shows you can turn things around. 

I also have to mention Ella Welsh who scored an enormous 42 points. Ella puts the finishing touches on so much of our team's hard work.
U14 Girls Div 3 – Vance Karimi (sponsored by Fish Boss)
Lost to Willetton Tigers 43-46
Coach comments
It was another great performance from the team, just not the outcome we wanted. The girls held their intensity all game. They dived on loose balls and took some big hits. They're learning how successful they can be when they apply their flavour of transition defence pressure on the ball as soon as possible.

We started with 8 due to injury and illness and finished with 4 in the fourth due to game injuries and players fouling out. But this game was a real nail-biter and I think our parents felt it and our spectators loved it. We went down but spectators, coaches and parents commented how great our girls played right to the end.

Zoe Elliott, Soni Karimi and Nadia Slee were outstanding in defence. These girls showed commitment to run back in defence repetitively even though their legs were throbbing from fast transition offensive runs.

Leisha Charlie's basket cuts through the smallest of spaces made it look easy.

Cara Hayes and Lottie Ballantine were great in the paint at both ends. There are no easy baskets when you have to go through Cara.

Claudia Zell and Andia Eghdami hit some great mid-range shots and pumped up the girls on the bench.
U14 Girls Div 5 Red – Marcia Dowling
Won against Mandurah Magic 51-26
Coach comments
This game once again demonstrated the ever-improving resilience of these girls. We got the lead in the first quarter and increased it consistently. However, there was a lot of scrappy play which, at times, the girls allowed to frustrate them. At half time we refocused our goals: no more than 5 turnovers per quarter (we had already recorded 14 by that point) and take time to finish our play well under the basket.

Ella Djurasovic shot over 25 points as she worked well, changing footwork and spacing as instructed. 

She was capably assisted by Ava Armstrong's solid passing and Sally Dowling and Gracie Dillon's rebounding. 

Nora Ostermeyer and Cyra Olowoyo were defensive menaces to our opposition. 

Once again Hayley Hill showed excellent drive under the basket. 

Both Hope Campbell and Anabella Lewis worked at 100% pace and made great decisions in transition.
U14 Girls Div 5 Black – Reid Ballantine
Won against Hills Raiders 79-30
Coach comments
We were confident going into this game and set a target to play our second half better than our first. The girls were super focused on that goal and exploded in the second half. The defensive intensity was truly relentless for all four quarters and at its very best in the last 4 minutes as the girls kept their foot on the throttle to the very end.

While the whole team should take credit for great defensive pressure on the ball, Ellie Pike and Chelsea Karsum read the play incredibly, hunting the ball and putting on another steals showcase.

Ava Kemp has been a super reliable team player over these first four weeks, always running hard in transition with great spacing and great defensive positioning and commitment.

Really pleased to see a great spread of offence with the whole team hitting the scoreboard and 4 players (Maddison McKibbin, Chelsey Karsum, Olivia Birsa, Maia Leckey) scoring more than 12 points.
U14 Boys Champs – Andrew Logan (sponsored by MD Building Maintenance)
Won against Perry Lakes 61-54
Coach comments
We are on the board! The best team game we have played since the start of the season. We adjusted our rotations today and it was noticeable with an even spread of scoring making us harder to defend as a team. Our defensive intensity also lifted causing deflections and making it hard to score against us in the half-court.

Jamie Cahill competed hard all game. His length caused problems for the opposition and his non-stop hustle plays gave us second-chance points and denied the opposition offensive rebounds. His attack on the paint in offence was notable from a coach's perspective. Well done Jamie. 

Isaac Fode started this week and was in good touch early. His shot selection was first rate draining 2 three-pointers. He was given a few specifics to focus on this week and he executed them. Well done Isaac.

Joaquin Imperial had a tough job today but fought hard all game. He attacked the paint when he got the opportunity and finished well. Joaquin continues to play high IQ defence knowing when to help and when not to. Well done Joaquin.
U14 Boys Div 3 – Brad Holyoak (sponsored by Drafting Now)
Won against South West Slammers 62-49
Coach comments
We started with our now customary fire coming out of the blocks and racked up a handy lead by the end of the first quarter. The Slammers came back in the second and we were all even leading into the fourth. Having worked hard all week at training on being tough on defence and giving them nothing, I was very impressed with how the boys played through to the end to secure a great win.

A special mention to Toby Schultz, Aiden Little and Toby Summers whose hard-nosed, in-your-face defence was great to watch.

And to Aiden Little and Parker Dunstan who played their 50th WABL games for the Perth Redbacks in this game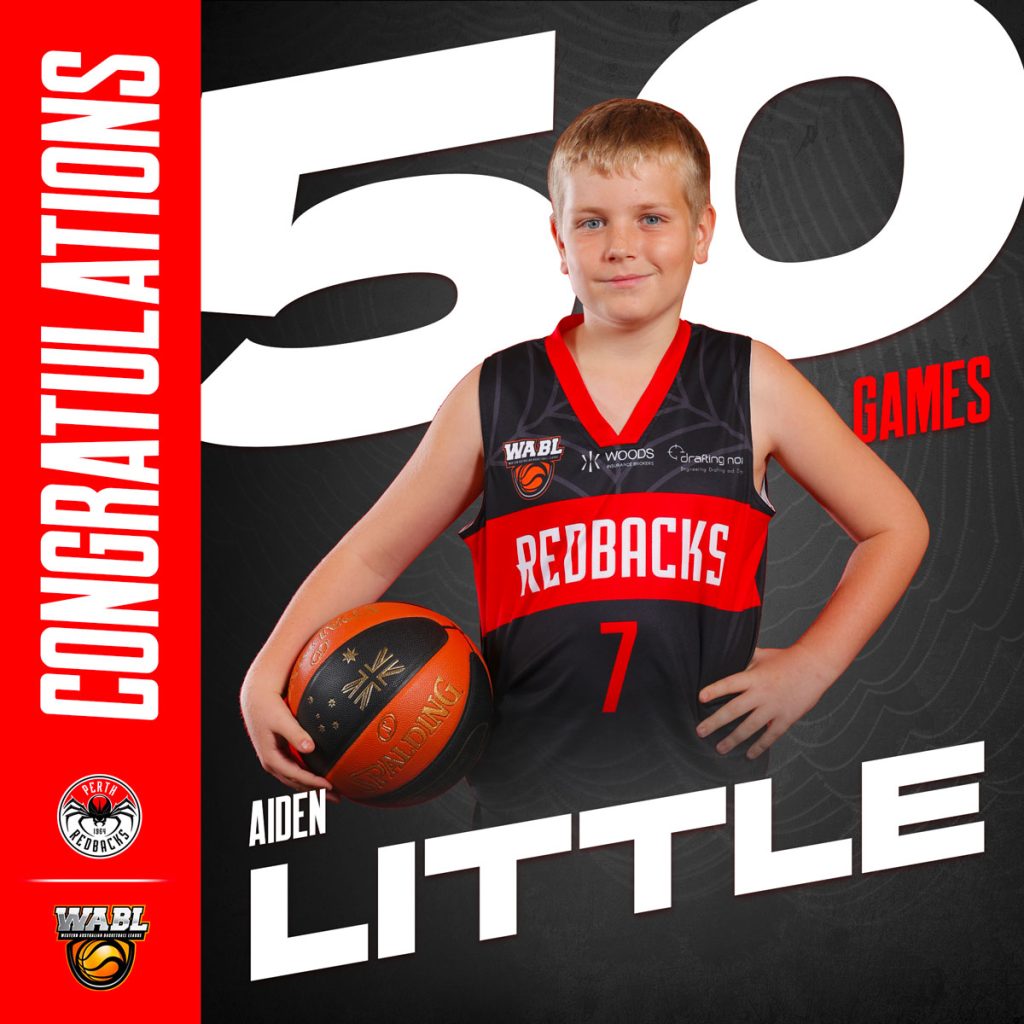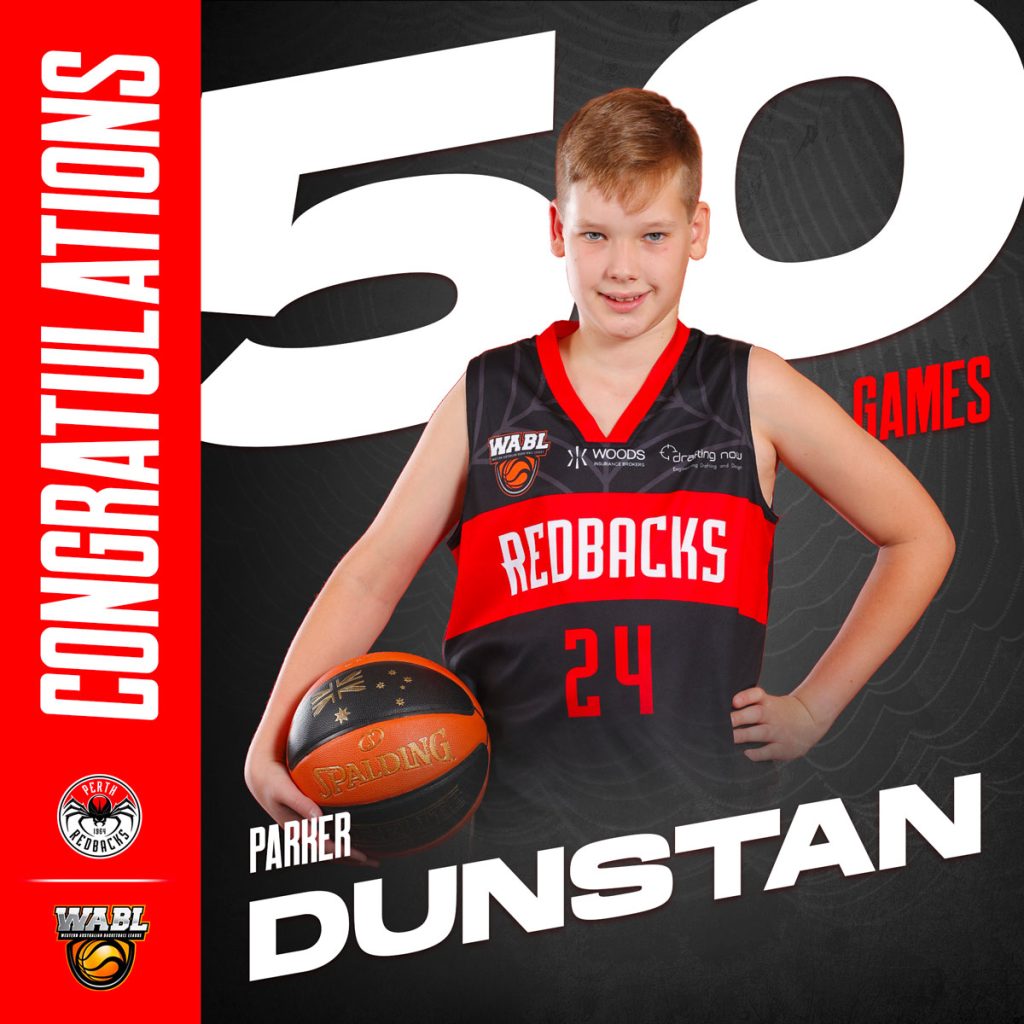 U14 Boys Div 4 – Ben Hamilton (sponsored by Cogito Psychology)
Won against Joondalup 73-46
Coach comments
This was our most pleasing game so far against a very well-balanced and tall Joondalup team that had us behind on the scoreboard for the first time this season. 

After a challenging start to the third quarter, we really lifted with some great on-court defensive hustle and vocal support from the bench. 

The boys are moving the ball better to earn open shots for their teammates and showcase some really exciting offense – well done boys on the 21 assists in this game.

Our bigs had an enormous task to compete against very tall and athletic counterparts, containing their points in the paint while putting them under considerable pressure on offense. Erik Davies and Harrison Moyle combined for 23 points, with Harrison shooting 100% in the paint. 

Seb Doyle gets another mention, this time for setting the standard for vision and passing on his way to 7 assists while continuing to apply his rapidly developing defensive skills. 

Toby Deshon played his 50th game for the Redbacks and was once again instrumental in setting our structure, providing a lethal scoring option, and relishing the tough defensive assignments. Congratulations Toby!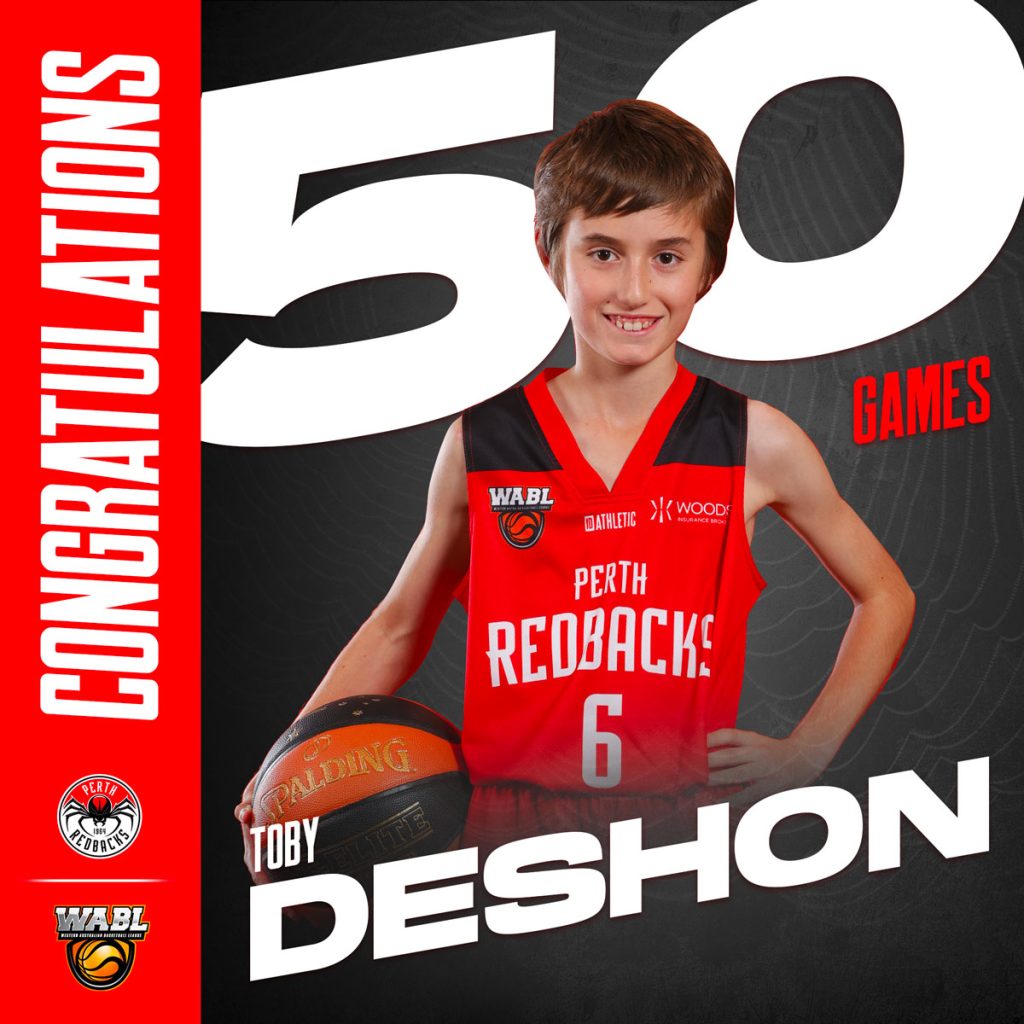 U14 Boys Div 5 – Matt Strika (sponsored by Sushi Wawa)
BYE
Lost to Perry Lakes 61-85
Coach comments
Huge thanks to Zach Makavilitogia for filling in as coach and doing an awesome job during a tough game. Zach notes: In a game where we found ourselves down early, the team showed great resolve in quarters 2 & 3 to stay in touch. Ultimately, though, fatigue and time were not on our side. The deficit was too steep a hill for us to get over. We also faced some challenges early on, losing a few players to injury, which meant our remaining players were logging some heavy minutes. Our defence looked great in patches, forcing turnovers and creating opportunities to get out and run in transition. But our inability to keep the Perry Lakes bigs off the glass limited our chances to run as they got second and third-chance opportunities.

We had some great contributions off the bench – Grace Dimer (15pts) bringing much-needed energy and Matilda Pyne (14pts) being a menace in the passing lanes. 

Lailah Tasker and Madi Makavilitogia brought toughness and physicality each time they stepped on the floor.
U16 Girls Div 3 Red – Cheyne Kerp (sponsored by Wyatt Martin)
Won against Joondalup 53-35
Coach comments
Our opposition's determination to test our mental attitude did not go unnoticed by our team. However, the girls remained composed and focused on their game plan, refusing to let aggressive tactics distract them from the ultimate goal. Our unwavering commitment to our strategy paid off in the end, as we secured a well-earned victory against a tough opponent.

This was a full team effort but I do want to shout out to Millie Stancil who played her best game so far. She not only scored a team-high 14 points but played with good composure.

Natasha Mantle played an outstanding game on defence, especially when dealing with several 2-on-1 situations. Her ability to hold her own and prevent the opposing team from scoring was truly impressive.

Huge congrats to Talia Bentley who played game #50 for Perth Redbacks today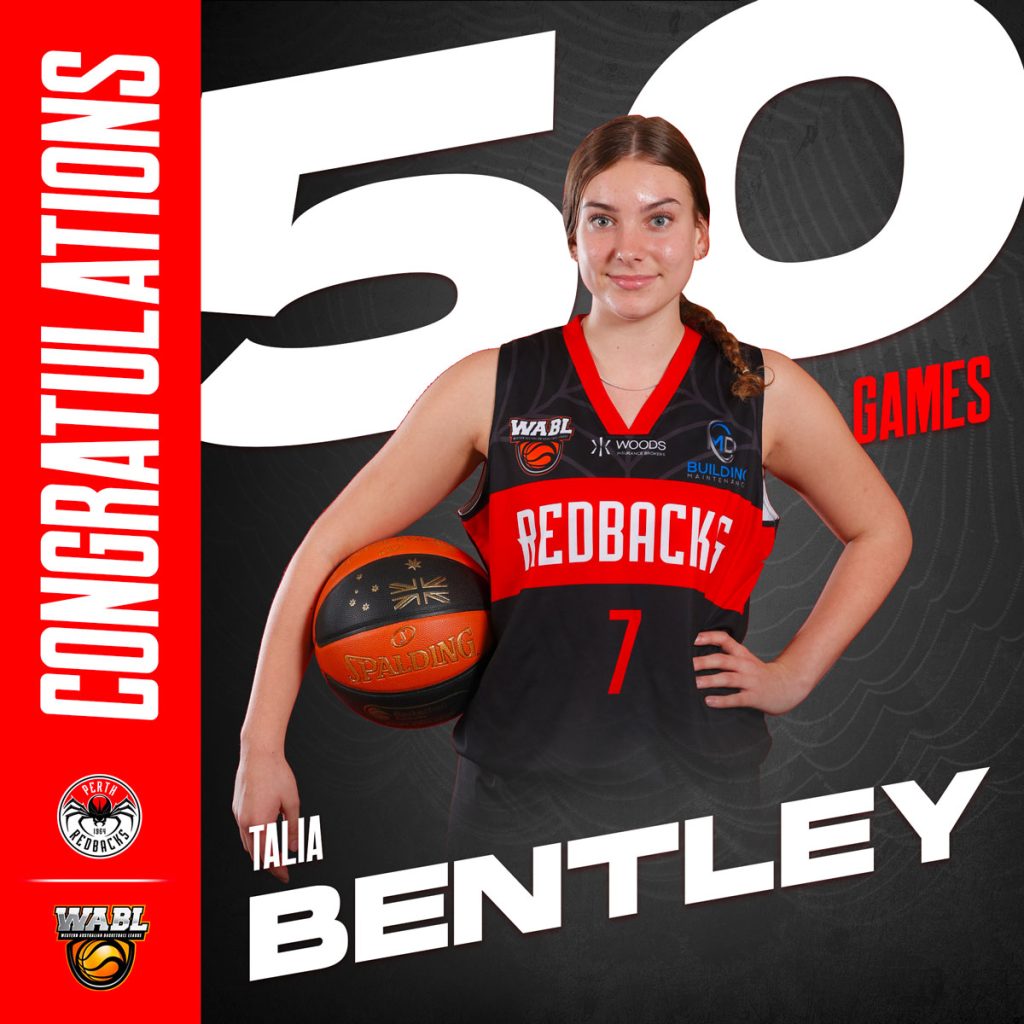 U16 Girls Div 4 – Geoff Alger (sponsored by Design Orthodontics)
Won against Lakeside Lightning White 57-31
Coach comments
Some nice finishing early provided reward for effort that had been lacking in previous weeks which really helped our confidence. It was also nice to see improved consistency across the playing group in our commitment to defensive fundamentals and rebound effort.

Amelie Cotte had an excellent all-around game this week. Her consistency and focus at both ends of the floor and on rebounds made it hard to take her off the court. It was nice to see her get some scoreboard reward for everything else she does.

Danica Jeremiah has put a lot of effort into applying defensive pressure without fouling and this has really helped our team defence.
U16 Girls Div 4 – Lucy Dowling (sponsored by LKS Constructions)
Won against Mandurah Magic White 61-36
Coach comments
All of our hard work so far was finally rewarded with our first win. The girls executed plays well, they didn't stop running, we beat Mandurah on rebounds and most importantly we had great energy and effort!!!

Salma Rahmadavi has come into this season with everything she's got, her last 3 games were great but this week she showed great composure and excellent decision-making. 

Charlotte Dillon was probably our top rebounder which isn't easy given she's a guard. Charlotte's 'want' for the ball is brilliant to watch. 

Last week Chelsea Ferris asked for some post-game feedback. At training, she was working hard on what we talked about and then smashed it this week in the game. I'm super proud of Chelsea's initiative and even more so the work she's putting in.
Won against Lakeside Lightning 117-65
Coach comments
It was great to see us put in a solid performance again this week and back up what we said we were going to do at training this week – which is to play with more intensity and physicality. We put on a great performance in the first quarter (32-7) and this set us up for the whole game. The boys did a great job of keeping the pressure on defensively for most of the game, making great passes to give each other the best opportunity to score. This was a dominant performance and it showed in the final scoreline.

Ben Galvin had a great game this week – he got himself into great scoring positions which saw him receive some fantastic passing from his teammates and finish well to record 35 points. 

In his 50th WABL game for Perth Redbacks, Hamish Gibson put on a three-point shooting clinic and defensively, he is just a menace to opposition guards. 

Kano Kudray had his best game of the season at both ends of the floor which was fantastic to see. 

Jay Hazell's first game back from injury was solid with some sweet shooting.

Special shoutout to James Elder who has stepped in as team manager for the past three games. Thanks so much, James.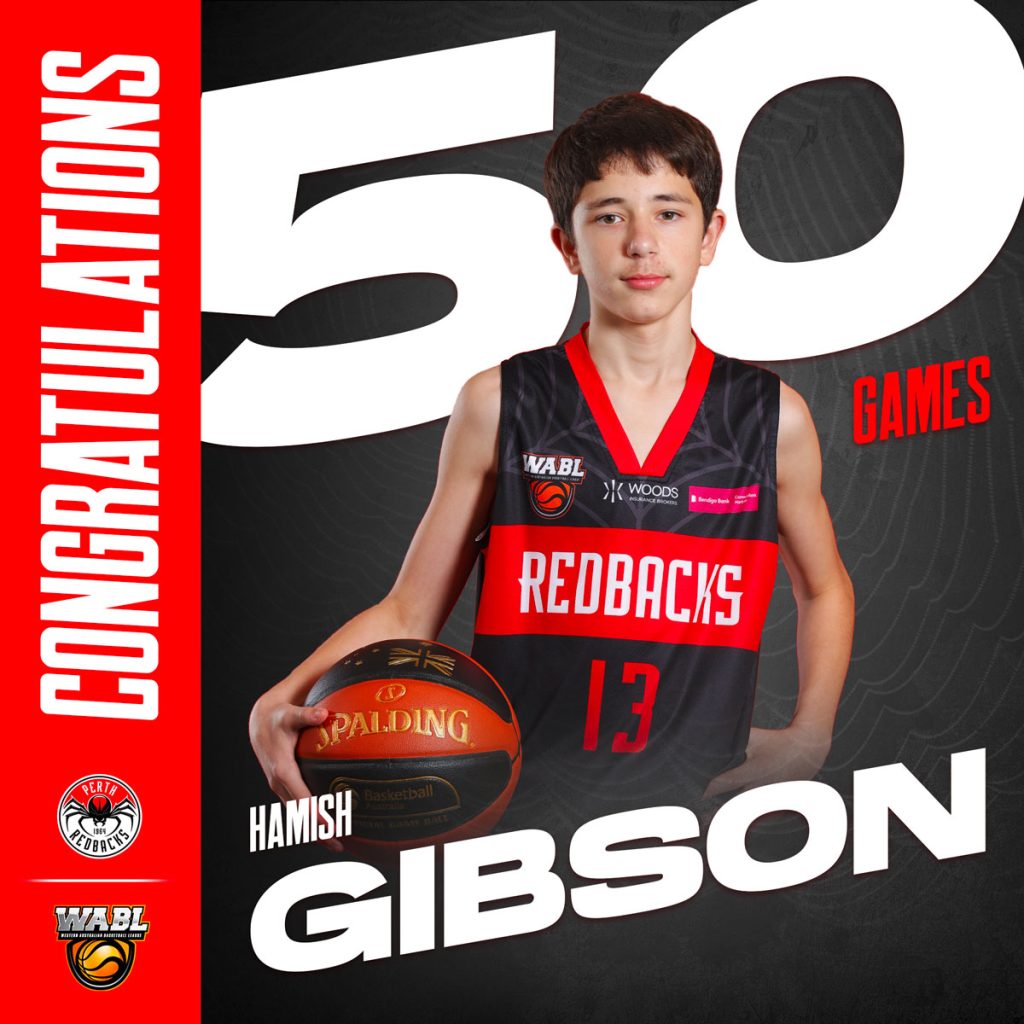 U16 Boys Div 2 – Louis Timms (sponsored by Inktank)
Won against Joondalup 65-55
Coach comments
I was very pleased with the way the boys came into the game with a high level of focus and intent. We had a really good game offensively with a couple of standout individual performances. 

Michael Ryan had a great game and led the team offensively with 22 points.

Zac Anfuso (11pts) and Tyler Hirt (13pts) were also very effective with double-digit scoring and Mitch had a very good game with his ability to control the tempo at the point guard position whilst having a great impact on the defensive end of the floor.
U16 Boys Div 4 – Mitch Jesson (sponsored by DLA Piper)
Won against Perry Lakes 88-78
Coach comments
Perry Lakes entered this game with the same W-L and % as us, and these are always great games to win early to set your season up. We're really proud of the way the boys turned up to play. We did well on our key stats – drew a charge, won the rebound count by 22 (+13 offensive rebounds), and Perry Lakes found out that Tommy Jakimowiez will not move regardless of how hard you drive at him.

All boys scored and were respectful to opponents and officials. We did learn that our end-of-game management needs to improve, and this will be a focus going forward.

Jaden Exeter (or just X to us) had an all-around leadership game and a stat line to show it: 14 points on 70% shooting, 10 boards (4 offensive), 2 assists, 5 blocks, 1 steal and drew a charge.

Jaxon Kowal is just such a clever player. When the opposition thought they had worked out our 'pitch' play – he just read the overplay and made critical open shots. He also ran really hard to get on the end of our rebounding dominance to tally 13 points.

Flynn Hamilton continues to grow and is finally coming to the realisation that he is very, very hard to stop if he catches in the keyway or runs on transition. His stat line included 7 points, a massive 10 boards (4 offensive) and 3 assists (all to Tommy on overplays on Flynn). Believe Flynn – we do!
U16 Boys Div 5 – Dan Cartwright
Lost to Cockburn 68-93
Coach comments
A low shooting percentage meant we struggled to stay with Cockburn in this game but Jackson Doyle (18pts), Jenson Harders (15pts) and Jalen Dunstan (13pts) worked hard to keep the scoreboard ticking over.

Jalen Dunstan also played WABL Game #50 in this game. Congrats Jalen!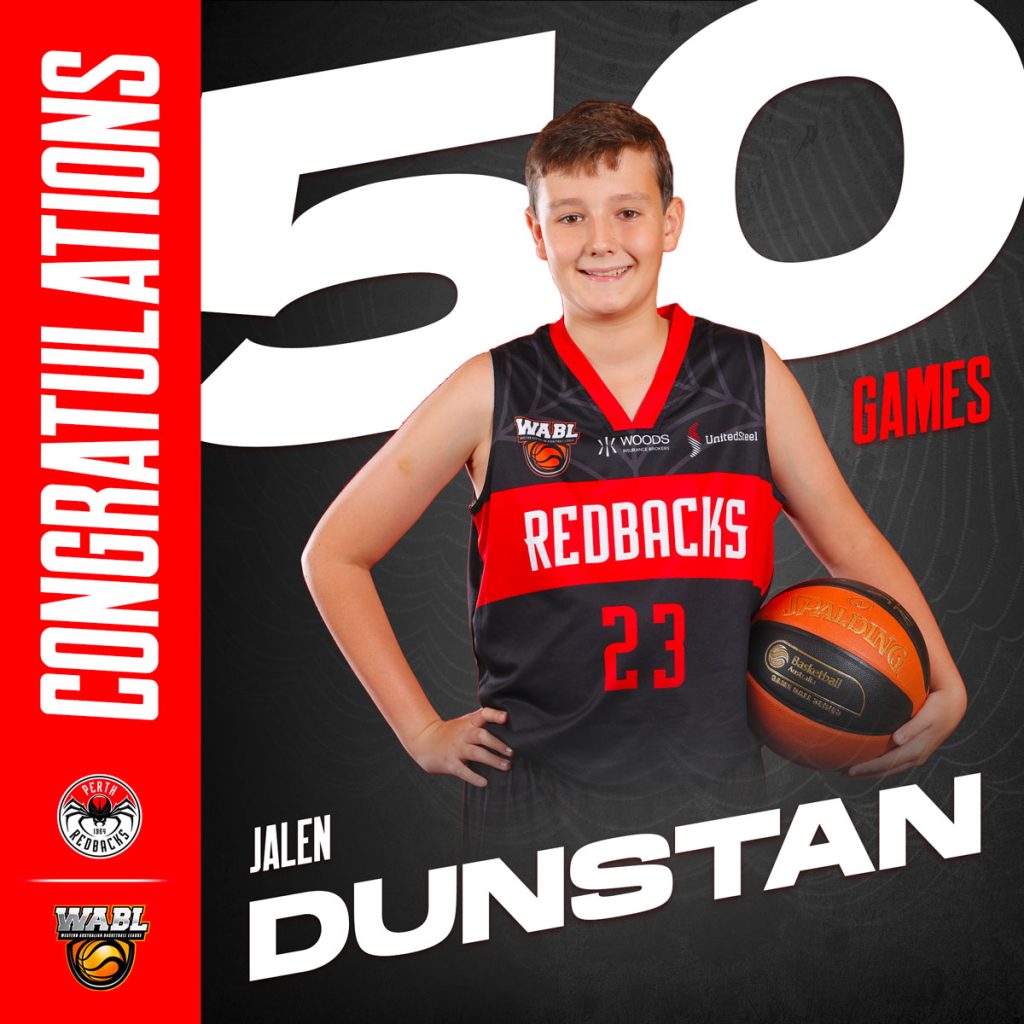 U18 Girls Div 2 – John Care' (sponsored by Claremont Asphalt)
Lost to Joondalup 57-66
Coach comments
This was always going to be a close match-up, and with two players down to injuries, we needed to be on our A game. The game was close and always within a few points for and against. We had a lapse in the third and weren't able to get on top of Joondalup's defence and pressure. The last 1.30 in the 4th was impressive with the girls applying pressure and getting within 5 points. Unfortunately, in the end, the result was a 9-point loss, but I'm confident we can come back and beat them in our next match-up.

Hannah Saliacus and Elliana Forman both contributed 14 points.

A big thank you to Natasha Mantle for stepping in on short notice and supporting our team.
U18 Girls Div 2 – Zac Belton (sponsored by Aussie Fencing)
Won against Eastern Suns 51-45
Coach comments
A little bit of a sloppy win for us as a group, but I have to give credit to the girls for their resilience and ability to communicate with each other constructively. While we started strong in the first quarter, the Suns took advantage of some lapses in concentration to claw their way back, and we struggled to put them away.

Matilda Thomson had a fantastic game. Not only being the primary ball defender, but she also caused numerous turnovers and created scoring opportunities for herself. 

Ainsleigh Passi did a fantastic job reading the floor, looked to attack the basket with tenacity, and her vocalness was critical for us when we needed to adjust. 

Isabella Wolfenden absorbed everything throughout that game, didn't let the game overwhelm her and drove us home in the final quarter.

Clarissa Sandjaja did a fantastic job on the ball, being disruptive. I loved her tenacity throughout the game; through this she created scoring opportunities for others.
U18 Boys Div 2 – Simon Daff (sponsored by Grange Risk Solutions)
Won against Joondalup 116-75

Coach comments:
Because of our defence and playing at our tempo, offense took care of itself in this game, particularly in the second half when we poured in 78 points. The ball was moving which resulted in 6 players in double-figure scoring. When we play like that and stick to the game plan, good things happen.

Drew Corry had a fantastic game and showed why the coaching staff have such faith in him. He is a good all-around player who is always providing the right energy. He shot the ball well and attacked the rim with purpose.

Andrew Chilufya top scored with 33 points. His ability to run the lanes and creatively attack the basket and finish is always a strength. But his ability to read the game better and let the game come to him has taken his efficiency to another level.

It's Logan Mullaly and Guy Liggins's first season with us, and both have taken time to settle. They had breakout games on Sunday, scoring 15 and 14 points respectively. Their ability to relax more and play to their strengths showed we have a very deep team when we are all on the same page.
U18 Boys Div 3 – Nick D'Elia
Lost to Joondalup 57-66
Coach comments
This week we started off slow and were undermanned with only 8 players suiting up. Joondalup got the jump on us even though we played tough defence – it felt like none of our shots would drop. By the end of the third quarter, we were down by as much as 20 points, were in foul trouble and not looking good. However, strong full court defence in the fourth changed the game. We got stop after stop and while were still making mistakes on offense, we kept clawing back and got the lead down to 3 points. Even though we had all the momentum, we couldn't quite get there in the end. But it was an amazing comeback – the boys never gave up and showed some real passion.

Kalisto Ubu was great on the boards and played some nice defence 

Excellent leadership and defence from Lachie Steele kept the team focused
U18 Boys Div 4 Red – Bob Andrzejewski (sponsored by TECC)
Lost to Mandurah Magic Black 67-72
Coach comments
This was a hard game: physical and aggressive against mostly older boys. 

As we tend to do, we gave the opposition a 10-point head start and had to fight back to recover. We managed to get in front but could not keep the momentum as lapses of concentration in defence gave Mandurah easy buckets. In the 3rd quarter, our bench (including 2 train-ons) gave Magic a run for their money and brought the game back into contention. But unfortunately, we could not capitalise on their great work, and the game went the other way. Lessons learned.

In this game, I must praise the efforts of Jude Garbenis who stood up and played like I always hoped he could.
U18 Boys Div 4 – Alessandro Gentelli
Won against Slammers 76-73
Coach comments
This was a solid game overall, with big step-ups from players that don't usually get the full opportunity.

Saul Kavalsky provided great defence

Josh Welsh's composure and execution were excellent

Ethan Bushby led the way for us on the scoreboard with 21 points
U20 Boys Champs – Luke Simonette (sponsored by Willis Temby)
Lost to South West Slammers 91-92
Coach comments
This was a really hard-fought overtime game. We consistently put our best foot forward in terms of defensive effort and offensive execution. We were unlucky at times with shots not falling and 50/50s not going our way, but our ability to focus on the 'next play' was impressive

Ethan Port-Louis came into the game and did his job confidently at an important time 

Zviko Tinayenda played a great team game and locked down a regular NBL1 player when called upon
U20 Boys Div 2 – Graham Jones (sponsored by McDonalds Busselton)
Won against Mandurah 80-78
Coach comments
This was a close game all the way, and it was a testament to our teams' resilience and effort to get this win over the line. With an injury-depleted team, each player dug deep to contribute to a hard-fought win. Our defence continues to improve, limiting the opposition to 78 points, and winning 3 out of the 4 quarters, however, some lapses in assignments kept the opposition in the game. Better movement of the ball on offence created more space for us to work with, allowing us to put up more shots than in previous weeks. Our aggression on offence got the opposition in foul trouble as they found it hard to handle us. As you'd expect the game had ebbs and flows, however, on this occasion we were able to ride them out to victory. With every player getting on the scoresheet, it demonstrated a whole team contribution to the win. This win is a tremendous morale boost to the team and we're keen to carry this momentum forward into our next game.

Thanos Snooks-Holding showed us glimpses of his potential on both ends of the floor. His ability to balance his contribution on offence and defence has the potential to be a valuable asset to our team, and we look forward to seeing more from him in the future.

Meanwhile, Declan Pyne found his shooting range from behind the arc, delivering critical points when it mattered most. His increased aggression and competitive spirit added a significant boost to our team's overall performance.