The Weekly WABL Wrap is proudly sponsored by Woods Insurance Brokers. 
Here's the Round 3 wrap-up of how all our teams went including comments from coaches:
U12 Girls Champs – Bri Bailey (sponsored by Access Hire WA)
Won against Mandurah Magic 46-32
Coach comments:
After two close losses to start the season, the girls were determined to bring home the W in this game. But they were going to have to do it with stand-in coaches (Ethan Saliacus and Kelly Exeter) as Bri was on her way back from Kalgoorlie with her NBL1 teammates.

This was a scrappy, physically taxing affair. Many turnovers for both teams meant a lot of the game was played in transition – constant sprinting back and forth. Even though we won every quarter and led the whole way, halfway through the fourth, the margin was down to only 1 point. We were so proud of the girls' resilience and focus which saw them draw away in the final minutes and secure themselves a well-deserved win.

The backcourt pressure from all our guards – Darcey Hill, Molly Nicholas, Jacinta Wladyka, Elsey Lohman White and Allegra Care' – was relentless and forced countless turnovers. 

Molly also played a pivotal denial role on Mandurah's best player in the second half.

Despite having to spend a fair bit of time on the bench due to foul trouble, Darcey still found a way to contribute 10 points in addition to the defensive intensity she brought

Jacinta was absolutely everywhere and this led to an absurd double-double of 18 points and 18 steals (she was only 2 rebounds off a triple-double)

Alyssa Rullo and Freya Whitehouse kept the scoreboard ticking over at crucial times, contributing 8 points and 4 points respectively while also running hard and providing great defensive pressure

Our three talls – Siena Mouttet, Neve Hayles-Stenhouse and Mia Exeter – were valuable presences in the keyway. Their combined 15 offensive boards contributed to the 18 second-chance points we scored as a team. Mia also chipped in 5 blocks and Neve 1 to ensure there were no easy baskets for Mandurah.
U12 Girls Div 4 Red – Rori Roberts (sponsored by Commercial Plumbing)
Won against Perth Redbacks Black 50-16
Coach comments:
The girls came ready to play, sharing the ball with one another. The way these girls are willing to give up a good shot for a great shot makes me so happy. 

Defence was on point today, always in the passing lanes.

Zara Flynn, Darcey Brian and Ally Taylor would have had 20 jump-balls between them, they jumped on the ball at the right time and would put their hands in perfectly.

Eva Blyth was amazing rebounding today on both sides of the court, able to pull it down, find the guard and then run the floor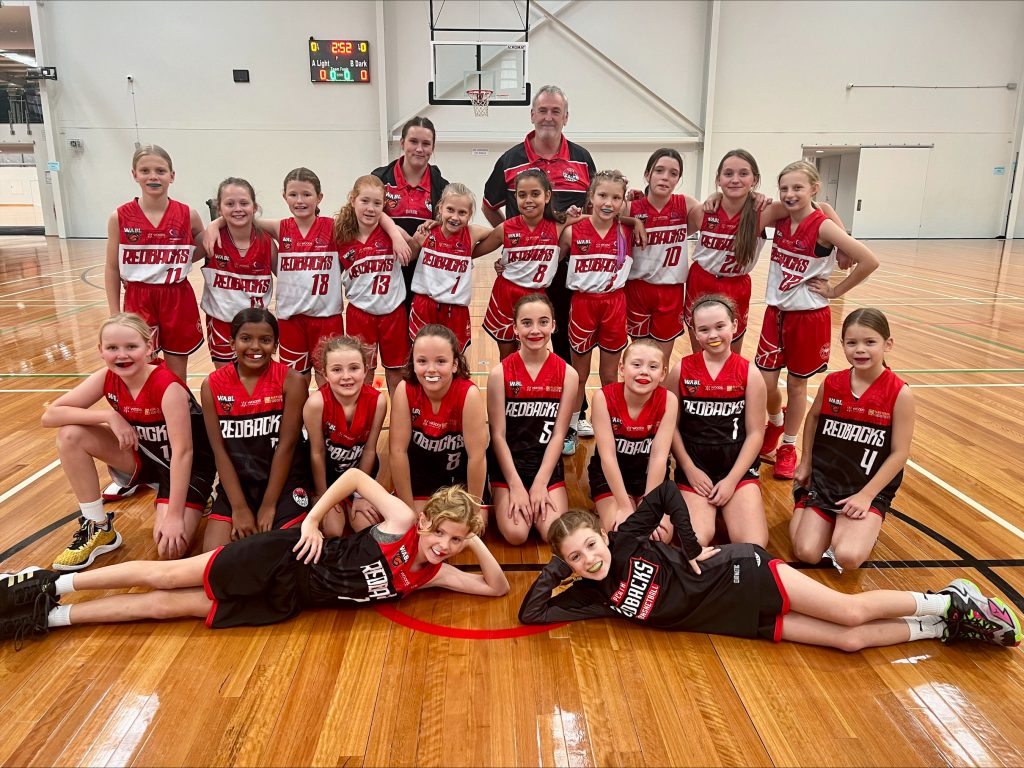 U12 Girls Div 4 Black – Paul Philpott (sponsored by National Geotech Drilling)
Lost to Redbacks Red 16-50
Coach comments:
Our girls really pulled together for the tough fight against our formidable Redbacks opponents. Defence was the word of the day for us, scrapping for every ball and every opportunity.

Dominant in defence were Rose Bacci, Zoe Bartucciotto and Josie Smith with powerful chase and opposition stoppages. 

With a little pushing and shoving under the ring, Isabel Nesa showed who was boss at times. 

Well done to all our girls! Your exhaustion at the end of the game highlighted your ability to keep fighting against the odds. Many teams will be surprised by us as the season progresses.
12 Boys Champs – Brandon Riley (sponsored by Stockbrands)
Lost to Wolves 51-62
Coach comments:
The boys played a great game and really tried to implement some adjustments. 

Kai Atfield was efficient on offence. Nathan Jetajobe and Zach Snell had great games.
U12 Boys Div 2 – Andrija Petrovic (sponsored by Skyward Roofing Services)
Lost to Willetton 35-50
Coach comments:
We started the game off strongly and led for most of the first quarter against a very organised opponent. While we were able to hold them to 8 points in the second, our own scoring dried up. And this saw us go into the second half down on the scoreboard. After trading buckets in the third, Willetton were able to pull away in the fourth off the back of a 7-0 run. But the signs were good and we will reload and go again next week.

Will Ryan (11 points) and Luka Petrovic (10 points) both got into the double figures and led us on the scoresheet. 

Ben Handke led us for rebounds, followed closely by Ted Jarlett.
Lost to Willetton 38-41
Coach comments:
The boys fought from the beginning of the game to the last second. The margin was never more than 5 points the whole game and the Tigers just happened to be in front when the time ended. Once again, our relentless press was our most successful weapon and we forced many turnovers.

Elijah Mancini was a force to be reckoned with on the offensive side and showed what he can do when he is not getting into foul trouble early. His drives to the basket were almost unstoppable, especially in the second half.

On the other end, Felix Prokscha was our rim protector and stopped their drives through the paint, finishing with quite a few boards

Noah Mucjanko was once again pressing the ball the whole game.
U12 Boys Div 4 – Craig Dropulich (sponsored by Sushi Wawa)
Lost to Lakeside Lightning White 40-56
Coach comments:
A really good effort from the boys this week. We started the game slowly and worked harder and harder the longer the game went. Our focus this week was to pressure the opposition on inbounds and in their offensive sets. I was pleased by how hard we tried all game and we were rewarded for our efforts by winning the second half by 2 points. We were the more dominant team on the court after halftime.

Well done boys. We are building slowly, and improvement is there every week. We will keep adding new things to our game and become a really good and balanced team.

Congratulations to Aiden Middleton on his first game with the team – a great effort and played his role well. I like the fight he brings in wanting the ball and was very surprised with his 3 efforts of diving for and winning loose balls. He is showing the toughness and aggression needed to succeed at this level.

Well done to Seth Cass for his fantastic game – he was everywhere and starting to show all the aspects of his game that will make him dominate other teams. Eight solo steals with his speed on display for all to see. Great ball handling and great distribution of the ball to teammates.
U14 Girls Champs – Aric Forman (sponsored by Welsh Real Estate)
Lost to Warwick 55-63
Coach comments:
We were right in this game until the final two minutes at which point the fatigue of only 8 players got the better of us. I was really proud of the way we competed – our defence in the open court was particularly excellent.

Ella Welsh was outstanding with 32 points.

Paige Ogden's all-court defence was fantastic.
U14 Girls Div 3 – Vance Karimi (sponsored by Fish Boss)
Lost to Perry Lakes 46-51
Coach comments:
Our girls started strongly in this game, but struggled against the full-court press. We definitely improved with spacing in the backcourt under the press, which shows an improvement from last week. We were unfortunate to miss quite a number of shots.

Every team differs and our girls are rewarded primarily with transition baskets. We'll work on decision-making rather than going into a head-down dribble.

It was great to see their resilience by never giving up, even though we had 3 girls foul out. They gave everything in the last quarter and we are so proud of them.

Zoe Elliott played with great spacing and basketball IQ. She did really well to be an active receiver and always looked before making a decision.

Leisha Charlie out-rebounded players a head taller than her, cut with good timing and attacked the basket with intensity.

Cara Hayes dominated the paint with her drop-steps, being pushed physically and mentally by the other team but held her ground.

Harper Grace played with poise and control, put huge pressure on the ball and was smart with her shots.
U14 Girls Div 5 Red – Marcia Dowling
Lost to Cockburn 21-39
Coach comments:
When our team communication was good, the transition passing and choices made were quite lovely to watch. The emotional support amongst the girls with two playing injured, one injured during the game and harsh play all round was the most pleasing to see. True team spirit

Nora Ostermeyer was a continual defensive menace to the Cougars. Her incredible footwork and bodywork were vital in achieving one of our aims of forcing at least 8 turnovers.

I was amazed by the fortitude of Cyra Olowoyo and Sally Dowling, both playing with pain but giving everything they could. Ava Armstrong and Ava Litas both really stepped up this week under the basket.
U14 Girls Div 5 Black – Reid Ballantine
Won against Eastern Suns 44-34
Coach comments:
Assistant Coach Indiana Ballantine led the pregame huddle and the girls stepped on court really unified and energised with great focus on their defensive matchups.

While a lot of our offence was generated from steals and fast transition, when we had the chance to settle, I was pleased our offensive movement flowed quite naturally. 

Guest Assistant Coach Sienna Duong helped our team at this week's training, mentored our point guards on game day and really energised the bench. Thanks Sienna

Maia Leckey freshened up the starting five this week and was just too fast on the breaks where her finishing was silky.

Fenne Bowie played super committed defence, double-teaming the ball all game, forcing turnovers and covering the court with great sprints.

Chelsea Karsum took on a defensive assignment and completely denied their playmaker and then did her own damage with some nice outside shooting.
U14 Boys Champs – Andrew Logan (sponsored by MD Building Maintenance)
Lost to Joondalup 54-59
Coach comments:
The one that got away. Tough loss for us after losing our two centres on the morning of the game.

There was a lot to love about our game today. The effort was there all day defensively, and we found easy buckets offensively. We easily won the transition war limiting our opponents to minimal transition points while capitalising on our quick passing with easy layups. Couldn't have asked for more from the boys. Very proud of them. A string of wins is just an around the corner!

Caeden Olowoyo only found out he was playing on the morning of the game. He came ready, followed our structures and was a bucket when he got the ball. Held his own defensively boxing out well. He had a great impact on the game. 

Tate Mucjanko continues to be a defensive asset. ALWAYS containing his opponent. Limiting his turnovers and attacking the ring rounded out his game. 

Travis Hunt played his best game of the season. He attacked the paint, shot the three-ball well and was intentional with his defence. A great effort from Trav.
U14 Boys Div 3 – Brad Holyoak (sponsored by Drafting Now)
Won against Lakeside 60-41
Coach comments:
We started very well again and played an up-tempo attacking offence. We trapped hard and caused havoc for Lakeside with our constant ball pressure in the first quarter.

Kimzy Matondo was very dynamic and played with great attack on the ball.

Toby Schultz was outstanding, starting for the first time and playing fantastic. 

Our train on Mitch Thompson got his first chance to play this season and played with such heart, it was very difficult to sub him off. Great effort Mitch keep up the hard work.
U14 Boys Div 4 – Ben Hamilton (sponsored by Cogito Psychology)
Won against Cockburn 71-37
Coach comments:
We started this game with 8 players and this quickly became a concern after picking up 10 fouls in the first quarter. The team did a great job of adjusting to the refereeing style, with some players playing long stretches without a break. The fitness level of our boys gave us a significant advantage as the game went on. 

It was really pleasing to see the team commit to the 'two bigs' offence and exploit our size advantage against this team.

Tommy Lackovic had another great game, directing the offence with some great passes to open players while also attacking the ring with confidence.

Jacob Tan used his speed and footwork to great advantage at both ends, applying great defensive pressure and making an extraordinary drive and finish to get the bench on their feet. 

Seb Doyle celebrated his 50th milestone game with another great performance to build on his solid start to the season.
U14 Boys Div 5 – Matt Strika (sponsored by Sushi Wawa)
Won against Slammers 71-58
Coach comments:
I'm so pleased that our hard work and focus at training has paid off with a winning result. The goal for the game was to start with intensity and pressure which was delivered in spades to finish the 1st quarter with a 5-point lead. We also excelled at sharing the ball around which resulted in every player hitting the scoresheet and 3 players hitting double figures.

Elliott Birch suited up for his first WABL game after missing the first two with an injury and had an immediate impact finishing the game with 12 points, 5 assists and 4 steals. 

Nick Knight finished with an incredible plus/minus of +20 including 5 points, 5 assists and 6 steals. 

Ethan Kingsbury had his best game of the season, playing strong inside and finishing with 6 points, 2 assists and 3 steals. 

Finally, congratulations to Max Woods for his 50th game as a Redback, glad we were able to get the win for you!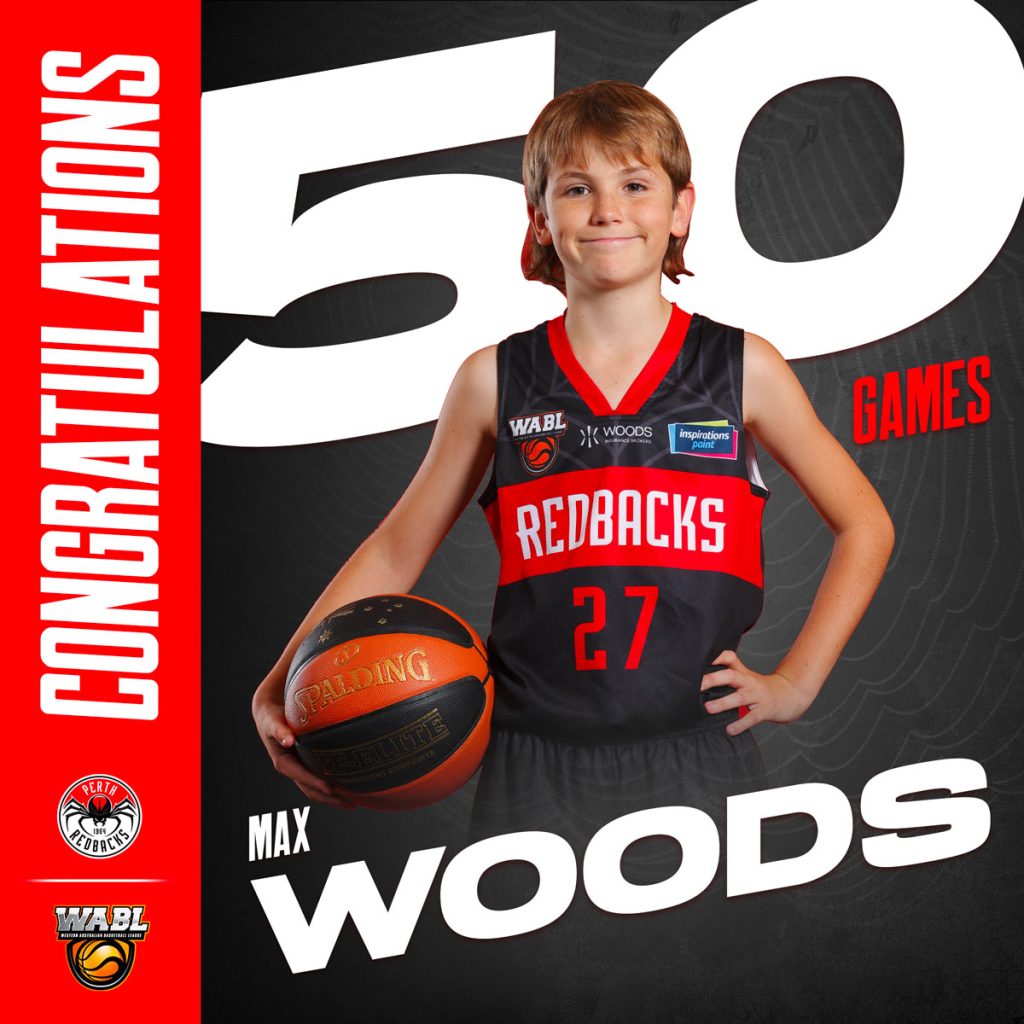 Won against Rockingham 77-76
Coach comments:
This was a tough battle and our first real test of the season. Rockingham did well to get out in transition and to challenge us in the half-court. I was incredibly happy with how we responded: digging into our style of play, keeping our heads up when we got into foul trouble, and attacking the paint when our outside shots weren't dropping.

This was another genuinely full-team effort. I want to shout out: Harriet Woods, Lailah Tasker and Madi Makavilitogia for embracing the physicality of this game, putting their bodies on the line and committing to our pressure D.

Miki Deshon and Theory Snooks-Holding made huge efforts and led by example throughout.

Extra special congratulations to Leeshar Tuialii for being aggressive the whole game, leading us in scoring with 26 points, and stepping up for the game-winner and, subsequently, knocking down 3 of 3 free throws with 0.6 seconds left on the clock. Clutch!
U16 Girls Div 3 Red – Cheyne Kerp (sponsored by Wyatt Martin)
Won against East Perth 65-49
Coach comments:
We started off playing really well. Our full-court defensive pressure created turnovers, and our offence created headaches for the opposition. 

We were tested in the second quarter, and to the girls' credit they came out after halftime with energy and effort improving our offensive game whilst also limiting the oppositions scoring.

Stephanie Hunt worked hard all game, scoring a game-high 29 points. When the team needed a lift (response) she provided one.

Matilda Wyatt worked hard on defence not only grabbing defensive rebounds but also creating turnovers.
U16 Girls Div 4 – Geoff Alger (sponsored by Design Orthodontics)
Lost to Hills Raiders 36-76
Coach comments:
We let the game get away from us in the first quarter but the way the girls responded after that was really pleasing to watch. They kept their energy up and played some improved and competitive basketball. We still have some things to work on, but we are continuing to improve week by week.

Amina Handule returned this week and provided some customary highlight blocks, rebounds and finishing.

Ayla Harris showed her trademark determination winning many rebounds through sheer grit and effort against some stronger and bigger opponents.
U16 Girls Div 4 – Lucy Dowling (sponsored by LKS Constructions)
Lost to Lakeside Lightning 53-64
Coach comments:
Once again we played well, showcasing bits of really great basketball. I particularly liked our composure when bringing the ball up the court, and how much the girls have already improved in decision-making under pressure. 

A lift in energy after halftime led to a strong second half, where we closed the gap on the scoreboard considerably and didn't let Lightning have anything easy.

Salma Rahmadavi did really well to keep in control under pressure and took more of her options which were great to watch. 

Arabella Kahl's post game has been super strong lately, and this game was no different. Good footwork. Good work ethic. Good decisions.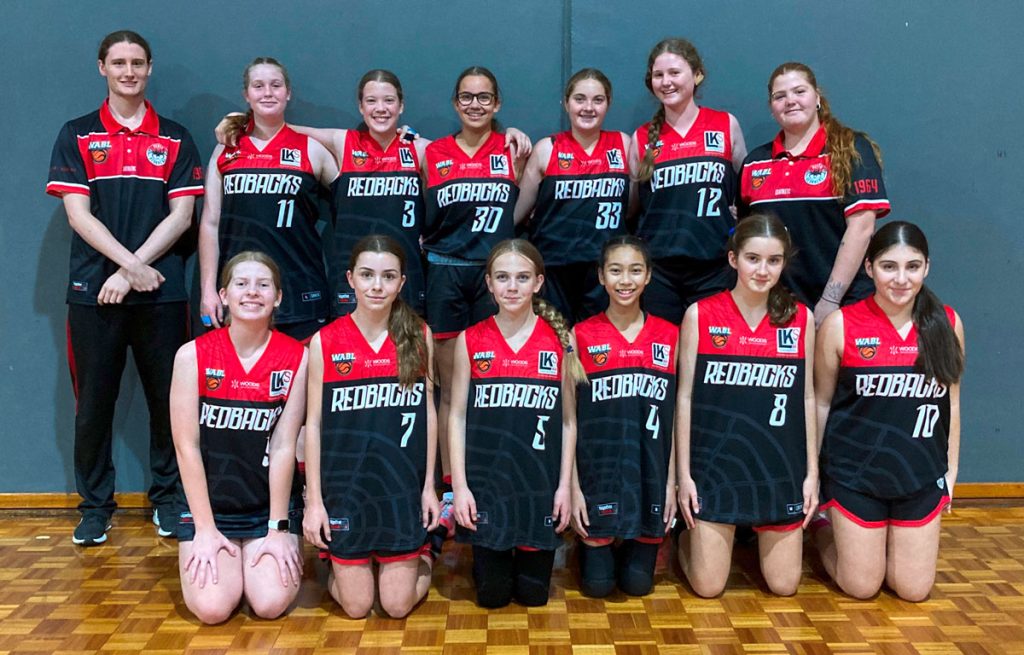 Lost to Cockburn 77-94
Coach comments:
The final scoreline here doesn't reflect how close the game was for most of the way. Our effort and intensity were much improved and we really took it to Cockburn who would be a top-three team. Down only 1 at halftime, we slowly allowed them to pull away in the second half. We didn't stop them penetrating the keyway enough and allowed them to score too many easy keyway baskets. We fouled a lot too – they scored 15 points just from the charity stripe! But there was significant improvement in our game from Rounds 1 and 2 and that's really all you want to see as a coach. Well done boys.

It really was a team effort this week but I will call out James Bowen who's really improved on game days this year and is trying to be more consistent. His fitness has improved a lot, and it's helping with this overall game. Keep it up James and keep pushing yourself. 

Zaydn Thomas's defensive intensity and effort continue to impress each week, he works super hard. 

Kano Kudray took on board some of the aspects the coaches wanted him to work on, and this was reflected in his game – well done.
U16 Boys Div 2 – Louis Timms (sponsored by Inktank)
Lost to Rockingham Red 77-85 
Coach comments:
(Huge thanks to Mark Ryder for stepping in to coach in Louis' absence)

Heartbreaking loss for the boys after being up at three-quarter-time by 8 points. They really are adapting to Coach Louis' motion offense and executed our transition defence to perfection. Unfortunately, the boys ran out of steam in the last quarter but it was a great effort to that point.

Zac Anfuso continues to have a great start to the season leading the boys on both ends of the court. 

Deegan Castle improves every week with scoring, rebounding and 9 blocks in this game. 

Our MVP for the day, however, was Samuel Peirce. He was given a defensive role to perform throughout the day, playing against much taller oppostion. He rebounded well, moved the ball precisely in our motion offence and his hard work over the summer is paying off for him.
U16 Boys Div 4 – Mitch Jesson (sponsored by DLA Piper)
Won against Rockingham 69-61
Coach comments:
We started well and took a lead that was never headed. Both teams faced a little bit of adversity with the foul count being high early in the game, however, our depth was a saving grace.

Absolutely most pleasing was the teamwork on display. We had all squad members play meaningful minutes, and for the second week in a row, everyone hit the scoreboard.

Cooper Poustie's determination on defence really is paying dividends for the team as each week he starts on the opposition's most dangerous offensive player. He works hard to limit touches and on Sunday constantly got over screens and hit great options down the floor to spark our transition.

Flynn Hamilton had his best outing for the team. Not only guarding both bigs and smalls as needed, but the most pleasing moment was when we finally saw the high post spin move that had only been attempted at training. Not caught on video unfortunately so I'm demanding another one next week.

Tait Dalton and Tommy Jakimowiez were challenged to win the rebound count and allow our running game to blossom. This was a big ask as our leading rebounder was out for the game and our power forward was in early foul trouble. The Double T's (Tait & Tommy) were wonderful, combining for over 20 boards and were still working very hard in the last quarter. We're proud of you both.
U16 Boys Div 5 – Dan Cartwright
Lost to Perry Lakes 68-71
U18 Girls Div 2 – John Care' (sponsored by Claremont Asphalt)
Won against Cockburn 53-49
Coach comments:
This was a close game from start to finish against a more aggressive Cockburn team from grading. Presenting a more physical game than the previous 2 games, we remained focused, composed and ready to match the intensity.

I was really impressed with Megan Taylor in this game – a reliable powerhouse in defence applying pressure to stop Cockburn's lethal shooters. 

Blaise Stancil and Elliana Forman top scored with 12 points.
U18 Girls Div 2 – Zac Belton (sponsored by Aussie Fencing)
Won against Joondalup White 76-47
Coach comments:
Despite some struggles in the first three quarters, we kept our hustle and tenacity up and strung together a solid fourth. The group acknowledge that we can definitely play better basketball and I have to give credit to how they align themselves with expectations.

Emily Swann hit back-to-back 3-balls, and the group's energy skyrocketed after this and took control of the game.

Matilda Thomson's on-ball pressure was phenomenal and caused so many steals for the team. 

Isabella Wolfenden took what the defence gave her and continued to stay aggressive and be that lead communicator. 

Anais Adnams did everything I asked of her, continued to attack the boards and continued to shoot the ball.
U18 Boys Div 2 – Simon Daff (sponsored by Grange Risk Solutions)
Lost to Perry Lakes 75-76
Coach comments:
We lost Cooper Deshon early in the game to an ankle injury and unlike the week earlier when we lost Riley Ford to the same injury we stayed focused and composed and didn't lose momentum.

Once again, we dug ourselves a hole in the 3rd quarter to be down 15. We fought back really hard in the 4th with our defence and almost stole the game. If we had 2 more minutes I'm sure we would have won.

Jaxon Sym had an amazing first quarter – his defence was aggressive and disciplined. One of the best quarters of defence I've seen in a while.

Max Millard has taken a few weeks to settle as it is always an adjustment in a new team but his effort today was outstanding. Plays the right way, lets the game come to him and was rewarded on the scoreboard for his efforts.

Has to be said that the guts and heart shown by Cooper Deshon to come back in after hurting his ankle and still make an impact was all class and showed a lot of courage and commitment to the team.
U18 Boys Div 3 – Nick D'Elia
Won against Perry Lakes Hawks 96-80
Coach comments:
This week we underestimated our opposition and they got the jump on us. However, we kept fighting and turned things around in the second quarter to get up on the scoreboard. 

It was an exciting first half with a highlight dunk from Connor Johnson and inspiring defence from Ethan Logan. 

Poor shot selection and lapses in defence meant we couldn't quite shut the door and the Hawks kept coming back. It wasn't until 4th quarter that we had a comfortable lead (finally we showed some patience on offence and our shots started to fall). 

Our overall defence was lacking which led to a high-scoring game from both teams. Something to address before this Sunday's game.
U18 Boys Div 4 Red – Bob Andrzejewski (sponsored by TECC)
Won against Eastern Suns Blue 102-52
Coach comments:
It starts to look like the boys are understanding why the game plan I insist on makes sense. The execution of the game strategy (not yet perfect), intensity, effort and desire to win delivered a great result. Also, I am very pleased with the 3 new players/train ons in the team, they got plenty of game time, adjusted well, and all got their names on the scoresheet (Max Wishart, Luke Dropulich and Hunter Grieve).

Ethan Harders again did a great job, especially defending their point guard Jude Garbenis found the fire in his belly and played hard on both ends of the court

Max, in his only second game with us, stepped up and demonstrated why he is in our team.
U18 Boys Div 4 – Alessandro Gentelli
Lost to Kalamunda 74-90
Coach comments:
This was a challenging game on many levels and I was proud of the boys for staying composed and having a good mentality.

Overall, it was a good team effort with growth from each and every player, from last week to this week – they all made great strides.
U20 Boys Champs – Luke Simonette (sponsored by Willis Temby)
Lost to Cockburn 81-89
Coach comments:
Our first-half effort was great – we led from the front, moved the ball well and made the extra kick, defended well and kept them under 45 in the half

Kobe Craig executed and rebounded down the stretch 

Charlie Morcombe dominated down low
U20 Boys Div 2 – Graham Jones (sponsored by McDonalds Busselton)
Lost to Joondalup 67-73
Coach comments:
I really liked our offensive ball movement at the start of this game. We showed the ability to work together with some good ball movement on offence. Numerous well-executed passes and attacking the basket. This is a testament to the journey our team is on.

Defensive effort and intensity also played a role, especially in the early stages of limiting the opposition's scoring opportunities. By maintaining solid defensive positioning, and putting constant pressure on the ball handlers, we effectively restricted the points scored against us. This is a result of our continuous hard work during practice.

Ethan Saliacus stood out for his solid work on both ends of the floor. He orchestrated the offence when needed, showcasing his versatility and basketball IQ. His energy contributed to the team's overall performance.

Ethan Gonsalves was asked to play a slightly different role in the game and rose to the occasion, producing for the team in crucial moments. His adaptability and willingness to contribute in any way necessary highlight his commitment to the team's success.