The Weekly WABL Wrap is proudly sponsored by Woods Insurance Brokers. 
Here's the Round 2 wrap-up of how all our teams went including comments from coaches:
U12 Girls Champs – Bri Bailey (sponsored by Access Hire WA)
Lost to Joondalup 31-38
Coach comments:
This was a close, hard-fought game against a very good, big and physical team. Once again, it was inspiring to watch the way the girls stood up to the mental and physical pressure of playing in Champs. They maintained focus,

fought on boxouts for rebounds and played great pressure defence up the floor.

Jacinta Wladyka did a fantastic job of attacking the basket when the lanes opened up and always made the extra pass when the defence came over to help. 

Alyssa Rullo played great inside defence to stop one of their main scorers.
U12 Girls Div 4 Red – Rori Roberts (sponsored by Commercial Plumbing)
Won against Lakeside 51-13
Coach comments:
The girls were relentless on defence from start to finish and turned steals into points with quick transition in this game.

Ally Taylor had a fantastic game off the bench, top scoring for the team with 12 points. She maintained great ball control on her fast breaks and finished her layups. She also chimed in with a few points from offensive boards and putbacks. 

Eva Blyth was everywhere. She rebounded, she covered her player and read the right moment to help on defense to cause turnovers.

Huge thanks to Ash Brian for filling in as coach for this game.
U12 Girls Div 4 Black – Paul Philpott (sponsored by National Geotech Drilling)
Won against East Perth Eagles 27-13
Coach comments:
Today our girls were on fire – hungry for possession, focused and 'all in'. Our bench and supporters were actually so charged, it made it hard for me to hear my own commentary! Just goes to show how bench energy elevates the energy on court.

A big shout out to Zoe deMorton for her fierce defence which often caught the opposition unawares. 

Isabella Nagamany was once again instrumental in shutting down opposition transitions. 

Maeve Whitehouse topped the scoreboard, leading the team with 10 solid points.
12 Boys Champs – Brandon Riley (sponsored by Stockbrands)
Lost to East Perth 50-68
Coach comments:
After struggling to get our shots to drop over the first three quarters, we figured it out in the fourth.
Vinnie Ryder and Joaquin Cortes gave consistent effort throughout the game.
Kruz Viesca also did a great job at both ends.
U12 Boys Div 2 – Andrija Petrovic (sponsored by Skyward Roofing Services)
Lost to Lakeside 37-50
Coach comments:
After a difficult round 1, the boys wanted to show a better account of our team, and that they did.

With a heavy emphasis on our rebounding, defence and transition at training this week, this was reflected in it being a very tight game.

We were all stronger in winning our rebounds with Ben Handke leading the rebound count followed very closely by Jeremy Zhu.

Almost all players got on the scorecard, but a  massive offensive game was had by Will Ryan scoring 18 points.

Watching the team lift after the difficult first weekend of the season was fantastic.

With us only being behind by 3 points at quarter and half time, we made it hard for ourselves in the 3rd. A short, 60-second lapse where Lakeside scored 9 points with no response from us saw them push their lead out to 12 points by the end of the 3rd.

We worked our hardest to get back in touch but unfortunately, it was a bit too far, with Lakeside going out winners by 13 points.

The great thing about sport is that there is always a next week and we are all looking forward to our next challenge.
Won against Hills Raiders 50-46
Coach comments:
I think the boys' fitness showed through in this game. We played pressure defence from the get-go and all the way through. When it came down to the last moments of the game, the stamina of the boys was probably the decisive factor.

Victor Muyna really took the helm as our main point guard once Elijah got into foul trouble and dominated the attack.

Noah Mucjanko and Harrison Kingsbury were also outstanding with their relentless shutdown defence and by attacking the rim many times.
U12 Boys Div 4 – Craig Dropulich (sponsored by Sushi Wawa)
Lost to Lakeside 34-82
Coach comments:
We started off really well, playing the way we wanted to play and led the first quarter. It ended up being a tough game for the boys and a good learning lesson that we need to stick to our game plan and system to be able to compete and remain competitive for the four quarters. It showed us that when we follow our set plays that we can be successful. The boys show a strong competitive spirit and were visibly disappointed by the loss.

Ashton Peake showed his ability with the ball, moving through the defence off the dribble. 

Ned Tierney worked really hard and showed no fear against much taller opponents coming off more than once battered and bruised from his stirring efforts.
U14 Girls Champs – Aric Forman (sponsored by Welsh Real Estate)
Won against Willetton White 62-25
Coach comments:
Every member of the team stepped up in the face of a weirdly hostile environment and a heavy early foul count.

In terms of individual efforts, I could call out every player here as they all contributed strongly to this win. But I did want to specially mention Abbie Leslie who played her first ever WABL game after moving from Kalgoorlie.
U14 Girls Div 3 – Vance Karimi (sponsored by Fish Boss)
Lost to Lakeside Lightning Purple 49-60
Coach comments:
We started a little hesitant in this game, which meant they didn't start with their normal free-flowing game style. We tried different starters so players all experience the pressures that come with starting a game. It immediately highlighted the importance of changing starting lineups to give players that experience early in the season so it's not a shock when we need them later in the season.

Spacing continues to be a factor in transition offence, which led to several turnovers in our backcourt. Where we maintained spacing, the girls played their free-flowing natural transition game, which was amazing to watch. 

The girls blew us away with their effort, resilience and determination to never give up. That was rewarded with the difference reduced to 2 or 3 buckets, early in the fourth quarter.

Was also great having our sponsors, Fish Boss, come to watch and support the team.

Leisha Charlie played a great game, being there for her teammates, cutting the gaps on time, rebounding over much taller players and putting pressure on the ball.

Harper Grace was amazing in defence, applying pressure all over the court and communicating with her teammates on and off the court.

Claudia Zell found really good spacing, using it effectively in the transition offence to stretch the court and push the ball.
U14 Girls Div 5 Red – Marcia Dowling
Won against Kalamunda 40-35
Coach comments:
We had a stronger start this week and maintained our speed for two quarters. As we fell behind a little, shoulders slumped and comms went quiet. After just one chat and a reminder that our goals, for now, were three steals and finishing our offensive play correctly, EVERY girl pulled deep and we rose like a truly united team. The attitude change and continued intensity from the team were just fantastic.

Hayley Hill's perseverance was admirable under the basket and her early passes were always accurate. 

Nora Ostermeier quietly covered the court forcing turnovers and pressured mistakes. 

Anabella Lewis found her mojo today and was firing up shots like we know she can.
U14 Girls Div 5 Black – Reid Ballantine
Won against Mandurah White 47-17
Coach comments:
We started the game at full tempo and maintained constant pressure on the ball for 3 quarters, establishing an emphatic steals tally and controlling possession. In the fourth quarter, we pulled back into the back court, and I was impressed by how the girls were able to hold Mandurah scoreless for that quarter.

I also really appreciated the girls' focus during the breaks where they huddled so tight and really listened intently and made it easy to coach.

Madison McKibbon made it look easy and mopped up everything on her way to 25 points! She had a really intently focused aim on her shots in the low post, and they just kept dropping nicely off the glass.

When Mandurah gave us too much space, Saachi Ti'en made some great decisions and was really dynamic on the drive. 

Ella Fair worked very hard. She showed great leadership on court and created a lot of great team offence.
U14 Boys Champs – Andrew Logan (sponsored by MD Building Maintenance)
Lost to Cockburn Cougars 49-66
Coach comments:
James Galvin had an outstanding game scoring 25 points and keeping his turnovers to a minimum. A fitting way to play his 50th WABL game for Redbacks.

Luke Websdale fought hard all game having an impact on defence and offence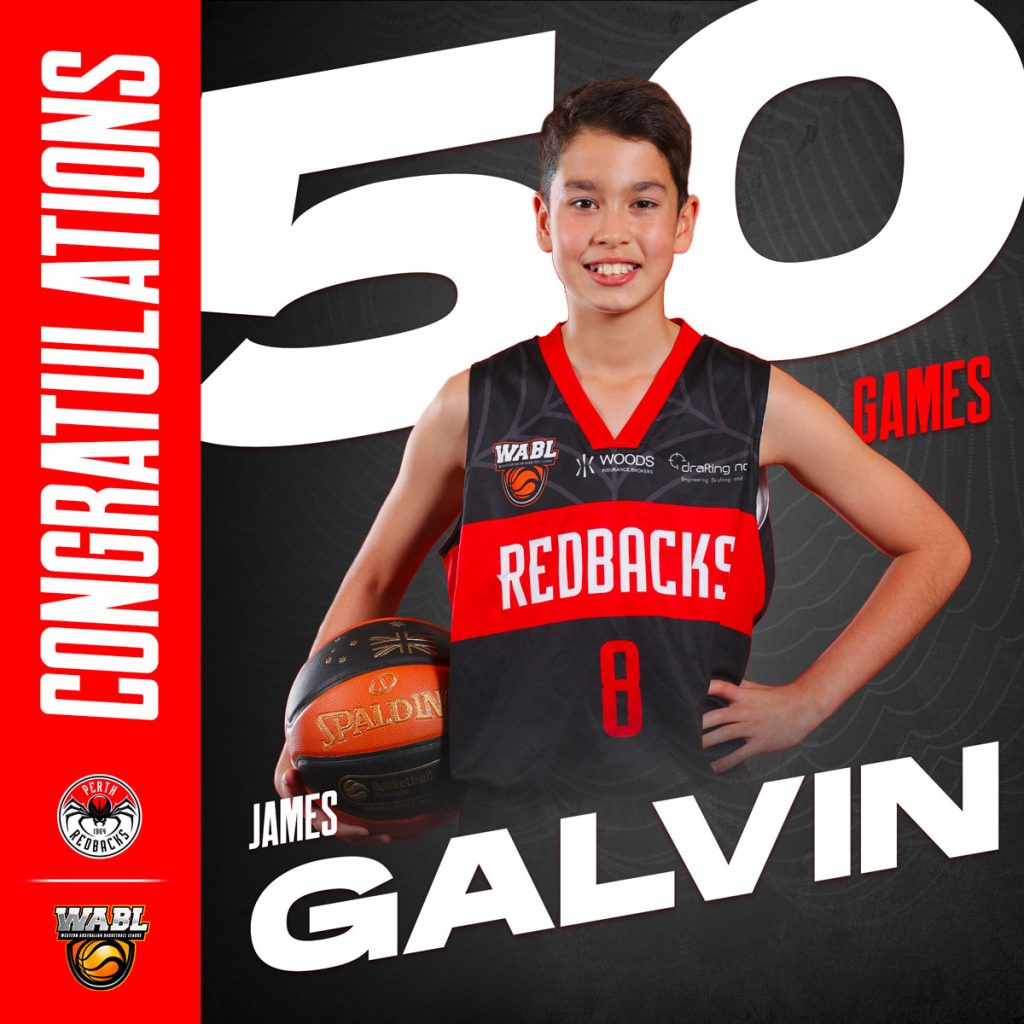 U14 Boys Div 3 – Brad Holyoak (sponsored by Drafting Now)
Won against Cougars White 41-80
Coach comments:
We came out breathing fire right from the start, trapped hard and won every quarter to set up a nice win.

Aiden Little led our scoring and rebounds and was and equal leader of assists. 

Kimzy Matondo's shots were not dropping early but he got busy filling the stat sheet and working hard all game long.
U14 Boys Div 4 – Ben Hamilton (sponsored by Cogito Psychology)
Won against Slammers 86-54
Coach comments:
After a long drive south for a pretty late start, it was very pleasing to see the team hit the court ready to compete on the way to setting up a 53-18 half-time lead. 

The second half required discipline at both ends to maintain structure and to hold off a spirited Slammers' fight-back.

Nate Cass was electric in his first game of the season after sitting out round 1 with an ankle injury. He had a double-double in the first half on his way to leading scorers and rebounders. 

Harrison Moyle was dominant again as a great rim defender as well as proving very difficult to stop inside; scoring double figures again to top off last week's impressive debut.

Well done to Matthew Lucano and Tomas Lackovic who both played their 50th WABL game for Perth Redbacks this week.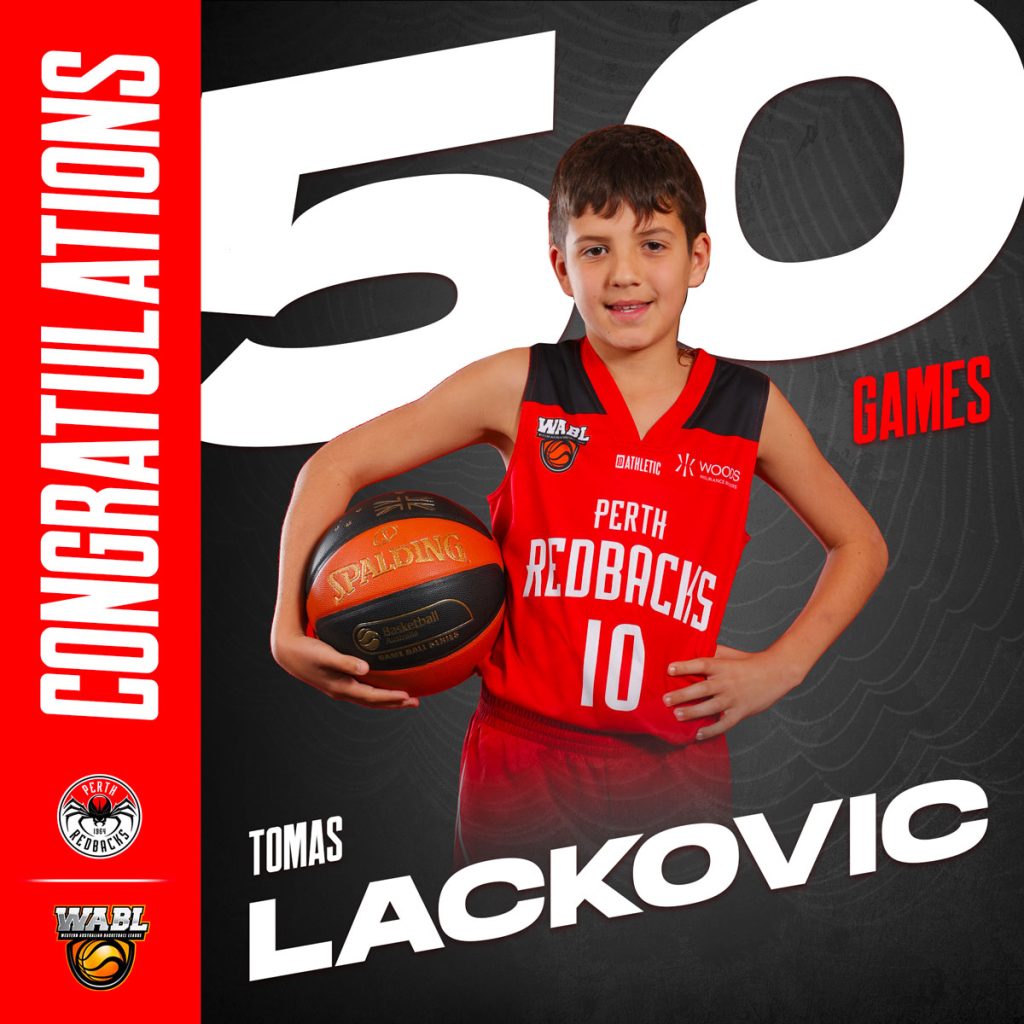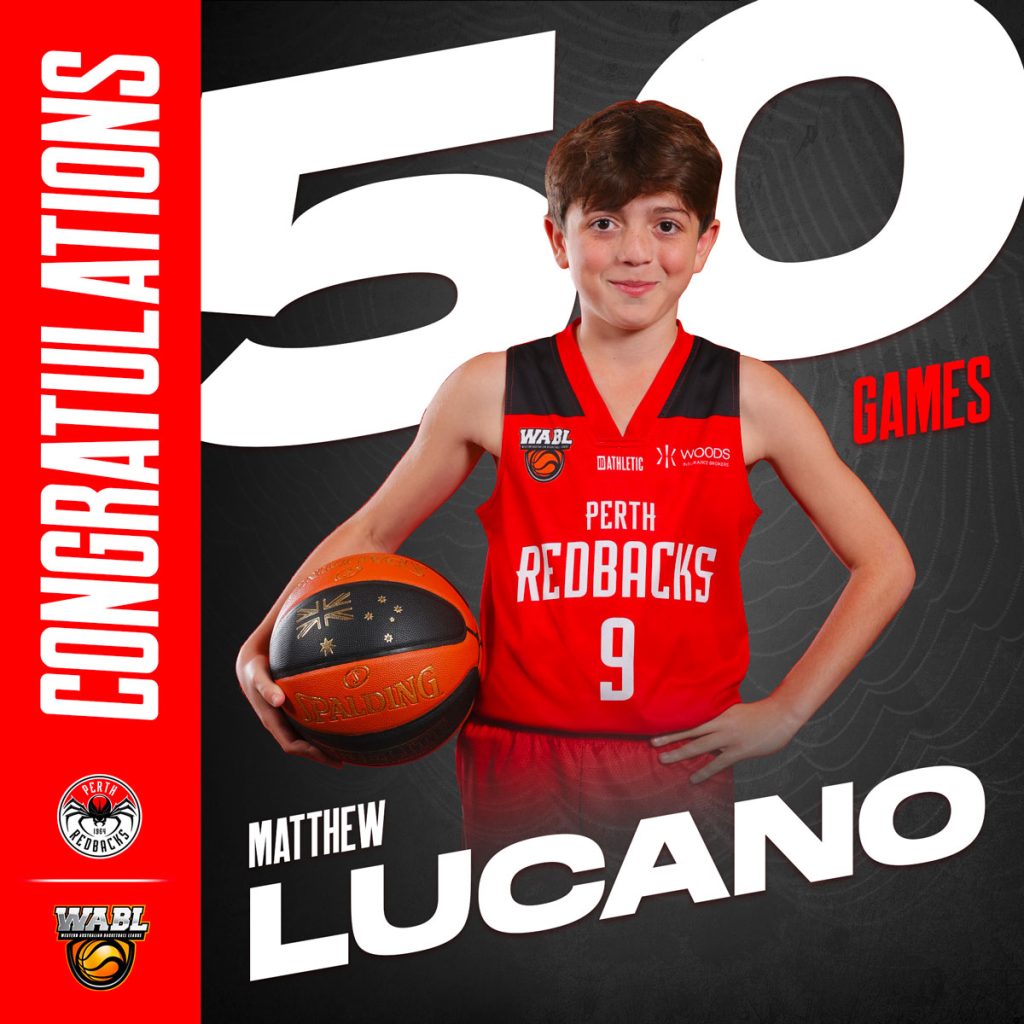 U14 Boys Div 5 – Matt Strika (sponsored by Sushi Wawa)
Lost to Joondalup Wolves 3 56-64
Coach comments:
This was another hard-fought game with some great team basketball and a never give up attitude. With 1:30 left on the clock, we were down by 16 points. We pulled this back to 8 by game's end due to some tenacious defence and full court pressure. We've come up against a couple of tough opponents to start the season but the boys have shown they can match them and I'm sure the results will follow soon.

Kade Peake showed some great composure and turned on an offensive and defensive masterclass, racking up 11 points, 3 rebounds and 4 steals. 

Ethan Cooper really embraced the Team mindset dishing out 5 assists. 

Tex Tierney was unstoppable in the second half finishing with a team-high 18 points along with 9 rebounds and 3 steals.
Won against Slammers 98-41
Coach comments:
We went into this game wanting to continue to build our culture of defensive intensity and flow on offence. A goal was to limit the Slammers to 40 points or less and they ended up with 41. We shot the ball very well, making 7 threes as a team and finishing our baskets at the rim with more elevation and finesse. It was another fantastic team effort.

Lailah Tasker provided exceptional transition defence, made some incredible passes and added a very nice 3 from the wing. 

Lemafa Tuialii had a fantastic game at both ends and got her shot going early, finishing with 3 x 3's and a team-high 23 points. 

Grace Dimer brought her hunger for steals, deflections and blocks while creating some great plays for herself and others on offense.
U16 Girls Div 3 Red – Cheyne Kerp (sponsored by Wyatt Martin)
Won against Hills Raiders 55-38
Coach comments:
I thought our offence was tested well, but we managed to remain composed and come away with the win. 

We worked tirelessly on rebounds against bigger, stronger opposition, which was very pleasing to see and commendable.

Emily Horniman played a really good game, both offensively (nailing a couple of 3's) and defensively. 

Grace Almond and Matilda Wyatt both worked hard on the rebounds.

Grace and Steph Hunt both nearly had a double-double each.

Tash Mantle intercepted lots of passes from the opposition and, along with Liliana Flynn and Jess Kerp, played really good D, stopping lots of drives. 

Zoe Ball had some good passes on offence to break down the Hills defence.

Millie Stancil was cool and calm and helped bring energy in the last quarter when the girls were tested. Lots of positive signs moving forward.
U16 Girls Div 4 – Geoff Alger (sponsored by Design Orthodontics)
Lost to Slammers 47-57
Coach comments:
The girls really took on board the lessons from last week and applied the things we did at training. Collectively we were much more focused and coordinated as a group. We worked hard all game despite having to play some long minutes due to a short roster and some early foul trouble.

Mya Slee's efforts all game were really impressive at both ends of the floor. Mya always gives 100%, and she really approached the game with confidence and intent.

Ayla Harris had a big contribution in defence, fought for rebounds and made good decisions in ball advancement.

Sienna Duong's energy, intent and focus were great all game.

Alex Temby provided some nice attacking drives and composed finishes.
U16 Girls Div 4 – Lucy Dowling (sponsored by LKS Constructions)
Lost to Joondalup 56-74
Coach comments:
I loved the way my girls didn't back down at any stage. They showed resilience when faced with challenges and adapted their game to suit tough opposition. 

Our positive energy throughout the game was brilliant and a major factor towards how well we played. 

Our defence was strong and I couldn't be happier. Definitely our best basketball yet!

Usually, Annabelle Thompson is a defensive gun, who can stop anyone, with clean hands and 9 times out of 10, generate a steal. Today she did that and much more, displaying her offensive talent as well, with quick footwork, good decision making and stellar shooting! 

Salma Rahmadavi showed great composure under pressure and really showed us what she's capable of physically.

Olivia Weddikkara has had to get used to playing a little more physical than usual and executed some brilliant post defence this game. I loved that she's also started taking some more opportunities to shoot as well. 

Emily Strika has been training harder than anyone this preseason, and it showed as she got into her first game and nailed it. Em had strong defensive pressure and took good options on offence.
Lost to Joondalup Wolves 87-60
Coach comments:
We were off to a better start this week in the first quarter but, unfortunately, we were unable to match the intensity and physicality of our opponent over four quarters of basketball. There were some great signs during the game of the kind of defensive efforts and offensive movements we need to beat the top teams and pleasingly, we outscored Wolves in the final quarter. This shows the capability and hunger are there, we just need to do it for a whole game.

Zaydn Thomas was probably best on ground for us today, his physicality and effort on the defensive end were top-notch – leading to some great offensive phases and transition scoring opportunities. 

Big thanks to Cuba Brian and Jaden Exeter for stepping up for us today to fill in for a couple of players we have out with injuries.
U16 Boys Div 2 – Louis Timms (sponsored by Inktank)
Lost to Hills Raiders 1 66-81
Coach comments:
I'm really pleased with how we are progressing offensively. That is going to start paying dividends for us soon.
Maks Lackovic did a great job for us coming into the game. His defensive intensity and desire were very impressive, and had a positive effect on his teammates.
U16 Boys Div 4 – Mitch Jesson (sponsored by DLA Piper)
Won against Hills Raiders 108-48
Coach comments:
Our team was motivated and dialled in from the tip this week, and that translated into a big win over an undermanned opposition.

I was really happy with our final statistics: 50% shooting, only 17 turnovers, +13 in rebounds, 30 steals and 23 assists. It was a dominant performance across the board, but what I was most proud of is that we played the game respectfully until the last whistle and treated our opposition as we would like to be treated in a similar situation.

Jaden Exeter has worked hard at being a leader for us, and he really let his game do the talking this week with 17 points, 15 boards, 4 assists, 3 steals and 2 blocks. He also demonstrated great voice on and off the court.

We asked Ewan Maclean to come off the bench to give us a spark. He delivered exactly that with an equal game-high 17 points (at 67%), 10 boards and just relentless pace and effort. We're very proud of Ewan and his ultimate team-first attitude.

Anthony Flores had 8 steals and 5 assists to go with 12 points. He is such a fantastic reader of the play, at times it looked like the opposition was passing to him. He also delivered some fantastic words after the game to about not getting ahead of ourselves in this journey.
U16 Boys Div 5 – Dan Cartwright
Won against Hills Raiders 89-62
Coach comments:
It was pleasing to see our play in transition improve drastically from Round 1.

Jenson Harders and Jalen Dunstan both really stood out this weekend with their effort and stat lines. Jenson recorded 20 points, 9 rebounds, 6 assists with 1 turnover and Jalen recorded 9 points, 9 rebounds and 3 blocks. Both of these players never left a 50/50 ball to the opposition either.
U18 Girls Div 2 – John Care' (sponsored by Claremont Asphalt)
Won against Warwick 73-50
Coach comments:
We really came out to play for each other and as a team this week which was pleasing to see. Execution was the key to our success and result.

Kate Anderson was an absolute standout this week. Put in a position that had to push her character and challenge her effort – she did not disappoint. Aggressive at the ball, in defence and on the boards whilst also scoring 10 points. 

Charlotte Broadbent also had a strong game with 15 points, 6 rebounds and nailing a very composed buzzer-beater.
U18 Girls Div 2 – Zac Belton (sponsored by Aussie Fencing)
Lost to Joondalup Wolves Green 49-87
Coach comments:
I was really pleased with our resilience in this game – our opposition had a size advantage and we still crashed the boards hard and took every challenge head-on.

While I was extremely happy with everyone's performance, a special shoutout to my train-ons who stepped up for this game.

Maddie Wade was actually our second-leading scorer, but her biggest impact was at the defensive end.

Hannah Honczarenko really came out and let the game flow, she made an impact by getting to the right spots and diving on every single ball.
U18 Boys Div 2 – Simon Daff (sponsored by Grange Risk Solutions)
Lost to Cockburn 74-78
Coach comments:
We've developed a pattern in the first two games of having very strong first halves but switching off badly in the third quarter. To be 10 points down in the 4th quarter and almost steal the win with 2 mins to go shows our resolve to not give up and that is to be commended.

Jaxon Sym had an outstanding all-around game. His ability to just move his feet and stay in front of opponents shows his discipline and maturity. He's always talking and trying to lead by example.

Hamish Elder had another solid game as he builds more consistency in his game. After we lost Riley Ford early on to an ankle injury, Hamish really worked hard to step up and fill that role.
U18 Boys Div 3 – Nick D'Elia
Lost to Perry Lakes 85-86
Coach comments:
This was a tight game the whole way with the margin never more than 4 points. Both teams competed with hard, savvy defence, put a lot of pressure on offence and made the game a physical grind. Although our shots were not dropping we kept up our pressure on defence which kept us in the game.

Ethan Logan provided a great spark off the bench on both offence and defence which lifted the team's spirit and changed the game.
U18 Boys Div 4 Red – Bob Andrzejewski (sponsored by TECC)
Won against Eastern Suns White 85-79
Coach comments:
This was a rollercoaster game: down 10 at half time, we were up 11 with minutes to go, only for Suns to level the scores with aggressive full-court pressure and defence. The boys withstood that pressure and turned it into a 6-point win at game's end. A valuable lesson to never give up or take things for granted. 

All players contributed to this win – they all played well and hard.

Lazar Jovanovic, Sasha Zugic and Ethan Harders led the way in this fight – they are becoming the backbone of this team.

Lucas Detata, Jude Garbenis and Caleb Hoenig also stepped up this week, finding the inner "warrior" that was missing somewhat before.
U18 Boys Div 4 – Alessandro Gentelli
Lost to Mandurah 2 68-71
Coach comments:
This was a game where we were in it the whole way against bigger and older opponents and should have been really proud of our efforts. But it was also a game that showed that if we can't focus on the game (and ignore distractions outside our control) then we're the ones taking ourselves out of the game, not our opponents.

I was really impressed with Ibrahim Abdi's ability to continue to work hard and maintain his focus in the face of frustrations and distractions.
U20 Boys Champs – Luke Simonette (sponsored by Willis Temby)
Won against Joondalup 91-82
Coach comments:
Our bench noise was fantastic in this game and definitely lifted the guys on the floor. Defensive talk and hustle were also on display for the full 94 feet.

Josh Peterson and Ethan Port-Louis delivered one of the best hustle/full-court defensive games I've seen from a pairing

Josh Moody set great off-ball screens and lead to multiple scores

Congrats also to Josh Peterson who played his 50th WABL game in Redbacks colours in this game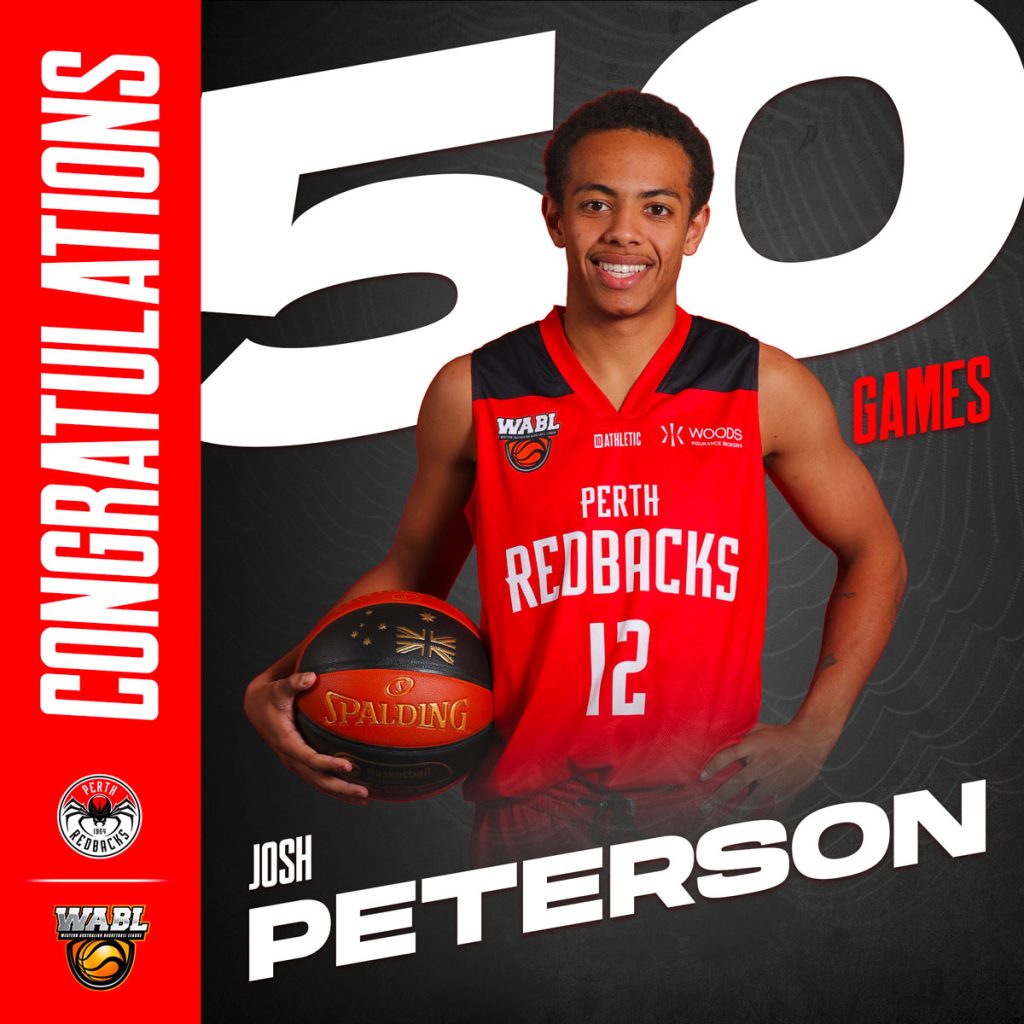 U20 Boys Div 2 – Graham Jones (sponsored by McDonalds Busselton)
Lost to Perry Lakes 67-77
Coach comments:
I really appreciated the following from our team in this game:

Intensity: We showed great hustle and energy on the court, never giving up despite the previous loss. We competed well and fought hard on both ends of the floor. 

Consistency: We demonstrated a more consistent level of effort throughout the game, maintaining focus and playing with purpose. 

Execution: Our improved execution of offensive and defensive strategies was clear. On defence, our players were much more disciplined and worked better together.

Our resilience and dedication to improvement were encouraging to watch.

There were a number of very good performances from the team, however, the standout performances were: 

Miguel Chaitika's excellent defensive display, anticipation, quickness, and commitment to defence played a significant role in our improved performance.

Akira Rowe-Fox demonstrated a more aggressive approach with the ball, confidently driving and creating scoring chances for both himself and his teammates. His assertiveness on offence was a major contributing factor.

Ethan Gonsalves's tenacity on the court was inspiring. He was locked in on every possession. 

Melvin Nwankwo dominated the boards at both ends, grabbing numerous offensive and defensive rebounds. His ability to secure possession and create second-chance opportunities put us in a good position.

All members of the team stepped up and made themselves accountable, contributing massively to the much-improved performance.