The Weekly WABL Wrap is proudly sponsored by Woods Insurance Brokers. 
Here's the Round 1 wrap-up of how all our teams went including comments from coaches:
U12 Girls Champs – Bri Bailey (sponsored by Access Hire WA)
Lost to Lakeside Lightning 43-46
Coach comments:
This was an absolute nail-biter to kick off our season. After a slow start, we got the game back on even terms. From there, only a few points separated us and Lakeside for the remainder of the game.

The girls were amazing, maintaining focus in the face of many challenges, not the least, losing two players early in the second half, (one of those being ours and the game's top scorer). It would have been easy to unravel at that point, but the girls all chipped in to keep the scoreboard ticking over, and the pressure on defensively. 

The whole team's composure in this game was even more impressive when you consider this was the first WABL game for three of them, and there are three bottom-agers in the team. Well done girls – so proud of you.
U12 Girls Div 4 Red – Rori Roberts (sponsored by Commercial Plumbing)
Won against Mandurah 46-15
Coach comments:
I was most pleased about the girls' teamwork, making the extra pass to the more open player and kicking the ball ahead in transition

Jocelyn Moore came off the bench and had an impact right away – she was amazing.

Stevie Brehaut was always the first girl back in defence. She was able to guard her player as well as help her teammates out
U12 Girls Div 4 Black – Paul Philpott (sponsored by National Geotech Drilling)
Lost to Kalamunda 6-40
Coach comments:
Ben and I were so pleased with how hard our girls played despite the challenges of the Suns. Going scoreless in the first half, we had to set some serious goals for the second. Our first task was to deny the Suns scoring opportunities. Our second task was to get on the board! Our efforts saw Suns held scoreless in the third quarter and the mighty Redbacks register a response in both the final quarters. Well done girls! Mission accomplished!

Whilst we really gelled in the second half as a Team, Madeleine Marshall came out with fury putting us on the board quickly. 

Both Rose Bacci and Zoe Bartucciotto were also on fire during this period, reducing the Suns' opportunities whilst clearly supported by the rest of our Redbacks girls. 

Matilda Thompson and Jade Macpherson wrestled hard for that ball on every occasion.

Isabella Nagamany and Josie Smith took charge under that ring. 

Our train on Ariana Eghdami made her WABL debut and she was outstanding, covering the loose Suns players with great court coverage.

Well done girls for staying in the fight. Ben and I very much appreciate your efforts.
12 Boys Champs – Brandon Riley (sponsored by Stockbrands)
Won against Rockingham 92-52
Coach comments:
Overall we played with great intensity and willingness to make the extra pass. Was great to see the hard work the boys have put in over the pre-season pay off.

Zac Snell and Kai Atfield were consistent at both ends.

The improvement of Kruz Viesca and Kai since grading has been outstanding. Vinnie Ryder also had a great game. 

We had strong contribution from all players this week, however.
U12 Boys Div 2 – Andrija Petrovic (sponsored by Skyward Roofing Services)
Lost to Joondalup 35-76
Coach comments:
Won against Rockingham Flames 60-54
Coach comments:
I loved seeing the bigs came out to play and dominate the scoreboard in this game.

Felix Prokscha and Ari Salvemini took many rebounds and converted them into baskets
U12 Boys Div 4 – Craig Dropulich (sponsored by Sushi Wawa)
Lost to Warwick 37-56
Coach comments:
We had a tough start to the WABL season but what made me most proud of the team is that we never gave up. We continued to play right to the final buzzer and scared the opposition in the final quarter to the point that they brought their starters back on to try and steady the ship. Winning the last quarter was great reward for our persistence. We were minus two players who we lost before the game and with three others getting injuries during the game our fight can not be questioned. The pressure from the Senators was at a new level for our boys and the adjustments we made in this game will give us plenty of encouragement to cope at that level in the future.

Fantastic work from Elijah Devitt today – the youngest boy on our team at only 8 years old – he scored 17 points on debut. This is 1 point off the highest scorer in our division for this round. He also played through three separate rough knocks and was 1 of 2 from three-point range. 

Talin McCullough had a great all-round game with 6 points and great passing, inbounding and dribbling. He worked hardest on trapping and saw 3 or 4 turnovers occur as a result of his great defensive work. Had a good all-around game today and has already set himself a high standard of play. Great 10th birthday present for Talin!
U14 Girls Champs – Aric Forman (sponsored by Welsh Real Estate)
Won 83-46 against Mandurah
Coach comments:
Our defensive intensity in the open court was outstanding and it was awesome to see players diving on loose balls in the open court and putting their bodies on the line. Great way to start the season.
U14 Girls Div 3 – Vance Karimi (sponsored by Fish Boss)
Won against Mandurah 43-22
Coach comments:
Our girls played with great intensity and pace the whole game. They all defended well and pushed the ball well in transition offence. 

This unit play for each other and it was impressive to see them in action first game of the season. When they played with spacing, they are unstoppable.

Sasha Kuan led the way with her intensity. She was all over the loose balls on the floor in the first 10 seconds. 

Leisha Charlie was all over the court, putting pressure on the ball and reading passes everywhere.

Cara Hayes played such a strong game. Her drop step in the post was unstoppable.
U14 Girls Div 5 Red – Marcia Dowling
Lost 24-35 against Redbacks Black
Coach comments:
This game was the first WABL game for some of our team – congrats to those girls. The support from the bench throughout the game was very important and well-maintained. 

Hayley Hill drove to the basket with great intensity.

Both Cyra Olowoyo and Sally Dowling boxed out in help, rebounded or tipped the ball, resulting in positive turnovers. 

Hope Campbell and Ella Djurasovic both gave 100% in transition.
U14 Girls Div 5 Black – Reid Ballantine
Won 35-24 against Redbacks Red
Coach comments:
It was a really exciting start to the season to win a Redbacks Derby game (but somewhat bittersweet to sneak the win from our Redbacks allies and great friends).

Redbacks Red got a fast start against us and took the lead at the end of the first quarter, but our girls showed great composure and adjusted their tempo and intensity. 

On the whole, I was really very pleased with how the whole team maintained great court spacing in transition offence and really shared the ball through the whole team.

Inbounding has greatly improved over the preseason and the girls showcased a tasty sideline play with great timing! Delicious!

Olivia Birsa provided determined and disciplined full denial defense and was pivotal in our comeback run in Q2.

Madison McKibbin led our offensive resurgence and really took the game on!

The smiling Maia Leckey impressed and entertained us sneaking into the weak side for several huge leaping rebounds, and her spacing in transition rewarded her with a few great fast break attacks up the left wing.

Eloise O'Shea did a really good job of applying pressure to ball carriers and fighting for the ball. 

Ellie Pike read the game really well, hunting the ball and creating a lot of opportunities off nicely timed steals.
U14 Boys Champs – Andrew Logan (sponsored by MD Building Maintenance)
Lost to Rockingham 40-63
Coach comments:
What a great effort from our boys down in Rockingham. We were down 25 at the half after a tough second quarter. Rather than dropping our heads we ramped up our defensive intensity and pushed the pace of the game at all costs. We drew the third quarter and won the fourth. A great second half showing we can compete with the top sides in Champs division.
Xavier Allison found his offensive game in the second half piling on 16 points against solid defence. His shot selection was on point.
Luke Websdale found ways to get buckets when the going was tough. His passing ability was also on show.
Joaquin Imperial continues to thrive on the defensive end, understanding help D on another level. The way he positions himself and uses his body to fill lanes stopped Rockingham numerous times.
Finally a special shoutout to the boys whose first WABL game it was. They did not look at out of place and gave us great effort and intensity. I'm looking forward to watching their roles grow as the season unfolds.
U14 Boys Div 3 – Brad Holyoak (sponsored by Drafting Now)
Lost to Willetton 53-67
Coach comments:
I was really pleased with our commitment, transition, effort and ball pressure in this game.

We had 3 winners of our choc milk charge challenge in this game too. Well done to Parker Dunstan, Lucas Le and Toby Schulz for putting their bodies on the line.
U14 Boys Div 4 – Ben Hamilton (sponsored by Cogito Psychology)
Won against Perry Lakes 83-31
Coach comments:
We maintained great effort and discipline for four quarters, especially on defence where we limited the Hawks to 6 field goal attempts in the first quarter.

Erik Davies was tenacious on defence, collecting four steals and 11 rebounds to anchor our press. 

Seb Doyle picked up 8 rebounds and used his amazing finishing skills on his way to a game-high 25 points at 75% from inside.
U14 Boys Div 5 – Matt Strika (sponsored by Sushi Wawa)
Lost to East Perth 46-57
Coach comments:
The first game of the season comes with all the expected nerves and excitement (for both players and coach!) and led to a slow start with the ball seemingly not wanting to go through the basket. To their credit, the boys rallied and fought back to control the lead for most of the second quarter off the back of some really great team basketball. Overall, it was a competitive game with a few things to work on and build on for next week.

It was pleasing to see an even spread of scorers across the team with Tex Tierney and Luka Delic topping the scoresheet with 11 and 10 points, respectively. Luka backed this up with 11 rebounds to rack up a double-double. 

Ethan Cooper showed some excellent defensive effort racking up 6 steals to go along with 7 points and 5 rebounds. 

Finally, there was some great team basketball dished out by Kade Peake, Nick Knight and Clay Sumich, each with 2 assists.
Won against Warwick Green 91-56
Coach comments:
This was a really fantastic whole team effort. I particularly loved our commitment to our systems on defence. Our advance-passing, cuts and offensive rebounding were highlights at the other end.

Everyone player made major contributions in this game. 

Special shouts out to: 

Leeshar Tuialii for a team-leading 12 rebounds

Ebony Cox for a double-double and Theory Snooks-Holding almost getting one too (1 rebound away)

Matilda Pyne who had a great scoring game with 14 points and zero turnovers

Miki Deshon who stuffed the stat sheet with 6 rebounds, 5 assists and 5 steals as well as leading us in scoring with 22 points.
U16 Girls Div 3 Red – Cheyne Kerp (sponsored by Wyatt Martin)
Won against Redbacks Black 71-13
Coach comments:
I was really pleased with our full court press as it created multiple turnovers which led to scoring opportunities

All the girls played a pivotal role in the win. Their collective efforts paid dividends. Defensive positioning is really important and the girls did this well, especially as the game progressed.

Liliana Flynn's defensive efforts stood out, especially her loose ball gets. 

Grace Almond, Tash Mantle and Matilda Wyatt did well on the offensive and defensive boards.

I'd like to commend Steph Hunt for her offensive game and points scored and celebrate her 50th WABL game for Perth Redbacks. Congrats Steph!

All in all, the girls played well as a team and I look forward to the oncoming season and what the girls can achieve.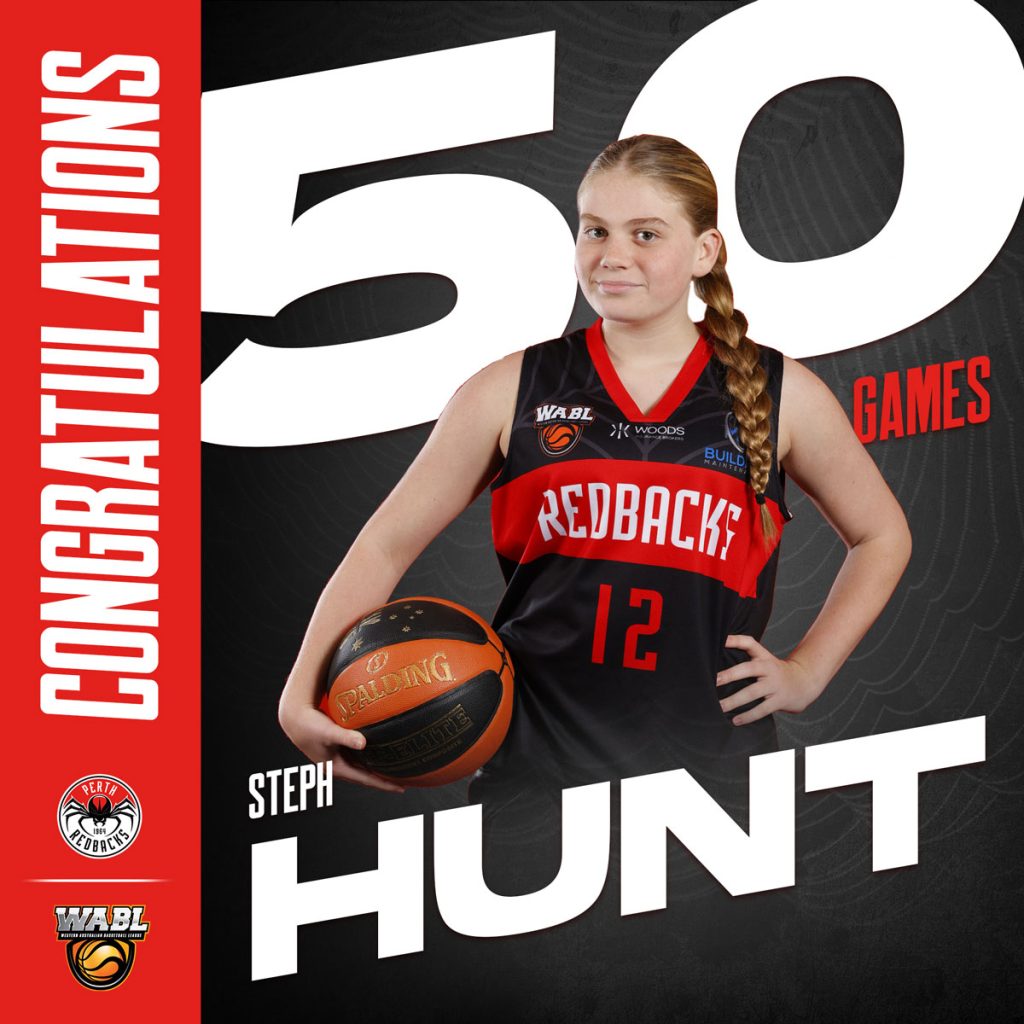 U16 Girls Div 4 – Geoff Alger (sponsored by Design Orthodontics)
Lost to Redbacks Red 13-71
Coach comments:
I really enjoyed the club unity, seeing the players from the Red and Black team together before the game. Congratulations to the Red team for the way they played the game. 

This was a tough game as the scoreline shows. 

When we got our structures right there were glimpses of what the team is capable of. We will execute those better in coming weeks and I look forward to girls getting the reward for that. 

I was really pleased with the perseverance of the team and the lift in their commitment that we saw in the last quarter. The desire to be on the court at the end and play out the game is a great sign of the attitude of the group. We want to be a strong rebounding team and I thought the girls did a good job fighting for the boards all game.

We celebrated Indi Ballantine's 50th game this weekend and she put in an excellent one. Indi is really starting to discover her game. She was one of our better decision-makers throughout the game and she fought really hard on the inside all game.

We also celebrated Amina Handule's first game of WABL basketball and she brought great energy and effort all game.

Sienna Duong was one player who was switched on and played with the positive spirit and the game awareness that is needed at this level.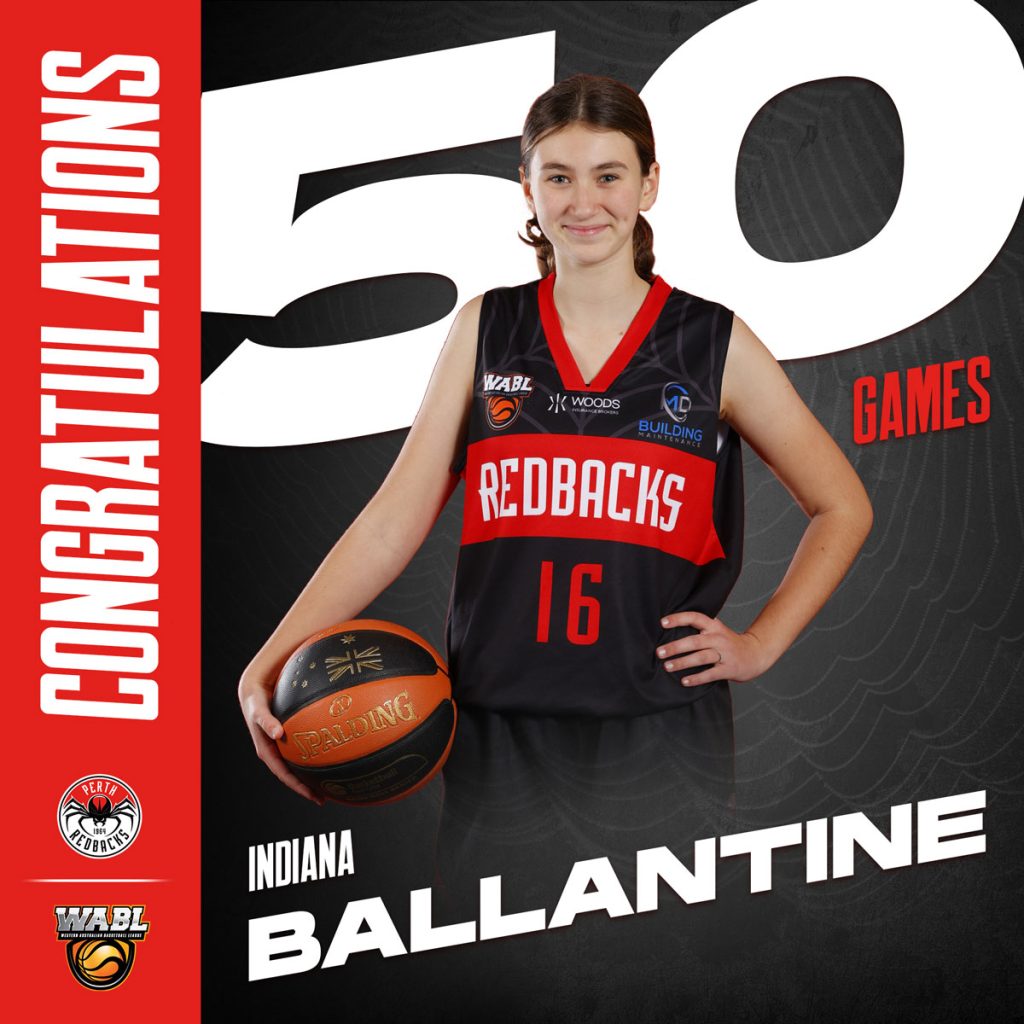 U16 Girls Div 4 – Lucy Dowling (sponsored by LKS Constructions)
Lost to Kalamunda 56-81
Coach comments:
The whole team was faced with the new physical challenge of U16 pressure and intensity, and it took them a little while to get used to it, but I have no doubts they will go into the next game ready. 

The girls all showcased their resilience when faced with challenges, and with a lot of team work, they did some brilliant things. 

Our defensive effort was commendable with lots of good help. Going into the second half, boxing out and physicality needed a big improvement, and this was seen, even against bigger opponents.

Arabella Kahl demonstrated fantastic post work, both offensively and defensively 

Annabelle Thomson's defensive footwork is unbreakable. Bel's pressure and ability to contain the ball created multiple steals. 

Isabelle Swann showed her usual amazing hustle. Her energy, pressure and athleticism are incredible to watch.
Lost to Perry Lakes Hawks 73-92
Coach comments:
It was pleasing to see that we didn't give up at half-time when we were down by 21 points. After owning our lack of intensity and effort in the first half, we managed to play some good basketball in the second half resulting in us winning the third and fourth quarters. This will be a totally winnable game for us when we put four full quarters together.

Hamish Gibson was a defensive beast today. He played some amazing containment defence 1v1, he got after every loose ball and his second efforts helped his teammates out on more than one occasion. 

Ben Elder put in some great minutes for us and hit some great shots from outside. 

Jack Saliacus worked hard inside the paint and on the boards.

Ben Galvin did a great job today to keep at the play with some second and third efforts.
U16 Boys Div 2 – Louis Timms (sponsored by Inktank)
Lost to Willetton 53-87
Coach comments:
I was really pleased with the way the boys came out in the first half. The scoreline got away from us after that but I liked how strongly we started against a tough opponent.
Zac Anfuso and Deegan Castle were standouts offensively for us in the first half. Zac always brings positive energy to our team, which as a coach I love to see. Deegan's development in a relatively short period of time has been really pleasing.
U16 Boys Div 4 – Mitch Jesson (sponsored by DLA Piper)
Lost to Warwick Senators 69-86
Coach comments:
At halftime, we had conceded 52 points, only put 24 points on the board ourselves and were well behind in the rebound count.

In the second half, we really started to play for each other and consequently outscored Warwick by 11 points (bringing the margin back to 8 at one point), but most importantly won the rebound count by 11.

While this wasn't the way we wanted to start the season, it is now up to us as a team to take that second-half form and effort and make that our baseline.

Cooper Hewer shot the ball extremely well for 20 points, including 50% from 3-point range. He was pivotal in our comeback and worked hard both ways.

Connor Webb just gave effort for every minute he was on the court. He's unselfish in the shots he takes and is just a great representative of our team's ethos of work.

Jaxon Kowal had 6 steals to go with his 12 points and a momentum-changing block on the opposition centre. Jaxon's spirit and determination are inspiring to those around him.
U16 Boys Div 5 – Dan Cartwright
Lost to Lakeside 62-99
Coach comments:
U18 Girls Div 2 – John Care' (sponsored by Claremont Asphalt)
Lost to Willetton 41-53
Coach comments:
After a lot of anticipation, Round 1 was finally here. The girls played well for three quarters, keeping the game within reach. Unfortunately, we were outmatched by Willetton in the end, and it was just not our day.

Congratulations to Blaise Stancil in celebrating her 100th WABL game this weekend. She was fantastic both in offence and defence – contested the boards strongly, racking up 6 rebounds and scoring 8 points.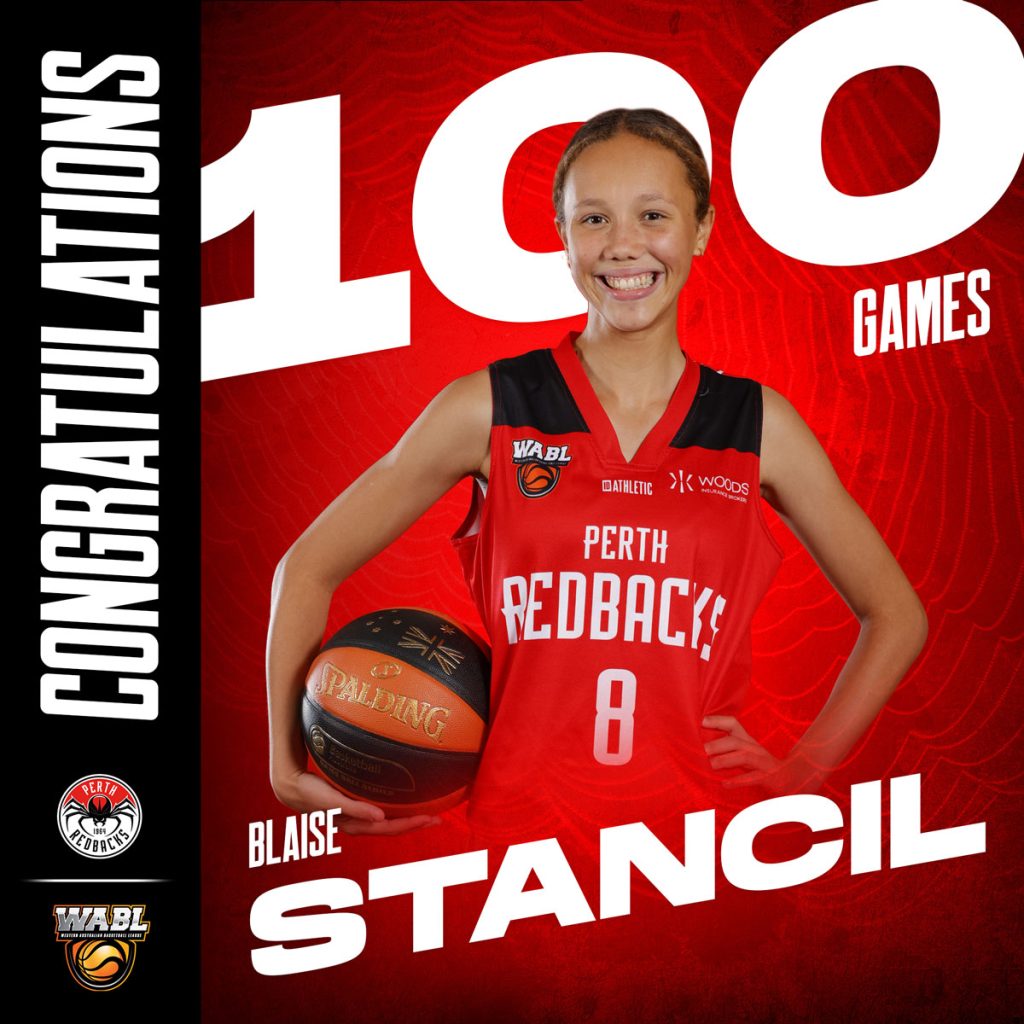 U18 Girls Div 2 – Zac Belton (sponsored by Aussie Fencing)
BYE
U18 Boys Div 2 – Simon Daff (sponsored by Grange Risk Solutions)
Won against Rockingham 97-76
Coach comments:
For the most part, we played well as a team and moved the ball well. When we struggled in the third quarter to hold the lead we went back to basics to steady the ship.

Hamish Elder had a breakout game which will do his confidence the world of good. When we were struggling a bit at the end of the third he really stepped up to hit some big shots and use his length on the boards.

Cooper Deshon and Andrew Chilufya were once again at their reliable best – consistent for four quarters and never really looked rattled, even when we had our struggles in the second half. Their ability to push the break and put pressure on the rim is always a highlight.

Huge congrats to Riley Ford, who played his 50th WABL game in Redbacks colours in this game.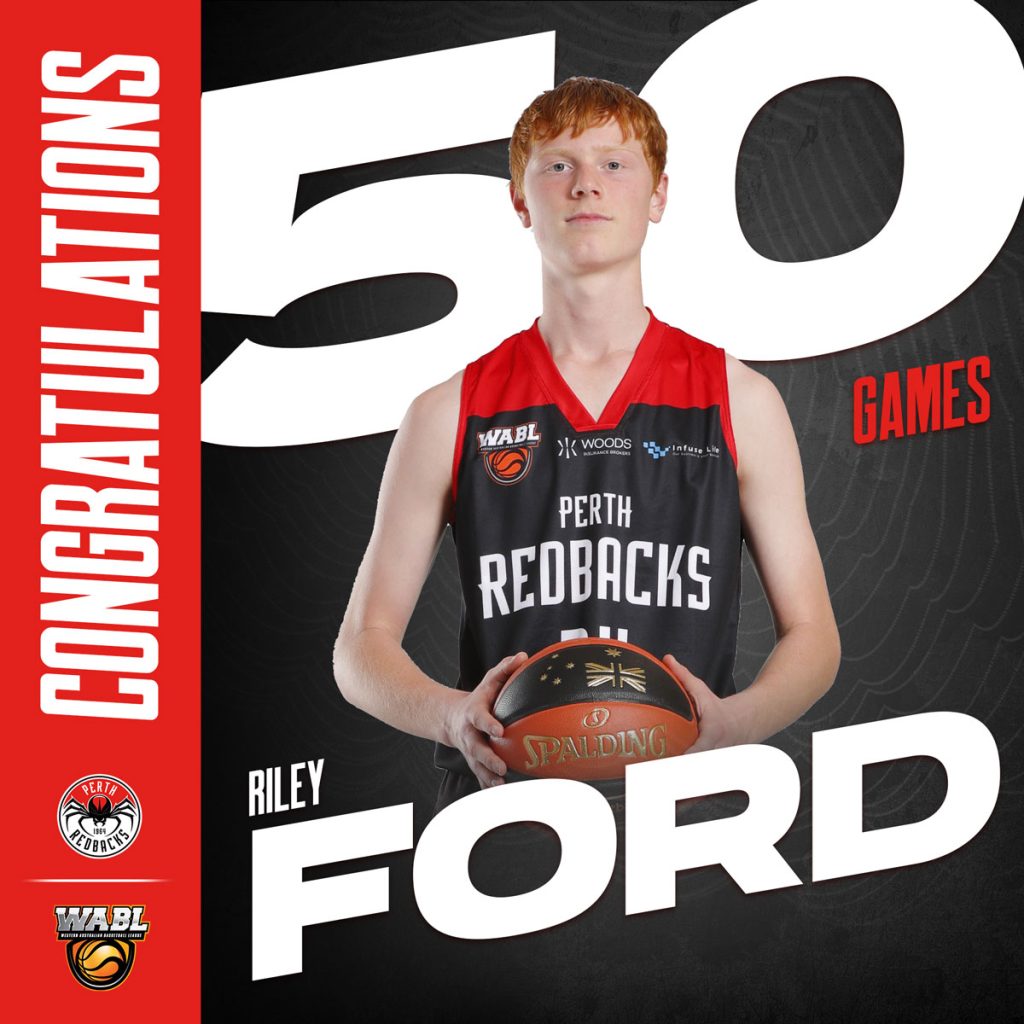 U18 Boys Div 3 – Nick D'Elia
Won against East Perth 80-61
Coach comments:
Good win to start the season and a key component of the win was the smothering defence from our guards, taking charges and hassling for rebounds

Will Goode got some timely buckets when the game was getting tight.

Lachie Steele and Benji Berardis led the way with their defence and unselfish play.
U18 Boys Div 4 Red – Bob Andrzejewski (sponsored by TECC)
Lost 68-79 to Redbacks Black
Coach comments:
We are still trying to find the most suitable game style to suit our abilities, attributes and skills. We never gave up in a game that was close throughout. In the moments when the boys were gelling and trusting each other, they played well but in the end, we just made too many little errors and wrong decisions. Credit to the other Redbacks team for their pressure.

Lazar Jovanovic, Antonio Cuccovia, Ethan Harders and Sasha Zugic stood up today and delivered the goods. I was very pleased with their efforts
U18 Boys Div 4 – Alessandro Gentelli
Won against Redbacks Red 79-68
Coach comments:
I loved the whole team's intensity and energy in this game

Josh Welsh came out and played strong – no fear!

Ethan Bushby, David Moore and Issac Moore played as a united front and were mentally strong throughout what was a close game the whole way
U20 Boys Champs – Luke Simonette (sponsored by Willis Temby)
Lost to East Perth 88-100
Coach comments:
Our effort in spurts was great, especially in the third quarter where we allowed only 2 points in transition. Intangibles such as huddling, picking up a grounded teammate, bench energy, leadership and communication were all on display.

Zviko Tinayenda showed excellent vocal leadership skills and plenty of hustle

Charlie Morcombe had a holistic game, taking care of the boards, leadership and adding 21 points. 

Malik Powell poured in an important 27 points.

Aiden Cannington got us off to a great start.
U20 Boys Div 2 – Graham Jones (sponsored by McDonalds Busselton)
Lost to Kalamunda 47-87
Coach comments:
Despite being down from the first period of the game, our players showed incredible resilience and perseverance. They refused to give up and continued to fight until the very end. Although we lost, there was enough there that will be essential for us to succeed as a team.

Miguel Chaitika displayed great hustle and determination throughout the game. His energy and enthusiasm on the court were contagious, and he challenged his teammates to match his intensity.

Akira Rowe-Fox Showed good leadership and poise on the court, during a game that proved to be emotionally challenging for the team. His calm and composed demeanour helped the team stay focused.

Ethan Gonsalves worked hard on both ends of the floor, continuing to attack and out their defence under pressure.

Melvin Nwankwo was high in energy and made some important interceptions and defensive plays that were encouraging moving forward

Ethan Saliacus and Tsepo Mhlope remained resolute throughout the encounter, continuing to work for the team.

All players contributed in this game – never giving up and continuing to push until the end.