The Weekly WABL Wrap is proudly sponsored by Woods Insurance Brokers. 
Here's the Round 5 wrap-up of how all our teams went including comments from coaches:
U12 Girls Champs – Bri Bailey (sponsored by Access Hire WA)
Lost to Willetton 44-45
Coach comments
Another nail-biter that, unfortunately, we came out on the wrong side of. We started really well with great intensity and execution. It took a little for some girls to get the nerves out but once they were gone they banded together so well and played such a team game! It was amazing to see how far we've come since State Champs.

Jacinta Wladyka was great at attacking the basket – she recorded an outstanding 32 points!!  

Alyssa Rullo was great at setting great screens for the guards to come off strong.

Elsey Lohman White and Allegra Care came on in a crucial part of the game and did exactly what they needed to do – stopped their players from getting the ball and played great defence.
U12 Girls Div 4 Red – Rori Roberts (sponsored by Commercial Plumbing)
Won 50-15 against Warwick Green
Coach comments
After a slow start, we were able to come together for an amazing 24-5 second quarter which really blew the game open.

Eva Blyth was amazing on both sides of the court with 22 points and multiple steals.

Darcy Brian's defence today was amazing. No matter if she is a head shorter than the other girl she will find a way to stop them
U12 Girls Div 4 Black – Paul Philpott (sponsored by National Geotech Drilling)
Lost to Lakeside 24-27
Coach comments (Ben Whitehouse)
What an amazing game! It was neck and neck the whole way and, in the end, the girls were just pipped at the post.  Our defence was so strong – the girls made sure they were stuck to their players and squeezed every ounce of effort out of themselves to keep the offensive and defensive pressure to the max.

Our transitions were fast and purposeful – more and more the girls are finding free players for a great shot.

Most wonderfully, they are growing as individuals and as a team, making sure they are doing the hard things to help each others. What a bunch of legends.

Isabel Nesa and Josie Smith were giants under the ring pulling in monster rebounds, and blocking the opposition at will.
12 Boys Champs – Brandon Riley (sponsored by Stockbrands)
Lost to Willetton Tigers White 54-65
Coach comments
We played well in the first half and fourth qtr but, unfortunately, our third quarter was not great. We are just a little patchy at the moment.

Kai Atfield and Zach Snell were scoring consistently within the team structure. 

On defence, Nathan Jetajobe and Lucas Blackmore were playing really well.
U12 Boys Div 2 – Andrija Petrovic (sponsored by Skyward Roofing Services)
Lost to Eastern Suns Black 40-55
Coach comments
This was a high-tempo game with the lead changing hands often in the first half. The third quarter started well, but unfortunately, the Eastern Suns went on a run and we struggled to deal with that defensively. We fought back hard in the fourth, but the margin was too great to overcome.

Ben Handke, Jayden Austin, Luka Petrovic and Will Ryan once again had big games.
Lost to Joondalup Wolves 38-50
Coach comments
It wasn't our day our Sunday – baskets didn't drop and we got exposed in defence. But the boys fought all the way through and I think they understand that in sports you sometimes get those kinds of games and as long as we are moving forward and learning more game skills and experience, we are on the right path.

James

Holzheimer

discovered his offensive side by driving the ball through the key and scoring on multiple occasions.

Elijah Mancini is now finding a way to defend hard without fouling a lot.
U12 Boys Div 4 – Craig Dropulich (sponsored by Sushi Wawa)
Lost to Warwick Senators Blue 50-67
Coach comments
Another great effort from our team this week – we are starting to bring the pressure and ferocity that I know is in these boys. We are starting games slowly and going on to win the second halves quite well. Just need to be a little more desperate to start games and things will turn for us.

We are also working out our opponents early on in games and changing our play to best exploit them. This is credit to the listening and reacting skills of these boys.

I have noticed that we do not fear any opposition now and are playing harder against all other teams. Good work boys the improvement is there every week, keep listening to Craig and Wayne and the success will come.

Seth Cass was great this week scoring 20 points, 7 of which were from free throws. He drives the ball with great vision and is distributing to team mates with ease.

Eli Devitt is a classy shooter – this week he drained 3 three pointers to total 8 for the season at a near 50% success rate. He is leading all under 12 divisions by 1 and turned 9 last Saturday. Good work Eli.

Pio Sampiano is improving with every game, most notably in his his defence and desire to get the ball. This clever left hander has a reliable mid range shot, is not scared to attack the basket, and is making the most of playing at the WABL level. His listening skills are impressive and helping him work out our game plan. Great work Pio keep it up.
U14 Girls Champs – Aric Forman (sponsored by Welsh Real Estate)
Won against Cockburn 73-48
Coach comments
Another impressive all round team performance. Fantastic to see players diving on loose balls, working hard to execute our defensive scheme, and supporting their teammates.

Grace Butcher and Paige Ogden were impacting shots, playing tough interior defence and grabbing rebounds on both ends. 

Ella Welsh leads the league in scoring adding another 37 points. 

Remy Sumich played some impressive defence in transition leading to many turnovers.
U14 Girls Div 3 – Vance Karimi (sponsored by Fish Boss)
Won against Lakeside Lightning White 50-31
Coach comments
This week, the girls played a great team game with high intensity at home against a fast paced Lakeside squad. The girls were great in defence, running back, deflecting passes, chasing loose balls, keeping their arms up in D and contesting every shot.

Our girls were confident through Lakeside's full court defence and did well to find space and attack their set defence. It was great to see parts of the Split-Kick-Extra with players drifting to the corner and dragging down to be there for kickouts.

We were a little too optimistic with some passes, but we'll work on good decisions to use 2 or 3 passes instead of forcing a single pass into the paint.

Zoe Elliott played with great intensity and confidence all game. Her decision making helped us immensely through the full court defence.

Cara Hayes played another strong game both in defence by walling up, and in offence with her strong drop-step move.

Sasha Kuan was great in offence, attacking the basket with her signature 2-step leap and pulling down the boards with her rebounds.

Leisha Charlie was all over the court, sprinting for defence and offence. She was smart with her pass and go, to receive on the cut and finish strong.
U14 Girls Div 5 Red – Marcia Dowling
Won against Hills Raiders 60-24
Coach comments
After being down to 9 players due to COVID, a horrifying dislocated shoulder at tip off reduced us to 8. We also had two girls returning from flu. So we started a little shakily and fairly so. But the girls are becoming a tight knit, supportive group of friends, and they got each other through that shaky start.

The consistency in today's team work was so exciting to see and we can't wait to play next week

Ava Litas played a fast-paced game today. She managed several intercepts and followed these with shots, showing her increasing confidence in her own skill under the basket.

Sally Dowling played many minutes being aggressive on rebounds and intercepts and taking great dribble opportunities in transition.

Annabella Lewis was fast in transition and a defensive problem for the Hills team.

Hayley Hill once again showed such grit and aggression in shooting resulting in a fantastic score line
U14 Girls Div 5 Black – Reid Ballantine
Won against East Perth Eagles 38-30
Coach comments
Eagles were a challenging match up right to the very end. The first three quarters were loose and frantic. I can't fault our energy and effort, we won a lot of the ball but didn't always take care of it, so it was a tight game.

The girls ramped it up in the 4th quarter and pulled away with persistent effort, more composed offence, and some nice outside shooting.

Another solid game from Ava Kemp with some sneaky steals and impressive contested rebounds.

Madison McKibben, Olivia Birsa and Saachi Ti'en did the hard work this week containing the Eagles' power and striking back.

Chelsea Karsum found herself on 4 fouls before halftime, but played out the second half just as fast and in their face but with great care and composure, and also firing from deep for her first 3 pointer!
U14 Boys Champs – Andrew Logan (sponsored by MD Building Maintenance)
Won against Willetton 58-57
Coach comments
Anyone who's been around WABL a while understands W's are hard to get and getting them against a Willetton Champs side on their home deck is one of the toughest tasks around. A great win for our boys today! We competed hard ALL game and didn't drop our heads when it wasn't going our way. It was looking like another 4th quarter lapse was going to cost us the win after Willo came out firing with an 8-0 run but we kept our heads, regained our composure and gave ourselves a chance to win. After dealing with the last 20 seconds that we had to run twice due to a shot clock error we came out of the battle one point to the good. Super proud of the boys and reward for their effort.

This was a team win! Everyone contributed.

Luke Websdale was outstanding today. He had his 15 and 10 as usual but his hands were everywhere in passing lanes and blocking shots. A great defensive game.

James Galvin had a purple patch in the first half where he kept us in the game ticking the scoreboard over. He showed great poise in this game keeping a cool head under pressure.

Xavier Allison was consistent all game. His finishing in transition was first-rate.

Zane Carbone did exactly what was required. He rebounded, looked after the ball, got to the right spots and benefited with 6 points. I love the energy and hustle Zane brings to the team. Well done Zane.

Tyson Cass has had to fight hard for his minutes this season. Well done Tyson on making the most of your time on the floor. He did as asked, looked after the ball, competed hard on D and made the right play.
U14 Boys Div 3 – Brad Holyoak (sponsored by Drafting Now)
Won against Cockburn Cougars Blue 77-54
Coach comments
Was a pleasing game today as it was the first time that we won all four quarters. Our attack on the ball was great. We still need to work on our second and third efforts to take our game to the next level but overall very happy with our performance

We had great contributions from Jake Chew, Tace Rankin and Toby Schultz this week.

A special shout out to Charlie Norrish who got his first run as a train on well done.
U14 Boys Div 4 – Ben Hamilton (sponsored by Cogito Psychology)
Won against Mandurah Gold 74-52
Coach comments
We struggled for large sections of the game to exploit our team's advantages and this kept a spirited Mandurah team in the contest for most of the game. While this was not our best game, some of our players were outstanding and this secured us the result we needed. Well done to the team for a gritty away win.

George Ryan played his first game of the season and was immediately impactful on both ends of the court. His ability to play any position makes him very valuable, as does his energy level on the court.

Will Hemingway lifted the team at crucial stages with important defensive stops, some huge rebounds and full-court hustle. He was also his typical self on offence, attacking the rim and creating havoc for the opposition's defence.

Matthew Lucano was perhaps our most important on the day, applying his typical lock-down defence while also distributing some beautiful inside passes to setup up our offence. He also got a bag of points and rebounds to really stand out for us in this game. Well done Matty!
U14 Boys Div 5 – Matt Strika (sponsored by Sushi Wawa)
Lost against Eastern Suns 68-73
Coach comments (Ron Flores)
The boys responded really well to adjustments that occurred during the game. The energy level both on & off the court was great.

Ethan Cooper and Tex Tierney led the way in the scoring department with good shots within the offence

Max Woods, Nick Knight and Elliot Birch handled the Sun's press well and also play good on-ball defence.

Luka Delic, Ethan Kingsbury and Kade Peake battled hard on both ends of the floor doing a great job walling up defensively and battling for the boards.

Joshua Webb and Clayton Sumich provided great sparks off the bench on both ends of the floor making a great impact.

Overall the on-ball defence was good and the offensive ball movement was great.
Won against Joondalup Wolves 65-61 (OT)
Coach comments
We were down to 7 active players for this game due to injury and knew we'd have to be disciplined and committed to win. We had a great start, responded to some runs by the Wolves and ended up bringing it home in overtime. This was a tough, character-defining win for our team.

Our active 7 all deserve a mention.

Leeshar Tuialii and Madi Makavilitogia played enormous minutes as our only bigs and were completely awesome. 

Grace Dimer and Mafa Tuialii were particularly aggressive at the offensive end, driving and knocking down some big threes. 

Harriet Woods returned from injury and brought toughness throughout.

Matilda Pyne and Lailah Tasker anchored the team, figuring out the constant full-court pressure, playing relentless D and bringing us home in overtime. 

Lailah also did a fantastic job getting to the line and knocking down ALL of her 6 free throws.
U16 Girls Div 3 Red – Cheyne Kerp (sponsored by Wyatt Martin)
Won against Lakeside Purple 48-44
Coach comments
This was a top-of-the-table clash. The girls entered the court with determination and a clear objective. They showcased their dominance by asserting control on the defensive end, effectively shutting down Lakeside's outside shooting and baseline drives. Their efforts paid off handsomely, as they built a commanding 15-point lead at the end of the third quarter. Despite our early success, we let Lakeside back into the game. The girls showed composure in the last few minutes coming away with a close victory. There is a lot to like about this group of girls as there is so much potential.

I would like to thank Matt Hunt and Megan Mantle for helping along with Manda Bentley it was greatly appreciated.

Tash Mantle had a very solid game leading the way with steals and blocks.  Grace played well on offence and defence.

Jess Kerp was outstanding on defence rebounding against bigger opponents and her defensive pressure created multiple turnovers

Zoe Ball defended well in our zone with help D and her excellent shot selection led to good FG%.

Tash and Steph Hunt showed excellent composure when the game was on line.
U16 Girls Div 4 – Geoff Alger (sponsored by Design Orthodontics)
Lost to East Perth Eagles 43-51
Coach comments
We started strongly before a long patch where we failed to convert our opportunities into points, and this allowed our opposition to get on top. I was really pleased with the way our girls continued to work hard and challenge our opponents right through to the end.

Amina Handule was once again dangerous during this match and it is great to see her confidence continuing to grow.

Sienna Duong provided a valuable contribution in her 50th game for the club. Her control and decision making in offence and her disruption and pressure on defence were important.

Ella Baxter played well, also showing good composure with the ball and being disruptive on defence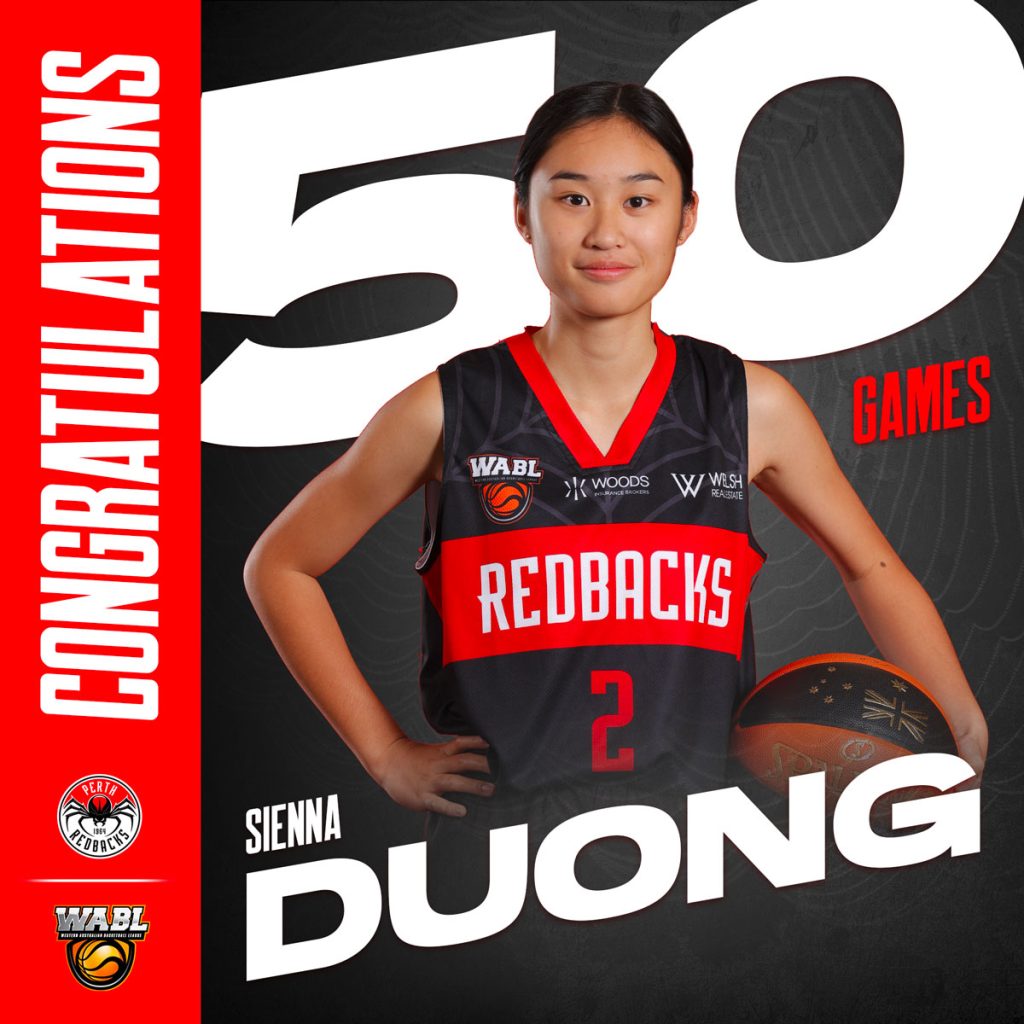 U16 Girls Div 4 – Lucy Dowling (sponsored by LKS Constructions)
Won against Warwick 63-62
Coach comments
The girls had a brilliant game all round – our energy was high starting in the warm-up and our intensity + non-stop pressure resulted in fantastic defence. By playing this way the girls generated numerous steals, stops and interceptions, followed by quick points.

Paige Wigmore had to work really hard today and did not disappoint. She was physical under the basket and stepped out of her comfort zone to defend with full-court pressure.

Salma Rahmadavi, Isabelle Swann and Annabelle Thomson continue to impress with next-level performances. Having three guards so talented at both ends of the court is invaluable.

Olivia Weddikkara suffered a knee injury in last weeks game, but she didn't let that stop her from making a difference. She didn't stop encouraging, talking and giving feedback to the girls all game. Her positive words contributed towards our energy more than anything
Lost to Willetton 61-119
Coach comments
We played decently for the first quarter and most of the second to be down only 5 during the 2nd. But that was pretty much where it ended. We didn't appear to be locked in to play and when the game got tough and required us to dig in, we weren't able to do so. Willetton outworked us on both ends of the floor, we turned the ball over a lot and reverted to a lot of 1 on 1 non-team basketball. This was a backward step from our efforts of the past two weeks but we will regroup and reload for this Sunday.

Zaydn Thomas worked his butt off all game and didn't give up.

Jay Hazell put some great points on the board for us today.

Kano Kudray played his 50th WABL game for Redbacks today. Congrats Kano.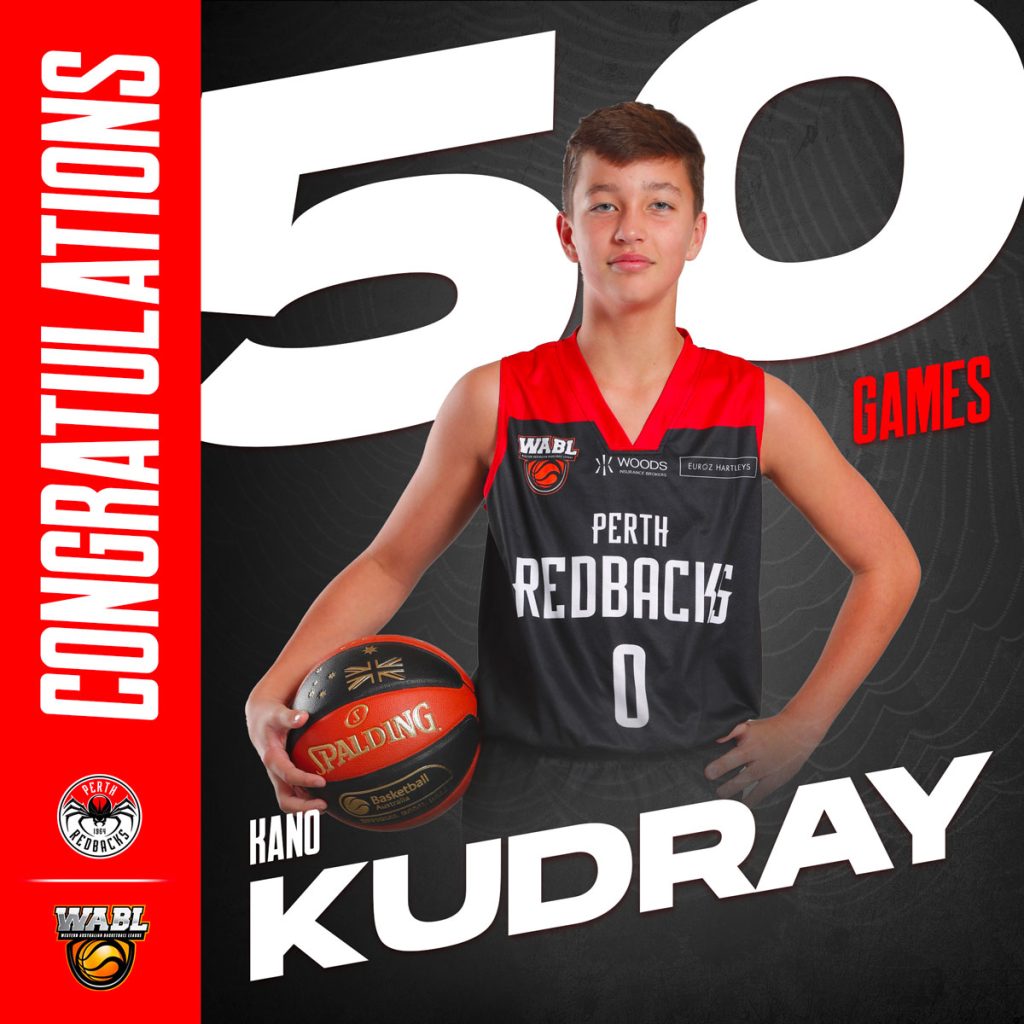 U16 Boys Div 2 – Louis Timms (sponsored by Inktank)
Won against Cockburn Cougars 65-61
Coach comments
We started the game off slow with reactionary defence and Cockburn did a really good job of penetrating the key way for inside scores.

After the boys were able to cut the score down to a 6-point deficit before the half we were able to make a defensive adjustment to they're penetration which allowed us to regain control of the game and ultimately get the win.

Michael Ryan was exceptional offensively with 34 points whilst Zac and Vinz both had solid performances with 11 and 9 points respectively.

On the defensive end, Tyler Hirt and Samuel Peirce were big for us with rebounding and getting in passing and driving lanes which gave us a lot of extra possessions.
U16 Boys Div 4 – Mitch Jesson (sponsored by DLA Piper)
Won against Joondalup Wolves 75-71
Coach comments
Another week where our opponents entered the game with a mirror record of our own (3-1). The game was one where we enjoyed a lead throughout but could never truly break the game open. Most pleasing was again hitting most of our key indicators – courteous behaviour towards the referees and our opponents, everyone scored, sub-20 turnovers (18) and 2 wonderful charges drawn by Jaxon Kowal.

Even though the final margin was close (4 points) it never felt like we were going to let it slip. Our close-out of the game was much better than last week.

Tait Dalton is our big man and has the heart of a lion – he really wants to help the team. We had a good chat with Tait about the value he brings to the team. The opposition centre is rarely able to score big as Tait physically battles every possession. In this game, as in previous weeks, Tait was instrumental in holding Joondalup's starting centre to 4 points. He also managed to add 2 steals, 6 points, 5 boards and 1 block of his own to our team's stat sheet.

Cooper Hewer is a highly competitive and driven player and I could easily call him out every week for his points production alone (this week 10 points in addition to 5 boards and 2 steals). However, what I am most proud of is his 4 assists and only 2 turnovers. We spoke midweek about protecting the ball and bringing other teammates into the game – we saw significant progress in both areas and that is so rewarding as a coach to see.

Ewan Maclean off the bench is a luxury most coaches don't have. We've spoken to Ewan about being a momentum changer when he hits the court and 21 points @60%, 75% from the line, 5 boards, 1 assist and 3 steals tells us that is exactly what he is. Extremely modest, he just continues to lift the team with his pace and work rate. In his 50th WABL game for Perth Redbacks, Ewan's contribution was very impressive.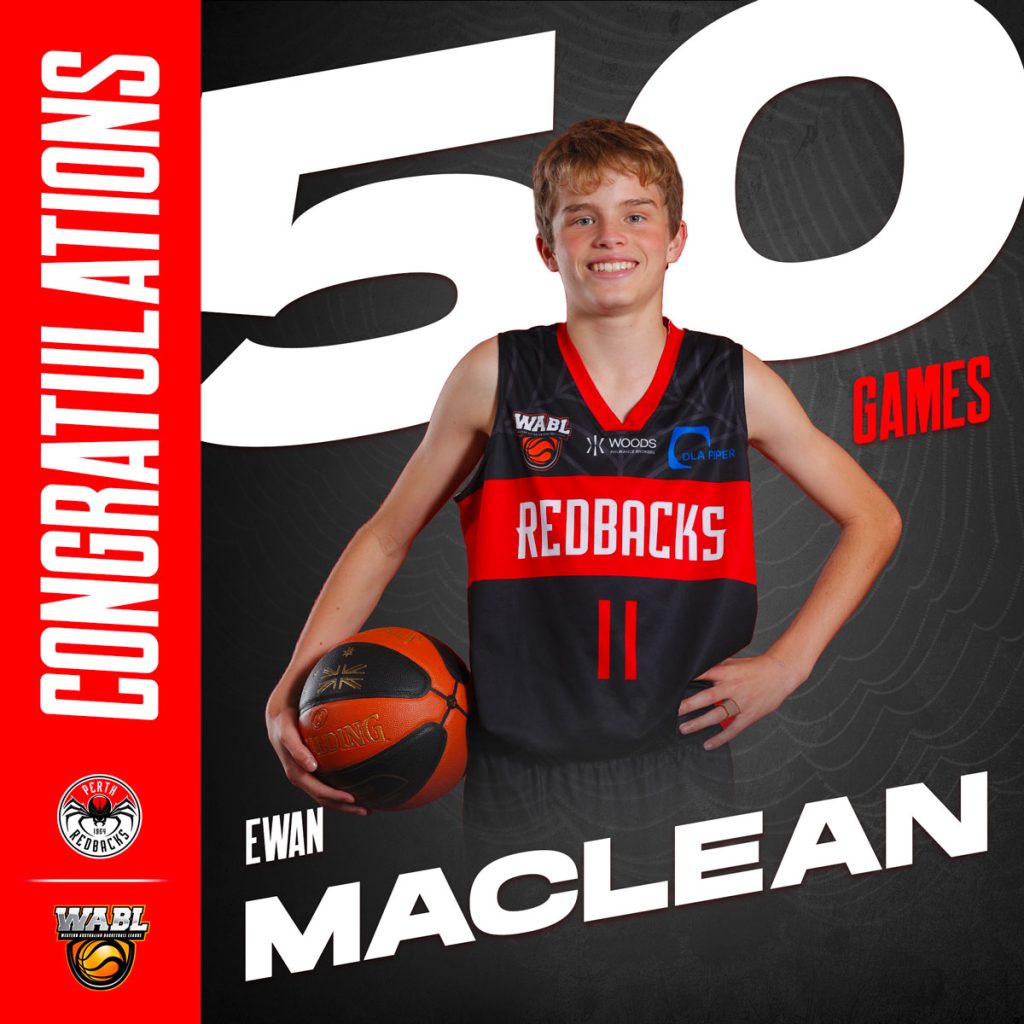 U16 Boys Div 5 – Dan Cartwright
Lost to Eastern Suns White 68-115
Coach comments
Congrats to Koby Kalebic who played his 50th Redbacks WABL game on Sunday.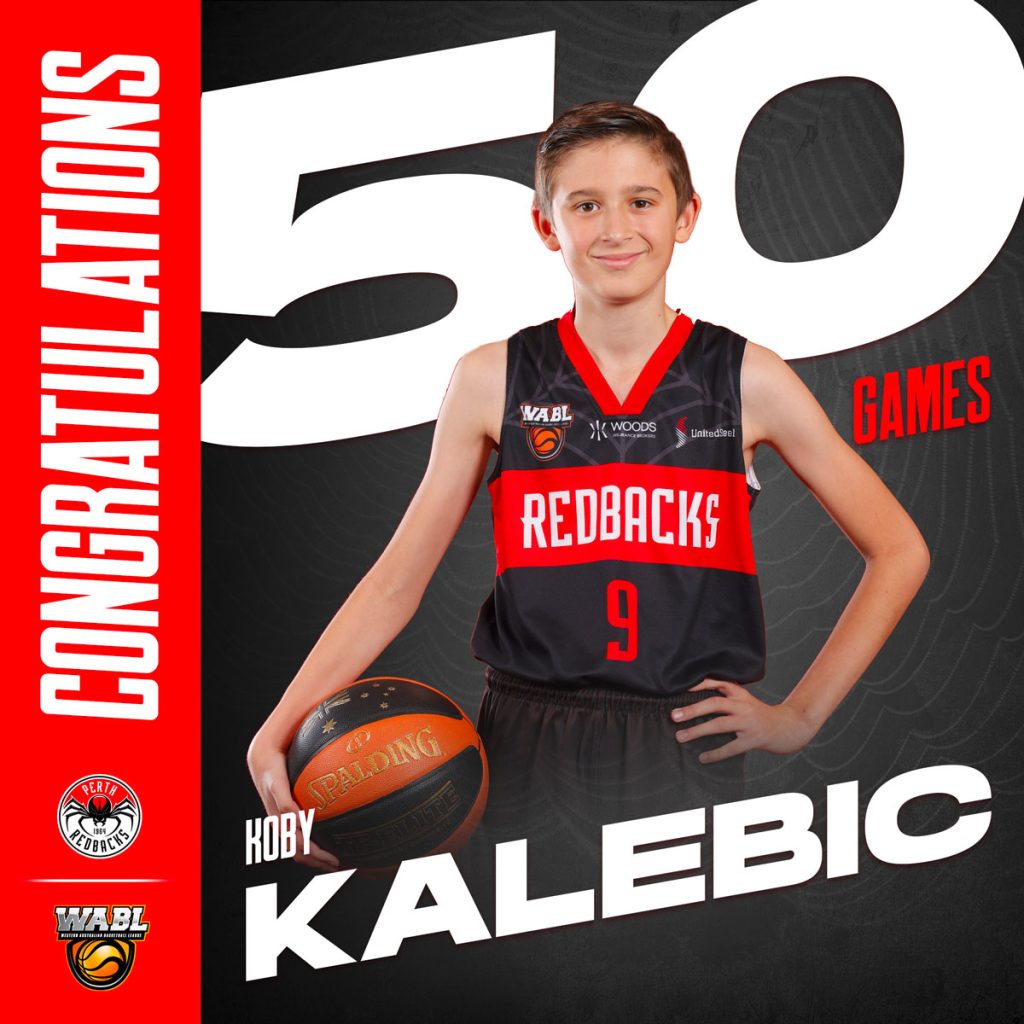 U18 Girls Div 2 – Adrian Warner (sponsored by Claremont Asphalt)
Lost to Lakeside 57-62
Coach comments
So proud of this team! It was a great effort after a disrupted preparation this week and the girls maintained great focus and intensity for the entire game. It was a tight, evenly matched contest from start to finish. A brief passage in the third quarter saw Lakeside jump out to an 11 pt lead that we then had to work hard to peg back. With 1:30 to go in the fourth, we were down only three points. We executed an offensive set really well to get a good outside shot that rimmed out, after which Lakeside managed the clock and we had to foul. Slightly fewer turnovers, slightly more free throws made and perhaps this would have been a different result. At times our shell D was so good I was wishing for a 24 second clock!

Blaise Stancil competed hard on the defensive boards, forced some nice mid-court turnovers with her help D, persisted in getting to the outside shooting spots at the right time and it showed on the scoreboard – nailing some lovely shots from long range. 

Lucy Waller was tenacious in D, attacked the paint hard and was unlucky not to get more reward for her efforts. 

Hannah Saliacus showed some very nice footwork in the low post to score at high efficiency. 

Charlotte Broadbent showed great resilience and was dominant on the defensive boards to get us to our transition. 

Megan Taylor showed great leadership and played hard at each end with good composure. 

Jenna Jackson's work rate made me tired looking at her 🙂 She set the standard for on-ball pressure, pushed the ball hard in transition and shot 5 for 6 from the FT line. Good all round performance Jenna. 

Elliana Forman was a solid play maker in our half court sets, attacked the paint and kept us in touch with some nice outside shots when we needed it. 

Grace Dalton got open for some nice shots, and looked to push the ball in transition which is what I asked for. 

Kate Anderson was challenged early but to her credit worked hard to refocus and her defensive on ball pressure and help D was first rate.

 Many thanks to Trev Touzel for helping me on the bench.
U18 Girls Div 2 – Zac Belton (sponsored by Aussie Fencing)
Lost to Perry Lakes Blue 58-39
Coach comments
A strong emphasis in this game was our defensive intensity. For a team that typically scores 80 points a game, we did a great job holding Perry Lakes to 58. Our offence started gaining momentum in the second and third quarters, with our opposition taking a 5-point lead at halftime. The team remained resilient and battled out till the end.

Massive shoutout to Chloe Chan, who recorded her first-ever WABL points. She played hard-nosed, aggressive defence and did a fantastic job looking after the ball.

Anais Adnams did a fantastic job shooting the ball and played fantastic split-line defence.

Tatum Cooper did a fantastic job finding the gaps in the defence and attacking. Her IQ was fantastic to see!
U18 Boys Div 2 – Simon Daff (sponsored by Grange Risk Solutions)
Won against Eastern Suns 72-70
Coach comments:
This game turned into a grind after a really good first 15 mins which saw us up 16 points. Our old habits crept in, and we stopped playing our game style of keeping the game fast. We allowed the Suns to slow the game right down and dominate the rebounds.

After a scoreless third quarter (which I've never seen before) we still managed to record the win. That shows a lot about this group's toughness, that even in a game where we didn't play well we still did enough to win.Big credit to the boys in that fourth quarter when the game was there to be won.

Basile Allegre had a fantastic game. He stood up as our primary big and tried his hardest to match the size and strength of their bigs. He played physically and really made a presence on the rebounds in the second half.

Max Millard had another terrific game. His ability to just do a bit of everything and play the right way in long stretches shows he's really settling into this team.
U18 Boys Div 3 – Nick D'Elia
Lost to Joondalup Wolves White 70-86
Coach comments
This game against the Wolves was always going to be difficult as we could only suit up 8 players due to injury and illness and even players on the bench were carrying injuries – lots of strapping tape and Nurofen made it possible to field a team.

I thought if we played well and our shots dropped it would be very possible to win this game. Unfortunately, that is not what happened. We got behind early and struggled on both offence and defence making it impossible to complete. 

A gutsy effort from Lachie Steele who had a shoulder injury but still managed to inspire the team 

There were some good minutes from Cian Veale, playing great defence and rebounding

Hopefully we will have a full team next week and will have a good game.
U18 Boys Div 4 Red – Bob Andrzejewski (sponsored by TECC)
Won against South West Slammers 126-54
Coach comments
Last week 4 of my players got sick with flu/cold and did not train the whole week, 2 did not recover in time to play (Toni and Riley), Max Wishart came and played but poor soul did not look well. Alex Tinlin had his first game after injury and wasn't fit to play many minutes, but he did a great job. We used both train-on players, who did an awesome job. And with all these little obstacles, the boys managed to deliver a stunning result.

Caleb Hoenig came out of his shell and played with confidence, energy, and aggression. I hope it was not one off event and we will see this consistently throughout the season. 

Also, I would like to mention again the huge contribution of Jude Garbenis.

Alex delivered a surprisingly strong performance returning from injury and the lack of fitness that goes with a long time off the court. 

Must say though that all players contributed strongly and well.
U18 Boys Div 4 – Alessandro Gentelli
Lost to Willetton 78-84
U20 Boys Champs – Luke Simonette (sponsored by Willis Temby)
Lost to Lakeside 79-89
Coach comments
We started well with 13 defensive stops in the 1st quarter that we turned into good fastbreak looks. Our offensive execution was very good in patches, leading to the specific looks we wanted

Charlie Morcombe made great decisions on the ball. Gets great looks for his teammates

Kobe Craig stepped up physicality this week, keeping their big at bay early
U20 Boys Div 2 – Graham Jones (sponsored by McDonalds Busselton)
Won against Warwick 82-78 (OT)
Coach comments
This was a well-fought game that showcased the determination and resilience of our team. We emerged victorious with a final score of 82-78 in overtime.  Throughout the game, our players had to dig deep and remain focused. There were moments when it seemed like the game was slipping away from us, especially with less than a minute to go. However, I commend each and every one of the players for maintaining their composure and giving everything until the final whistle.

The game was a true testament to the strength of our team's character and the trust developing amongst the team.  This win represented our collective efforts and the hard work the players have put in during training sessions.

Danny Ryan deserves recognition for his comeback after injury. Despite the challenges he faced, he showed remarkable bravery and determination. Danny did not hesitate to get involved on both ends of the floor, making a notable impact on our team's performance.

Ethan Saliacus displayed great strength and determination in his role. He delivered his best performance of the season so far, leaving an indelible mark on the game. Ethan's skills and unwavering commitment were evident in every play. His hard work pays off.

Mandla Magwenzi also deserves recognition for his impressive debut. Despite it being his first game with the team, he seamlessly fit in and made an immediate impact. Mandla's ability to adapt and contribute right from the start speaks volumes about his talent and the hard work he puts into his game.

I would also like to highlight the invaluable contribution of Will Burbidge and Ethan McIntosh, who, despite being injured, kept stats and manned the score bench respectively. Both play a crucial role in keeping our team focused and motivated – thank you.