The Weekly WABL Wrap is proudly sponsored by Woods Insurance Brokers. 
Here's the Round 13 wrap-up of how all our teams went including comments from coaches:
U12 Girls Div 2 – Emma Ormond (sponsored by Baston & Co)
Lost to Hills Raiders 33-44
Coach comments:
This was a close game through the first half before Hills went on a run in the third. We were chasing for the last quarter and the girls never gave up. Their pressure on the ball in the last 5 minutes of the game was amazing. Next time, we will bring that pressure all game!

Nora Ostermeyer was amazing on defence. She ran hard to get back on ball or basket and was so strong.

Darcey Hill was awesome, hustling every loose ball and reading the boards so well to rebound over much taller girls.
U12 Girls Div 3 – Marcia Dowling (sponsored by Access Hire WA)
Lost to Kalamunda 45-24
Coach comments:
The final margin belies how well the girls played in this game. The first time we played ladder-leading Kalamunda, it took us over a half to adjust to their press, their speed and their execution. In this game, we adjusted quickly after giving up some early baskets and kept things tight for the first half. The girls passed their way easily out of the press and advanced the ball with confidence. They also moved the ball well in the half-court offence and showed excellent spacing. Their development here is wonderful to see. In the end, we got many good shots up but just couldn't get enough of them to drop while Kalamunda converted their opportunities well.

Mia Exeter attacked the basket hard and got herself to the free throw line 5 times. She contributed 4 points, 4 rebounds, 4 blocks, 3 steals and 2 assists

Gracie Dillon was a menace on defence as always (we missed you last week Gracie!). She had 4 deflections and 7 steals to go with 4 rebounds

Pepi Graham just knows where to be to grab rebounds, she had 8 to go with 2 steals

Cyra Olowoyo used her dribble to advance the ball quickly while scoring 4 points, grabbing 3 steals and recording 1 assist

Allegra Care took great shots that just didn't drop while harassing Kalamunda on defence and forcing – as always – several jump balls and generating 3 steals

Alyssa Rullo led our scoring with 8 while also pulling in 7 rebounds and stealing the ball twice

Gabbie Tetteh recorded 8 rebounds to go with her 7 points while also dishing out 2 assists and generating 7 steals

It was great to have Neve Hayles-Stenhouse back this week. Her rebounding (8) is always appreciated and she also recorded 2 deflections, 3 steals and a block
U12 Girls Div 4 – Paul Philpott (sponsored by Sushi Wawa)
Lost to Lakeside Lightning 31-50

Coach comments:
Going into this game both the player and supporter benches were loud and alive. Such a great feeling to hear the Redbacks noise! Our girls kicked off the game with an awesome coordinated front-court push back letting Lakeside know we were ever-present. At the risk of sounding like a broken record, our girls continue to develop as a solid collective in their defensive efforts. So great to see the cohesion and team play.

A quiet word with Manisha Jeyamohan pre-game saw her doing everything that was asked of her and working hard in both offense and defence. Thank you Manisha. 

Grace Danzo stepped up today in improving her marking of opposition players, whilst both Zara Flynn and Stevie Brehaut continue to be fierce in their defensive application. 

Lauren Jones, Ava Kemp and Olivia Birsa continue to play tall at both ends of the court creating many turnovers and ongoing annoyance for Lakeside. 

Freya Whitehouse, Hope Campbell and Ella Fair, our transition trio, fought and worked solidly in getting and keeping the ball in our offensive area. Great game for all.
12 Boys Champs – Denzel Jackson
Lost to Willetton Tigers Blue 48-42
Coach comments:
The boys did an excellent job at scoring around the rim and rebounding the ball looking for second-chance points. Unfortunately the full-court pressure Willetton put on us defensively proved to be very troublesome as it caused our point guards to get tired from fighting to bring the ball up the court on every possession.

Matthew Lucano's effort in this game was outstanding as he did a great job helping the other guards bring the ball up the court and was playing smart defence as per usual.

Another individual that stood out in the game was Luca Genovese. Luca didn't have a high-scoring game, however, showed visible improvements in his decision-making and ability to handle the ball as well as looking for scoring opportunities.
U12 Boys Div 2 – Alex Maude (sponsored by Inspiration Paints)
Lost to Willetton 41-69
Coach comments:
In this game I was really happy with our defensive pressure, full-court press, passing and cutting on offence, great shot selection, keeping their heads up given the deficit
Nicholas Knight couldn't be stopped on the dribble, he weaved through defenders attempting to press up and once he made it to the key he either attempted a floater or made the pass off to a player down low. Defensively he got back quickly and prevented many fast break points
William Hemingway through his body around in the rebound contest and won most of them, he also brought some physicality to the game which the other team couldn't stop
U12 Boys Div 3 – Ben Hamilton (sponsored by Euroz Hartleys)
Lost to Hill Raiders 26 – 73
Coach comments:
Defensively we worked hard as a team to contain their biggest scoring threats but couldn't adjust to their ball rotation and consequently gave up a lot of uncontested shots.

Despite conceding a big lead over two quarters, our team competed hard all game and never gave up.

Scott Samuel was aggressive on offence and was critical in defensive transition. It's great to watch his game develop each week.

Kai Atfield was solid in defence and a rebounding presence. Offensively he was our major threat and showed some great moves at the hoop on his way to being our leading scorer. It was a great all-around performance by Kai.
U12 Boys Div 4 – Matt Strika (sponsored by Global Cabling)
Lost to Rockingham Flames White 40-74
Coach comments:
A game against the ladder leaders is always going to be a tough ask. I was so pleased with how we came out, executed the game plan and took an early lead. During the 2nd and 3rd quarters, we were hit with some quality defensive pressure but to our credit, we came out in the 4th with a positive mindset and managed to rack up 15 points against the flow of play. Continued toughness and effort are hallmarks of this team.

Oliver Tuohy had an all-round great game, contributing 10 points and 4 rebounds. 

As always Ben Handke showed his "big man" skills by dragging down 10 boards against much bigger opponents. 

Tex Tierney racked up his 8th double-double for the season with 10 points and 14 rebounds.
U14 Girls Champs – Josh Wallace (sponsored by Welsh Real Estate)
Won against Perry Lakes 47-43
U14 Girls Div 2 – Zac Belton (sponsored by Redink Homes)
Lost to Willetton Tigers 43-27
Coach comments:
Our defence and pressure were awesome to see making the game a tight contest for the first three quarters. Unfortunately, fouls got the better of us – but the fight was really awesome to see.

Mila Reyes did an awesome job being all over the place, her effort and energy were contagious throughout this entire game.

Anna Zittrisch remained aggressive and timed her cuts perfectly which really opened the floor for us.

Isabella Budby had a great game hunting the boards – her ability to secure the rebounds was a huge effort.
U14 Girls Div 4 Red – Lucy Dowling (sponsored by Aussie Fencing)
Lost to Warwick Senators 44-46
Coach comments:
This was a hard game for our girls physically as well as mentally but I was so proud of the sportsmanship, positivity and hard work they all showed. Every single girl went out and played their role and overall the team effort was great to watch.

Olivia Weddikkara continues to impress me with her leadership, communication and post defence, today was no different.

Mya Slee went out and did exactly what I asked of her as always.

All the girls played incredible pressure defence and should be very proud 🙂
U14 Girls Div 4 Black – Ofir Ben Dror
Lost to South West Slammers 40-22
Coach comments:
Our defence was set up beautifully for 3 quarters and only injuries and foul trouble late in the game helped Slammers run away with the game. On a different day, things would have looked much better.

We had to change our defence structure because of a very tall and strong player on the other team.

Paige Wigmore took that player completely out of the game by keeping her out of the keyway and not letting her take any rebounds. Well done Paige.
U14 Boys Champs – Aleks Lackovic (sponsored by DLA Piper)
Loss against Cockburn 60-41
Coach comments (Ron Flores):
I was really pleased with the effort given by all players against the top team and feel the final scoreline didn't reflect the way we played. In the end, the main difference was Cockburn finished better at the ring and hit the three-ball at a high clip. 

In general, the required level of effort and team play was there from all the boys. They never dropped their heads and played hard all the way to the final buzzer.

It was a total team effort where everyone contributed.
U14 Boys Div 2 – Kevin Dunstan (sponsored by United Steel)
Lost to Perry Lakes White 79-74
Coach comments:
In a game of runs, it was great to see the boys fight back from double-digit deficits on a couple of occasions. Unfortunately, in the end, we couldn't hold on for the win

Great to see the hard work finally paying off for Luke Trevenen with his best game of the season – 14 points and 6 rebounds
U14 Boys Div 4 – Andrew Logan (sponsored by Drafting Now)
Won against East Perth Red 62-60 (OT)
Coach comments (Ethan Saliacus):
This was an amazing game! The boys kept their composure the whole game, even though we were down for most of it. We never gave up and produced a 17-11 last quarter to level the scores at full time and send the game to overtime. To get the win in OT was something else.

Parker Dunstan was outstanding on the boards for us.

Toby Summers really took care of the ball. 

Tace Rankin trained really well this week and it showed in the game as he was consistent at both ends of the floor.
U14 Boys Div 5 – Isaiah Walley-Stack (sponsored by S&M Group Bobcat and Truck Hire)
Lost to Kalamunda 47-50
Coach comments:
We lost by a considerable margin to this team the last time we played them, so as frustrating as it was to lose this game, it represents a big improvement on earlier in the season.

The boys played hard until the end, kept turnovers low and took high-percentage shot attempts.

Cooper Roskell had six assists and made a handy three-pointer deep in the fourth quarter. 

Jake Souren contributed well getting rebounds and scoring 15 points. 

Jake Chew contributed 12 points.

Mitchell Thompson and Jett Murphy's defensive pressure worked well as they trapped the ball at half court.
U16 Girls Champs – Bryn Arnold
Lost to Willetton 64-74
Coach comments:
We competed well for most of the game and were on top for large portions. We won the rebound count and used our full court defence to keep Willo under pressure. Unfortunately we also turned the ball over which gave them some easy buckets.

Stella Gregory competed well on both ends of the floor with great energy and lead the team with 12 points.

Miki Deshon and Ebony Cox also had double digit in points in a good all round team performance.
U16 Girls Div 2 – Holly Moore (sponsored by Mt Lawley Orthodontics)
Won against Perry Lakes 66-63
U16 Girls Div 4 – Geoff Alger (sponsored by MD Building Maintenance)
Lost to Perry Lakes Hawks 55-66
Coach comments:
I really enjoyed the improved confidence and intent in the way we played this week. That belief held true all game and while we hadn't quite got the scoreboard reward in the first three quarters, it was great to see the girls maintain this through to the end with a dominant final quarter finally giving reward for effort.

On the offensive end, better composure with the ball created lots of good opportunities to score with only consistency in finishing proving the difference.

Defensively, after quarter time our improved structure and individual commitment proved hard for the Hawks half court game to break down.

Steph Hunt had an excellent all round game while Jess Kerp brought outstanding intensity in defense and good control in offense.

Grace Almond and Talia Bentley attacked the contests with great intent.

Matilda Wyatt and Indi Ballantine provided many important rebounds.

Giselle Dale generated a lot of extra opportunities with her efforts to secure offensive boards and defensive commitment creating many Hawks turnovers.
U16 Boys Div 2 Red – Luke Simonette (sponsored by TECC)
Lost to Perry Lakes 65-79
U16 Boys Div 2 Black – Luke Notley (sponsored by MSP Electrical)
Lost to Senators 90-57
Coach comments:
We played some longer stints this week of better defensive basketball but when we didn't, the Senators were able to really capitalise. It was a great effort to win the third quarter and go up against another top-age team to really put us through our paces. I firmly believe if we can keep our heads in the right space, going up against tough teams will pay off in the long run.

Jack Saliacus had a standout game both offensively (top scoring) and defensively. He was given a defensive assignment and responded well.

Congrats to Michael Ryan who played his 50th WABL game for Redbacks in this game.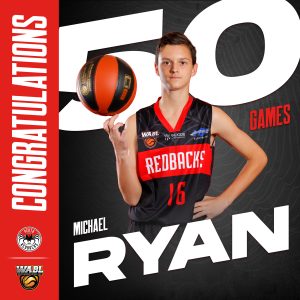 Lost to Joondalup Green 97-89
Coach comments:
After a slow start – we conceded a first-quarter lead of 6 points – the opposition basically held that score line for the rest of the game.

Most pleasing was having 10 players (which we haven't had since the start of the season), and that all 10 boys hit the scoreboard.

We still have work to do in transition defence and making better reads on steal vs slow the opponents. Our transition defence struggled to contain their outside shooting and this is something the coaching staff will work on.

Ibrahim Abdi fought hard all day for another double/double and is just a constant target under the basket.

Zayde Parriman is such a spark off the bench – his smothering defence and ability to score quickly make him such a valuable asset for us.

Kane Marcvinz Matondo (Vinz) has been stepping up as a swingman for the team – forward or guard – Vinz plays whatever role the team needs. Once again on Sunday – Vinz swung between both roles for us.
U16 Boys Div 5 – Tom Swindale
Won against Mandurah Magic 73-67
Coach comments:
I'm most pleased with our team's ability to slow down Mandurah's best player. We locked in on defence and adapted our zone defence when needed to counter his game, and this strongly contributed to our win

I'm pleased with Mitch Kensett-Smith scoring 26 points. He helped keep us in the game early and then helped close it off in the fourth quarter with some big-time threes.

I'm also pleased with Calloway Ball's efforts. Although stints on the court were short, Calloway played excellent on-ball defence and made good decisions on offence.
U18 Girls Champs – Mya Dimanlig (sponsored by Titan Finance)
Lost to Perry Lakes Hawks 60-83

Coach comments:
Overall, we had a decent game showing lots of improvement on both ends of the court compared to when we first played the Hawks earlier in the season. We had good efforts in applying early ball pressure and creating fast break opportunities.

Caitlin Lea and Mackenzie Thomas both applied great ball pressure that resulted in fast break opportunities for the team.

Megan Taylor played great defence, resulting in a few good blocks and steals.
U18 Girls Div 2 – John Care
Lost to Perry Lakes White 51-49
Coach comments:
This was the game we wanted to win, but unfortunately, we could not quite bring it home. The girls played a good solid game fighting back from 9 points down and not giving up to level the game slowly. We transitioned well and put together some great plays to challenge Perry Lakes and finish well.

Ainsleigh Passi pushed hard, crashing boards and used her strength to her advantage.

Aaliya Shelhot made some good shot selections to come up with 10 points.
U18 Boys Champs – Brandon Riley (sponsored by Willis Temby)
Lost to Perry Lakes 82-61
Coach comments:
We played a great first half.

Charlie Morcombe did a lot at both ends. 

Aiden Cannington played some great basketball.

Kobe Craig continues to give everything he has while out on the court while delivering great energy when he's on the bench. His attitude is commendable.
U18 Boys Div 2 – Sam Fox (sponsored by MacDonalds Karratha)
POSTPONED
U18 Boys Div 3 – Simon Daff (sponsored by Grange Risk Solutions)
Lost to Wolves 91-79
Coach comments:
Our lack of size meant we got destroyed on the boards but the boys found a strong will to keep fighting and find a way to stay in the game. To be leading in the final quarter only to fall at the last hurdle hurt, but showed they had the skill and fight to take it to the top team.

Our bench really stood up in this game. It was because of them that we fought our way back in the third quarter.

Benji Berardis, William Goode and Hamish Elder all came off the bench and competed hard with great energy. They were ready to go the second they were called on, and hit the court locked in ready to play. They were a strong part of the group that got us back in the game in the fourth quarter. Was a credit to their attitude in this one.
U18 Boys Div 4 – Mitch Nixon (sponsored by Maude Family Lawyers)
Won against Cockburn 94-62
U20 Boys Champs – Adrian Warner
Lost to Warwick 55-99
Coach comments:
We had a tough assignment against the top team that has been dominating games and we started very well to be within a couple of points at quarter time. The key was better and more consistent defensive intensity which was translating into productive offense. Unfortunately we couldn't sustain the defensive focus and struggled to find our composure in offense and they ran away from us in Q3. With 2 minutes to go we set a goal of stopping them from reaching 100 and getting some good looks in offense (mission accomplished). Lots of improvement over the past few weeks and we'll keep working on building more consistency over the course of 4 quarters

Harper Gadsby trained well and took that same focus and intensity into the game to play solid minutes. 

Josh Peterson showed at times how quick he is if he attacks the paint off the dribble. 

Everyone in the first quarter particularly showed greater 1:1 defensive accountability.