The Weekly WABL Wrap is proudly sponsored by Woods Insurance Brokers. 
Here's the Round 12 wrap-up of how all our teams went including comments from coaches:
U12 Girls Div 2 – Emma Ormond (sponsored by Baston & Co)
Won against Willetton Tigers 46-31
Coach comments:
The girls' communication, work ethic and commitment on defence were some of the best we've seen. On the rare occasion that Willetton got out on transition, we had all 5 girls chasing them down, without fail.

Our bench was the loudest and most encouraging it's been all season. Seeing girls ages 9-11 get hyped for their teammates is rare, it was very a proud coach moment.

Ava Armstrong was amazing on defence this weekend. The pressure she applied to ball carriers was incredible.

Sasha Kuan was really strong on rebounds and positioned herself really well. She also read driving lanes really well which lead to a lot of easy scores for herself or her teammates.

Georgie Clarke ran really hard in transition which led to a lot of good looks. Georgie's decision-making in this game was really good, she created quality shots for herself and her teammates by making good reads.
U12 Girls Div 3 – Marcia Dowling (sponsored by Access Hire WA)
Won against East Perth 31-27
Coach comments:
We started this game with 6 players due to injury and school camps so we knew fatigue was going to set in at some stage. Happily we built a solid lead in the first half that put us in a good position to withstand a late charge from East Perth in the final quarter.

As a team we put up a fantastic volume of very good shots. If they had dropped at a higher clip, the final margin would have been much, much higher.

All the girls contributed strongly to this win.

It's great to see Pepi Graham's confidence increasing every week. She took her shots and had 7 rebounds, a block, a steal and an assist to go with her 3 points.

Cyra Olowoyo carried the ball well and passed well to break the East Perth press. She had 7 steals, 4 points, 3 rebounds and an assist.

Fresh off a plane the night before and playing sore, Alyssa Rullo wasn't just our top scorer with 14 points, she also had 12 rebounds and played strong, 'hands out' defence

Gabbie Tetteh continues to impress. She had a great all round game with 10 points, 12 rebounds, an assist and 5 steals

Allegra Care, as always, forced several jump balls through sheer determination, used her speed and ball handling to break the East Perth press while also recording 4 rebounds, an assist, a deflection and a steal

Mia Exeter didn't hit the scoreboard, but she put up a good number of shots, got to the foul line three times and was strong defensively with 8 rebounds, 3 deflections, 11 steals and 2 blocks to go with 2 assists.
U12 Girls Div 4 – Paul Philpott (sponsored by Sushi Wawa)
Won against Warwick Senators 48-37

Coach comments:
Well what can we say . . . the girls soared and the bench roared!

For the first 3 periods, the game was a 1 pointer either way. By the 4th period, our Redbacks girls got their collective hype on to finish strongly with a well-deserved and solid win against the Warwick Senators.

The noise from the bench clearly translated to fierce on court. Through consistent, old-fashioned hard work on court, our girls reaped the benefits of numerous turnovers. The denial of desperately needed points for Warwick allowed us to take charge of the game in the final term. 

Freya Whitehouse was an absolute stand-out today with her strong leadership up the court through her confident ball-handling and direct progress to the ring. 

Similarly, Olivia Birsa racked up a smooth 24 points with her hard-fought domination under the rings. She was a significant frustration for her Warwick counterparts. 

Hope Campbell was also on point today with her focused defence and assists. 

Well done all. Win or lose Charlize and I are still having a ball!
12 Boys Champs – Denzel Jackson
Won against Cockburn Cougars 52-49
Coach comments:
Despite missing a few players for the game, the boys did a great job playing smart on defence with the majority keeping the foul count to a minimum. Once we switched up our defensive principles in the second half, the teamed gained the momentum they needed to push out in front of the opposition.

Erik Davies's efforts on defence and rebounding the ball saw an excellent improvement in this game, followed by leading our scoring with 18 points.

Another great individual having an impact on the game was Matthew Lucano who did a great job backing himself on both ends of the court, showing lots of on-ball pressure and finishing strong around the basket.
U12 Boys Div 2 – Alex Maude (sponsored by Inspiration Paints)
Lost to Mandurah Magic 54-74
Coach comments:
Our ball movement on offence was where we wanted it to be. This created drives and open shots for us to take advantage of
Our defence was great as well. The boys talked to each other about when to switch or stay
Given we were small, all the boys gave 110% in the rebounding
Clayton Sumich had a blinder of a game. Defensively he was huge, playing against a much larger opponent and held his ground well. He made some great drives and threw his body around in the rebound contests
William Hemingway did everything on both ends of the floor, getting offensive rebounds, scoring second-chance points and taking some big hits on the defence end
Max Woods helped the team get out of the full-court press, making some great passes up the floor and also making some great mid-range shots
U12 Boys Div 3 – Ben Hamilton (sponsored by Euroz Hartleys)
Lost to Willetton Tigers 26-73
Coach comments:
Despite being no match for a well-organised Willetton team, our group maintained effort throughout the entire game.

Will Ryan was back after a few weeks away and picked up where he left off, with two rebounds and a score from his first three touches.

Lucas Blackmore was aggressive at both ends of the court as our only big. His confidence is growing near the basket and it's great to see how this is helping his shot selection.

Franek Cytowski had an important defensive assignment and won the individual contest, keeping their main scorer to his second-lowest score of the season.
U12 Boys Div 4 – Matt Strika (sponsored by Global Cabling)
Lost to Joondalup Wolves 35-71
Coach comments:
In what was a pretty tough game where we were under significant pressure the whole time, the boys kept running and giving it their all. I can not fault the effort and intensity given by every boy but in particular, our two train-ons, Leo Wolfenden and Cruz Harris who both battled until the end.

Jayden Austin revealed a new side of his game with some strong drives and finishes to go along with his intensity on defence. 

Jacob Tan, Tex Tierney and Noah Mucjanko chased down some strong boards amassing 21 rebounds between them.
U14 Girls Champs – Josh Wallace (sponsored by Welsh Real Estate)
Lost to Willetton 36-67
U14 Girls Div 2 – Zac Belton (sponsored by Redink Homes)
Lost to Hills Raiders 46-47
Coach comments:
Tough to lose a game by 1 point but this result was a 25-point improvement on the last time we played Hills. This was brought about by applying pressure in the full court. Our emphasis on defence this game was fantastic to see.

Izzy Budby had a fantastic game guarding all positions and making her presence felt.

Anna Zittrisch remained aggressive and continued to attack keeping the defence on their heels.

Ella Baxter had a fantastic game moving the ball, finding open teammates and remaining aggressive.
U14 Girls Div 4 Red – Lucy Dowling (sponsored by Aussie Fencing)
Won against Lakeside Lightning 42-26
Coach comments:
Every single girl showed 100% effort and it paid off. Defensive pressure up the court was awesome, and they did really well to contain their player and not let them in the keyway.

Remy Sumich continues to impress me every week. I love the new aggression she is showing on offence.

Summer Chalder had the best game I've seen her play yet. She was all up on her player in defence and aggressive in offence and overall showed great skill.

Charlie Foster has become a great offensive weapon and did a great job on deciding when to take opportunities
U14 Girls Div 4 Black – Ofir Ben Dror
Won against South West Slammers 36-32
Coach comments:
The team effort in this game was exceptional. Our defence worked like a machine, the set plays were executed really well and it also helped that our scoring percentage was very good.

Niamh Murphy had a stellar game with good shooting from outside along with great defence and leadership.
U14 Boys Champs – Aleks Lackovic (sponsored by DLA Piper)
Lost to Willetton 40-62
Coach comments:
I was really pleased with our execution of defensive schemes in this game, it saw us force a season-high turnover count for the opposition.

Jaxon Kowal led the team with four quarters of defensive pressure and containment that resulted in 4 steals, 3 deflections, 3 assists, 4 rebounds and 9 points.

Jaden Exeter's commitment to defensive pressure, box-outs, banging as he does every week against bigger opposition and team-first attitude were excellent. He had 5 deflections, 7 rebounds and 2 steals.

Tyler Murphy's attack in transition and on the basket was appreciated. His defensive efforts were reflected in 2 steals and 2 deflections.

Anthony Flores worked hard, as always, in his 50th WABL game for Perth Redbacks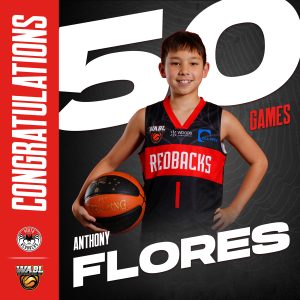 U14 Boys Div 2 – Kevin Dunstan (sponsored by United Steel)
Lost to Willetton 71 to 39
Coach comments:
Not sure if it was the holidays or the early start, but we never reached our usual level of energy or intensity in the first half. It was pleasing to see us fight back and win the fourth quarter though.

This week I hope to see a full four-quarter effort from the entire team and hopefully, we come away with the win.
U14 Boys Div 4 – Andrew Logan (sponsored by Drafting Now)
Lost to East Perth Blue 66-44
Coach comments:
The team worked hard the entire game against the top of the ladder team.

Joaquin Imperial had a great game – he gave us a much-needed presence inside the paint and was very accurate from the free throw line

Tate Mucjanko put defensive pressure on one of East Perth's more dominant players to limit his opportunities to score. Well done Tate.

It was good to see our train on Otis Farrelly on the court for us this game, he gave us great intensity on defence.
U14 Boys Div 5 – Isaiah Walley-Stack (sponsored by S&M Group Bobcat and Truck Hire)
Lost to Kalamunda 48-61
Coach comments:
I loved how we fought hard to the very end. On defence, the boys pressed well which resulted in turnovers that they were able to capitalise on.

Luke Websdale's defence was outstanding as he blocked over 6 shots, rebounded and stole the ball numerous times. 

Jake Souren's offensive game was strong scoring 18pts.

Jett Murphy tuned in a good game particularly in defence making some good steals.

Cooper Roskell played with high intensity throughout the whole game adding some handy field goals also.
U16 Girls Champs – Bryn Arnold
Won against Mandurah 76-57
Coach comments:
After a slow first quarter, we really lifted our effort and intensity and played some excellent basketball. The team dominated on the glass which allowed us to play at a good pace. All players contribute to an outstanding team win.

Kate Anderson had her best game of the season competing on the glass and diving on loose balls. She was also rewarded for running the floor hard on the offensive end.

Stella Gregory was outstanding in transition and finished with 19 points.
U16 Girls Div 2 – Holly Moore (sponsored by Mt Lawley Orthodontics)
Lost to Warwick 45-66
U16 Girls Div 4 – Geoff Alger (sponsored by MD Building Maintenance)
Lost to Eastern Suns 46-51
Coach comments:
I couldn't fault our girls' effort and commitment all game.

Improved decision-making with the ball in the last quarter made a huge difference and was enough to make for an exciting finish. Though in the end, the deficit proved too much, this effort showed once again that when we look after the ball, we can really challenge teams.

Steph Hunt's composure and decision-making with the ball were very important, particularly in the last quarter.

Grace Almond and Matilda Wyatt fought hard for rebounds all game creating many second chance opportunities.

Jess Kerp and Talia Bentley's commitment and effort can never be faulted with Jess' chase-down block that resulted in her final foul typical of the attitude these players bring every week.

Giselle Dale provided consistent effort with her fitness helping her to continue to cover the court for long periods of play.

Keira's ability to apply defensive pressure without fouling was very important in the final quarter and showed everyone how we want to play our defence.
U16 Boys Div 2 Red – Luke Simonette (sponsored by TECC)
Lost to Warwick 58-81
Coach comments:
I was really pleased with our offensive execution in this game (understanding where we needed to be at certain points of the offence). The defensive effort was always there, especially given the tough matchup height-wise.

David Moore and Issac Moore took care of the ball awesomely against a tough press and would have led the game in fouls drawn

Romain Suraweera gave heaps of noise and effort in a game that was frustrating
U16 Boys Div 2 Black – Luke Notley (sponsored by MSP Electrical)
Loss to Hills Raiders 51-93
Coach comments:
This was a top-age team with some big bodies. We played a solid first half, to only be down 1 point at the half. Our transition containment defence was much better this week and we ran our 3 qtr court press for the first time in a game in small spurts effectively and caused some disruption to Hills' flow (which was the outcome we were after). 

Unfortunately, in the 3rd quarter, we dropped our heads once we were down 10 or so points, and weren't able to dig in and fight back.

Jack Saliacus's defence continues to improve. He is a big man who has improved his movement so much he is now able to contain even smaller faster players of the opposition. He has really taken a lot of our learnings at training and games onboard. Well done Jack. 

Zac Anfuso's defence is also very much improved. He is able to contain players much better and I don't think Hills were able to get past him if they ended up on a fast break when Zac was in transition defence.
Won against Willetton White 89-54
Coach comments:
After really letting ourselves down defensively in our final game before the general bye, we dedicated training to developing a defensive mindset.

The last time we played Willetton Blue, they scored 68 points, and we set the target to hold them to 60 this time around.

At the end of the game we had held them to 54 points (our 2nd best defensive effort of the season) – most pleasing was we still managed to score 89 points ourselves.

Hamish Gibson set the tone defensively, took 2 charges and still managed to score double figures himself including 2 three-pointers. Hamish leads loudly and by example.

Caleb Diacov Braga rebounds balls that he has no right in even getting to and creates 2nd chance opportunities. Defensively – Caleb played wonderful help defence and followed our scout perfectly.

Cooper Thompson brings defence to our team – he puts heat on the ball carrier every time, boxes out and values every possession. Coops is the ultimate team player.
U16 Boys Div 5 – Tom Swindale
Won against Lakeside Lightning 70-92
Coach comments:
I'm most pleased with our ability to re-focus after momentum is shifted in their favour. When they started full-court pressing for a majority of the game we remained composed and didn't turn the ball over.

I'd like to highlight Noah Hugo and Calloway Ball. When energy was needed, they came on and brought exactly that. Calloway with his defence and steals; Noah with his fast pace scoring ability.
U18 Girls Champs – Mya Dimanlig (sponsored by Titan Finance)
Lost to Warwick Senators 101-34
Coach comments:
I loved seeing how aggressive we were with Warwick's height. We continued to remain aggressive and work for each other. Our ball movement has improved tremendously.

Polly King was extremely aggressive attacking the basket, she didn't shy away from the physicality one bit.

Joia Kowalewski is starting to show glimpses of concepts the team has been working on in-game, fantastic to see.

Charlotte Horniman continued to push Warwick's height out of the paint and continued to be aggressive in this area.
U18 Girls Div 2 – John Care
Lost to Perry Lakes 35-69
Coach comments:
After a week off, the girls started strong against Perry Lakes both offensively and defensively. We were controlling the game well and our intensity and effort were great. As the game progressed, it started to slip away and fatigue got the best of us. Considering all this there were a lot of positives to take from the game and improvements gained.

Georgia Edwards had her best game this season. Her vision across the court finding teammates, passing and intensity on both ends was fantastic.

Annabelle Hathway's pressure on defence and in transition was great.

Lucy Waller had a big game with 13pts
U18 Boys Champs – Brandon Riley (sponsored by Willis Temby)
Lost to Warwick 74-85
Coach comments:
We were a little flat in this game, but the boys did not drop their heads and we kept having a crack.

Malik Powell and Charlie Morcombe really made the most of the opportunities they were given. 

Ethan Saliacus, Kobe Craig and Harper Mitchell-Oehlers gave great energy off the bench and had a nice run.
U18 Boys Div 2 – Sam Fox (sponsored by MacDonalds Karratha)
Lost to Perry Lakes Hawks 106-55
Coach comments:
This was a frustrating game. We were short-handed to start with and then lost a player to an elbow on the first possession. By late in the third, we were down to four players due to fouls. The team showed great fight, commitment and maturity throughout. There wasn't much to take from that game other than fantastic resilience and motivation to get back to full strength.

Jake Vilardi was a leader throughout, staying on the attack, playing great D and maintaining perspective.

Mandla Magwenzi shot the ball with great confidence and lasered in buckets.

Abdul Mire improved his on-ball defence and found some nice mid-range jumpers.
U18 Boys Div 3 – Simon Daff (sponsored by Grange Risk Solutions)
Won against Senators 71-70
Coach comments:
After no training for two weeks due to school holidays, I was worried we would come out slow. The boys proved me wrong and had a strong, high-energy first quarter.

Our ability to lower our foul count has been a big focal point and for the 2nd game in a row, we managed to achieve this goal.

I loved our mental toughness to stay strong even after being down in the fourth quarter. We didn't drop our heads or become distracted despite some challenges.

Andrew Chilufya continues to be a focal point of this team. His ability to stay calm in the fourth quarter, make some big plays and knock down foul shots helped get us over the line.

Riley Ford and Basile Allegre continue to play bulk minutes as our only 2 bigs. You can see growing confidence in these guys over the last three weeks and are starting to impact more on games.
U18 Boys Div 4 – Mitch Nixon (sponsored by Maude Family Lawyers)
Lost to Perry Lakes 57-82
U20 Boys Champs – Adrian Warner
Lost to Senators (Green) 60-66
Coach comments:
It seemed like we played two different games today. At three-quarter time we'd achieved the goal we set ourselves at half time and were up 23pts on the back of much-improved defence, holding the Senators to a meagre 9pts for the quarter and 35pts overall. 

Unfortunately, the discipline we had shown earlier evaporated in Q4 – we leaked 31pts and our offence dried up to score only 2pts. 

This loss hurt but there were elements that we can build upon.

Leon Chitiyo and Riley Burnett gave good minutes from the bench. 

Kamie Igbinovia was strong in the paint at both ends and it hurt us when he and Kaden Morcombe both fouled out in Q4.