The Weekly WABL Wrap is proudly sponsored by Woods Insurance Brokers. 
Here's the Round 11 wrap-up of how all our teams went including comments from coaches:
U12 Girls Div 2 – Emma Ormond (sponsored by Baston & Co)
Lost to Mandurah 39-68
U12 Girls Div 3 – Marcia Dowling (sponsored by Access Hire WA)
Lost to Joondalup Wolves 27-40
Coach comments:
In the second half the girls really worked well as a team and although our running was not fast our passing improved

Neve Hayles-Stenhouse picked up her energy and speed with such gusto in the fourth quarter and helped bring the score up – I now know just how much she can give!! 

Alyssa Rullo made fast breaks and finished well underneath the basket in the first quarter before suffering a nasty ankle injury.
U12 Girls Div 4 – Paul Philpott (sponsored by Sushi Wawa)
Won against Joondalup Wolves 34-26
Coach comments:
Again and again our girls continue to gel as a strong team. Each and every player contributed to hold the lead against the 4th top team. Our girls got their hustle on both defensively and offensively with outstanding results. Coaching for Charlize and I has never been so enjoyable. Thank you girls!

Ella Fair led us today with a massive 13 points, mostly with a full-court run and finishing off nicely with layups. 

Olivia Birsa also dominated strongly in the defensive ring area whilst taking 12 points herself. Manisha Jeyamohan and Lauren Jones both brought their A-game and were clearly present on the court helping us secure our long-awaited first win.
12 Boys Champs – Denzel Jackson
Won against Rockingham Flames 57-47
Coach comments:
For the majority of this game, our efforts on defence were amazing. Despite only having six players plus a fill-in (thanks so much Nick), we kept our mental lapses to a minimum with a low foul count to show for it. Offensively we did a great job attacking the ring and breaking down the opposition's zone defence.

Seb Doyle was the main key to our offence, finishing off with 17 points. His reaction time continues to improve, allowing him to be more engaged on the defensive end.

Another unique player on the court to acknowledge was Erik Davies. Despite not scoring the most points, his desire to get after every rebound helped the team the most. Not to mention his movement and execution on offence have been getting better.
U12 Boys Div 2 – Alex Maude (sponsored by Inspiration Paints)
Lost to Cockburn Cougars 45-87
Coach comments:
Despite the scoreboard, the boys gave the game 110%

Our help defence continued to impress when we slowed the opposition from scoring in transition.

While they weren't always rewarded with a score, the boys were constantly aggressive and continued to drive to the basket. Ethan Cooper's aggression on the offensive end led the way here.

Harrison Moyle was huge on the defensive end, not allowing many scores to happen. He also came away with a couple of blocks, one being a chase-down block to stop the fast break points
U12 Boys Div 3 – Ben Hamilton (sponsored by Euroz Hartleys)
Lost to Cockburn Cougars 34-50
Coach comments:
After giving up a big lead in the first 10 minutes, we settled into a more composed rhythm to stay competitive throughout the rest of the game.

We fought hard on the boards and defended well as a team, protecting the keyway and limiting their uncontested baskets.

Scott Samuel worked hard on his defensive transition which helped us to slow down their offence.

Jackson Piccoli showed again his agility and ball control to orchestrate some amazing offensive plays – as well as exceptional footwork on D.

Kai Atfield continues to develop the defensive side of his game to go along with his rebounding and scoring – giving us a strong defensive presence inside.
U12 Boys Div 4 – Matt Strika (sponsored by Global Cabling)
Lost to Cockburn Cougars 49-50
Coach comments:
Down a couple of players going into the game, we were quite outsized. Despite this, we played an outstanding first half of basketball. The team executed the game plan and chased down every rebound. In the second half, our lack of size started to hurt but to their credit, the boys never gave up. Despite a 6-point deficit late in the 4th, they managed to fight back for a heartbreaking one-point loss.

Ben Handke stepped into the big man role with gusto finishing with a game-high 15 points, 10 rebounds and 7 steals. Oliver Tuohy bounced back from illness with an impressive effort adding 7 points and 10 rebounds. As always the effort and intensity from Joaquin Cortes and Elijah Mancini were on show at both ends of the court.
U14 Girls Champs – Josh Wallace (sponsored by Welsh Real Estate)
Won against Mandurah Magic 61-45
Coach comments:
The girls are starting to get a body and boxout more regularly on the boards now, which is leading to more transition looks from a defensive rebounding situation.

While the girls were working hard, it was a bit of an off game for us as a group. I was so pleased to see the girls dig deep and grind it out in these circumstances. Not an easy thing for young teams to do and these girls did a great job of it.

Em Horniman was fantastic for us in this game. She did a great job of harassing on D and chasing down rebounds. She also ran the lanes really well in transition, which put a lot of pressure on the opposition's D.

Millie Stancil was really locked in on the defensive end in this game. She was focused, disruptive, and generated some scoring opportunities for the rest of the team.

Mafa Tuialii's decision-making regarding her shooting was amazing in this game – not forcing anything, taking quality shots, and finishing with a high FG% as a result.

Ella Welsh was once again a general for us out on the court. So confident with ball in hand and always making good decisions.
U14 Girls Div 2 – Zac Belton (sponsored by Redink Homes)
Won against Cockburn Cougars 59-31
Coach comments:
I loved the way we squared up to the basket and had the intent to attack. This created scoring opportunities for each other and resulted in everyone getting on the scoreboard.

Izzy Budby did a fantastic job cutting to the basket.

Danica Jeremiah continued to play fast-paced when she had the ball.

Ella Baxter really showed poise and continually found the right time to attack.
U14 Girls Div 4 Red – Lucy Dowling (sponsored by Aussie Fencing)
Lost to Willetton Tigers 61-57
Coach comments:
Unfortunately, we gave Willetton an early lead that we were fighting to get back for the rest of the game. I am, however, very pleased with the fight the girls did put up. Our energy was a lot better in the second half and we had some great passages of play.

Remy Sumich played very well and brought great composure to stressful moments.

Grace Butcher had another good offensive game, powering through on offence.

Mya Slee did really well to receive feedback and instructions throughout the game and follow through with them.
U14 Girls Div 4 Black – Ofir Ben Dror
Lost to Warwick Senators 15-34
Coach comments:
This was a game where all players contributed and this was great to see.

Once again, Nadia Slee's pressure defence created turnovers and steals that kept us in the game.
U14 Boys Champs – Aleks Lackovic (sponsored by DLA Piper)
Lost to Rockingham 78-56
Coach comments:
I loved the way we fought hard for four quarters. The final scoreline here doesn't show that this game was, yet again, close for most of the way. Our boys consistently made good decisions and put up good shots. Unfortunately, our shots didn't drop whilst Rockingham's did and that was the difference in the end.

Jaxon Kowal demonstrated constant defensive hustle with added sugar of 12 points and 6 assists.

Cooper Hewer (9 rbs incl 6 oreb), Ano Sharu (9rbs), Jaden Exeter (7rbs) and Ewan Maclean (6rbs) fought hard on the boards to give us possession and second-chance points.

Anthony Flores demonstrated great gut running, pushing hard in transition to find the advantage.
U14 Boys Div 2 – Kevin Dunstan (sponsored by United Steel)
Lost to Mandurah 95-48
Coach comments:
This week we took on the undefeated ladder-leading team and it was a good indicator of where we need to be if we want to represent in the finals

Like most weeks. all our players fought tirelessly throughout the game while increasing our scoring output each quarter
U14 Boys Div 4 – Andrew Logan (sponsored by Drafting Now)
Lost to Lakeside Lightning 63-56
Coach comments:
The boys continue to impress with their endeavour and willingness to listen and execute. We made some lineup adjustments this week and the boys responded well giving effort in new situations.

I'm most proud of how the boys just continue to be a tough team to beat! Every game is a battle and with a few things going the other way we could've easily got that W.

This was another great game from Joaquin Imperial. He was aggressive and fought hard, finishing with 10 points and having the most rebounds.

Travis Hunt was reading the opposition like a book and picking off their passes with ease. He had a break-out game on the scoreboard finishing with 16 and looking like getting back to some dominant form that was on display last year.

Parker Dunstan was thrown into a new role and we saw some flashes from Parker that were very impressive. He had some excellent assists and stayed engaged throughout the game.
U14 Boys Div 5 – Isaiah Walley-Stack (sponsored by S&M Group Bobcat and Truck Hire)
Lost to Willetton Tigers 61-66
Coach comments (Ryan Souren):
It was an exciting game to watch the boys play. They never put their heads down even when they were down by 19 points. They fought hard to the end, bringing the game within 3 points with a minute left.

Oliver Gruber hustled for the ball and applied awesome pressure to create turnovers

Jake Chew gave the team some crucial scoring

Luke Websdale crashed the boards and contributed well on points

Jake Souren created many scoring opportunities by assisting teammates

Rhys Tan played point guard well creating scoring opportunities for his teammates

Myles Byrne brought high intensity.
U16 Girls Champs – Bryn Arnold
Lost to Rockingham 54-56
Coach comments:
Our undermanned team competed very well across the first half. While we dropped off in the third quarter, the hallmark of this team is their never give up attitude. They fought extremely hard and got us back to a one-point game in the last minute. Unfortunately, we couldn't quite get over the line, but it was a great way to fight it out.

Firstly a massive thanks to Issey Armstrong and Millie Stancil for filling in and doing a great job.

Ebony Cox continues to get better each week and finished as the game's leading scorer with 15 points.

Matilda Thomson continued her outstanding effort on the defensive end, picking up steals and diving on loose balls.

Blaise Stancil showed what she is capable of on both ends of the floor with steals, rebounds and 13 points.

Huge congrats to Miki Deshon who played her 100th WABL game for Perth Redbacks in this game.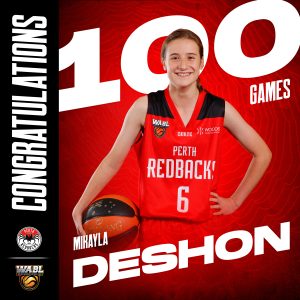 U16 Girls Div 2 – Holly Moore (sponsored by Mt Lawley Orthodontics)
Lost to Hills Raiders 40-84
U16 Girls Div 4 – Geoff Alger (sponsored by MD Building Maintenance)
Lost to East Perth 47-98
Coach comments:
This was a tough game where our team had to deal with some genuine height and constant full-court pressure. The score-line didn't reflect the determined effort put in by our girls who fought hard all game.

I was really happy with the way the girls demonstrated some excellent spacing and decision-making to decisively break the Eagles' press and the improved discipline to slow down and move into offense.

Given the size advantage the Eagles had, I was also pleased with the effort the girls made on the boards.

Matilda Wyatt competed really well on the inside and spaced really well to cause headaches at the end of our transition.

Giselle Dale had an excellent all-round game. She consistently made good decisions defensively and offensively both on and off the ball. She showed good defensive physicality to fight for position in the keyway and used her athleticism well on the boards.
U16 Boys Div 2 Red – Luke Simonette (sponsored by TECC)
Lost to Hills Raiders 62-85
U16 Boys Div 2 Black – Luke Notley (sponsored by MSP Electrical)
Lost to Slammers 70-71
Coach comments:
We played some good small phases of defensive basketball, particularly in the back end of the first quarter and the start of the second. We had a chance to dominate a depleted Slammers defensively in this game but unfortunately, we were not switched on and couldn't get into the game. 

Credit to us, however. To get close enough at the end to nearly pull off a win was pleasing.

We will double-down over the break on our defensive work.
Lost to Willetton Blue 109-87
Coach comments:
We played the second-placed team and were given a lesson in the first quarter about coming to play. Our defence was lacking and this impacted our ability to run.

We re-grouped and won the next 2 quarters by a point and got the lead down to 9 points in the last quarter. Unfortunately, Willetton then settled and put on a 9-2 run to finish the game.

What pleased me the most is we shot the ball well – season-high 8 three-pointers – and were able to establish our running game in the third quarter.

Ben Elder is playing switched-on, hard-nosed defence. It's an area we flagged early on in the season and Ben is really making an impact for a team that is struggling with stopping other teams.

Noah Rees-Turner's game day competitiveness is a great asset to our team. Body on the line and an ability to score when most needed makes him a valuable cog in our team.

Jude Garbenis, after a tough start to the game, ran the game out and top-scored with 28 points. I'm proud of the way he takes feedback in a constructive manner and can own mistakes. It's not easy being the player the other team tries to stop and Jude always plays the game hard and fair.
U16 Boys Div 5 – Tom Swindale
Won against Rockingham Flames 77-73
Coach comments:
I was most pleased with our ability to stay calm and collected even while being 10+ points down.

When Mateo Rea is knocking down threes, the momentum of a game tends to swing significantly in our favour and that was true for this game.

Mitch Kensett-Smith led our intensity on defence and shut down the Rockingham player doing the most damage to our zone.
U18 Girls Champs – Mya Dimanlig (sponsored by Titan Finance)
Lost to Willetton Tigers 78-62
Coach comments:
The girls really made an effort to maintain pressure on Willetton, resulting in a late-game push to win. Our ball movement and defensive pressure have started to improve.

Teagan McArthur was patient with her looks and continued to remain aggressive.

Charlotte Horniman continues to fight for every loose ball and rebound.

Joia Kowalewski did a good job being disruptive and being vocal off the court.

Caitlin Lea did a good job hustling for the ball and being aggressive to draw fouls and get to the line.

As always, Mackenzie Thomas worked hard defensively, putting early pressure on the ball.
U18 Girls Div 2 – John Care
Lost to Warwick Senators 82-37
Coach comments:
The girls tried their hardest this week and showed strong effort. Unfortunately, with a number of outs and girls who were not quite 100%, it was going to be tough from the beginning.

Today's game was also recognising Tatum Cooper's 100 WABL games for the club. Congratulations Tatum. This is a massive achievement that you should be very proud of. Your commitment to the Redbacks club over your journey is a testament to your hard work and determination. In this game, Tatum played hard even though she wasn't 100% well.

A big thank you to Blaise Stancil for stepping in this week due to outs.

Annabelle Hathway's transition defence and work ethic was fantastic on both ends of the court.

Leilani Avia worked hard and made some quick easy buckets to get on the board.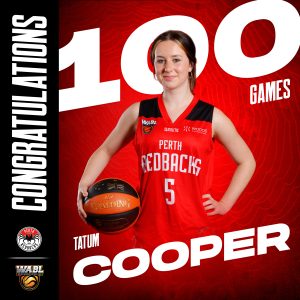 U18 Boys Champs – Brandon Riley (sponsored by Willis Temby)
Lost to Willetton Tigers 66-95
Coach comments:
Most of the things we did well we have spoken about as a team. Our adaptability was our largest positive overall.

Ethan Saliacus had a great second half, took the opportunities he got on offence and was solid in D. 

Aiden Cannington and Zviko Tinayenda were aggressive on offence throughout the game. 

The boys all took good shots they just didn't always go in.
U18 Boys Div 2 – Sam Fox (sponsored by MacDonalds Karratha)
Won against Cockburn Cougars 66-61
Coach comments:
A severely depleted squad this week meant heavy duties and a lot of playing out of position. We had some rough patches but stayed together and brought home a gritty, high-character win.

Harry Maude filled in for us this week and was absolutely huge at both ends and scoring 18 points. Massive thanks Harry!

Jake Vilardi was very consistent, locked in and efficient all game.

Mandla Magwenzi and Declan Pyne both played through some heavy contact, showing great leadership on the court.
U18 Boys Div 3 – Simon Daff (sponsored by Grange Risk Solutions)
Won against Hills Raiders 118-63
Coach comments:
We have really emphasised trust in the last two weeks and it has shown what we can do when we stick together. We moved the ball, took good shots and set each other up very well.

Defensively we kept to our principles and for the most part, rebounded well.

The most pleasing part was we trusted the defence which kept our foul count right down. We forced them into contested shots without the silly fouls.

This week I can't pick out the efforts of any individual players. This was very much a TEAM effort with everyone contributing and playing their role. We had 8 players in double figures which was outstanding. The whole team needs to be acknowledged for such a big win.
U18 Boys Div 4 – Mitch Nixon (sponsored by Maude Family Lawyers)
BYE
U20 Boys Champs – Adrian Warner
Won against Willetton 76-71
Coach comments:
This was quite an arm wrestle of a game and really tested our team's mental toughness. Our team togetherness was really great to see in this game and I thought we played with more intensity and hustle. Defensively we played a much tighter game and got after the rebounds to enable us to run in transition. We held our composure well in the 4th when the game was tight and on the line which was very pleasing to see, a great team effort.

Cooper Mason put in some really great defensive efforts during the game.

Josh Peterson hit some big 3's for us to keep us in the game and was always hustling on defence. 

Harper Gadsby and Leon Chitiyo both put in some great efforts on both ends of the floor.

Kamie Igbinovia's first game back for a few weeks was an immediate impact in the paint. 

Ethan Port Louis's energy is infectious and his positive outlook was great when we needed it.