The Weekly WABL Wrap is proudly sponsored by Woods Insurance Brokers. 
Here's the Round 14 wrap-up of how all our teams went including comments from coaches:
U12 Girls Div 2 – Emma Ormond (sponsored by Baston & Co)
Won against Joondalup Wolves 56-18
Coach comments:
The girls applied an incredible amount of pressure out of the gate which really challenged the Wolves. They played beautifully as a unit, being very selfless and willing to find the right shot for each other. The patience we've been striving for all season really showed up today.

I love what Leisha Charlie brings to the games each week. The pressure she puts on ball carriers is next level. Leish has been working on reading driving lanes recently and it showed off on Sunday, as she was really aggressive at getting to the basket.

If I put Soniya Karimi on the court with an instruction, there's a 100% chance she's going to go out and do that to the best of her ability. On Sunday we had a major focus as a team to pass and cut on offence and Soni did that, putting a lot pressure on the ring and opening up lots of space for herself and her teammates.

Sally Dowling's hustle to get back on defence and protect the ring is huge. Her communication on defence has been really helpful not only for her teammates but also for me.
U12 Girls Div 3 – Marcia Dowling (sponsored by Access Hire WA)
Won against Rockingham 51-23
Coach comments:
Last week we lost by 20, but it felt like the best game we'd played all season. The girls worked hard on defence, advanced the ball confidently through the press, moved the ball beautifully, and made the extra pass in offence. 

This week, we did the same, and the result was a 28-point win over a team that beat us by six the last time we played them. 

A LOT of shots were put up in this game, and our entire team was relentless on the boards – we had 87 rebounds (!!) led by Gabbie Tetteh with 36 (!!), Pepi Graham with 10 and Anabella Lewis with 7 (great to have you back Anabella!).

Making the extra pass to find great shots over good shots meant every player scored – highlights being Gabbie's 16 points, Alyssa Rullo's jump shots going SWISH for 13 points and Allegra Care's half-time buzzer beater.

Gracie Dillon and Cyra Olowoyo's defensive pressure was excellent. Gracie's strength and anticipation netted her 9 steals while Cyra's quick hands led to 7 steals. Cyra also led us for assists with 4.

Mia Exeter led us for blocks with 3, played strong defence with her feet and not her hands and when Rockingham's best scorer needed to be denied the ball for a period, she took on that defensive assignment with delight.
U12 Girls Div 4 – Paul Philpott (sponsored by Sushi Wawa)
BYE
12 Boys Champs – Denzel Jackson
Lost to Willetton Tigers (White) 51-57
Coach comments:
The boys applied solid defensive pressure for the majority of the game and had an outstanding run in the first three quarters. Our ball movement and rebounding efforts saw us take the lead into three-quarter-time.

Unfortunately, in the last quarter, we got too relaxed and allowed the opposition to build their momentum to get out in front and win the game.

Tomas Lackovic led the team in rebounding and scoring. He showed great effort in crashing the boards and looking for quick put backs. I was particularly impressed by his leadership on the court as he remained the most vocal.
U12 Boys Div 2 – Alex Maude (sponsored by Inspiration Paints)
Lost to Joondalup 38-82
Coach comments:
I was extremely happy with how the boys played as a team, their full-court pressure was great, their ball movement in offence was the best all season and the help defence stopped the opposition from scoring when executing an offensive play. Also we contested transition defence really well.
Overall the boys played a great game. The score didn't show it, unfortunately, but they gave it their all and just didn't get rewarded with their efforts. Great team game
Nicholas Knight was everywhere. Intercepting/deflecting passes, sprinting back on defence to stop the transition score and diving on loose balls with amazing hustle. He was also carving up the defence, driving to the basket with ease, leading to him scoring or making a great pass the a teammate.
Clayton Sumich lead the team defensively, nothing got past him on defence. He took some big hits and got up and kept going. He also threw his body around in the rebound contests.
U12 Boys Div 3 – Ben Hamilton (sponsored by Euroz Hartleys)
Lost to Joondalup Wolves 44-47
Coach comments:
We were highly energetic and aggressive with our rebounding in this game and easily won that statistical category.

On defence, the team worked hard for each other and had some important stops at critical times.

Once again we were able to contain their key scorer with accountable defence and great help.

It was an entire team performance to take a much improved Joondalup team to a nail-biting finish.

Lucas Blackmore had an outstanding game, impressing everyone with his increased confidence at the ring on his way to a career-high points total.

Scott Samuel had his best game of the season for the second week in a row with an impressive rebound haul to go along with his season-high points.

Kai Atfield picked up 17 rebounds and 14 points in a dominant display of skill, athleticism and effort that earned a special mention from the opposition coach.

Well done to all boys who were unlucky not to come away with the win.
U12 Boys Div 4 – Matt Strika (sponsored by Global Cabling)
Won against Eastern Suns 65-51
Coach comments:
After a string of tough losses, it was pleasing to see the team refocus on the game plan and come out on top. The team's passing and defensive pressure were next level. All the boys chased the rebounds and attacked the basket with their trademark energy and intensity.

Both Jayden Austin and Jacob Tan had their season-high impact on the scoreboard with 12 and 15 points respectively. 

Ben Handke dominated the defensive end with 9 rebounds and 8 steals. 

Elijah Mancini had a major impact on the game at both ends with 8 points, 4 rebounds and 1 huge block!
U14 Girls Champs – Michelle Fletcher (sponsored by Welsh Real Estate)
Won against Joondalup Wolves 48 – 36
Coach comments:
The girls did really well this week in adjusting to me stepping in as coach.

They adapted well to a few changes and every player contributed to this win as each of them executed the role asked of them
U14 Girls Div 2 – Zac Belton (sponsored by Redink Homes)
Lost to Willetton Tigers 49-34
Coach comments:
I was really impressed with our spread of points in this game – it shows just how much we work for each other on both ends of the court.

It was fantastic to see Jem Barr back on the court again after a very disrupted season. Playing this game was a huge milestone for her and the team couldn't be happier.

Mila Reyes and Danica Jeremiah did tremendous jobs applying pressure to Willetton and really making them work to get the ball across court.
U14 Girls Div 4 Red – Lucy Dowling (sponsored by Aussie Fencing)
Won against Redbacks Black 49-37
Coach comments:
This was a really great game from everyone effort-wise. I think this game proved to us that the better our energy, the better we play

Olivia Weddikkara had amazing post defence on a larger opposition and did really well to limit her scoring

Charlotte Dillon had hustle like no other and went after every loose ball, every rebound and overall, played with so much heart
U14 Girls Div 4 Black – Ofir Ben Dror
Lost to Redbacks Red 49-37
Coach comments:
Our defence again was amazing and helped us take a lead into at halftime. Once we are set in defence, no team can get past us.

Offensively, Salma Rahmadavi kept the scoreboard ticking over with fast drives and crossovers.
U14 Boys Champs – Aleks Lackovic (sponsored by DLA Piper)
Won against Joondalup 72-68
Coach comments:
The team was challenged with delivering the basics that define great teams:

being selfless and a great teammate

outwork the opposition in transition

box out before looking to rebound

ball pressure

containment

develop voice

We had our best training session of the year last Wednesday and that continued into the game by taking massive steps forward in all of the above to deliver on the players' commitment to be great at our fundamentals.

I'm very proud of the boys' commitment to achieving our primary defensive game goal of forcing the opposition into both a 5 sec inbound violation and a back court violation.

Jaden Exeter's 4th quarter defensive effort in limiting the impact of the league's premier big man was outstanding. Jaden's ability to outwork, stay dialed in under intense pressure and make late game reads at both ends of the floor greatly assisted his teammates in creating the advantage. He did all of this while contributing offensively with 16 points.

Jaxon Kowal also showed great ability to outwork the opposition, find the advantage and create massive pressure. This yielded 5 steals, 5 assists and 8 points.

Anu Sharu returned to beast mode with with 11 rebounds, 5 assists, 5 deflections, 2 steals and 20 points.

Tyler Murphy provided hustle, ball pressure (2 steals) and created immediate transition offense with 3 assists.

Big congrats to Cooper Hewer who played his 50th WABL game for Perth Redbacks in this game. This is a significant milestone for Cooper after he missed many games in his first two seasons due to illness and injury.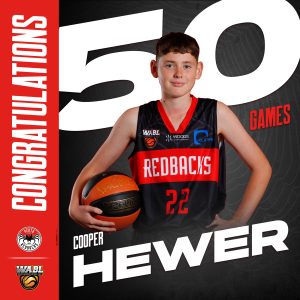 U14 Boys Div 2 – Kevin Dunstan (sponsored by United Steel)
Lost to Joondalup 87-76
Coach comments:
This was an all round good game with everyone putting in their best effort when on the court.

It was awesome to see us achieve one of our major team goals of everyone getting involved with all aspects of the game leading to numerous players hitting the stat sheet in all categories:

8 players hitting the scoreboard

9 players ripping down boards

9 players dishing out assists

7 players getting steals
U14 Boys Div 4 – Andrew Logan (sponsored by Drafting Now)
Won against Rockingham Flames 61-55
Coach comments:
What a game! The most pleasing aspect as a coach was how the boys coming off the bench extended the lead, moved the ball, worked for each other and overall, played beautiful basketball. The way they broke the opposition's press and ran the offence was fantastic to watch. Very proud of the whole team. Was our best game of the season with everyone playing their role.

Tace Rankin moved the ball, found his teammates, and made some clutch buckets. Tace has had to work hard for minutes this season, and he put it all together the last few weeks. Well done Tace, keep persisting!

Aiden Little is a walking bucket when he gets the opportunity. It was great to see him put up 11 points and be a key player in a huge win.

Joaquin Imperial, Louis Daniel and Parker Dunstan battled older age bigs all day and more than held their own. Well done boys.
U14 Boys Div 5 – Isaiah Walley-Stack (sponsored by S&M Group Bobcat and Truck Hire)
Lost to Rockingham 37-58
Coach comments:
While it wasn't reflected on the scoreboard, the boys fought hard all game with great intensity and energy. Their defensive pressure also led to many turnovers for Rockingham.

Cooper Roskell had his best scoring game of year so far racking up 11 points. 

Luke Websdale battled hard throughout, bringing in lots of rebounds.

Ollie Gruber hustled hard, putting the other team on the back foot many times.
U16 Girls Champs – Bryn Arnold
Lost to Cockburn 66-76
Coach comments:
We showed we can match it against the top teams in the division for longer periods. Just need to control the ball better at times to come out on the positive side. When everyone is locked in and playing with energy our defence is outstanding.

Blaise Stancil showed what she is capable of when she has an aggressive mindset and finished with 15 points.

Theory Snooks-Holding competed well on both ends of the floor.
U16 Girls Div 2 – Holly Moore (sponsored by Mt Lawley Orthodontics)
Lost to Willetton Tigers Blue 70-46
Coach comments:
Defence in the first half was awesome! As was our fight back in the third quarter.

Claire Danzo had one of her best games so far putting up 11 points along with multiple blocks, steals and rebounds.

Matilda Pyne and Isabella Wolfenden were fierce in offence getting to the bucket and drawing the fouls.

Ava Lindegger absolutely killed it on the offensive and defensive boards, diving on every loose ball.
U16 Girls Div 4 – Geoff Alger (sponsored by MD Building Maintenance)
Won against Lakeside 69-28
Coach comments:
There were many things to be pleased about this week with the most outstanding improvement coming in our individual and team defense. Keeping a team that dropped 62 points on us last time to just 3 points at half time was quite outstanding to see. Every player was desperate, committed and focused. Our constant help defense made every possession hard for the opposition. The defensive result was really helped by the team's strong commitment to win the rebounds. This limited second chance points, improved confidence and composure, and reduced opposition opportunities from turnovers.

It's hard not to mention every player this week as they all did their part in looking after the ball, creating scores and stopping the opposition.

Talia Bentley showed the ability to slow down at the right times to make the most of the opportunities she created and chose her contests more wisely on defense which made a big improvement to her and the team.

Jess Kerp's effort to keep herself out of foul trouble while still applying pressure defense was great to see as was her confidence and composure with the ball. She and Steph Hunt made many incisive and composed drives through the keyway.

Grace Almond, Indiana Ballantine and Matilda Wyatt shored up the inside with blocks and strong rebounds aplenty.
U16 Boys Div 2 Red – Luke Simonette (sponsored by TECC)
Won against Redbacks Black 88-69
Coach comments:
I loved our 40 minutes of consistent effort, with only 7 players. We continued to push the pace of the game, getting plenty of easy transition scores. This combined well with excellent half court execution, staying patient to get the best possible shot.

Both full court and half court defence were tenacious and clinical, only slowing down in the 4th due to fatigue

Caleb Hoenig, in his 50th game for Perth Redbacks provided awesome focus and scoring off ball screens

Sasha Zugic had about 100 points off his screen setting

Ethan Harders – the conductor, controlled tempo perfectly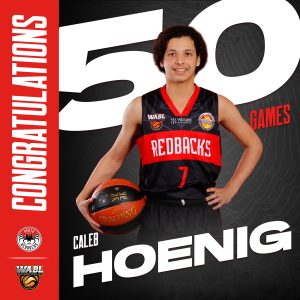 U16 Boys Div 2 Black – Luke Notley (sponsored by MSP Electrical)
Lost to Redbacks Red 88-69
Coach comments:
We had another week where we had a really slow start to the game which had us on the back foot at half time. We dug in to start the second half and fought back really well, lifting our intensity and defensive effort. This meant we were able to turn the game around and actually win the second half of the game. Unfortunately, it wasn't enough to win the game but that second-half effort is something I look forward to taking into the next game.

Jack Saliacus really toughed it out this week giving it his all having been sick for most of the week. 

Maksim Lackovic played some good minutes, using his IQ to deliver some great passing and plays. 

James Bowen had a solid game on both ends of the floor, putting in the extra effort this week.
Lost against Slammers 73-96
Coach comments:
Slammers are a very good team whom we struggled to contain in the first half at both ends of the court. At three-quarter time we decided we could accept our biggest blow out of the season or we could fight and take something away from the game.

Our last quarter was excellent and even though we still lost the game by 23 points – it was heading for 50+ points in the first half. We were patient on offense, got post touches and our defence turned over their guards.

'Never give up and let's make the last quarter the yardstick for next week's first quarter' was the attitude that made me most proud.

Slammers are a very big team and due to us missing a big, Ollie Graham was asked to play back up Centre. Ollie is such a team-first player – he fought hard on the boards and in our last quarter fight back was a real facilitator for the team.

Jude Garbenis is a man on a mission. The team is proud of his run and ability to score, however it was his willingness to defend the Slammers' lead scorer and to post smaller opponents that impressed.

Ben Elder has become an impact player for us and we're very appreciative that he is able to bring high energy off the bench. Ben is a nice size to play both guards or forwards and when we scramble in defence he is a vital swing player. Against Slammers he battled hard for rebounds and did a great job containing threats at the defensive end.
U16 Boys Div 5 – Tom Swindale
Won against Mandurah Magic 60-45
Coach comments:
I was most pleased with our ability to hold Mandurah under 50 points. I really emphasise defence so I'm alway happy when that shows well in the game.

Stirling Barnett and Samuel Peirce embodied that defensive focus, leading the charge in securing rebounds and contesting shots.

I was also pleased with Mateo Rea's effort in facilitating and controlling the pace of the game for us.
U18 Girls Champs – Mya Dimanlig (sponsored by Titan Finance)
Lost to Rockingham Flames 68-51
Coach comments:
This was a gettable game for us, but unfortunately, we couldn't take home a win. We had a really good second quarter with great energy, defensive stops and good offensive looks.

Emma Jones had a great second quarter and lifted the energy of the team by getting good steals and shots.

Charlotte Horniman had a solid game with her aggressiveness in attacking the rim to get to the free throw line.
U18 Girls Div 2 – John Care
Lost to Joondalup Wolves 104-44
Coach comments:
We knew that playing the top of the ladder team was not going to be easy this week but it was pleasing to see the girls push for four quarters and never give up. The energy on the bench was up even though we were down and the girls did a great job in backing themselves.

Ainsleigh Passi's tough competitive spirit was great to see and she top scored with 12 points.

Lucy Waller also never gave up, pushed till the end and scored 9 points

Isabella Woods showed some hard work and determination in the second half in offence and defence.
U18 Boys Champs – Brandon Riley (sponsored by Willis Temby)
Won against Rockingham 91-82
Coach comments:
This was a really big game for us as we were out of form. 

We lost Malik Powell to a freak neck injury before the game and then Aiden Cannington to a questionable foul count in first half. 

After being down by 10, we then dug in and won. It was a great defensive effort by everyone.

Finn Warner had a HUGE game with 29 points. I loved the fact that we didn't go individual and instead just kept going to the bigs and playing the mismatch on offence. This really helped when we were struggling. Finn and Ethan Salaicus were great at both ends.

Zviko Tinayenda went off in the 4th quarter with 5 steals. 

Aiden Cannington had 16 in the 1st half so he was amazing when available.
U18 Boys Div 2 – Sam Fox (sponsored by MacDonalds Karratha)
Won against Mandurah Magic Black 90-85
Coach comments:
This was a great and important win for us. Our group embraced the challenge of being shorthanded, playing technical defence and not giving up (many) cheap fouls. We did really well to get out in transition and broke the opposition's zones and traps by making great reads. We committed to our style of play for most of the game.

All seven players brought it this week and played key roles. Two efforts deserve a special mention. 

Jake Vilardi made excellent reads and used great shot selection leading to 8 of 10 field goals. 

Ethan McIntosh was a beast on the O-boards and maintained great attack throughout.
U18 Boys Div 3 – Simon Daff (sponsored by Grange Risk Solutions)
Won against Slammers 108-79
Coach comments:
This was a game we needed to win to stay two games ahead in 4th spot on the ladder. 

We led start to finish and it was good to see us hold the lead and never really let Slammers back in the game. The mental toughness this group is getting alot better – they don't drop their heads as much anymore or show poor body language when things go against them.

Andrew Chilufya had an outstanding game. His ability to get to the basket and creatively finish is a highlight. But he is really starting to round out his game with his defensive efforts and rebounds and add a more consistent jump shot. His play-making ability was on show with some excellent passes. I'm enjoying watching him mature into his game

Hamish Elder was a force today. With his length and agility, he was able to get to the rim and finish. While he also hit some big threes, it was his ability to block shots and change shots that was a highlight for me.
U18 Boys Div 4 – Mitch Nixon (sponsored by Maude Family Lawyers)
Won against Eastern Suns 108-83
U20 Boys Champs – Adrian Warner
Won against Hills Raiders 96-92
Coach comments:
This was a much-improved defensive effort. We contained the ball much better this week and really toughed it out when we needed to. The full-court pressure on Hills all game long put us in the box seat towards the end of the game. Overall, this game represented a great team effort – there was great energy on and off the court.

Josh Peterson had a standout game, getting it done on both ends of the floor. He scored 24 points while also playing a great brand of defensive basketball. 

Harper Gadsby has really stepped it up a notch on the defensive end at training and in games of late. 

It was great to have Ethan Port-Louis back to be able to knock down some great shots – he finished the game with 19 points.

Leon Chitiyo chipped in with some great defensive plays that netted some great fast break points. He had 14.