The Weekly WABL Wrap is proudly sponsored by Woods Insurance Brokers. 
Here's the Round 15 wrap-up of how all our teams went including comments from coaches:
U12 Girls Div 2 – Emma Ormond (sponsored by Baston & Co)
Won against South West Slammers 32-26
Coach comments:
We were not having a great finishing game but the girls never dropped their heads and kept playing our game. The pressure they applied to Slammers was next level.

Jacinta Wladyka and Darcey Hill were our "crazy chicks", applying pressure to the ball constantly. The work they put in on both ends of the court set a standard for our team. Being the youngest in a team comes with challenges but both of them make it look easy.

Ava Armstrong finished out the game really strong. Her ability to read driving lanes is so amazing, as well as her hustle and commitment to defence.

Sasha Kuan positioned herself to rebound incredibly well. She was really strong with the ball and out-rebounded almost anyone around her.
U12 Girls Div 3 – Marcia Dowling (sponsored by Access Hire WA)
Lost to Perry Lakes Hawks 35-49
Coach comments:
The final score belies the fact that this was an incredibly close game throughout. With 3.30 left on the clock, the margin was 3 points. Unfortunately, Perry Lakes nailed several shots in a row, and despite us making some of our own shots in the final couple of minutes, the margin got away from us in the end.

As with the previous two weeks, the girls played beautifully, advancing the ball quickly and confidently, fighting for rebounds and loose balls, and making the extra pass to find the best shot. Very proud of them all
U12 Girls Div 4 – Paul Philpott (sponsored by Sushi Wawa)
Lost to Cockburn Cougars 15-44
Coach comments:
A hard-fought game following a week off. Whilst taking a little time to warm up our girls found their Redbacks spirit and produced some nice basketball. Unfortunately, the end score did not reflect the effort or heart shown by our young stars. It was great to see the girls often huddle in between time-outs and breaks, bolstering each other's confidence.

Grace Danzo was outstanding this week with her game head-on, doing everything asked of her and more. 

Ava Kemp stepped up again this week, challenging herself and trying new skills on the court. 

As usual Stevie Brehaut was awesome in defence. 

Whilst the break saw us starting a little rusty the girls all quickly regrouped to produce some fine individual and team basketball. Keep going girls we continue to build on our skills week upon week.
12 Boys Champs – Denzel Jackson
Lost to Joondalup Wolves 43-51
Coach comments:
We struggled to stay locked in on defence in this game and unfortunately had many of our players in foul trouble early. Despite that, the boys did a great job attacking the basket, unfortunately, a lot of shots just couldn't drop for us.

Erik Davies did a great job staying composed on defence as he kept his foul count to a minimum, and followed up by leading the team in rebounding.
U12 Boys Div 2 – Alex Maude (sponsored by Inspiration Paints)
Lost to Southwest Slammers 39-53
Coach comments:
I was very proud of our help defence which limited drives, our transition offence and defence, driving the basket and making the pass to the big on the weak side block, physicality/when rebounding and playing defence
Jaxon Jan and Clayton Sumich took some big hits defensively, which forced missed layups, then their efforts to get back up and get the rebound was impressive
Harrison Moyle positioned himself perfectly on the weak side block which allowed him to receive great passes from drives and score. He also led the rebounding efforts.
Ethan Cooper continuously drove to the basket taking any contact and finishing or making passes to open teammates for a score
U12 Boys Div 3 – Ben Hamilton (sponsored by Euroz Hartleys)
Lost to Warwick Senators 23-63
Coach comments:
Up against an undefeated Warwick Senators team, we knew it was going to be a tough game. Our plan was to contain their three leading scorers and pleasingly, we were able to keep them well under their season averages.

We also focused on protecting the ball and saw an improvement in points off turnovers.

Despite the end score, there were some great defensive plays and offensive spacing leading to good shot selection.

Jackson Piccoli moved the ball well on offence and attacked when the lanes were open. He was courageous on defence and didn't shy away from hitting the boards amidst a physically dominant Warwick team.

Franek Cytowski was crucial to the offensive structure and quickly moved the ball to open shots on his way to leading the assists count. Once again he was an important defensive presence, picking up the opposition's key play-maker and demonstrating his versatility guarding all positions.
U12 Boys Div 4 – Matt Strika (sponsored by Global Cabling)
Won against Rockingham Flames 54-43
Coach comments:
I was extremely pleased with the positive attitude and encouragement displayed this week. The team plays at another level when they support each other and have some fun. Was very happy with the passing and the rebounding efforts shown by everyone.

Tex Tierney battled hard under the basket again this week and was rewarded with yet another double-double including 24 points and 23 rebounds. Joaquin Cortes bought a high level of intensity to the game at both ends contributing 8 points, 6 rebounds and 2 assists. Noah Mucjanko showed his defensive hustle with 7 steals. Ben Handke with another great defensive game racking up 10 rebounds and 5 steals.
U14 Girls Champs – Josh Wallace (sponsored by Welsh Real Estate)
Lost to Warwick Senators 62-50
Coach comments:
The girls' effort, ball movement and willingness to work together is growing each game.

They continued to work hard and got themselves back into the game after a slow start

This is a team that continues to listen, wants to learn and leaves everything on the court

Maddie Makavilitogia's inside presence and her ability to finish strongly continues to impress.

Lailah Tasker's defensive energy off the bench gets the team going.

Millie Stancil's vision and ability to create for her teammates were excellent

Lemafa Tuialii's work ethic on both ends of the floor was fantastic
U14 Girls Div 2 – Zac Belton (sponsored by Redink Homes)
Lost to Joondalup Wolves 43-19
Coach comments:
I was really pleased that we didn't give in to their physicality early in the game and matched it in the second half.

Mila Reyes was able to keep her composure during the game, I was extremely impressed with how she handled this game.

Ella Baxter came out quite aggressive and was really active on defence.

Scarlett Hill did a really good job attacking the basket.
U14 Girls Div 4 Red – Lucy Dowling (sponsored by Aussie Fencing)
Lost to South West Slammers 33-46
Coach comments:
The girls did super well this game but unfortunately, our energy dropped off in the third quarter and this is where the opposition got their lead. Defensively we did well to read the other team and keep them out the keyway.
U14 Girls Div 4 Black – Ofir Ben Dror
Won against Cockburn Cougars 47-39
Coach comments:
The defence in the first quarter was relentless, our girls kept the opposition to 2 points from the line. No field baskets!!!

Paige Wigmore has arrived! She finally got rewarded for all the good work she's been doing in the key the whole season and scored 20 points for the game. Well done Paige!
U14 Boys Champs – Aleks Lackovic (sponsored by DLA Piper)
Lost to Southwest Slammers 47-65
Coach comments:
It's always tough playing Slammers in Bunbury, but even more so when all of their four made threes for the game come in the first six minutes of the game

Staring down a 15-point deficit at the end of the first quarter, the boys never dropped their heads and every rotation fought hard to bring the deficit back into single digits on several occasions.

Ano Sharu stuffed the stat sheet again with 19 points, 11 rebounds, 2 assists and 4 steals

Ewan Maclean and Jaxon Kowal continue to be one of the toughest backcourts in the league, advancing the ball with pace and being menaces on defence. They combined for 14 points, 4 rebounds, 4 assists, 8 deflections and 3 steals

Jaden Exeter toiled hard defensively with 3 steals and 2 blocks while also contributing 7 points and 8 rebounds.
U14 Boys Div 2 – Kevin Dunstan (sponsored by United Steel)
Lost to Eastern Suns 38-79
Coach comments:
This weeks game against a top four team was made harder when we had two players go down during the game with injury.

Unfortunately, we just could not find the rhythm or energy during the game to remain competitive and struggled to get the ball to drop through the basket. You win or you learn though and this week we'll be spending some time working on our shooting accuracy and maintaining intensity towards the basket
U14 Boys Div 4 – Andrew Logan (sponsored by Drafting Now)
Won against Mandurah Magic 77-56
Coach comments:
Every game has different challenges. Last week it was taking on a top side. This week it was showing up and getting it done in a game where we started firm favourites. The boys brought the same energy and stuck to the game plan which created patches where we blew the opposition away with great D and lights-out shooting.

Tace Rankin had a monster! He drained 5 three-pointers and finished with 20 points. Tace was able to capitalise on team ball movement and also displayed some individual brilliance opening the game up late in the second quarter with two off the dribble 3's.

Joaquin Imperial's development was on full display, Joaquin was mentally switched on the whole game, he stayed engaged and finished with 11 points and 16 boards.
U14 Boys Div 5 – Isaiah Walley-Stack (sponsored by S&M Group Bobcat and Truck Hire)
Won against Hills Raiders 56-38
Coach comments:
The boys' full-court press was relentless throughout the whole game which required a huge team effort. We had minimal turnovers, and we played unselfishly.

Jake Souren had a great game contributing 22 points

Liam Colangelo had 9 rebounds in just the first half with 6 points

Luke Websdale had 4 big blocks, over 10 rebounds for the whole game and 9 points

Jett Murphy contributed 6 points, 6 steals and played point guard exceptionally well

Mitchell Thompson had a season-high 7 points and had a great all-around game

Rhys Tan dropped a couple of nice jump shots and brought intensity to his game

Jake Chew played one of his best defensive games yet getting countless steals and interceptions which caused many turnovers as the opposition tried to get the ball down the court

Cooper Roskell played one of his best point guard games yet by assisting teammates countless times as he penetrated the key

Myles Byrne applied lots of pressure down low. 

All played well
U16 Girls Champs – Bryn Arnold
Lost to Joondalup Wolves 64-71
Coach comments:
15 down at the half, I was very proud of the girls' effort to pull together and bring it back to 1 point.

The whole team bought into what needed to be done in the face of plenty of adversity, especially players coming off the bench coming on and doing their roles.

Everyone's efforts were outstanding.

Stella Gregory and Blaise Stancil had great aggression, attacking the basket and getting open for great shots.

Mikayla Deshon and Grace Dimer played aggressive defensive games, helping us grab some easy points.

Jenna Jackson's communication and decision-making was great to hear and see.
U16 Girls Div 2 – Holly Moore (sponsored by Mt Lawley Orthodontics)
Lost to Joondalup Wolves 27-76
Coach comments:
I was really impressed by the way the girls started the game, holding Joondalup to only 9 points in the first quarter. They stayed together on defence and were talking to each other really well.

Matilda Pyne played really well – she was consistent the whole game and had a positive attitude, she never gave up.

Abbey Macham came to life in the 4th quarter, she had multiple deflections and steals, attacked the ring well and was able to create shots for her teammates

I thought Ava Lindegger was strong on the defensive rebounds she was able to bring down multiple rebounds, find a guard and run the floor
U16 Girls Div 4 – Geoff Alger (sponsored by MD Building Maintenance)
Won against Hills Raiders 71-70
Coach comments:
This was another memorable win for our team. Down 16 points late in the third, we hit the front for the first time with the last bucket of the game. The players' efforts here were inspiring. While the result in the fourth quarter was pleasing to see, the players' relentless determination and commitment to every contest throughout the entire game was probably the most pleasing aspect of the day. This team has definitely got some grit.

With the exception of a lapse in the third quarter, reduced turnovers and improved second half scoring efficiency were pleasing steps forward for the team.

Jess Kerp, Steph Hunt, Grace Almond, Talia Bentley, and Tilly Wyatt should all be congratulated for putting in super efforts over long minutes.

Tilly and Talia both recorded double doubles with Tilly's commitment to make the most of her inside opportunities particularly pleasing to see.

Her shooting efficiency only bettered by Jess who had an excellent all round game.

Indi Ballantine had another outstanding rebounding game going at just under 1 per minute when on court.
U16 Boys Div 2 Red – Luke Simonette (sponsored by TECC)
Lost to Joondalup Wolves 48-85
Coach comments:
We played a full forty minutes against a high-quality side, got greater than passing marks in all effort-related metrics, executing well on offence and displaying great attitude throughout

Caleb Hoenig had an awesome offensive game – the basket felt like an ocean for his floater

Lazar Jovanovic took one of the greatest charges you will ever see

Isaac Moore displayed super effort and attitude
U16 Boys Div 2 Black – Luke Notley (sponsored by MSP Electrical)
Lost to Hawks 84-72
Coach comments:
We played a better overall game than previous weeks and did not allow the Hawks to get too far in front of us all game long. We were able to rally a bit better this week in each quarter and dig in which was pleasing to see. We still need to work on our game intensity, effort and energy on and off the bench which we have been discussing each week. 

Jeremiah Davies and Ben Galvin put in some great effort this week at both ends of the floor. 

James Bowen was fantastic in defence this week playing with much better intensity.
Won against Eastern Suns 70-91
Coach comments:
After a really good training session midweek, it was very rewarding to see us carry that spirit over into the game.

Our balance between driving to the basket and taking quality outside shots was much better, and a number of our boys simply outworked the opposition.

With finals fast approaching – every game is a valuable opportunity to better ourselves both individually and collectively.

Hamish Gibson has worked really hard on his outside shooting, and he spaced the floor perfectly on Sunday. Season-high 4 triples in his 15 points and he lost nothing from his trademark defence.

Noah Rees-Turner returned to the team after missing a week due to travel. With 10 players suited up, we were able to target Noah's minutes for the first time, and he repaid us at both ends of the court – such a valuable keyway player.

Caleb Diacov Braga has such a great attitude to team and learning. Eastern Suns are so tall we asked Caleb to guard every position on the other team from guard to centre. He never complains, is always self-reflective and wishing to help the team. Caleb, it's an honour to coach you.
U16 Boys Div 5 – Tom Swindale
Lost to Hills Raiders 69-53
Coach comments:
I was most pleased with our ability to execute a trap with limited practice due to training numbers. We showed that when we execute defence well we are tough to beat

I'd like to highlight Noah Hugo. I gave him the task of full denying their big man in the 4th quarter, and this stopped a lot of their scoring options
U18 Girls Champs – Mya Dimanlig (sponsored by Titan Finance)
Lost to Joondalup Wolves 50-83
Coach comments:
While we still have a way to go, I was really happy with how much we have improved since the last time we played the Wolves. The whole team played with good energy and intensity both offensively and defensively when they stepped on court.

Charlotte Horniman gave good defensive efforts by being physical in guarding their big. She also was aggressive on offence and able to get to the free throw line.

Caitlin Lea had a good game on both ends of the court by giving lots of effort and being aggressive in attacking the basket and defensive pressure.
U18 Girls Div 2 – John Care
Won against Joondalup Wolves 63-41
Coach comments:
This was one of the most pleasing and rewarding games to watch this group of girls play this season. Game by game has seen these girls improve collectively as a team and their hard work today gave them the win they deserved.

Their ball pressure, transition D, ball movement, rebounds and energy resulted in a fabulous win.

Without fail every single player gave it their all and contributed to the game.

Annabelle Hathway – Constant energy on and off the court and outstanding defence.

Lucy Waller – Offensive threat and constant improvement on her court vision.

Tatum Cooper – Unstoppable creating havoc for the opposition.

Isabella Woods – The Izzy from old with an aggressive, energetic second half.

Hannah Saliacus – Some great looks at the basket and using her height to her advantage.

Georgia Edwards – Great court vision and passing that created many opportunities for our team.

Ainsleigh Passi – Dominating the boards on both ends, using her strength to box the opposition.

Leilani Avia – Improving on her basketball iQ with good shot selection and hustle in defense.
U18 Boys Champs – Brandon Riley (sponsored by Willis Temby)
Won against Wolves 89-87
Coach comments:
The most pleasing part of this game was that we got it together in the fourth quarter and got the win. We didn't shoot well but we kept at it and got some to go down late.

Aiden Cannington was consistent and came up with the steal to seal the game.

Zviko Tinayenda made the last bucket off that steal after some unlucky close misses

Our bigs were also solid.
U18 Boys Div 2 – Sam Fox (sponsored by MacDonalds Karratha)
Lost to Willetton Tigers 83-64 and Mandurah Magic 74-53
Coach comments:
Our team is now down to six fit players and it was a very tough weekend of back-to-back games. Our play was inconsistent and out of character at times, but our attitude was strong. In both games we fought back to be within striking distance in the fourth quarters. Unfortunately, foul trouble in Mandurah and fatigue in Willetton meant we couldn't sustain these runs. I'm proud of the resilience of our team. We've locked in finals so we just have to use this tough patch to keep preparing.

Akira Rowe-Fox showed great leadership across the weekend, scoring very efficiently and running point with zero turnovers in Mandurah, and playing lockdown D with 10 rebounds in the Willetton game.

Harry Maude filled in for us in Mandurah and was great on D, on the boards and making some great interior passes.

Congrats to Jake Vilardi who played his 50th game for Perth Redbacks in our game against Mandurah on Saturday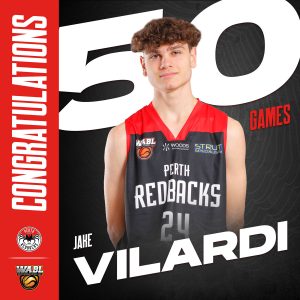 U18 Boys Div 3 – Simon Daff (sponsored by Grange Risk Solutions)
Won against Eastern Suns 104-35
Coach comments:
As a group, we've made a big effort to have really strong first quarters. After struggling with this in the first half of the season, we have really come out and dominated first quarters and set the pace and intensity. Today was no exception. I was pleased that everyone got a run and we could work on some things that we needed to in the second half.

Riley Ford had a bounce-back game. His physicality in the paint on both offence and defence was a highlight. He never shies away from contact, was aggressive to the basket and was rewarded this week with 19 points

Drew Corry had a great game – very consistent for four quarters. He moved well off the ball and was 3 from 3 from deep. Good all-round game. I just love the energy he brings to this group.
U18 Boys Div 4 – Mitch Nixon (sponsored by Maude Family Lawyers)
Lost to Warwick Senators 64-84
Coach comments:
Our defensive effort really showed as we put pressure on their drives. We also kept our heads against a team who we have previously butted heads with as well as being positive when a few calls didn't go our way. We kept the energy up until the end and unfortunately the scoreboard didn't accurately display our effort with many shots only just missing

Lachlan Steele continues to impress with his ball pressure taking a charge coming from effort running back. 

Our big guys got hammered inside and adjusted with some crucial passing to the open man. 

Our guards kept the ball pressure up being loud and positive. 

With two players out (who both play a fairly similar position) Harry Cuerden had to step up into a guard position and kept the full-court pressure up.
U20 Boys Champs – Adrian Warner
Lost to Perry Lakes Hawks 76-89
Coach comments:
Our first half of basketball was good this week, and we were certainly in the game at halftime. Unfortunately, we weren't able to keep the same defensive intensity in the 3rd quarter and the Hawks pulled away slightly. We had some lapses in concentration as well in the 3rd and Hawks managed to pounce on us. Going into the 4th, the Hawks did a good job to really put some pressure on us defensively only allowing us to score 11 points in that quarter. Credit to our boys though. They showed good resiliency, kept working to get back into the game and didn't allow Hawks to really blow us out which could have very easily happened.

Big thanks to Luke Notley for his ongoing commitment to helping this team on top of his U16 team.