The Weekly WABL Wrap is proudly sponsored by Woods Insurance Brokers. 
Congrats to all our WABL players, coaches, managers and parents for bringing great energy to Round 5 of the 2021 WABL season. Here's the wrap up of how all our teams went including comments from coaches:
U12 Champs Girls – Josh Wallace (sponsored by Welsh Real Estate)
Won against Perry Lakes Hawks 55-41
Coach comments:
As a team, we had to make a defensive adjustment in order to put us in better rebounding position, due to the hawks being much bigger than us, and also give us the opportunity to get our running game going. The girls were fantastic in executing this adjustment.
Our mantra that these girls are living by at the moment is "we don't care about the scoreboard, we're going to outwork you for 32 minutes" and they once again did that.
Jem Barr, Ella Welsh and Sasha Nona executed our defensive switch perfectly and communicated to the other girls to help them out. All three of them showed great leadership in this win.
Grace Butcher and Paige Ogden dived on what seemed like every loose ball throughout the game. That kind of desperation helps build a successful team.
Scarlett Hill once again came down to support the girls from the bench despite still being out with injury.
U12 Division 3 Girls – Emma Ormond (sponsored by DLA Piper)
Lost to Lakeside Lightning 52-10
Coach comments:
The girls' ability to keep on pushing even when the score got away from them, was amazing to see. They never dropped their heads which is an amazing characteristic to have, especially in under 12's.
Nora Ostermeyer bought the defensive pressure, setting a standard for where the other girls had to be.
Sasha Kuan, as always, led by example. She was hustling on defence and reading the game amazingly, making sure she was where she needed to be at all times.
Ruby Taylor worked incredibly hard to out-rebound girls double her size. Her positioning and hustle led to a lot of turnovers.
U12 Division 4 Girls – Marcia Dowling (sponsored by One for Women)
Won against Mandurah Magic 36-21
Coach comments:
The girls committed to our three goals from the start of the game. With the promise of quicker subs, I asked for 110% speed in transition and every girl gave me that. Their efforts to get free for inbound passes resulted in fewer turnovers.
Lottie Ballantine's inbound passing decisions were instrumental to our win today. I loved seeing the girls work together on our goal of "a pass is fast". Mandurah was often caught behind us in defence as a result.
Congratulations to Jacinta Wladyka for her first WABL three-pointer.
Cara Hayes, Nadia Slee and Alessia Wladyka were amazingly committed under the bucket, getting their highest ever number of rebounds.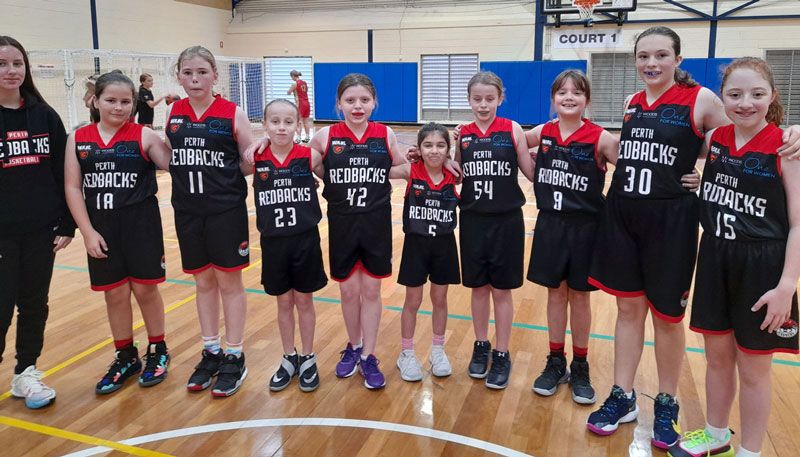 Won against Joondalup Wolves 61-39
Coach comments:
This was by far our best game of the season. We played a good team and our whole team stepped up. I was really proud of the girls.
Madi Makavilitoga stepped up into the starting lineup and really held her own against the Wolves' bigs.
Leeshar and Mafa Tuialii also both stepped up having to play more as bigs and were able to use their speed against bigger opposition to attack on offence they finished with 16 points 6 rebounds and 13 points 4 rebounds respectively.
Lailah Tasker had her best game of the season playing solid defence and getting into excellent help defence positions, she was also able to score her first point of the season.
Miki Deshon was exceptional at both ends of the floor today. She finished with 26 points, 7steals, 6 rebounds and 5 assists in a dominant display.
U14 Division 2 Girls – Shannon Ball (sponsored by Active Discovery)
Lost to Perry Lakes 62-43
Coach comments:
The team really tried to put into practice the things we have been working on at training. I was pleased with the efforts of the girls.
Jess Kerp and Talia Bentley were stand outs with their effort and constant striving to get the ball.
U14 Division 4 Girls White – Zac Belton (sponsored by Red Ink Homes)
Won against East Perth Eagles 56-35
Coach comments:
The girls are really playing unselfish basketball, everyone is contributing which is fantastic to see.
Sienna Duong with another huge scoring performance!
Anna Zittrisch who has had some fantastic spark plays lately, she managed to score a bunch of points in a few minutes!
Indiana Ballantine had some terrific defensive stops, she was critical in the second half of the game.
Emily Livingstone was extremely aggressive on defence making life hard for the Eagles.
U14 Division 4 Girls Grey – Lucy Dowling
Won against Hills Raiders 42-41 (OT)
Coach comments:
For most of the girls, it was their first overtime so for them to stay composed and make good decisions was great to see. Our transition offence is getting better and so are our help rotations. It was good for the girls to finally get the win they deserve, now they just need to keep the same energy for future games.
Emily Horniman was all over the court in defence and made a big contribution to the score putting up some clutch shots.
Ella Baxter had a great all-round game, putting up shots, chasing down players, getting some good steals and brought the composure we needed in the last crucial minutes.
Ava Wolfenden is improving each week and it showed today when she made some tough shots.
Sienna Care showed good leadership in all aspects of the game.
U16 Division 2 Girls – Bryn Arnold (sponsored by Smart Capital)
Lost to Perry Lakes 64-42
Coach comments:
Through the first three quarters, we showed resilience and were able to stay in the contest without playing our best basketball. Unfortunately, we couldn't keep that up in the fourth quarter and the margin blew out at the end.
U16 Division 3 Girls – Adrian Warner (sponsored by MSP Electrical)
Lost to Perry Lakes Hawks 61-32
Coach comments:
Our defensive intensity was very good and consistent throughout the game – more so in D trans and midcourt than in the half-court. Offensively we set ourselves the goal of playing with more composure and control and in the first quarter, we did that well with lots of good passing. Much better transition offence but our spacing in the half-court let us down for much of the game and when we get this right I am confident the girls will get the reward for the good effort they are putting in. This will also help us to manage our energy and mental focus across four quarters.
Ellen Brieffies and Matilda Thomson were standouts with their effort and great desire for the ball. Matilda shows no fear and Ellen showed great form from the free-throw line.
Ava Lindegger applied good pressure in the midcourt and Tegan Wilkinson's willingness to attack the paint was great.
Isabella Wolfenden took the open shots and made some nice baskets with smooth form and rhythm.
Abbey Macham had much-improved passing and was a lot more controlled in using the ball to bring others into the game.
Dinelka Fernando is continuing to play with more confidence at both ends and ran hard all game.
Was good to have Ainsleigh Passi back after a couple of weeks away and she made a conscious effort to improve on her defensive closeouts with pleasing results as the game went on.
Lily Leeder showed great attacking instincts in transition and Hannah Saliacus worked hard on the boards all game.
U16 Division 4 Girls – Geoff Alger
Lost to Mandurah 69-36
Coach comments:
The team quite literally put their bodies on the line defensively and showed great commitment to rebound well against a taller team. Despite the difficult game they showed great spirit to play through to the end, almost winning the last quarter.
Amelia Weber's commitment has been there all season and she led the way once again playing inspirational basketball.
Our two new additions in Casey Meyer and Swara Pathare both showed they will be valuable additions to the roster.
U18 Division 2 Girls White – Brayden Cook
Lost to Kalamunda 65-66
Coach comments:
After being down most of the game it was great to see the girls' spirit and fightback late in the game. We were down 15 at the start of the last quarter and fought our way back to be up 2 with 4 seconds left. Unfortunately, the Suns hit a massive 3 on the siren to win it. I am proud of the team's fightback and mental toughness to stay in the game.
Overall we were great defensively in the last quarter, in particular, our starting group was strong to bring us back into the game.
U18 Division 2 Girls Grey – Brad Dowd (sponsored by Protek)
Won against Hills Raiders 56-40
Coach comments:
Super proud of these girls, for our first win. After a slow start and being down by 2 at halftime the girls upped the tempo and we managed to gain a 7 point lead going into the 4th quarter and just gained confidence from there for a 16 point win.
Emma Jones was unstoppable with 14 points, 7 rebounds, 4 assists and 5 steals.
Shaqirah Akune shot well as usual including 2 triples and some great ball handling.
Kirsty Slinger and Meg Capewell were a force in defence with Meg protecting the basket with 5 blocks.
U12 Champs Boys – Dylan Vilardi
Lost to Perry Lakes 64-30
Coach comments:
Our first-half defensive communication and effort was excellent
Xavier Allison was relentless in chasing the defensive and offensive rebounds. He was more physical than anyone on the court at all times when he was out there
U12 Division 2 Boys – Ash Brian (sponsored by Drafting Now)
Lost to Joondalup Wolves White 61-59
Coach comments:
This was a very winnable game for us. We focused on some specific issues from last weeks game at training and I felt the boys did an outstanding job at soaking in some tweaks to their fundamentals and applying them during this weeks game. It made for a quality high scoring game by both teams, where we, unfortunately, fell on the wrong side of the ledger when time expired. The boys played great though. They played with passion and aggression and most importantly they did it within our team's structure. After such an amazing game, I'm a little disappointed the boys weren't rewarded with the win, but still super proud of them this week.
This was perhaps Matthew Lucano's highest-scoring game as a Redback. We have been encouraging him to attack the basket this year and today it all came together. Well done Matthew!
As a team, we are continuing to dominate the boards every week and this week was no exception with Oliver Flower, Louis Daniel and Aiden Little all pulling down 10+ boards each. These sort of one-percenter stats do not go unnoticed in our team and play a crucial role in the final score of the game.
U12 Division 4 Boys White – Jordan Hands
Won against East Perth Eagles 79-65
Coach comments:
Our team defence and ability to compete on the rebounds against a naturally taller team was very enjoyable to see
Liam Shelhot may not have put up too many points on the scoreboard, but his ability to intercept and read the ball throughout the game was a big contributor to our second win in a row.
U12 Division 4 Boys Grey – Andrew Logan (sponsored by MD Building Maintenance)
Won against Hills Raiders 72-36
Coach comments:
The noise coming from the bench! It was great to see all the boys when they were off the court being involved in the game, and encouraging of their teammates.
Joaquin Imperial had a big game for us. Making the most of his opportunities and getting 20 points.
Tate Mucjanko has had three solid games in a row. His work rate regularly forces opposition turnovers and he had another game scoring in the double digits.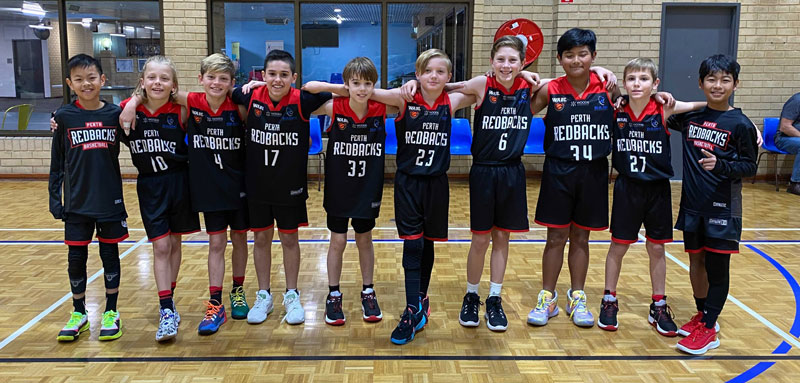 U14 Champs Boys – Aleks Lackovic (sponsored by Sto Australia)
Lost to Joondalup Wolves 70-49
Coach comments:
The boys recovered to win 3/4 rebound quarters and played hard all four quarters with a competitor attitude.
Jack Saliacus battled hard in the paint, boxing out, rebounding and attacking every rebound opportunity
Mason Clarke applied excellent defensive pressure to create 4 steals and find cracks to attack
Maksim Lackovic's help defence was excellent
Romeo Lyszkowicz created driving lanes
Zac Anfuso and Cleon Ryder provided great voice pressure.
U14 Division 2 Boys – Mitchell Jesson
Lost to Lakeside 61-60
Coach comments:
In what was a close game throughout, we fell just short with a 1 point loss. We had chances to win the game in the last 15 seconds and the boys never gave up.
A midweek session with Lyndon Brieffies saw a huge improvement in our ball security and structure resulting in only 2 turnovers when advancing the ball (something that has plagued us in recent weeks). Well done to the boys for executing what they learned in practice.
We won the rebound count by a significant margin and continued to be respectful to both referees and the opposition.
Ewan Maclean had his first start for our team following an excellent training session. 7 points (FG 60%) – 2 steals – 0 turnovers – 2 assists – 10 boards is quite the stats line. Well done Ewan.
I asked Samuel Peirce to pick up the opposition centre for a couple of plays. Samuel fought so hard on a bigger body that we left him on him for a quarter.
It may not always be your game but it can be your moment. There was a sequence where Cuba Brian turned the ball over, sprinted back in front of his opponent and took a charge. I love his energy on the court and on the bench.
U14 Division 3 Boys – Ron Flores (sponsored by Euroz Hartleys)
Lost to Perry Lakes Blue 54-47
Coach comments:
The way the team showed great heart and spirit to come back from a first-half deficit.
Jackson Doyle showed great intensity and heart. Had a head knock early in the game and came back while continuing his great effort and intensity.
Kano Kudray, in playing point for us, showed good composure in running the set offenses and putting heat on the rim.
Jack Dowd demonstrated constant hustle and great effort throughout the game. His rebounding rate was excellent.
U14 Division 4 Boys – Alex Maude (sponsored by Masterwall)
Won against Joondalup Wolves Green 60-41
Coach comments:
I was really pleased with our man-to-man defence in this game – denying the easy lane to the basket and switching on screens.
We also broke their press easily and got up the floor quickly to score, and our boxing out and rebounding was excellent. Great job team!
Lachlan Wheals displayed great aggression in offence to take on the mismatch. This resulted in scores or him going to the line
Tom Jakimowiez's boxing out and rebounding on both ends of the floor was great as was his making position in the keyway creating mismatches
Hamish Maude made several 'threading of the needle passes', getting the ball through multiple players on the fast break which led to his teammates scoring. His defensive effort was also excellent.
Lenoxx Lyszkowicz's sharpshooting and defensive movement was great – he didn't allow one layup or keyway penetration with his footwork.
U16 Division 2 Boys – Paul Cassir (sponsored by Infuse Life)
Won against Perry Lakes Hawks 90-62
Coach comments:
The team sustained a high degree of effort for the majority of the game – particularly in offensive transition. Our challenge for the coming weeks will be to lift our intensity across the entirety of the team in defensive transition on each of our opponents' possessions.
Cooper Deshon continued to impress us with his commitment to defence and a willingness to sacrifice his own offensive statistics for the benefit of the team.
Emmanuel Ngugi made genuine efforts to rebound strongly, including several offensive rebounds that led to 'put back' points. He finished with 32 points.
Andrew Chilufya placed significant pressure on the Hawks' defence and was able to exploit lanes in transition. He also demonstrated greater range in his shooting.
In Hamish Elder's absence due to illness, Harry Wheatland and Riley Ford were impressive in scoring, rebounding and making intelligent decisions in extended minutes.
Harry Cuerden and Cameron Ford were effective in offensive transition and instrumental in countering the defensive press placed on us.
Jaxon continues to bring genuine leadership to the team and demonstrates a willingness to take a 'defensive first' mindset to all that he does.
Yawasyaf Yohans has made significant progress in learning how to play the point guard position, as well as taking on the individual challenges that we frame for him.
U16 Division 3 Boys White – Luke Simonette
Won against Perry Lakes 78-60
Coach comments:
This game saw us mount a 14-point comeback after halftime with intensive full-court pressure. We worked to find the best shot through unselfish offence. And our team spirit was on display with great positivity after a lacklustre first half.
Lachlan Steele demonstrated awesome individual defence
Jack Stahl played great full-court defence and executed transition offence well
Sam Burnett's 14 rebounds were very helpful
U16 Division 3 Boys Grey – Anthony Nixon (sponsored by Auto Control Systems)
Won against South West Slammers 98-45
Coach comments:
With a quarter-time score of 14-11 we were strong but just not finishing. With some coaching encouragement that the real aim of the game was to put the ball 'IN' the hoop (ha ha), the boys stepped up several gears and pressed the Slammers out of the game to score 84 points in three quarters.
Benji Berardis was at his energetic and annoying best, leading the guards to press harder and harder, dominating with 26 points.
Jordan Yum continued his aggression to the basket despite some very targeted defence.
Max Millard had his strongest game for the season, alternating well with Taj Hollands in the 3 spot.
Andrew Cook scored some great baskets proving his offensive abilities.
But the play of the day was without doubt Vicky's pre-game cake … delicious!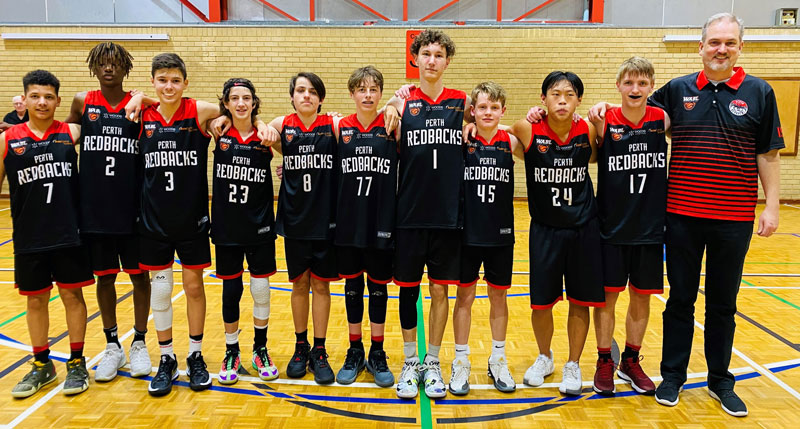 U16 Division 4 Boys – Anthony Nixon (sponsored by TECC and Insight)
Lost to Southwest Slammers 66-38
Coach comments:
After a bye last week, we perhaps lacked the intensity required for a very physical Bunbury game where 21 of our 38 points were from free throws. We were in touch for a lot of the game and kept positive throughout and will continue to lift in coming weeks.
Josh Welsh and Naoki Walker were the most aggressive at the basket and best with their free throws.
The best offence of the day, however, went to the parents with their aggressive and coordinated attack on the Bunbury Farmers Market directly after the game!
U18 Champs Boys – Simon Daff (sponsored by Della Franca Farms)
Lost to Perry Lakes Hawks 87-58
Coach comments:
The final score doesn't reflect how hard or well we played. We were only 6 points down at three-quarter-time but unfortunately fell apart a bit in the fourth. Up until then, we proved we could match it with the best team in the competition.
Victor Komaiya once again was a beast inside. His presence alone and ability to play above his height was all class. Scores in the paint, rebounds, sets good screens and plays hard and tough.
Marcellas Bear also showed good signs in his first game for our club, providing rebounds at both ends and just an ability to intimidate and block shots.
U18 Division 3 Men White – Luke Notley (sponsored by McDonalds Karratha)
Game postponed
U18 Division 3 Men Grey – Brandon Riley (sponsored by Inspirations Paint)
Game postponed
U18 Division 3 Men Silver – Sam Fox (sponsored by Strut Specialists)
Lost to Rockingham 96-76
Coach comments:
We went into this game with a focus on pushing the ball in transition, playing our style, and answering opposition runs with our own. We did an awesome job of sticking to this game plan. We got off to a great start, held strong when they went on a second-quarter run, and battled back to be up by one point towards the end of the third. Our transition game forced the opposition to sink into a 2-3 zone and, unfortunately, inexperience against this D was our undoing. However, we have the personnel to bust zones. We will correct this at training—and I really hope our transition game forces a team into this choice again. We'll be ready.
Harry Maude combined energy with excellent decision making. His stat-line included 3 assists, 4 steals and 12 points (with 2 x 3's off great ball movement).
Danny Ryan came back from injury and went straight back to team play. He was very clean in offence, running in transition, creating opportunities for teammates, and using great shot selection.
Mackenzie Tanner had a massive game on the boards and made good decisions when shooting the midrange ball, draining a number of them when the defence clogged the paint.
Jake Vilardi had one of his best rebounding games and had consistent energy throughout. He shot the ball with great confidence, hitting back to back threes to open up our game.
U20 Men White – Michael Clarke
Won against Joondalup 95-92
Coach comments:
We never gave up, finished strong, and ended with a well-deserved win
U20 Men Grey – Rob Gordon
Lost to Cockburn 94-62
Coach comments:
Despite only having 7 players to go up against a full roster and a top 3 team, our team never gave up. We also won the first quarter, got the opposition into foul trouble in two quarters (allowing us to get to the line) and our scoring and rebound count was balanced across the team.
I was impressed with Kaden Morcombe and Ryan Duke-Yonge's work rate, rebound count and scoring. Riley Burnett also chipped in strongly in that regard.
Cooper Mason chimed in for double-digit scoring and assists.