The Weekly WABL Wrap is proudly sponsored by Woods Insurance Brokers. 
Here's the Round 18 wrap-up of how all our teams went, including comments from coaches:
U12 Girls Champs – Bri Bailey (sponsored by Access Hire WA)
Lost to Perry Lakes 36-38
Coach comments
We started this game quite well but were a bit nervous as we play this same team next week in finals. After shaking off the nerves, we started being aggressive towards the basket, getting to the free-throw line numerous times. 

Our free throws just didn't drop, and we missed a few easy layups. The second quarter hurt us, only scoring 2 points, but the girls did so well to bring it all the way back and only lose by two. Was a great game.

Elsey Lohman-white had such great man-to-man defence, stopping her player from getting the ball, taking on girls twice her height and hustling after every loose ball. It was great to see the youngest in the team step up and show she has what it takes to be on the court in crucial times.

Siena Mouttet had her first game back after injury and sprinted after all fast breaks, ending up in a block or getting the ball back. She didn't miss a beat after being away injured.

All the girls stepped up in crunch time, I'm very proud of how they held themselves after a close loss.
U12 Girls Div 4 Red – Rori Roberts (sponsored by Commercial Plumbing)
Won against East Perth 68-34
Coach comments
The girls played amazing and had a really good game leading into finals

Stevie Brehaut did not miss in this game – no matter where she was on the court, her shot swished. 

No one could get past Olive Bird. She had so many steals and was able to move her feet.
U12 Girls Div 4 Black – Paul Philpott (sponsored by National Geotech Drilling)
Won against Warwick Senators Green 31-29
Coach comments
Another "clencher" for our Reddies! We trailed ever so slightly for the first 3 quarters, but in the final quarter, we really found our mojo. Our wonderful girls clearly understood that to take this game, they needed to put individual and personal desires aside, aptly demonstrating the Redbacks spirit of

Club before Team before Player

. At this point, they took charge and fought for every ball – every rebound – every time to produce what was a well-deserved win! Woop Woop . . . finals, here we come . . . who would've guessed? Outstanding effort girls!

Isabel Nesa was a tower of strength at both ends of the court. 

Maeve Whitehouse was dynamite today, exploding down the court and continuing her clear leadership abilities. 

Zoe Bartucciotto continues to produce some spicey key side availability. 

Matilda Thompson turned it on today by chasing that stolen ball. 

Rose Bacci was instrumental in her defence on the court, chasing down the ball carriers and creating favourable turnovers.

Jade Macpherson assisted the defence, also creating turnovers towards quick transitions. 

Isabella Nagamany, with her superb tagging, kept the Senators' dangerous players frustrated and making errors. 

Madeleine Marshall found her shooting on the mark, adding needed points to the overall damage. 

Josie Smith continues to come to life with her inside defence, causing a number of spoils for the Senators. 

Zoe de Morton took the Senators' talls by surprise, driving the key and putting up some sneaky layups.
12 Boys Champs – Brandon Riley (sponsored by Stockbrands)
Won against Warwick 52-47
Coach comments
We were down to 7 players, and it seemed like we would be in for a tough day. However, we actually seemed to have the game on our terms from the tip. 

The boys were really locked in, and we were playing great team basketball. It was a great finish to a year full of adversity, where we couldn't seem to get a break.

Zach Snell really came to play this week. 

Vinnie Ryder – in his 50th WABL game for Redbacks – did a great job on their best player and held him to 8. 

Nathan Jetajobe was unstoppable out of the high post. 

Kai Atfield found his pre-injury form. 

All seven boys contributed to this one, though.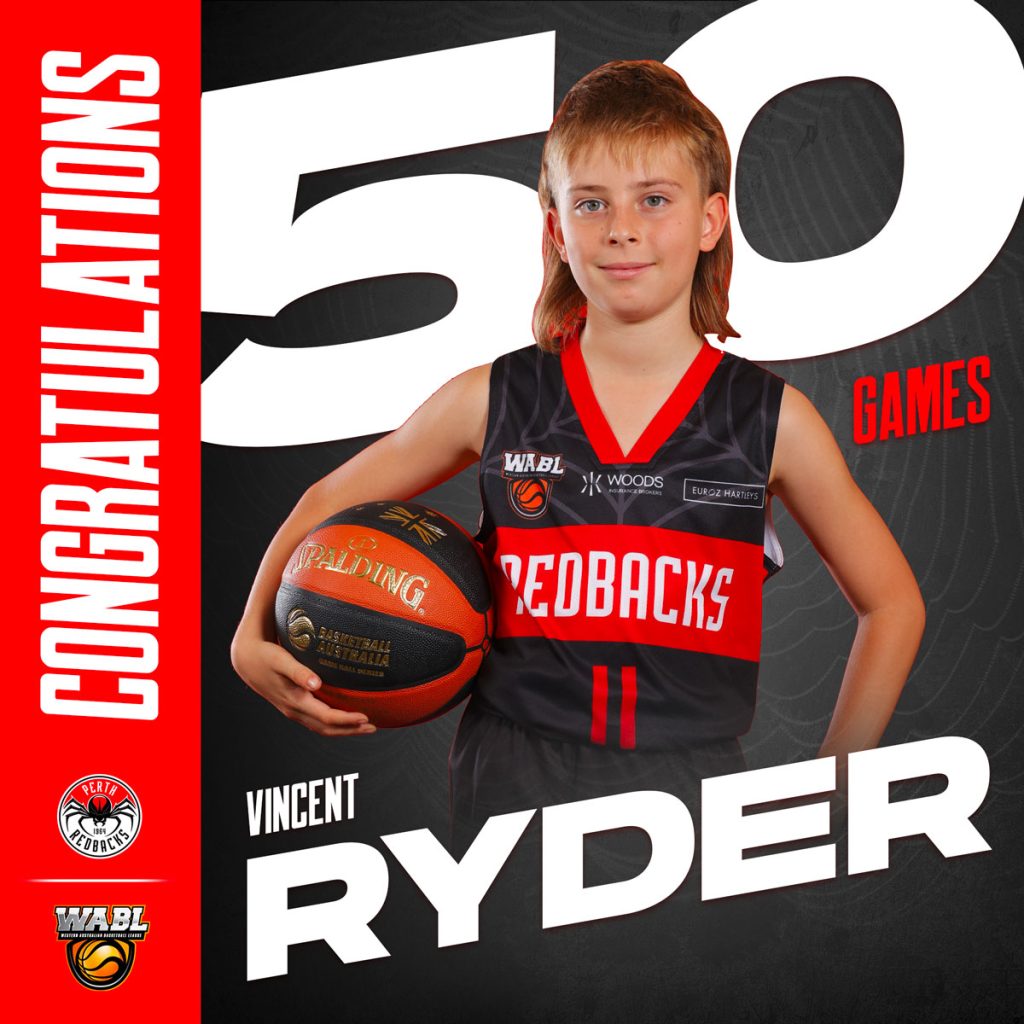 U12 Boys Div 2 – Andrija Petrovic (sponsored by Skyward Roofing Services)
Won against Warwick Senators 55-41
Coach comments
Well, what a game. It took us a whole season, but the boys brought everything together for their last game of the season as a team – it was just a joy to watch. The defensive help made life hard for the Senators. The patience and movement on and off the ball we had in offence helped open up the Senators' defence and saw us comfortably outscoring our opponent in three of the four quarters.

The win was a team effort, and a massive congratulations to each and every player for playing their part in the game.
Lost to Eastern Suns 42-50
Coach comments
If we'd played with this much passion the whole season, we would have ended up in one of the top spots I feel.

The Suns (who I think are the best in the comp) started very well.  They used their muscles to get in the paint and score.

In the second quarter, we closed up the paint area, made a lot of steals and scored from transition offence.

The only reason we couldn't finish on top was about 7 crazy 3-pointers for the Suns that on any other day would have been missed.

Great way to finish a season!

Noah Mucjanko was instrumental in this game, finishing as the top scorer with many steals to his name and some great assists.

Felix

Prokscha

played a very physical game in the defensive paint and was at the end of some very impressive fast breaks.
U12 Boys Div 4 – Craig Dropulich (sponsored by Sushi Wawa)
Lost to Joondalup Wolves 46-65
Coach comments
One of our best games for the season – this was against the best of bottom-age boys for Joondalup who will make up most of their Champs team next year, and they were tall! We brought pressure all game and made them earn every basket. Only Joondalup hitting 19 of 26 free throws proved the difference. In general play, Joondalup outscored us 46 to 43, an outstanding effort to nearly break even. We forced about 20 turnovers from our feverish pressure on the inbound trap and double-teaming their half-court offence.

Overall, the boys played the way we have been training them for all season. This is a wonderful bunch of kids who are so teachable, hardworking and responsive to the coaching they received all year.

Talin McCullough had a fantastic game with 10 points and great trapping defence that didn't even draw 1 foul for the game. It shows how hard and effectively he can defend.

Ned Tierney had one of his better games, thinking his way through situations and attacking the basket with good options to use if the pathway became congested. He worked really hard and pleased the coaches with his attitude to attacking the game on offence and defence.

Emmett Harman has finished off the season on a high with great defensive pressure rotating off his man to force extra passes in transition and rock-solid set shot shooting on offence.

Elijah Devitt finished the season with the most 3-pointers made for the whole of the division (22) at an accuracy of over 33%. He is such a natural shooter of the ball and, in this game, had opposition players guarding him closely, knowing his 3-point ability.

Noah

Ouwendyk

, Seth Cass, Pio Sampiano, Xavier Coombe, Aiden Middleton and Ashton Peake all had great pressure and setup for all aspects of gameplay really well. Their efforts gave the team the most offensive transition baskets we have had all season. Wonderful team defence well done boys.
U14 Girls Champs – Aric Forman (sponsored by Welsh Real Estate)
Lost to Joondalup 55-51 (OT)
Coach comments
A tough, tense battle throughout. We hit a 3-pointer to go 1 up with 2 seconds on the clock. The referees deemed it a 2 pointer, and we went to overtime. Unfortunately, our team fouls carried over into the overtime, and it hurt us with Joondalup going to the line several times. We finished the season with 13 wins in third place. The girls should be proud of their efforts this year.

Ella Welsh and Grace Butcher led our scoring charge, and Summer Chalder hit the big 3 that should have won the game. Once again, Abbie Leslie showed her toughness battling all game.
U14 Girls Div 3 – Vance Karimi (sponsored by Fish Boss)
Won against Eastern Suns Girls White 56-41
Coach comments
Another exciting game with a win at home for our girls, keeping calm through some stressful moments. We had Nadia Slee back with us, cheering the girls on the bench.

We started strong and reinforced it in the second quarter. The Suns play a fast-transitioning game, much like us. We changed our full-court press, and the girls did really well to adjust. The defensive transition was a focus for us this week in preparation for finals, and it was great to see the girls chase back hard to protect the basket.

Harper Grace had a great game, being strong in defence and offence. She found good position, used her body to take a charge and was right back into transition offence to score.

Zoe Elliott pulled down some great defensive rebounds and worked overtime when pressing the ball with her teammates to cause several turnovers and nailed her free throws.

Leisha Charlie read the ball so well by taking thoughtful risks with her denial and spoils all over the court, applied some great double-team pressure moments and finished strong at the basket.

Lottie Ballantine made some great decisions, giving up a good shot for a pass to her teammates for a great shot. She was really smart to contest shots in the key and walled up strong to protect the basket.
U14 Girls Div 5 Red – Marcia Dowling
Won against Mandurah Magic 50-23
Coach comments
For the last regular season game, our wonderful Assistant coach, Ainsleigh Passi, took the reins. We had planned out how to use our best on-court combinations in order to get the best teamwork. We played this a bit like a final, and it showed how much grit this whole team has got and how privileged we are as coaches to have witnessed development 10-deep.

Hope Campbell achieved our goal of 5 steals per quarter just about single-handedly, along with Gracie Dillon's and Ella Djurasovic's quick and effective help defence. 

Hayley Hill made fantastic shot choices, boosting our score with excellent and accurate assists from Ava Litas
U14 Girls Div 5 Black – Reid Ballantine
Won against Hills Raiders 61-23
Coach comments
Another nice fast start!! Well done girls!!

Over the past few games, we have tested a few great end-of-game scenarios, and this week, we tested out a new BLOB with a sharp inbound hitting Ella Fair rolling off a fat screen to hit the big catch and shoot a 3 like a gangster—a great highlight for the team and Ella.

We also had a great game within a game on the court with the top two scorers in the division going head to head on opposing teams. With the game secured at the start of Q4, the team helped Madison McKibbin belt out a 10-point quarter and end the season on top 🙂

The team's focus in Q4 to run harder and deny the Raiders every entry in Q4 was almost brutal, closing out Q4 23-2.

Fenne Bowie had another great game reading the play and intercepting repeatedly!

Olivia Birsa played great denial defence (particularly in Q4).

Saachi Ti'en had great spacing in transition and great communication with her teammates on court.
U14 Boys Champs – Andrew Logan (sponsored by MD Building Maintenance)
Lost to Warwick Senators 70-43
Coach comments
Finishing just one win shy of our goal (making finals) was a tough way to finish the season! However, I loved that our boys competed through to the last whistle against a stacked Warwick side. Our defence was solid all game. Everyone competed hard on the boards, and our guards kept up the full-court pressure all game. We struggled offensively against Warwick's length, but we had some excellent patches where we moved the ball effectively and put pressure back on Warwick.

Luke Websdale had a strong finish to the season, having 22 points in a game where we struggled to impact the scoreboard.

Jamie Cahill gave a solid performance to round out a season of growth for him. Impacting the scoreboard and playing some great D. 

Shoutout to Travis Hunt who played his 50th WABL game for Redbacks in this game. Glad he was able to squeeze that in before the end of the season!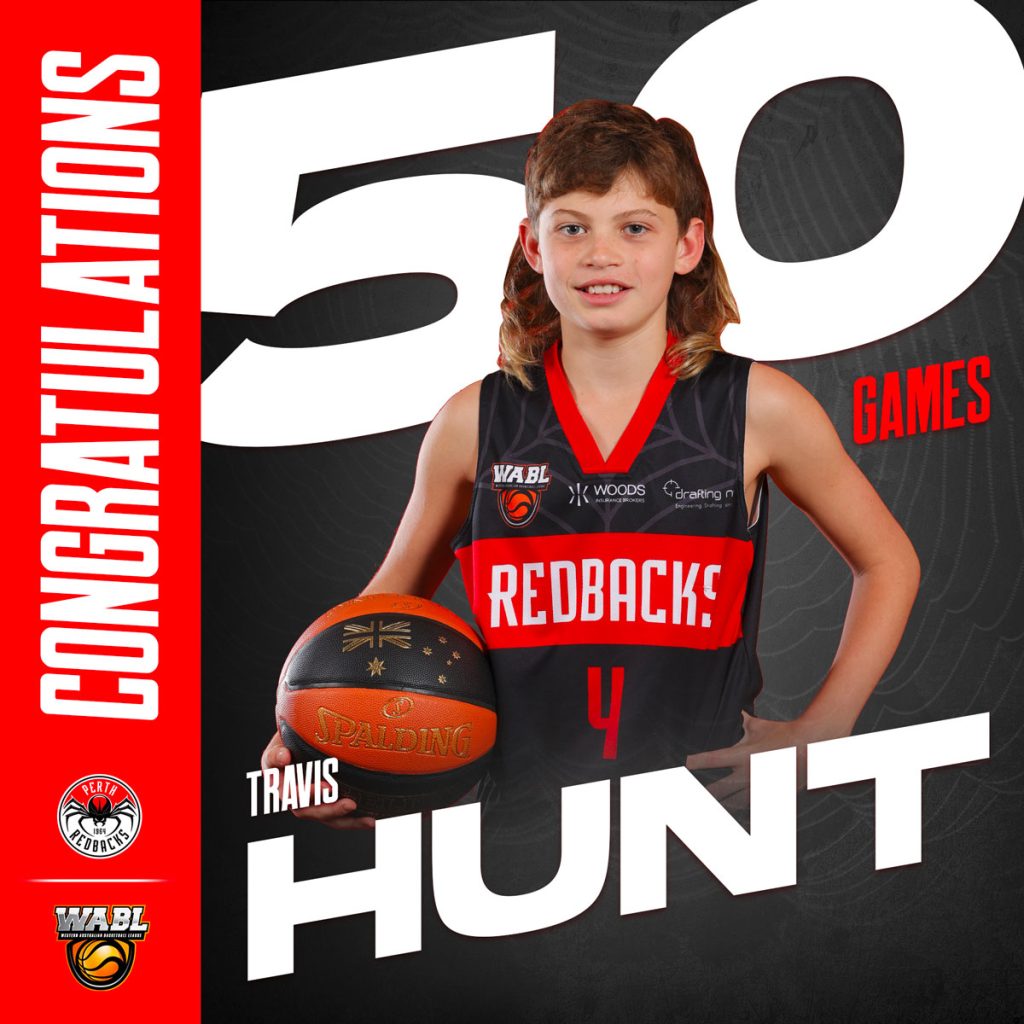 U14 Boys Div 3 – Brad Holyoak (sponsored by Drafting Now)
Lost to Hills Raiders 46-54
Coach comments
We came up today against a rampaging Raiders team who had to win for any hope of making finals. They jumped us early, but we managed to pull it back into only trailing by 4 pts at quarter time. They blew it out to be in front by 20+ points in third, but the boys wouldn't lay down and came home in the last with a wet sail. We couldn't reel them in and ended up going down by 8 pts.

I was very happy with our fight back in the last. But with finals now, it goes to show that we need to be switched on from the tip.

Toby Schultz, Toby Summers, Kimzy Matondo, Aiden Little and Jake Chew never stopped trying and were there in the end when we needed it most.
U14 Boys Div 4 – Ben Hamilton (sponsored by Cogito Psychology)
Lost to Eastern Suns Blue 53-64
Coach comments
This week we played the top team in our division in a preview of a potential finals meeting. It was a fiercely competitive game that was evenly matched for much of the game. This competitiveness contrasted with a disastrous five-minute stretch in the third quarter that led to a 20-2 run – creating a deficit we couldn't recover from, eventually losing by 11.

We've been working a lot on our consistency in the second half of this season, and this game was a perfect example of why that's so important, especially against the better teams.

Toby Deshon has been unwell lately, so it was great to see him back for this game. He really should have had an easy return, but his outstanding playmaking and confidence with the ball made him indispensable as we fought our way back. Great game Toby!

Harrison Moyle battled it out against another great big and definitely took the honours. His attacking style in the first half resulted in foul trouble for his opponent, while also earning him 11 first-half points.

Nate Cass was also crucial to our comeback, running hard in transition and converting important baskets. His game-high rebounding was a huge advantage and allowed us to exploit our speed when matching up against their two-big rotation.
U14 Boys Div 5 – Matt Strika (sponsored by Sushi Wawa)
Won against Mandurah Magic Black 88-50
Coach comments
What a great game to finish the season. All the boys hit the court with energy and played some excellent team basketball to produce an impressive 38-point win. The game was never in doubt, and I was really pleased with how the team shared the ball around, and every player managed to register a score.

Every player deserves a mention this week for the great team basketball on display. 

Tex Tierney registered his highest score of the season as he racked up yet another double-double with 27 points and 13 rebounds.

Kade Peake was impressive at both ends, finishing with 4 points, 6 rebounds, 2 assists and 3 steals. 

Clayton Sumich put on a defensive masterclass with 3 deflections, 3 steals and 2 blocks to go with his 6 points. 

Ethan Kingsbury dominated the defensive boards finishing with 14 rebounds for the game. 

Ethan "EJ" Cooper played his 50th game as a Redback and produced a very respectable 9 points, 3 assists and 5 steals. Congratulations EJ!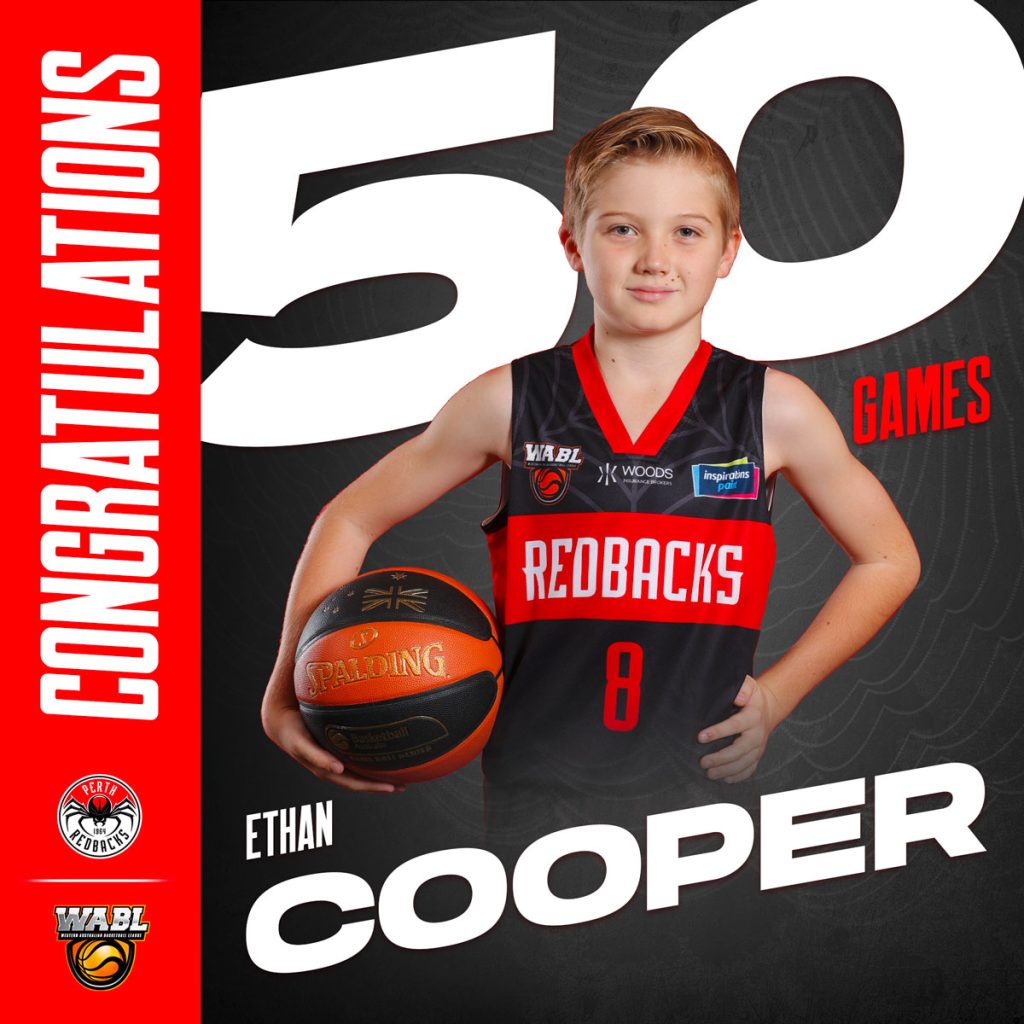 Lost to Cockburn Cougars 43-76
Coach comments (Zach Makavilitogia)
Tough day at the office for us. We found ourselves in a hole early and struggled to gain any momentum to get us back in the game.

We rallied in the second quarter to cut the deficit to 10 at one stage but couldn't stop Cockburn's relentlessness in transition.

Despite the result, we were able to secure a top 4 finish in a pretty tough division to end the regular season – a huge credit to the girls and their hard work so far this season. However, the real work starts now with an Elimination Final this weekend.

Grace Dimer and Leeshar Tuialii stayed aggressive on attack, getting to the free-throw line multiple times as we tried to stop the clock and cut into the deficit.

Theory Snooks-Holding stayed active on the O boards, getting us extra possessions.

Matilda Pyne was at her disruptive best on defence, blowing up DHOs and jamming PnRs.
U16 Girls Div 3 Red – Cheyne Kerp (sponsored by Wyatt Martin)
Lost to Mandurah Magic Black 57-67
Coach comments
Firstly, congratulations to Liliana Flynn, Zoe Ball, Grace Almond and Emily Horniman for 50 WABL games played for the Redbacks.

This was one that got away!

Outside of th

e first quarter and the last few minutes of the 3rd, our O and D again lacked energy and effort.

Composure and consistency over 4 quarters played another big role in the game.

This was the game that would have sealed us second spot if we won. Unfortunately, it wasn't to be. I hope this loss puts fire in our bellies and we come out all guns blazing for the elimination final. And training is performed at an elite level.

Talia Bentley, Liliana and Matilda Wyatt were big on rebounds, each getting or close to 10 rebounds each.

Defensive pressure by Jess Kerp and Zoe was instrumental. This pressure created multiple turnovers (inc intercepts).

Steph Hunt tried hard on O, couldn't fault her willingness, it was just unfortunate her shots didn't drop.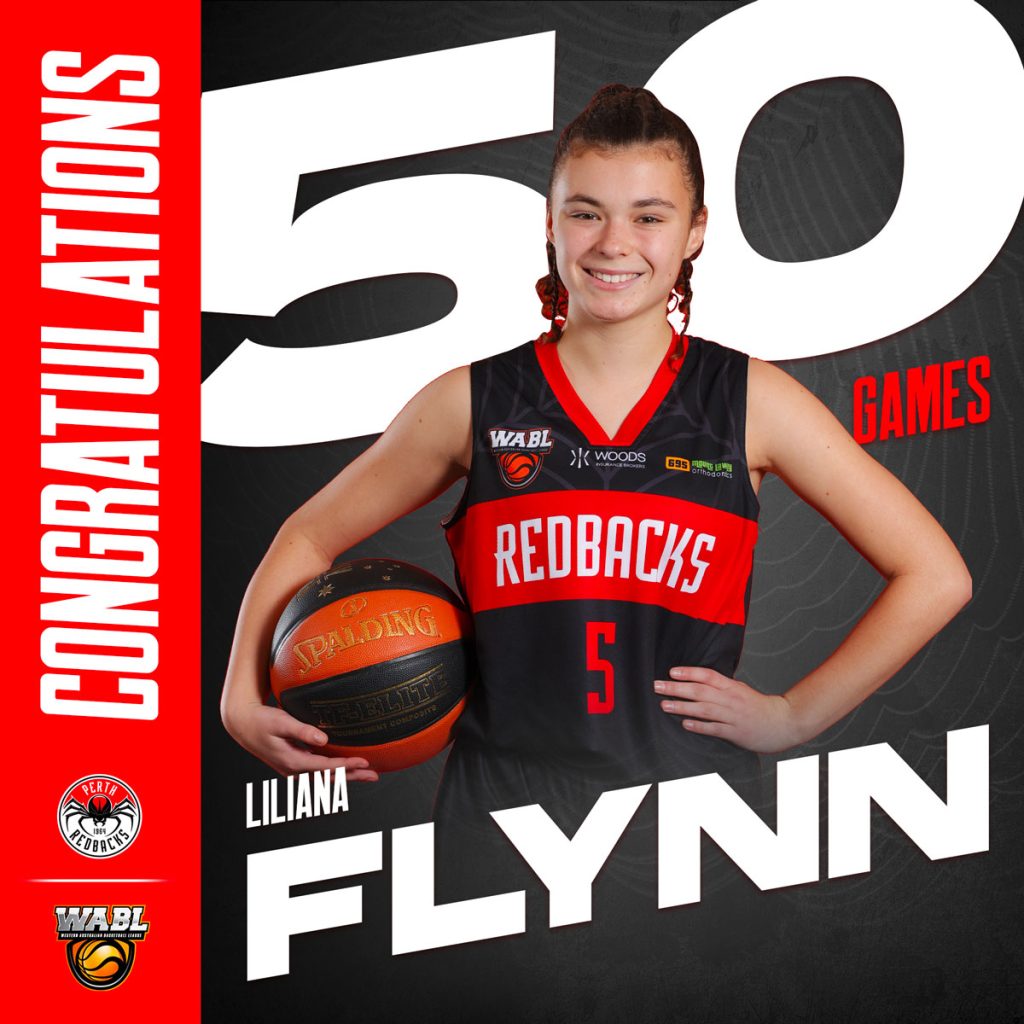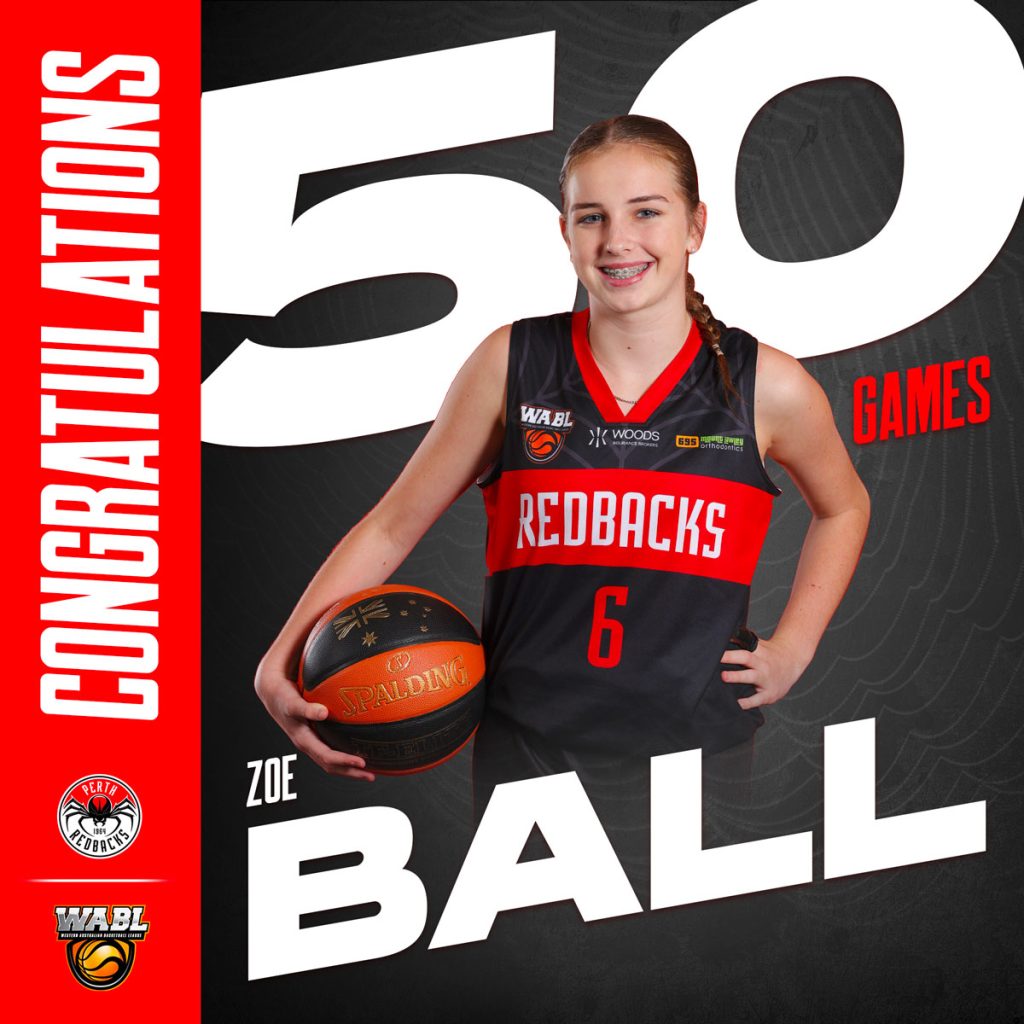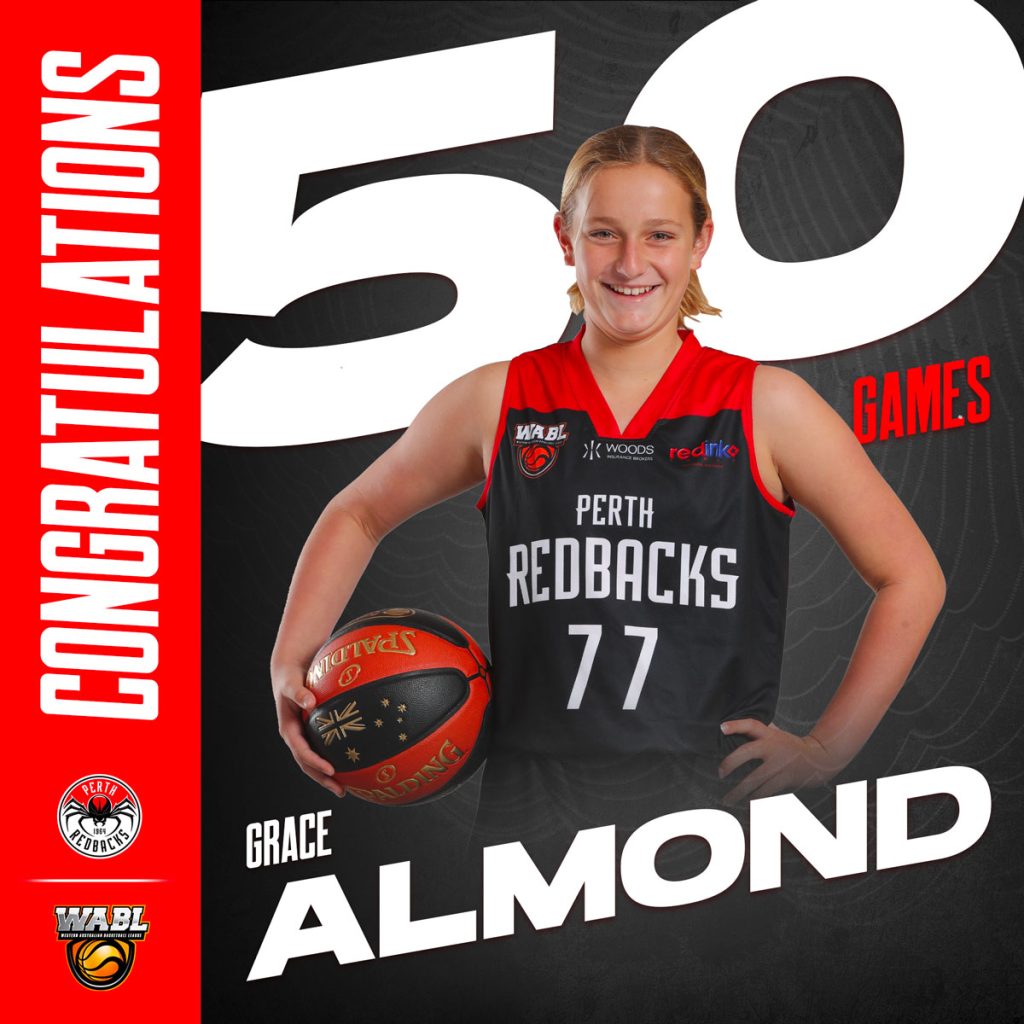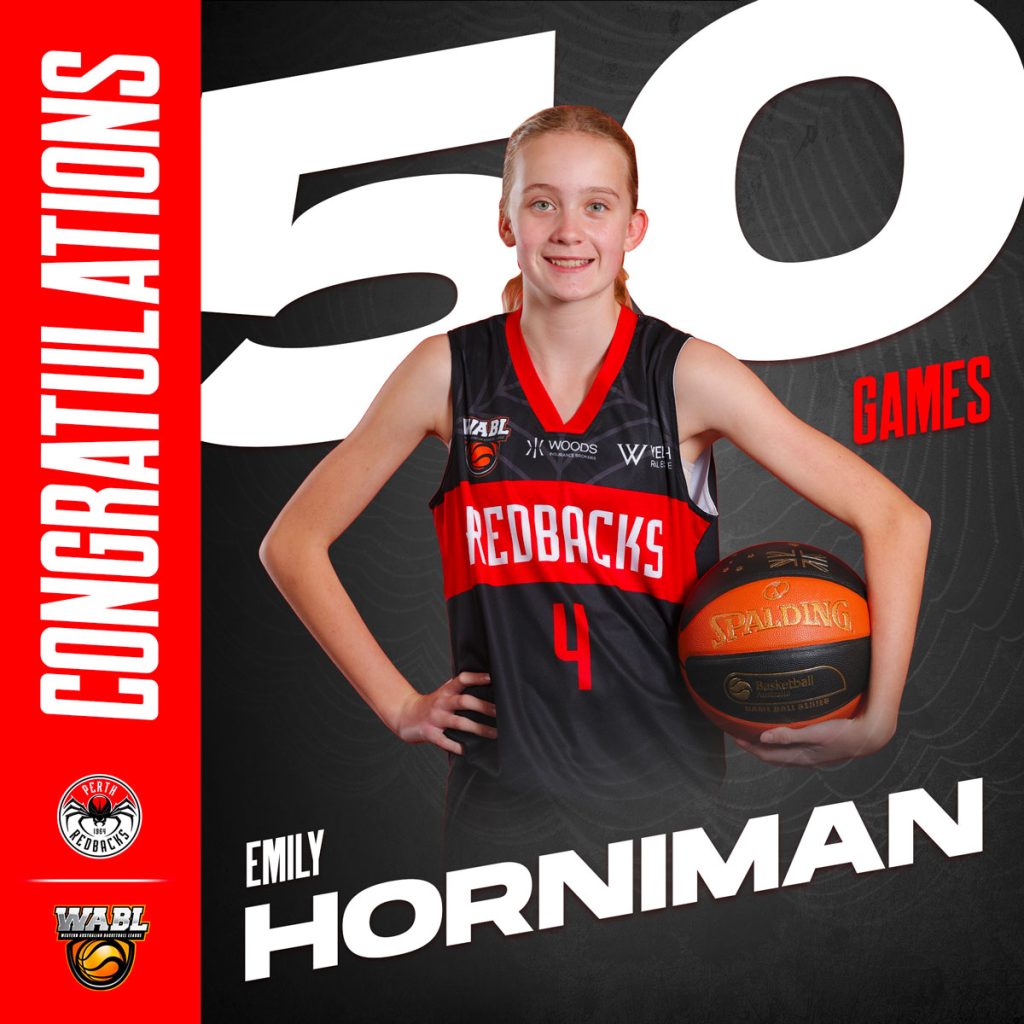 U16 Girls Div 4 – Geoff Alger (sponsored by Design Orthodontics)
Lost to Willetton 62-38
Coach comments
We opened the game really well, matching Willetton through to quarter time with a good demonstration of the capacity of the group when they look after the ball. In the 2nd quarter, Willetton's pressure disrupted our offensive composure and allowed them to get on top.

We regrouped in the second half and had a lot of fun running our new press break and trying some different defensive approaches to once again match our opponents across the second half.

This was one of our loudest games, with the volume of support and cheering from our bench a highlight of the game and a great way to finish the season.

Alex Temby, Ayla Harris and Sienna Duong were all on for focused and consistent defensive pressure and good positive use of the ball to play excellent games.

We loved hearing Danica Jeremiah find her voice, and Indi Ballantine and Alex Temby provided excellent team encouragement and positive energy throughout the day.
U16 Girls Div 4 – Lucy Dowling (sponsored by LKS Constructions)
Won against East Perth Eagles 59-58
Coach comments
It was a tough game for all 4 quarters, but we worked hard to compete physically and win the boards.

The whole team played their role well, and we finished the season with a well-played enjoyable game.

Paige Wigmore worked hard under the basket and gave it her best.

Salma Rahmadavi got knocked around but held her own and pushed through, finishing some beautiful shots.
Lost to Senators Blue 86-96
Coach comments
In our last game of the season, we needed to win to make finals, but unfortunately, we fell short. Our defence suffered from breakdowns in concentration, lack of hustling back on d-trans and not enough help defence rotation. Credit to the boys, we fought until the end and never gave up all game. Hopefully, all the boys can take this through to their future basketball endeavours.

A great team effort this week all around, but it was great to have Zayde Parriman and James Bowen back into some shooting accuracy from three-point land. 

Ben Galvin and Jack Saliacus were tough in the paint. Ben, in particular, shot at a great rate from the free-throw line this week.
U16 Boys Div 2 – Louis Timms (sponsored by Inktank)
Won against Eastern Suns Black 75-72
U16 Boys Div 4 – Mitch Jesson (sponsored by DLA Piper)
Lost to Eastern Suns Orange 84-76
Coach comments
The last game of the season and up for grabs was top spot for our opponents if they won or 2nd place for us if we won. We had our chances against a very talented Eastern Suns team who deservedly take top spot after 18 games.

We went down by 8 points, encouragingly winning 2 of the 4 quarters. The last time we played the Suns (a win for us), their top 2 scorers had 62 points, and we were determined to stop this. We held these 2 players to 29 points – however, we were beaten by committee, with other players scoring well.

From our viewpoint, it was pleasing that all players scored (5 players in double figures), we managed to win the rebound count, and have a better FG%, better FT% and more assists.

Basketball in close games, however, comes down to small margins – we went 0/9 from 3 point land, whilst our opponents went 9/26. We also got into foul trouble early, with 3 starters on 3 fouls in the first half.

Tommy Jakimowiez was back from injury and put in some really big minutes for us. 10 points at 67% and 6 boards don't tell the tale of the hard work in transition and the number of shots he altered.

Cooper Hewer and Ewan Maclean really provided a great 1-2 punch for us. It was a fast game that probably favoured our smaller opponents – however, Cooper and Ewan attacked the press, going for a combined 30 points @53%, 10 boards, 4 assists, 6 steals and 3 blocks.

Cooper Poustie inspired us through his defensive effort and intensity in the last quarter. Down by 14 at 3/4 time – I asked the boys to lift defensively and get the lead back into single figures. Poustie was a man possessed, and we held the Suns to their lowest-scoring quarter. His effort made those around him lift, too, and there is no better compliment than inspiring others to another level.
U16 Boys Div 5 – Dan Cartwright (sponsored by Knight Health)
Won against Mandurah Magic White 105-80
U18 Girls Div 2 – Anthony Nixon (sponsored by Claremont Asphalt)
Lost to Wolves 51-57
Coach comments
This game was against the team that finished the season at the top of the table. They were tall and strong, and the game shaped as a big challenge for us given previous close encounters.

The girls played so hard in what was a very tight and passionate game and if it wasn't for a few missed shots, we might have got there in a very close game.

This game again proves this team can compete and potentially beat any team in the competition when they are on.

All girls played really hard with Lucy Waller 11, Charlotte Boradbent 10 and Blaise Stancil 10 leading the scoring but the efforts of Megan Taylor, Kate Anderson and Lucy who put their bodies on the line the whole game was a standout. With Lucy especially having the best game I have seen her play.
U18 Girls Div 2 – Zac Belton (sponsored by Aussie Fencing)
Won against Kalamunda Eastern Suns 75-36
Coach comments
In a game where we emphasised defence as this will be one of our key points in finals, the girls showed discipline and executed what we wanted to do defensively.

Matilda Thomson was a machine today scoring 21 points, she looked a cut above the rest today.

Ainsleigh Passi was also a scoring threat chipping in 17 points and some key defensive stops.

Shoutout to Emily Swann, Isabella Wolfenden and Anais Adnams who also hit double digits.
U18 Boys Div 2 – Jesse-Taylah Powell (sponsored by Grange Risk Solutions)
Won against Warwick 62-61
Coach comments
Defence wins championships and defence won us this game.

We took this game one play at a time and showed a lot of composure down the line against a team with nothing to lose.

Riley Ford's efforts defensively were huge, putting his body on the line!

Composure amongst our guards, Andrew Chilufya, Cooper Deshon and Jaxon Sym steadied us in the 4th

Congrats also to Jax on playing his 100th Perth Redbacks WABL game in this game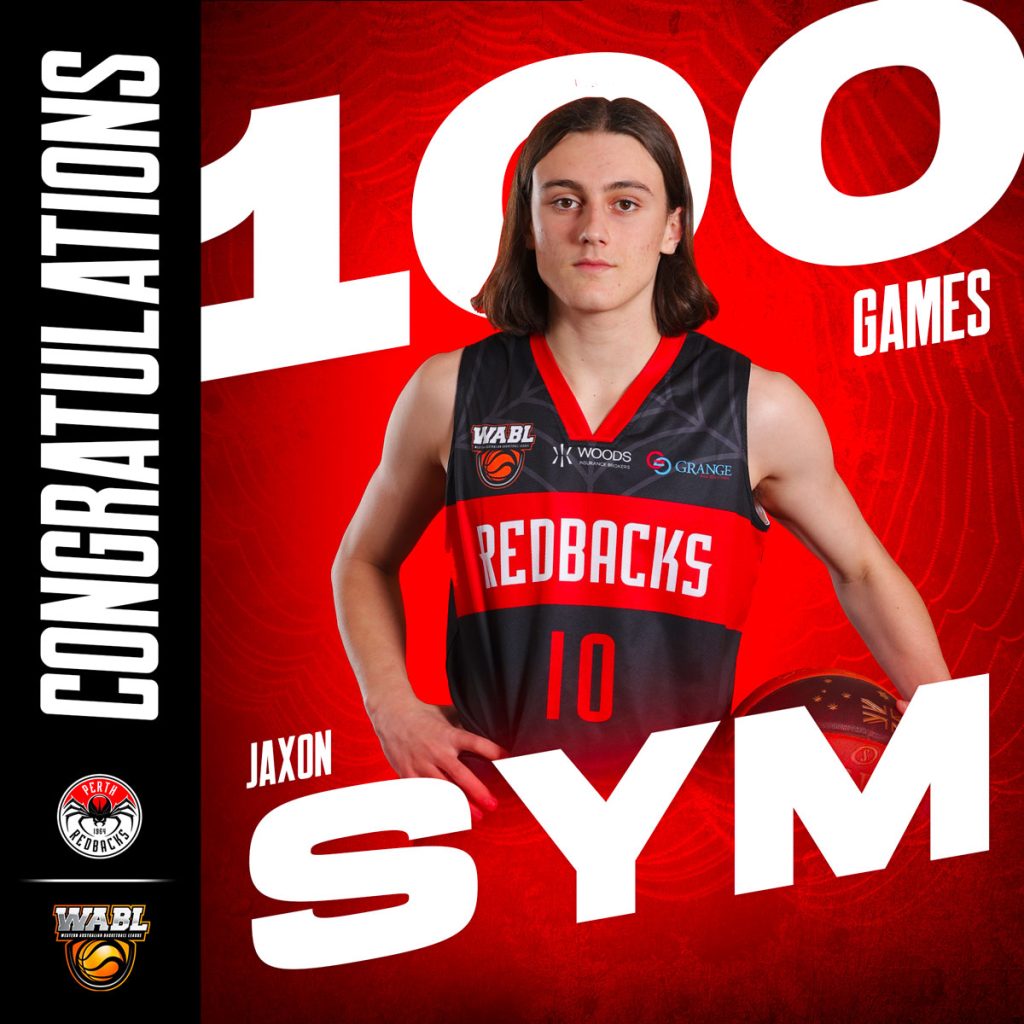 U18 Boys Div 3 – Nick D'Elia
Lost to Lakeside 72-75
Coach comments
This week we went into the game fully primed as it was do or die for both teams. We came out fairly hot offensively and great ball pressure saw us get out to an early lead. However, a few costly turnovers and unforced errors kept them in the game. In the second quarter, our press worked well however, we couldn't capitalise on offence to build the lead. They then started to break the press, and we had to pull the defence back. Our hot start on offence had dried up, and the game became a bit of a grind – tough to score. We had a few sparks here and there but then costly turnovers kept the game level

I tried lots of different combinations and tried to get the boys to execute however, it wasn't to be as we then got into foul trouble in the 4th 

We had 2 shots in the final possession to score and force overtime – Benji Berardis had a good look first time, however it didn't drop. We had one more opportunity but they played great defence, we couldn't get up a decent shot and that was that – the end to a roller coaster of a season. We played hard unfortunately couldn't quite get over the line

Shout out to the great defence from Ethan Logan and Lachie Steele and strong rebounding from Harry Wheatland.

Huge congrats to Lachie and Josh Richards who played their 50th WABL game for Perth Redbacks in this final game for the season.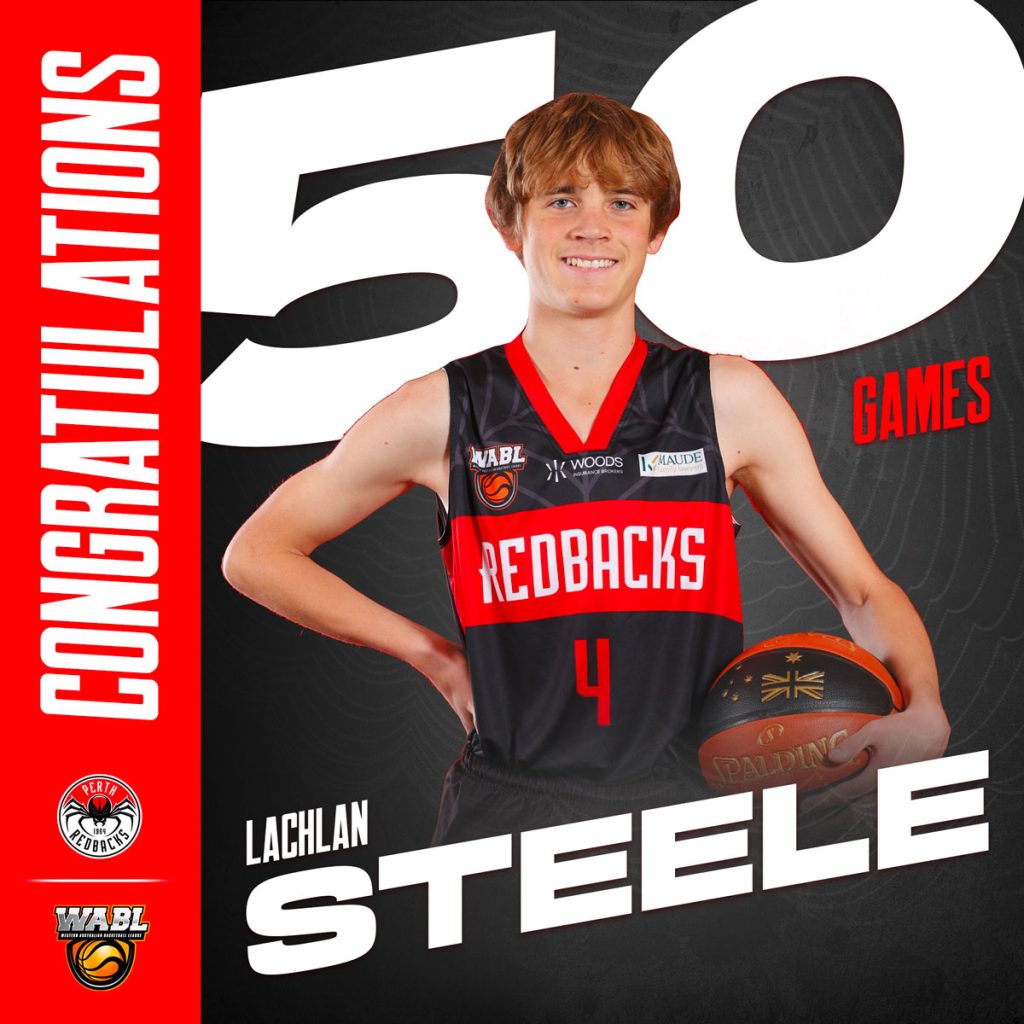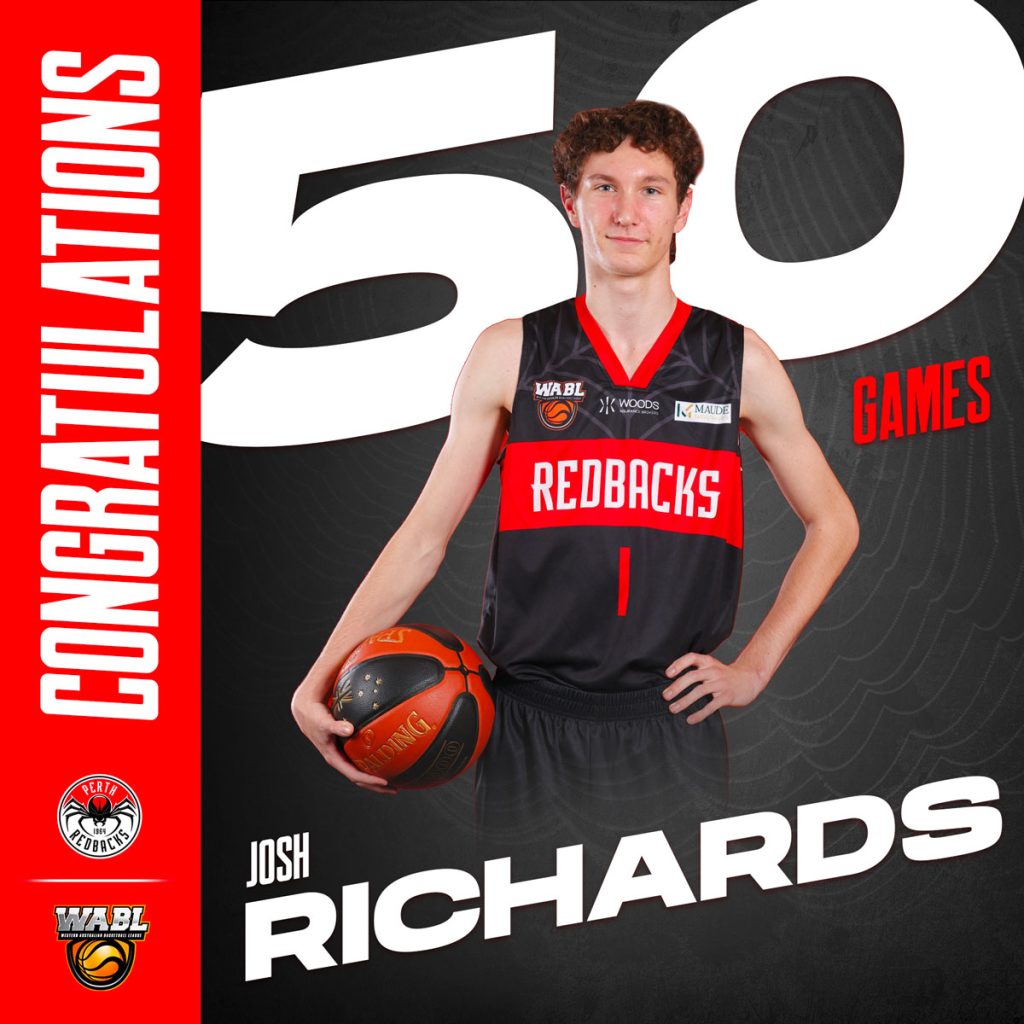 U18 Boys Div 4 Red – Bob Andrzejewski (sponsored by TECC)
Won against Mandurah Magic Black 64-60
Coach comments
Our last game of the regular season was away against the 2nd team on the ladder. As expected, they were ready to fight hard on their home gcourt. We had 2 players missing due to injury (Riley) and illness (Ethan). The game was close, with the score constantly changing either way – both teams working to prove the point who deserves the top spot. At the end, my boys delivered another win.

All players had moments of brilliance and moments of "let's forget about it". One player, Lucas Detata, stood out this week and delivered an outstanding performance, especially in last quarter when he dropped a few 3-pointers in crucial moments to turn the game our way.
U18 Boys Div 4 – Alessandro Gentelli
Lost to South West Slammers 55-61
U20 Boys Champs – Luke Simonette (sponsored by Willis Temby)
Lost to Lakeside 59-71
U20 Boys Div 2 – Graham Jones (sponsored by McDonalds Busselton)
Won against Joondalup Wolves 86-82
Coach comments
This was possibly the best passing game we've put on the court all season. We moved the ball quickly, advancing it in transition, getting the ball through hands in our half-court offense without defaulting to dribble, and finding an open teammate when the defence collapsed.

Despite not shooting well from the free-throw line or from beyond the arc, our commitment to move the ball gave us good shooting options inside.

Will Burbidge came out firing and was everywhere in this game. His ball pressure was elite, causing deflections, grabbing steals, and then pushing the ball in transition.

Melvin Nwanko was a beast on the offensive boards again, giving us vital second-chance points, and finishing with a game-high 36 points.

Ethan Saliacus and Tsepo Mhlope both played like the big men that they are in this game. They both worked hard in the paint to box out and grab defensive boards while picking up 12 and 8 points respectively, on the offensive end.

Congrats to Declan Pyne – this game was his 100th for Perth Redbacks – well done Dec.