The Weekly WABL Wrap is proudly sponsored by Woods Insurance Brokers. 
Here's the Round 17 wrap-up of how all our teams went, including comments from coaches:
U12 Girls Champs – Bri Bailey (sponsored by Access Hire WA)
Lost to Eastern Suns 41-46
Coach comments
The girls played well. Our passing is what let us down this game, and aggression for the ball on defence. We had a few great runs. We are still out with injured girls, so waiting for our full 10 to be back, but the girls pushed through, and there were some great positives to the game.

Alyssa Rullo attacked the basket with aggression and got herself to the foul line several times

Allegra Care had a cracker, dribbling from end to end and not pulling up to stop until the defence tried to stop her, which they didn't do several times and resulted in her putting up shots. She ended up with 6 points. 

I'm proud of all the girls for sticking it through this last month and a bit without having a full team during games. They really go out there and give it their all whether we have 7 players or 9!
U12 Girls Div 4 Red – Rori Roberts (sponsored by Commercial Plumbing)
BYE
U12 Girls Div 4 Black – Paul Philpott (sponsored by National Geotech Drilling)
Won against Warwick Senators Blue 20-22
Coach comments
This game saw us up against our rivals from Round 8 and looking to show them this time how fierce we have become. After a butt-clenching game with the scores close at each quarter, our fantastic Reddies hung in there with the desired result at the final buzzer. 

Ben, myself and our supporters on the bench are so proud of how much our girls have developed throughout this season against some tough teams. Take time to reflect on your awesomeness girls – you all have deserved it!

Maeve Whitehouse's leadership was on the mark today as our primary ball carrier, controlling the attack and ensuring we transitioned to the key. 

Zoe de Morton continues to be fierce in her hunger for the ball, showing those taller opposition her desire to win every ball. 

Once Matilda Thompson focussed on her loose player – she was able to mark up, close out and force errors on numerous occasions. 

Both Isabel Nesa and Josie Smith (with 8 points), as our talls, owned the key. Their rebound gifts and kicked out to commence the down-court transitions.
12 Boys Champs – Brandon Riley (sponsored by Stockbrands)
Lost to Perry Lakes 53-62
Coach comments
We shot the ball really well from 3 but missed a lot around the rim. We struggled to adjust to how the game was being called, and this made it hard to maintain momentum. We played as hard as we could.

Jo Cortes has been really good of late and was solid again 

Zach Snell  was able to score consistently 

Franek Cytowski was great at both ends.
U12 Boys Div 2 – Andrija Petrovic (sponsored by Skyward Roofing Services)
Lost to Cockburn 40-69
Lost to East Perth Eagles 65-36
Coach comments
Almost a duplicate of the week before, we started on top in the first half, and then our defence completely collapsed.

Clinton Vo played his best game with some great passes and a very nice lay up.

Harrison Kingsbury had one of his best games, going hard the whole game and reacting very well to 'on the fly' instructions.
U12 Boys Div 4 – Craig Dropulich (sponsored by Sushi Wawa)
Lost to Rockingham 37-83
Coach comments
Another tough game for us this week, missing 3 boys, an assistant coach and driving to Rockingham. We started slow in the first quarter but had good pressure and ramped it up in the second quarter to win the quarter by 4 points.

 After half-time, we started to feel the effects of missing players, and our pressure fell away too much, making it too easy for our older and bigger opponents to beat us on transition. 

All the boys played hard and have shown so much improvement and understanding of what it takes to play WABL.

Elijah Devitt had a solid game and worked hard through lots of pressure applied to him and scored 9 points.

Ned Tierney worked hard on driving and scoring 10 points was a great effort on the day,

Emmett Harman, Griffin Sharp and Aiden Middleton all hit multiple shots and worked well on offence to get open and hit their mid-range jumpers.
U14 Girls Champs – Aric Forman (sponsored by Welsh Real Estate)
Won against Rockingham 59-44
Coach comments
A really strong performance by the girls. We led throughout the game. Rockingham surged in the fourth quarter, but we re-grouped and ran out comfortable winners.

Grace Butcher was a powerful force inside the key and stepped outside for a 3 in the fourth quarter. 

Ada Burke had a strong game pouncing on a few intercepts and being a force on offence. 

I loved the battle shown by Abbie Leslie, who always gets in the rebounding battle despite being one of the smaller players. 

Ella Welsh and Paige Ogden always provide stability for the team.
U14 Girls Div 3 – Vance Karimi (sponsored by Fish Boss)
Lost to Perry Lakes Hawks Blue 35-40
Coach comments
This week our girls knew they were in for a tough challenge, but they started strong and confident. Knowing they were up against a bench full of tall, athletic players, the girls had to play a strong physical game to bump cutters, deny passes and contest everything.

We had quite a few missed shots in the second, gave away too many free throws and struggled a little with our transition defence. But, like every week, our girls switched to another gear in the second half. They had to jump like never before, get physical, bump cutters with intent, box out, chase and dive on every ball. To their credit, they outscored the Hawks in both the third and fourth. They showed real courage and should believe they absolutely can beat this team.

We needed Lottie Ballantine and Cara Hayes to out-play the Hawks bigs, and oooh, it was so good to see these amazing girls contest and block shots, rip down the defensive boards and show off their exceptional passing skills to cutters on time and on target.

Zoe Elliott was hot with her perimeter threes and was so composed with the ball up the court under pressure to make great decisions whilst putting pressure in transition defence.

Harper Grace was exceptional in defence all over the court with defensive rebounds over players taller than her, footwork to contain the ball handler and some great boxing out.

Andia Egdhami and Soni Karimi timed some great back-door cuts to find gaps in the defence and received some great passes to finish.
U14 Girls Div 5 Red – Marcia Dowling
Lost to Redbacks Black 57-41
Coach comments
Wow. Third derby of the season and the best one yet. It is quite surreal to coach against a fellow Reddy and to be so excited by the development of girls on both teams on court! 

Today our teamwork was strong in the first half, and we were extremely competitive. As team Black pushed hard with their full-court press, I was really impressed with the decisions girls made to bypass this great defensive play

Gracie Dillon was in turbo mode today in all areas of the court. She put up great shots, made several intercepts in transition and fought well under the basket. 

Missing one of our rebounders due to illness didn't stop Anabella Lewis or Cyra Olowoyo getting more than four of their own over players twice their height. 

Nora Ostermeyer's defence under the basket prevented any score from being easy. 

Hope Campbell was always on her player and made her opponents' movements difficult indeed.
U14 Girls Div 5 Black – Reid Ballantine
Won against Perth Redbacks Red 57-41
Coach comments
Really pleased with the girls' focus at training this week as we approach finals. They brought that focus to the game and applied pressure right out of the gate, and played fast and furious in a super high-tempo game.

On the attack, our inbound passing and inbound plays were all really well organised and executed. Well done girls!

Getting ready for finals, the last minute of the game was the most encouraging with the girls challenged to do everything to win the ball repeatedly. With incredible determination, a lot can happen in 1 minute!

Fenne Bowie and Madison McKibbin did a brilliant job in defence against two key players. Fenne, in particular, was an absolute magnet to her opponent, denying possession and making a big impact.

Chelsea Karsum was at her best ever and gave us everything!! Defensive pressure, steals, baskets, very neat free throws, jumping rebounds, clean blocks, and brilliant energy on the bench 🙂

Lauren Jones was a firecracker today, she was an absolute predator hunting the ball and she was confident with the ball on offence and had great footwork driving through traffic.
U14 Boys Champs – Andrew Logan (sponsored by MD Building Maintenance)
Lost to Perry Lakes 59-45
Coach comments
Another great effort today. We executed numerous things we had been working on over the last month at a high level. The game was closer than the final score suggested, with it only getting away in the last 2 minutes. 

Our finishing let us down in the 4th, and that was the game. My highlight as a coach was the way the boys conducted themselves in an environment that was not easy to stay composed in, and keep their heads in the game

Xavier Allison's high-level bball IQ was on full display. He got our scoring going early and shot exceptionally well from deep for the entire game. Continues to be a bucket.

Caeden Olowoyohas the tough assignment of being a train on, never easy as a young man. He displayed a great attitude on the bench and made the most of his minutes.

We had two players achieve their 50-game WABL Milestones in this game. Huge congrats to Xavier and Tate Mucjanko.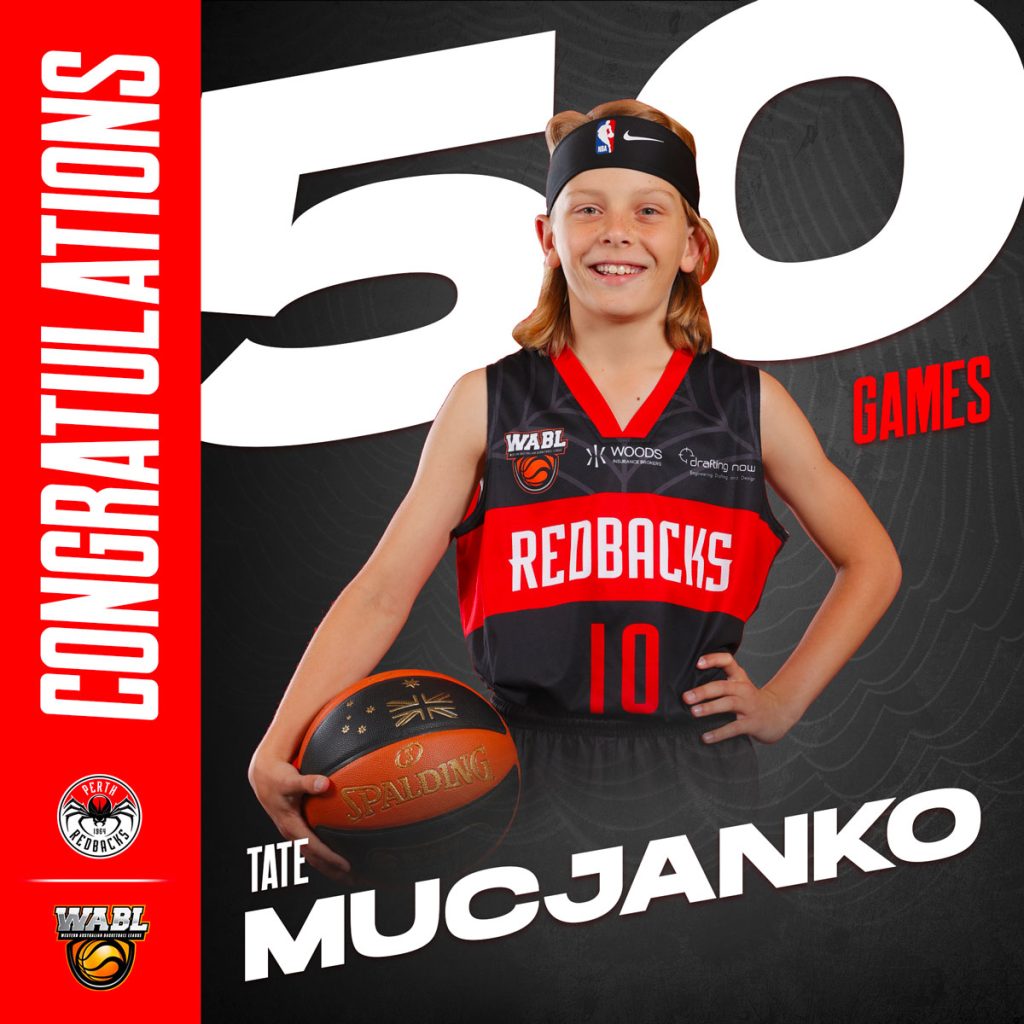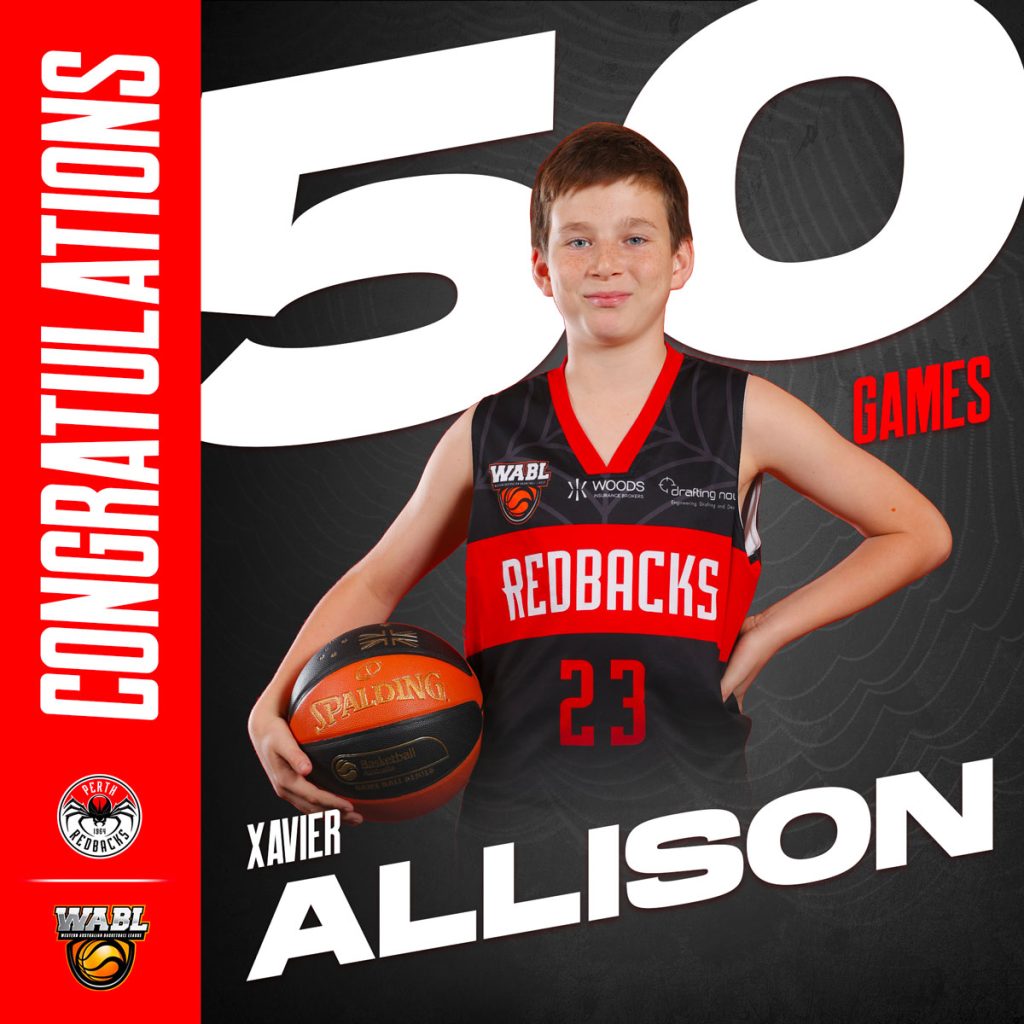 U14 Boys Div 3 – Brad Holyoak (sponsored by Drafting Now)
Won against Rockingham 59-65
Coach comments
We travelled down to Rockingham for our last away game before finals and played a red-hot Flames team who were sitting second on the ladder and had won the last 5 games on the trot. We came out a bit slow, which was unusual but finished the first quarter up by 4. 

The second, we came out cooking and went into halftime 19 up but in foul trouble.

Rockingham came back at us in the third and won the quarter, but we still led by 10 points going into the last. They threw everything they had at us in the fourth and closed the gap to 6, but as has been the case this season, the boys didn't panic they trusted each other, stuck to our plan and finished strong. Good teams always find a way to win. Well done to all

We had many good contributors today – Kimzy Matondo stood up when we needed him most and was damaging on both ends of the court. 

Toby Summers – playing his 50th game for Perth Redbacks –  ran the lines using his speed and poise and scoring at crucial times in the game.

Toby Schultz was instrumental in running the point today, dealing with some incredible pressure and handsy defenders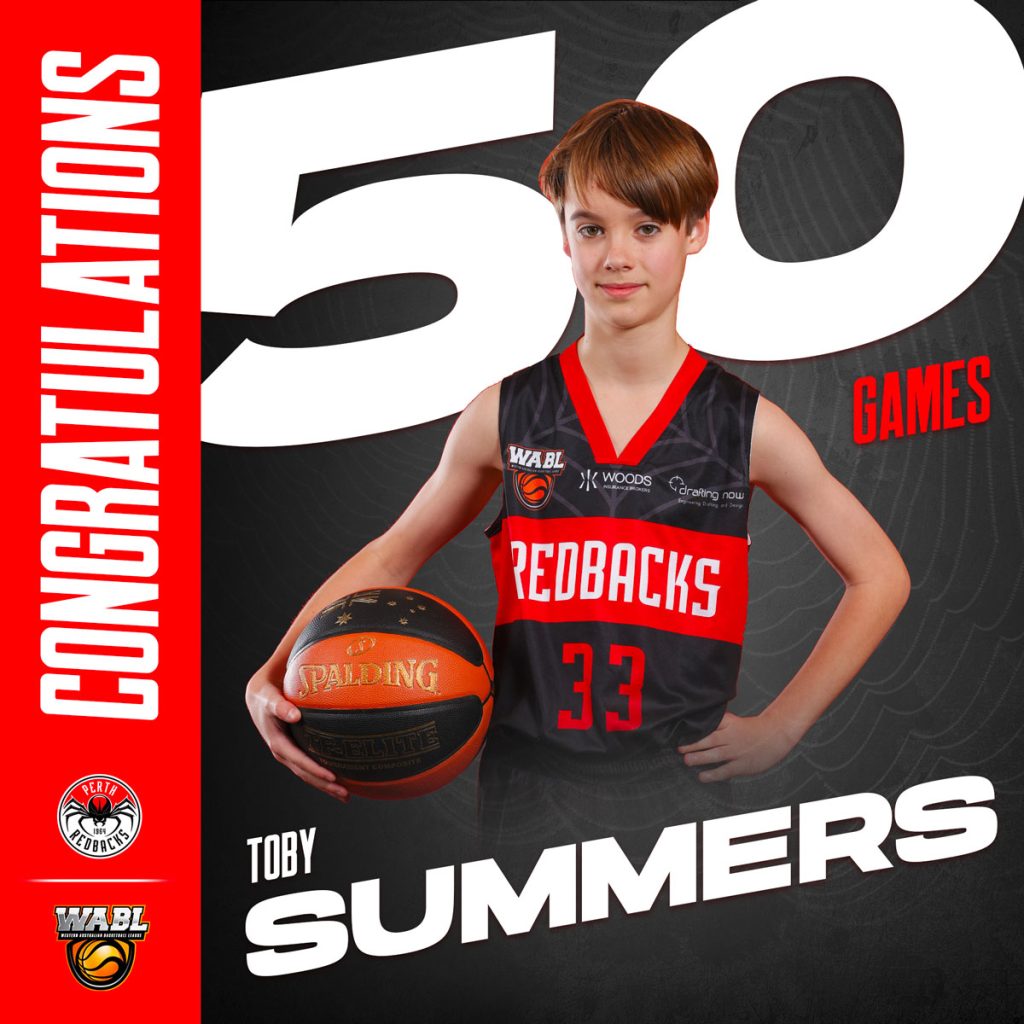 U14 Boys Div 4 – Ben Hamilton (sponsored by Cogito Psychology)
Won against Hills Raiders 52-39
Coach comments
This week we travelled to Mundaring with a plan to focus on key development areas in preparation for a tougher game next week. In most parts, we were able to do that, but like in our first game against Hills, we allowed them to get the momentum at certain stages to keep the result closer than it felt.

Statistically, it was a pretty one-sided contest, with our rebounding continuing to be a big area of improvement. Our field goal conversion continues to be an area of concern though.

It was not our most convincing game, but we did enough to win comfortably.

Seb Doyle was dynamic at both ends of the court with some important defensive plays, an aggressive mindset on offence, and an impressive 9 rebounds.

Zeke Brian was the best of the guards on the court, advancing the ball with ease while applying maximum pressure on defence. His combination with the bigs was a real stand-out and could have earned him a bag of assists had our conversion at the hoop been a bit better.
U14 Boys Div 5 – Matt Strika (sponsored by Sushi Wawa)
Won against Mandurah Magic White 73-56
Coach comments
I'm really happy for the boys to get back on the winner's list. They all showed up today with a great attitude and positive energy to produce some great team basketball. The win was set up with a stellar 20-6 third quarter off the back of some high-pressure defence and commitment to dominate the boards. I look forward to backing up next week with the same energy to finish the season off strong.

Some great efforts from all the players this week. 

After a frustrating week last week being tagged, it was great to see Ethan Cooper get up and have a great game with 17 points, 5 assists and 3 steals. 

Tex Tierney battled tirelessly in the paint, wrapping up a double-double with 16 points and 11 rebounds. 

Clay Sumich had a great game at both ends with 6 points and 5 steals.

Luka Delic played a great game in his 50th appearance as a Redback with 17 points and 16 rebounds, congrats Luka!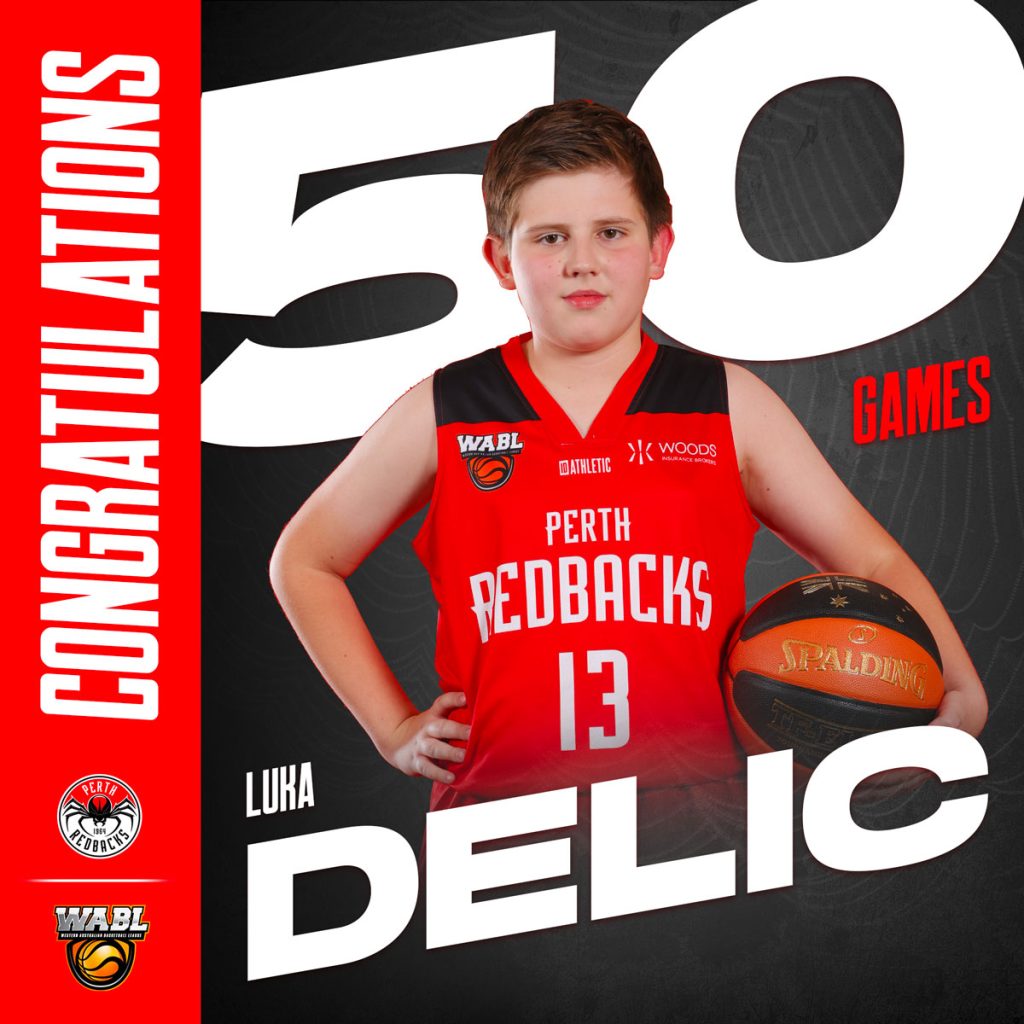 Won against Willeton White 62-61
Coach comments
With some key players out this week and up against a top-six team, we needed everyone to step up both on and off the court. I loved how we played our style, were the better team on boards and stayed composed as we went back and forth with the Tigers. We were the better team in the end-of-game scenario, and it was awesome as coaches to use lots of subs to organise our D and control the pace.

Shout out to Ella Welsh, who filled in for us and brought max energy in her second game for the day.

Theory Snooks-Holding and Mafa Tuilalli were both beasts this game, asserting themselves in the paint, ripping down boards and, in Theory's case, making some nice blocks.

Matilda Pyne was excellent stepping up as our starting point guard. Tilda showed great composure throughout and ran our offence excellently.

Grace Dimer brought firepower to our offence, knocking down a couple of timely 3's and showing heaps of hustle and physicality.
U16 Girls Div 3 Red – Cheyne Kerp (sponsored by Wyatt Martin)
Lost to Willetton 44-54
Coach comments
This should've been a comfortable win for us regardless of the players we had available, but the game didn't pan out as expected. We saw flashes of brilliance in the first quarter, the style of basketball we aim for. But from the second quarter on, it was like a series of missed free throws. Our defence, which is what we pride ourselves on, was nowhere near the level expected. Too many unforced errors disrupted our flow, and most of our shot choices were like half-court heaves than well-executed offence. If we want to make a run deep into the finals, we need to bring more grit, determination, resilience and a sharp increase in basketball IQ.

Shout out to Liliana F,lynn who didn't stop trying all game. The level of energy and intensity she brought throughout the game was high rate.  Congratulations on also getting another double-double. Liliana is definitely not afraid of getting rebounds against taller/bigger opponents.

Matilda Wyatt battled hard on the boards earning second-chance efforts. Unfortunately, her shots just didn't drop. She did adjust, though and kicked the ball out on offence to reset (selfless basketball).
U16 Girls Div 4 – Geoff Alger (sponsored by Design Orthodontics)
Lost to Lightning Purple 44-57
Coach comments
The scoreboard at the end of quarter 1 looked like a top vs bottom game with some disciplined Lightning defence and some missed opportunities holding us to two points while they capitalised on turnovers at the other end.

From the quarter-time break on, however, it was a different game. The girls came out on fire and locked in to attack the game with positivity and confidence, winning the next three quarters and staying within striking distance of a big upset right until the end.

This was our best demonstration so far of executing offensively as the girls looked after the ball and consistently challenged the league's best defence.

As our confidence with the ball grew, easy points off turnovers dried up, making it harder and harder for the Lightning to score.

Ultimately there was one Lakeside action that we were unable to shut down and a little finishing polish that was the difference but this was certainly another game where this group demonstrated what they can do.

We had the joy of Annabelle Thompson joining us from 16-4 this week, and she did herself and her team proud. Annabelle attacked the game with energy and enthusiasm, provided some really nice highlights and consistently did all the team things to be an absolute asset on the court.

Alex Temby was strong in her finishing touch.

Mel Cotte was huge on defence, on the boards and in her spacing to be an important part of the game.

Ayla Harris continues to improve her confidence and execution of her guard skills every week.

Indi Ballantine was super important inside and also improves her game every week.
U16 Girls Div 4 – Lucy Dowling (sponsored by LKS Constructions)
Lost to Mandurah Magic Gold 32-66
Coach comments
Unfortunately, we let the score run away from us in the second half, but our fight was still there, which was pleasing.

Congrats to Salma Rahmadavi, who not only played a great game against some bigger bodies but also played her 50th game!

Niamh Murphy had a very physical game but stood her ground and did well to try out some new things offensively. Her voice, both on the court and bench, is a great asset.

Annabelle Thompson once again played an incredible defensive game and then stepped up to help our Redbacks 3 girls, where she also smashed it. Belle never runs out of energy, and her footwork is unmatched.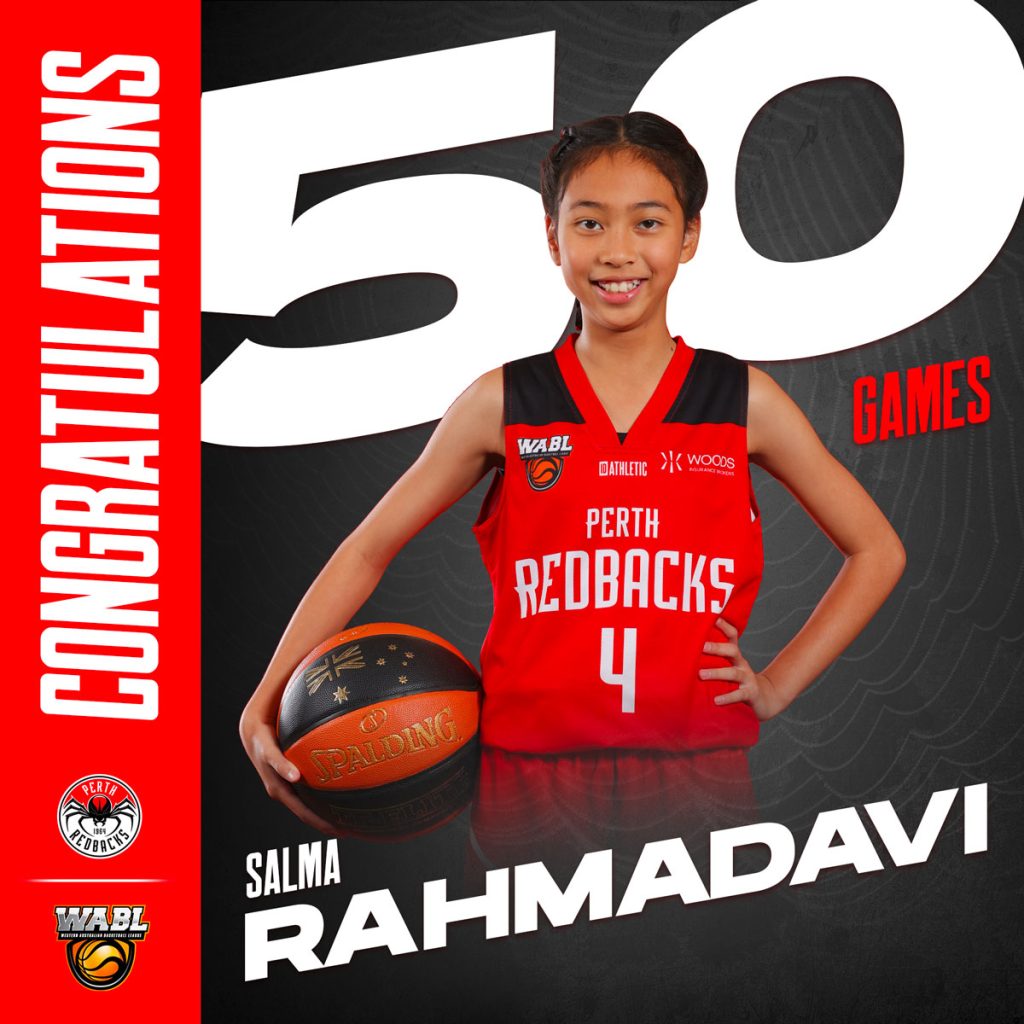 Lost to Eagles 86-81
Coach comments
Tough game this week with lots of back and forth during the game with the lead changing multiple times. In the end, our inability to play defence to stop keyway penetration, step up and put our body on the line and own the rebounds is where we lost this one. On many occasions, we let East Perth drive into the keyway with no help defence or the defender jumping or moving out of the way. We did very well to fight back during the game but couldn't get it over the line in the end. A tough lesson for our boys – defence wins games

Hamish Gibson again was deadly from the 3pt line and played some hard, tough defence on their guards. 

Jay Hazell and Jack Saliacus played some great 1-2 action offensively. 

Levi Heweitt found some great shooting confidence, taking a tough shot at the end of the game knowing he could get fouled (which he did).
U16 Boys Div 2 – Louis Timms (sponsored by Inktank)
Won against Rockingham Black 62-54
U16 Boys Div 4 – Mitch Jesson (sponsored by DLA Piper)
Won against Rockingham 79-60
Coach comments
As this was our last home game before finals, we wanted to end on a winning note, and the boys were able to achieve that.

It wasn't our best shooting performance – we only shot 36%, which is well below our best. Credit to our boys, though, as the one thing missing does do is provide opportunities for rebounds. We out-rebounded the Flames by 18 boards with some big numbers from our inside players (Jaden Exeter 17, Tait Dalton 16 and Connor Webb 10).

All players scored, and it was really great to have Tait Dalton and Tommy Jakimowiez back from injury and suited up.

Cooper Poustie was matched up on a player who had hit 19 threes in his previous 3 games and was averaging 25 points per game. Poustie held him to 14 points, and contested every shot with discipline and hard work. Poustie himself still managed 6 points and 3 assists for our team.

Tait Dalton was returning from injury, and while he may not have been happy coming off the bench and a limit on his minutes, we (coaching staff) were very happy with Tait's 15 points @64%, 16 boards (5 offensive), 2 blocks and 1 assist. Great to have him back

Jaden Exeter is living proof that whilst you may not be having the best shooting day, you can be a powerful force for a team. After a game, Jaden will always question himself, "Did I have a good game?" To quote my wonderful co-coach Eric Lee … "There is no such thing as a bad 17-rebound game". 17 boards with 10 offensive, 2 assists, 2 steals and 3 deflections to go with a modest 5 points. Had the highest +/- on the team at +14. Jaden, when those shots at the rim start dropping in, the sky is the limit.
U16 Boys Div 5 – Dan Cartwright (sponsored by Knight Health)
Lost to Willetton 50-74
U18 Girls Div 2 – Anthony Nixon (sponsored by Claremont Asphalt)
Won against Cockburn 57-54
Coach comments
We got off to a strong start in a game that increased in physicality as the game went on. We team needed to adjust and play through the pressure, which we did to take the close win.

All girls kept their composure under physical pressure, with 9 of our players scoring led by Ell Forman (14pts), Megan Taylor (10pts), Blaise Stancil (9pts), and Jenna Jackson (8 pts) 

Ell and Jenna led us in rebounds.
U18 Girls Div 2 – Zac Belton (sponsored by Aussie Fencing)
Won against Joondalup Wolves White 59-52
Coach comments
Illness struck us this game. Thankfully we had glimpses of some awesome scoring that kept this game out of reach for our opponents.

Ainsleigh Passi was huge in this game, she could not miss and was critical for us to get the win.

Matilda Thompson really came out and pushed the pace, she was incredibly effective with her speed.
U18 Boys Div 2 – Jesse-Taylah Powell (sponsored by Grange Risk Solutions)
Lost to Willetton 82-89
Coach comments
A tough game that found us falling into old habits. After a testing first half, we bounced back in the second to bring some energy on defence.

Drew Corry and Jaxon Sym brought a lot of energy in the second half playing solid defence at a critical moment.

Hamish Elder, Guy Liggins and Max Millard crashed the boards giving us second-chance opportunities

Congrats to Andrew Chilufya and Max who played their 50th games for Perth Redbacks in this game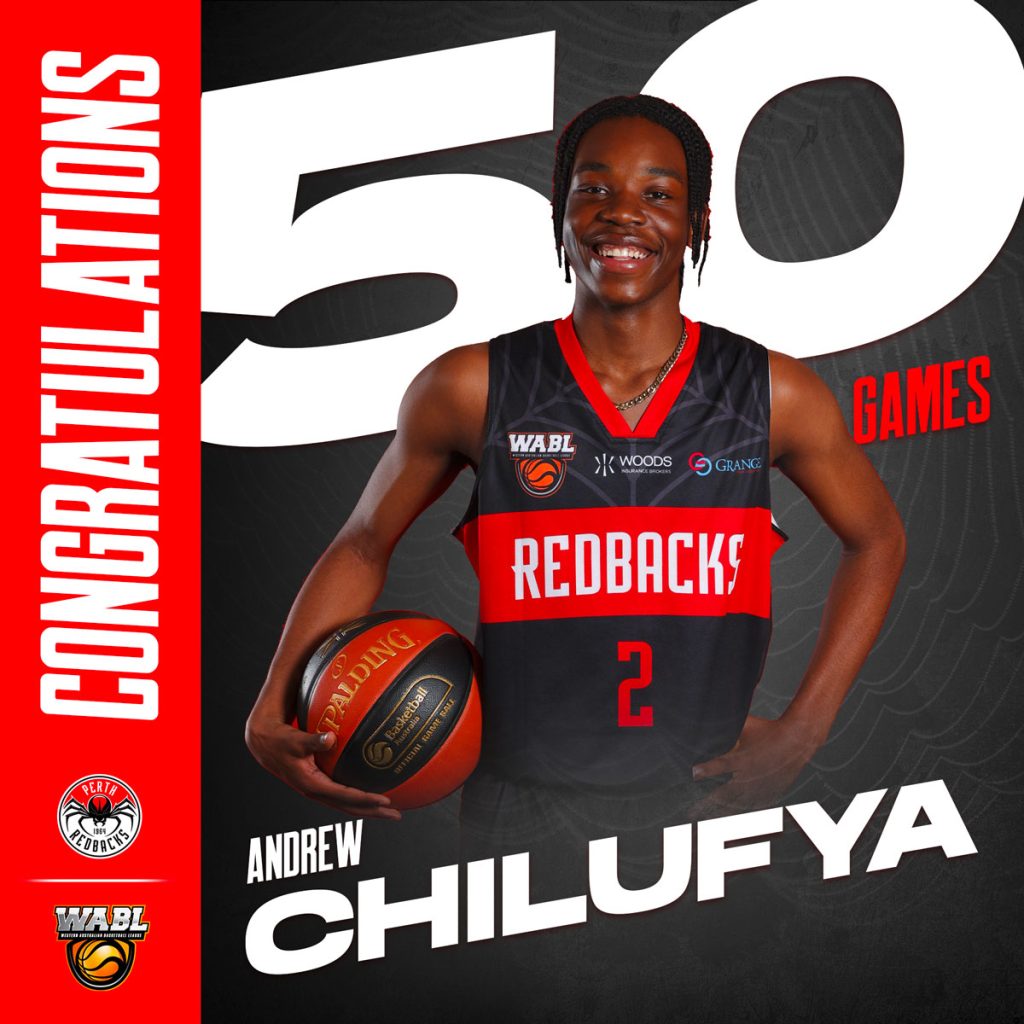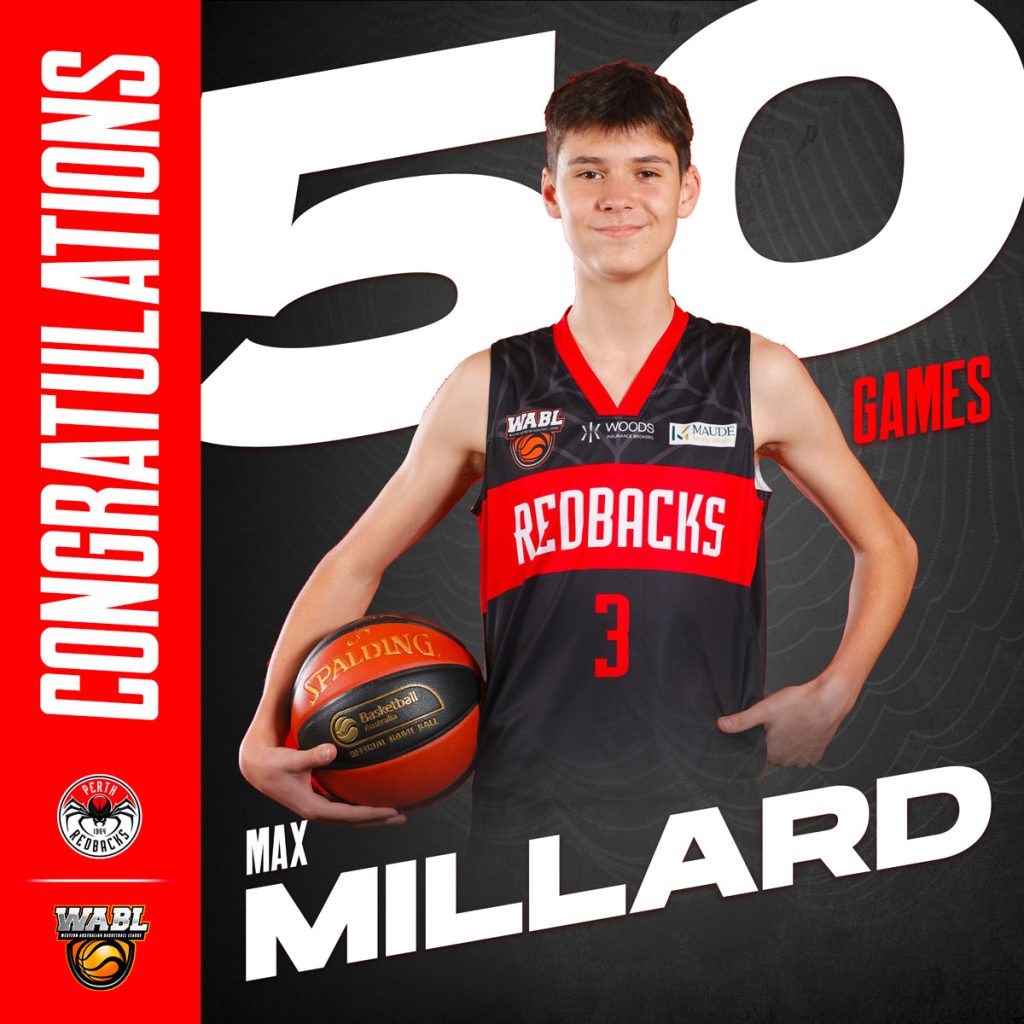 U18 Boys Div 3 – Nick D'Elia
Lost to Senators 83-82
Coach comments
This week's game was a must-win for us, and unfortunately, we went in as we have a lot of the season short-handed missing a lot of our forwards out with illness. However, we came out of the gate full of energy and pulled away early. To the opposition's credit, they fought hard and eroded our lead quickly. It was a game of runs we would get up, then they would come back and take the lead – back and forth it went.

Josh Richards was excellent on the glass; he played exceptionally on defence, gobbling up every rebound that came his way.  

Big offensive games from Benji Berardis and Will Goode kept us in the game. 

Everyone chipped in on both ends of the floor. It was a very close and exciting game right down to the last play. We had a shot to win the game but unfortunately did not execute the play – the shot we got off was contested and didn't fall.
U18 Boys Div 4 Red – Bob Andrzejewski (sponsored by TECC)
Won against Redbacks Black 100-89
Coach comments
This was a typical intra-club game, full of emotions, determination and pride. Redbacks Black came with the mission to beat us, and they tried very hard. The contest was in balance for 3 quarters, but in the end, my boys kept composure, stuck to instructions and delivered the result we were aiming for. Regardless of next week's game result, we are the minor champions, now finals will decide who gets the crown.

This week Sasha Zugic was on a mission; he played very strongly in both keyways. 

Jude Garbenis, as usual, delivered speed and points. 

Caleb Hoenig fought hard in defence and offence and for his size, he got a few rebounds which helped us a lot. 

Alex Tinlin and Lazar Jovanovic had moments of brilliance. 

Ethan Harders got himself in early foul trouble, but his composure and cool stand in the last quarter stabilised the game for us.
U18 Boys Div 4 – Alessandro Gentelli
Lost to Redbacks Red 81-100
U20 Boys Champs – Luke Simonette (sponsored by Willis Temby)
Won against Slammers 112-100 (OT)
Coach comments
Good to get a win against a team we've previously had trouble against. We rebounded the ball well and got out in transition to score easy points. Offensively we often cracked the paint and made good extra passes

Josh Moody lit up the boards and made the rebound putback that took the game into OT

Josh Peterson had a season-high 20 and shot the lights out
U20 Boys Div 2 – Graham Jones (sponsored by McDonalds Busselton)
Lost to Perry Lakes 81-85
Coach comments
With the right focus and energy from beginning to end, we had our chance to win this one. We were up by 6 with 1:49 left and but for some late-game execution issues, we would have beaten the top team on their own court.  This is what our team is capable of.

When we are fully committed and stay united as a team, we can take it to any team in the competition.

A very encouraging performance, even though we were disappointed not to get the points.

Ethan McIntosh brought great energy and put pressure on Perry Lakes on both ends of the floor. His effort was rewarded with an output of 21 points, including 3 x 3's.

Akira Rowe-Fox was back in the lineup this week and immediately made an impact, running our system and serving up 6 assists.

Mackenzie Tanner was terrific as our last-line defender, always ready to step up and help on drives. He was also patient on offence, looking for our cutters and picking up 4 assists of his own.