The Weekly WABL Wrap is proudly sponsored by Woods Insurance Brokers. 
Here's the Round 14 wrap-up of how all our teams went including comments from coaches:
U12 Girls Champs – Bri Bailey (sponsored by Access Hire WA)
Lost to Willeton 43-48
Coach comments
We started really well in this game – getting through our actions and shredding offensively and defensively. As the game went on and the foul count started to stack up against us, the girls didn't give up. They fought through contact, kept playing to the whistle and kept hustling right to the final minute. Very proud of the way they fought!

Mia Exeter was amazing defensively – blocking left, right and centre! 

Neve Hayles-Stenhouse had an amazing second half getting aggressive on box outs and pulling in big rebounds.

Being our (and the league's) leading scorer, Jacinta Wladyka gets our opponent's best defenders every week. This week was no different, and it was amazing to watch her use every bit of space her teammates created for her and every bit of space her defenders gave her to record a highly efficient 29 points.
U12 Girls Div 4 Red – Rori Roberts (sponsored by Commercial Plumbing)
Won against Warwick Green 38-29
Coach comments
The girls were doing everything right, but for 25 minutes of a 32-minute game, shots we normally make at a high percentage weren't dropping. 

It was close the whole game, with neither team really getting a lead higher than 4 points. Finally, in the last few minutes, our shots started to fall, and this allowed us to get up by 9. 

I'm proud of how all the girls stayed focused for the whole game.

This was Olive Bird's first game after a month's holiday, and she looked like she didn't miss a beat, playing amazing defence, moving her feet and staying in front. 

Eva Blyth's IQ is amazing for her age – she knows when to take the game on herself and when she needs to get her teammates involved.
U12 Girls Div 4 Black – Paul Philpott (sponsored by National Geotech Drilling)
Won against Lakeside Lightning 28-26
Coach comments
Woop woop! A collective shout-out this week to a team of girls who seem to be having so much fun playing basketball – as are Ben and myself. This was a hard-fought game with a narrow margin coming down to Lakeside's free throws to potentially alter the end result.

What a game Reddies, you never gave up, you fought for every ball, closed out with precision (creating numerous Lakeside turnovers) and owned the ring at both ends. 

Today's standouts were the power and noise from both the team and spectator benches as we finished with a heart-stopper result. So proud girls!
12 Boys Champs – Brandon Riley (sponsored by Stockbrands)
Lost to Willetton 64-73
Coach comments
Solid start. Bit of a slow second and a great finish. We are still trying to learn how to lock in for four full quarters.

Nathan Jetajobe and Lucas Blackmore were great and scored well in this game. 

Jo Cortes had a solid game on both ends.
U12 Boys Div 2 – Andrija Petrovic (sponsored by Skyward Roofing Services)
Lost to Kalamunda 31-55
Lost to Joondalup Wolves 42-57
Coach comments
We were still sleepy in the first quarter on a cold early morning, and the opposition took advantage of it. We came off the court at quarter time down a double-digit margin and had to chase from then on.

We got close in the last quarter but ran out of time.

After a few tough weeks, Harrison Kingsbury found some form, especially in defence and was a part of our late run in the last quarter. 

Zac Nguyen is improving fast in the last few weeks and if not for his fouling out, he would have been one of the best players on the court.
U12 Boys Div 4 – Craig Dropulich (sponsored by Sushi Wawa)
Lost to Warwick Senators Blue 18-68
Coach comments
A really tough game for the boys this week. We were down a player before the game, and some boys played in different roles this week so we learnt about the boys' ability to change at short notice. We started very slow in the first quarter and had both our point guards go down with leg injuries leaving the game for a little bit of time. Others stepped up and followed our processes for moving the ball and did very well.

The second quarter we came out hard and rattled our much bigger opponent scoring off our trap and clawing back into the contest with our fantastic defensive pressure. We scored 10 and only allowed 10 points which was a great effort in this quarter.

After halftime, we tried hard and even got 2 or 3, 10 second backcourt violations called on them from our sustained pressure. Ultimately we were not tall enough to win enough rebounds against a much bigger team whose bigs even brushed aside their teammates to get rebounds and putbacks.

Pio Sampiano, Xavier Coombe and Seth Cass all had good games, handling the ball and moving through the defence to find good looks and teammates in good positions.

Talin McCullough, Griffin Sharp and Noah Ouwendyk had great defence all game and exerted good pressure on the opposition all game.

Ned Tierney was solid all game with his work on offence/defence and made great decisions on what to do with the ball in hand. Ned is thinking more about everything he does on court, and it starting to build great habits into his game. 

Emmett Harman, Aiden Middleton and Ashton Peake did all the team things to a good level, making space, moving, getting open and applying pressure.
U14 Girls Champs – Aric Forman (sponsored by Welsh Real Estate)
Won against Cockburn 65-34
Coach comments
In a tale of two halves, we struggled to finish off all our good work in the first half and only had a small lead at halftime. In the second half, we exploded into action, blowing the game away and running out comfortable winners.

We had solid contributions across the team. Our small guard fleet of Remy Sumich, Abbie Leslie, Alessia Wladyka and Summer Chalder worked hard to apply pressure to the ball, helping to create many turnovers. Paige Ogden had a great all-around game, and Ella Welsh continued her league-leading scoring.
U14 Girls Div 3 – Vance Karimi (sponsored by Fish Boss)
Lost to Lakeside Lightning Girls White 43-54
Coach comments
It was a tough game for our girls this week at Lakeside. They started determined and were point for point in the first quarter. But you could see we were doing it hard. When our team chant is flat from the beginning, I can tell we will struggle with focus.

It really showed in the second quarter, where we had lots of forced passes, turning the ball over in the back and mid-court and struggling to run back to protect the basket in transition. To our credit, we didn't give up and gave everything we had in the third. Unfortunately, the fourth was another tough quarter.

Leisha Charlie pushed the ball well in the backcourt and played fast in transition. She had some great cuts with speed and was unlucky to finish on a few. 

Lottie Ballantine had a great game, holding her shell defence, contesting every shot, boxing out her players and ripping some great rebounds.

Sasha Kuan attacked the basket with pace and control with great ball handles, weaving through the defence and finishing with balance.
U14 Girls Div 5 Red – Marcia Dowling
Won against Hills Raiders 57-25
Coach comments
Our group was focused and happy during warm-ups, and this positivity persisted throughout the game, resulting in some of the best teamwork the girls have maintained for four quarters

Hayley Hill and Ella Djurasovic showed excellent flexibility in offence, and their assists were excellent. Both girls' shot choices were great decisions. 

Defensively, Hope Campbell and Nora Ostermeyer made transition very difficult for the Raiders 

Although we are still lacking in consistent rebounding, Ava Armstrong and Sally Dowling worked hard to reach the balls and knock them out of play or at least create second chances
U14 Girls Div 5 Black – Reid Ballantine
Lost to East Perth Eagles 43-4242
Coach comments
Credit to the Eagles, who put a lot of pressure on our transition and really disrupted us, seeing us 12 points down at the last break. 

Credit to our girls for not giving up, finding a way, and fighting it out to the very last second.

The last minute took 10 minutes to play out and was full of drama, but we remained focused, withstood the pressure and enjoyed the intense atmosphere.

Olivia Birsa and Ava Kemp played really strong all game and had some great moments beating their matchups.

Saachi Ti'en was strong on rebounds jumping at everything.

Ella Fair and Maia Leckey found a way in Q4 to push through the defensive pressure and generate offensive advantages.

Ella Fair led the team on the court and really took the game on!! She also led the team off the court, providing a very motivating speech to the team during a timeout, inspiring the team never to give up.
U14 Boys Champs – Andrew Logan (sponsored by MD Building Maintenance)
Won against Willetton Tigers 73-68
Coach comments
A great win for our boys. We were down to 8 players with some late outs. We showed real growth and poise in the 4th quarter when the game was on the line. Earlier in the season, we were losing close ones like this. But today, our ability to stay disciplined and not get flustered under pressure proved the difference. I loved that we were able to stay focused when we were clearly running on empty late in the game.

Luke Websdale had to deal with foul trouble throughout the game but still had a large impact on the defensive end. He looked the best player on the court on Sunday, dominating every player Willetton put on him. He finished with 25 points, and when asked to lift in the last quarter to lead his team, he did so—a great game for him. 

Zane Carbone hustled all game, and when the game was in the balance stepped up and knocked down 2 clutch free throws – something we'd struggled to do as a team to that point. He also did a huge amount of hard work in the paint, boxing out and going after every rebound.
U14 Boys Div 3 – Brad Holyoak (sponsored by Drafting Now)
Won against Cougars Blue 55-51
Coach comments
We took the early morning trip to Wally Hagan with the plan of treating it like a finals-type game. I was happy to see that we came switched on and awake and came out firing in the first. The Cougars came to play and it was a ripper of a game where all 10 players made fantastic contributions – we are now truly 10 deep.

It's very hard not to select the whole team for their efforts. 

A special shout out to Toby Schultz who did himself proud playing the point for the first time – great job. 

Lucas Le (aka the rhino) – his slashing and hard driving to the basket was awesome to watch. 

Kimzy had a tough time with the Cougars really doing their homework on him and playing some really tough D. But he kept his head and found other ways to hurt them. Well done mate – like I always say, it's not all about scoring.

Big shout out to Jake Chew for reaching his 50-game WABL milestone in this game.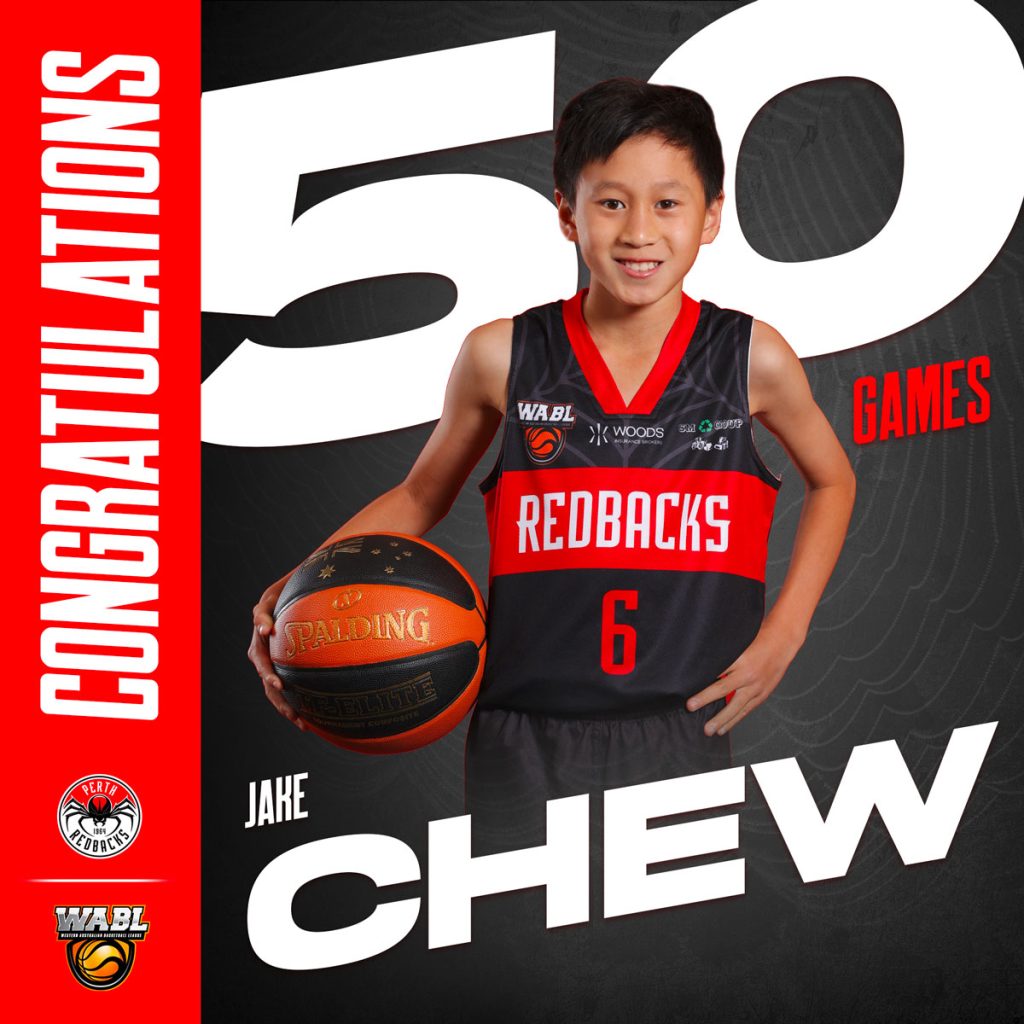 U14 Boys Div 4 – Ben Hamilton (sponsored by Cogito Psychology)
Won against Mandurah Gold 82-51
Coach comments:
We were focused during this week's game, taking an early lead off a commanding defensive and rebounding effort and maintaining it throughout the game despite a spirited second quarter by Mandurah.
We dominated the boards, taking twice as many offensive rebounds, and converting them into 25 second chance points.
Our transition defence was slow at times but continues to improve.
Seb Doyle was back after a long absence and was immediately impactful. His defence is helped by great footwork, speed and strength inside while also scoring 11 points. Welcome back Seb.
Harrison Moyle was relentless on the boards picking up 19 rebounds to go along with 4 steals and a monster block.
Zeke Brian celebrated his 51st Redbacks game with his typical intensity and defensive pressure. Offensively he impressed with great ball control, tempo and a game-high 7 assists. Great game Zeke and congratulations!
U14 Boys Div 5 – Matt Strika (sponsored by Sushi Wawa)
Lost to South West Slammers 71-79
Coach comments
After a tough few weeks, it was great to see the team get back to demonstrating the defensive and offensive hustle I know they are capable of. After a slow start in the first quarter, I was pleased to see the boys battle out the last three quarters, maintaining the pressure and really threatening to take the lead. Couldn't quite get up for the win but was a fun game for all involved.

Elliott Birch had his best game of the season with 22 points, 5 deflections and 6 steals. 

Luka Delic showed some real dominance in the paint with a double-double, posting 14 points and 10 rebounds. 

Ethan Kingsbury battled against some big opposition to rack up an impressive 7 rebounds and 3 steals.
Won against Joondalup Wolves 81-53
Coach comments
We started this game with great energy and commitment, building a solid lead by halftime. In the third, we had bad foul trouble, and it was a grind, but then Miki Deshon (who'd already been shooting well) went atomic, racking up a total of 8 x 3's by midway into the fourth. We also did a great job executing some new offence in this round while reinforcing our playing style. Strong win.

Grace Dimer did a fantastic job getting deflections and being a menace. On O, she got to the line, knocked down some big shots, and stayed aggressive when good looks didn't drop.

Theory Snooks had some great post-up moments and consistently looked for her teammates in high-low situations. Love the composure in the paint.

Miki Deshon was a nightmare for the Wolves this week, sprinting baseline to come off screens and finding space for her shot despite the opposition coach calling multiple timeouts to deal with the barrage. She finished with a season-high 35 points.
U16 Girls Div 3 Red – Cheyne Kerp (sponsored by Wyatt Martin)
Lost to Lakeside Purple 34-69
Coach comments
This was top of the table clash. We knew it would be a tough game, and the winner would sit a game clear of the other on the ladder.

In the first quarter, we came out with intensity and were only down by 2, but we should've been in front by more. 

Unfortunately, we let Lakeside get on a roll and found it too hard to peg back the deficit.

Discipline, commitment, attitude, and teamwork all fell apart.

The girls know what they need to do and were given a harsh reality check of where we are at.

Knowing what they need to do and bring to training will help set up the remaining season.

The pleasing thing was actually getting multiple 8-second backcourt violations, especially against the top team. 

Knowing they can do this against the top team, we should be able to execute this more so against other teams.

Matilda Wyatt never gave up all game. She fought for loose ball gets, obtained a few steals and got some rebounds. 

Grace Almond tried hard all game, leading the team on rebounds and points. She improved on shot selection as the game went on.

Tash Mantle also helped on rebounds and got a team-high 5 steals. She continued (soldiering) on even though she got battered and bruised—credit to her.
U16 Girls Div 4 – Geoff Alger (sponsored by Design Orthodontics)
Lost to East Perth 42-62
Coach comments
I'm so impressed with the commitment and effort this group brings every week. This game featured a very tight first half where we were really good at playing to our game plan with intensity, confidence and purpose. We could easily have gone into halftime with a lead with just a little more composure in our finishing. 

A lapse of focus, particularly in defensive transition in the third quarter, let the game get away from us, but I was really pleased with how the girls regathered themselves to finish the game competitively and with real spirit.

Danica Jeremiah was huge all game, playing with confidence and using her speed to really trouble our opponents offensively and defensively. 

Amina Handule was a threat all game and created serious problems for opponents with her length, athleticism and effort. 

Not for the first time, Ella Baxter pulled out some really inspiring efforts to chase down opponents' fast breaks.
U16 Girls Div 4 – Lucy Dowling (sponsored by LKS Constructions)
Lost to Lakeside Lightning 54-61
Coach comments
Lakeside got an early lead in the first quarter, and we spent the rest of the game trying to chase them down. We played an excellent second half, especially in the 4th quarter. We locked down on defence and started to pull in rebounds, our shots also started dropping, which helped.

Charlotte Dillon had a fantastic game, she was all over the court, crashing rebounds, getting up on D, and putting in an outstanding effort. 

Chelsea Ferris stepped up again to play a bigger role, and she smashed it. Chelsea's ability to create different options in the post allowed us to explore many different opportunities. 

Emily Strika has been improving at a rapid rate, she is always moving on offence and got some great points today.
Lost to Willetton 105-74
Coach comments
A tough game, but I feel we did much better this time than the last time we played Willetton. We're still not back to a full-strength team, yet we battled hard most of the game, and we did a much better job of keeping our heads up throughout. The bench was much more vocal and positive this game which was a really great turning point. Unfortunately, we missed at least a dozen easy baskets and couldn't keep Willetton off the glass.

It was great to have Zayde Parriman back from his Nationals campaign and his holidays back home – he showed us the energy and fight needed. 

Jay Hazell, James Bowen and Ben Galvin tipped in some great points for us during this game. Ben showed some great resilience in this game with a lot of tough finishes at the rim.

Well done to Jack Saliacus who played his 100th WABL game for Redbacks in this game. That's a great milestone.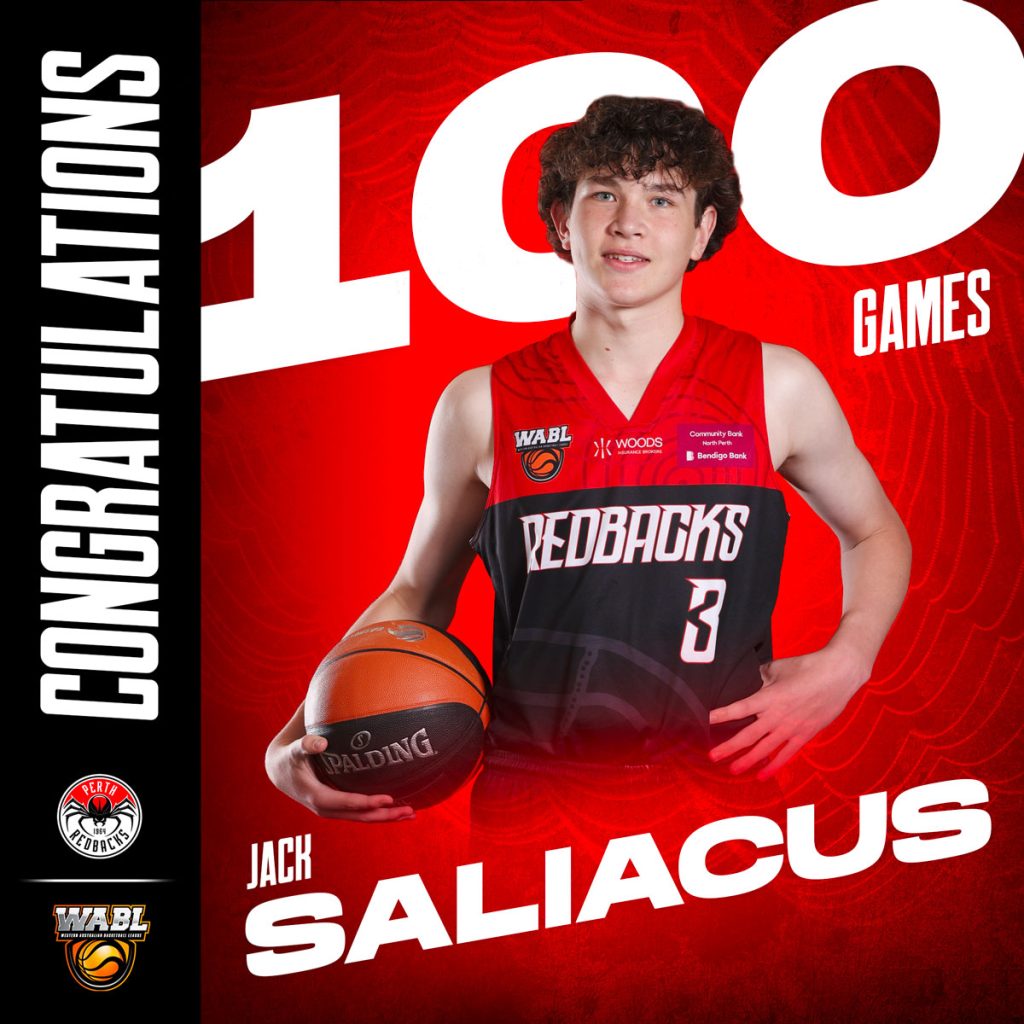 U16 Boys Div 2 – Louis Timms (sponsored by Inktank)
Lost to Cockburn 64-75
U16 Boys Div 4 – Mitch Jesson (sponsored by DLA Piper)
Won against Joondalup 84-77
Coach comments
In WABL, you can never take an opponent lightly, as they will make you pay. In this game, we were outscored by Joondalup in the first half by 8 points (after being down by as much as 17) and when we turned for home, were still 6 points in arrears.

Entering that final quarter, we'd lost our starting centre to an in-game injury (get well soon Tait), our opponent was playing better basketball, and there were any number of reasons we could've just accepted it wasn't our day. But we fought back to win the game by 7 on the back of a 29-16 last quarter. 

Given we lost the rebound count (-3), our FG% was -7 on our opponents, and they dished 4 more assists … how did we win? We got to the line, (and once there, shot 25/33 @76%), hit 63% from deep (5/8), and only had 11 turnovers to their 23.

We all know that 'free throws win basketball games'. The same goes for not giving up, and knowing your squad will keep playing as hard as possible until the final whistle. Well done boys.

Jaden Exeter stood tall and strong for the entire game. He fought hard when we were down, took on extra minutes when Tait got injured and made free throws in the hectic foul fest that is the last minutes of a close game. Ex's stat line speaks for itself in 30 points @53%, 86% free throws (12/14), 9 boards, 2 assists, 3 steals and 2 deflections.

Cooper Poustie blanketed the opposition's (and one of the league's) premier three-point shooters. We look at stat sheets, and they tell one story. However, as coach, I know that if Coops didn't play his role, we would not have won the game. The opposition tried to upset him, but he remained laser-focused on making every catch hard and every shot contested.

Thomas Jakimowiez, or Tommy to us, has returned from an extended break. His passion and love of basketball and his team are inspiring. This was especially useful when we found ourselves down.  He just lifts everybody (coaching staff included) by being a constant positive voice on the bench and playing so hard when he is on the court. Due to injury, Tommy is about to be asked to fill quite a few minutes in our roster, and we have absolute confidence in him and his ability to step up and deliver for us.
U16 Boys Div 5 – Dan Cartwright (sponsored by Knight Health)
Lost to Eastern Suns 50-96
Coach comments:
Facing a team with an 11-2 record and one with a significant size advantage is never an easy ask. However, that was our challenge against the Eastern Suns.  Our team came to play and was very competitive early, with the Suns taking a narrow 7-point lead into quarter time. The scoreboard probably didn't reflect how close the first quarter was, and at least the Suns knew they were in for a fight.

The longer the game went, the more the opposition's height came into play, with many really good defensive sets being undone by some good offensive rebounding providing second-chance points. We can match the very best in the competition when we work hard, and as a team, the trick is to do that consistently for an entire game.

Three players that worked exceptionally hard, running and competing against bigger-bodied opponents, were Luke Trevenen (13 points), Koby Kalebic (12 points) and Jackson Doyle (12 points).  All came off the court absolutely spent, and hopefully, our next win is not too far away.

Congrats to Luke, too, as this game was his 50th WABL game in Redbacks colours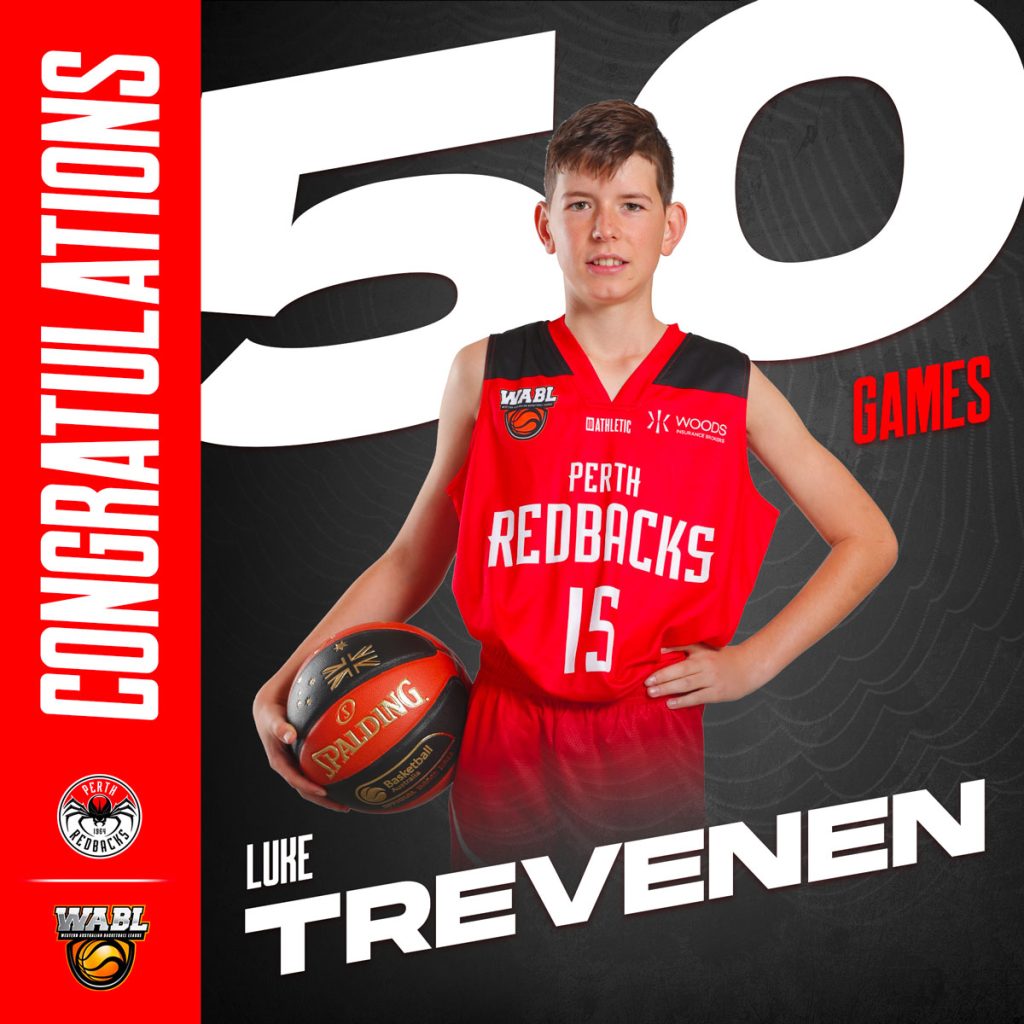 U18 Girls Div 2 – Anthony Nixon (sponsored by Claremont Asphalt)
Won against East Perth 53-46
Coach comments
It has been a big week for the team, with me stepping in as coach. We were playing East Perth, who are top of the table and had lost only once in the season. The plan going into the game was to move the ball 'easy, early and often', rebound both ends hard and put pressure on the ball carrier.

Despite our nervousness (coach and players!), every player bought into the nominated focus items and played hard first to establish a lead and then keep the lead. As confidence increased, so did the pressure and the team played amazingly!

With 9 players on the score sheet and everyone contributing, it's very hard to separate individual performances in what was a great team effort.

The challenge before the game was rebounding, and Charlotte Broadbent with 11reb 11pts, Lucy Waller with 7reb 9pts and Jenna Jackson with 7reb 6 pts led the rebounding stats.
U18 Girls Div 2 – Zac Belton (sponsored by Aussie Fencing)
Lost to Perry Lakes White 48-39
Coach comments
A slow first quarter left us fighting to crawl back into this game. Our fight throughout the last three quarters was impressive. We won the second half; however, this wasn't enough.

Anais Adnams came out getting into great scoring positions and impacted the game. 

Ainsleigh Passi came through with physicality, which really helped spark our comeback. 

Emily Swann came through, knocking down three triples which kept us in the game.
U18 Boys Div 2 – Jesse-Taylah Powell (sponsored by Grange Risk Solutions)
Won against Kalamunda 126-92
Coach comments
This was a solid team performance all around as we led from start to finish. 

Our ball movement was outstanding and our ability to switch between defensive sets pretty seamlessly was a pleasure to watch.

Riley Ford did an outstanding job working hard on defence to keep their top scorer to only 2 points in the second half. 

Jaxon Sym, Hamish Elder and Guy Liggins put in some great work defensively to maintain the lead 

Offensively, we had a great spread of scorers – 6 out of the 9 players cracked double digits.
U18 Boys Div 3 – Nick D'Elia
Win against Wolves 84-62
Coach comments
This week we came out focused as this team beat us in Joondalup quite convincingly the last time we matched up. In the first quarter, we contained them and got into the flow of the game; however, our offence was not clicking, and our outside shots were not dropping. Halfway through the second half, we sprang our half-court trap that rattled them, and we were able to turn their turnovers into transition baskets. We quickly took control of the game we still couldn't quite get it going in half-court sets however, we started driving and looking for our bigs inside, and this made us tough to stop. Then we applied a full court trap, their guards could not handle the pressure and we ran away with the game

Great defence from Harry Cuerden and excellent rebounding from Cian Veale in limited minutes contributed to the win
U18 Boys Div 4 Red – Bob Andrzejewski (sponsored by TECC)
Won against Willetton Tigers 98-73
Coach comments
After the initial first few minutes, my boys established dominance and that continued for the rest of the game. We had moments of lapses of focus in defence which allowed Willetton to score easy baskets, but overall, the game was controlled by us. This meant that not only were our two train-ons able to play, but they were also able to play equal court time with the rest of the boys.

Lazar Jovanovic had a great game, fighting hard on both ends of the court

Ethan Harders, as usual, harassed the opposition ball handlers giving them headaches. 

Sasha Zugic fought hard in the paint.

Jude Garbenis was lightning-fast in transition.
U18 Boys Div 4 – Alessandro Gentelli
Won against Lightning 102-74
Coach comments
This was an important game for our team as we had dropped the previous 2 games by very small margins and are in a battle to lock in our position for the finals. The boys started really well and stamped their authority on Lakeside from the opening tip and had established an 18-point quarter-time lead. Lakeside, to their credit, did fight back and had 2 quarters where the game was reasonably even. In what was a fast-paced game with a lot of transition basketball – we triumphed by 28 points. Our focus now turns to next week where we have a very important game against a team that shares an identical record in Eastern Suns.
Ibrahim Abdi just works and works for every minute he is on the court. He'll box out and win an important defensive rebound, find an outlet runner and then work to be a competitor on the offensive glass. Ibrahim is often the origin of many of our transition baskets, and we're very lucky to have such a modest and team-oriented player.
David Moore set the tone for the team offensively with some very smart cuts to the basket and his ability to drive and finish at the basket were important. David was very effective in both transition, but also in the half-court offence, with 24 points.
Josh Welsh is just a constant threat from the high post, outside the 3-point line, and his ability to use his high basketball IQ is amazing to watch. Josh is a player who accumulates points without drawing attention to himself, in this game he reached the 20 point mark without anyone knowing. Josh finished with a game-high 31 points, was impactful inside and made free throws when fouled.
U20 Boys Champs – Luke Simonette (sponsored by Willis Temby)
Lost to East Perth 67-80
Coach comments
This was a tough day offensively, with not much going down. We played well defensively for the first three quarters before getting run over in the fourth

The return of Aiden Cannington provided much-needed bench points at an important time 

Josh Moody went to work against a much bigger opponent
U20 Boys Div 2 – Graham Jones (sponsored by McDonalds Busselton)
Lost to Mandurah Magic 91-78
Coach comments
Our recent game was a frustrating experience, as it was the opposite of our previous week's performance. We needed more energy on the defensive end and struggled to move the ball with the fluidity we had displayed the previous week. Although we competed from the start, it felt like we were going downhill after the first quarter.

It was evident that we couldn't find our rhythm, and our lack of consistency on both ends of the floor hindered our overall performance.

While the fourth quarter showed glimpses of improvement and fight, coming back from a 12pts deficit at one point, it wasn't enough to overcome the final deficit. Despite our best efforts, we could only narrow the gap, losing the quarter by just one point and the overall game by 13pts.

We need to reflect on this game but not dwell on it. The performance serves as a valuable learning opportunity for us all. We must recognise the importance of consistency and maintaining our energy and focus for a full 4 quarters.

As a coach, I'll look at where I can improve, and we will work as a team to address our challenges. 

A bitter loss, however, we'll regroup, refocus, and bounce back, watch this space!

Will Burbidge made a comeback from a serious injury. His performance showcased intensity, purpose, and a hunger to return to the floor. Will gave his all, demonstrating his resilience and determination to contribute to the team's performance.

Ethan Gonsalves showed incredible valour in attacking the basket and taking charges on the defensive end. Despite his relentless efforts, he didn't seem to catch the breaks his hard work deserved; his contributions did not go unnoticed.

Mackenzie Tanner's solid presence at the defensive end was instrumental in holding our opponents at bay. He displayed solid defensive skills, consistently "walling up" and disrupting the opposition's offensive flow.

Dec Pyne found his shooting boots again, making valuable contributions from beyond the arc and near the hoop. His confidence in shooting played a significant role in keeping the score as close as it was.